Sometimes, the appetizers on a restaurant menu are the most appealing to me. Chinese-American restaurants, especially. I love the egg rolls, wontons and soups. And I especially love chicken on a stick, sometimes called teriyaki chicken or chicken satay. They have a taste I cannot resist!
You'll find that special taste at most every mall food court. I count the guy handing out free teriyaki chicken samples as one of my closest friends.
Chicken on a stick is also a common menu item at some summertime state fairs. Perfect walk-around-while-eating food! At home, the only walk required is to the grill and back.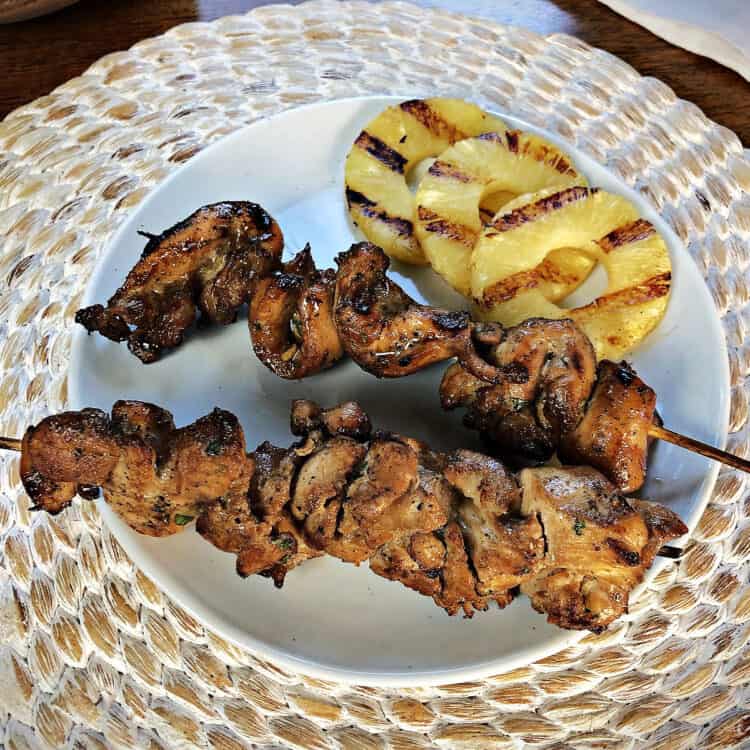 How to make Chinese Chicken on a Stick
The key to making this chicken is the marinade. It's a wonderful combination of sweet and savory flavors, which need time to work their magic.
Expect to marinate at least 4 hours, up to 6.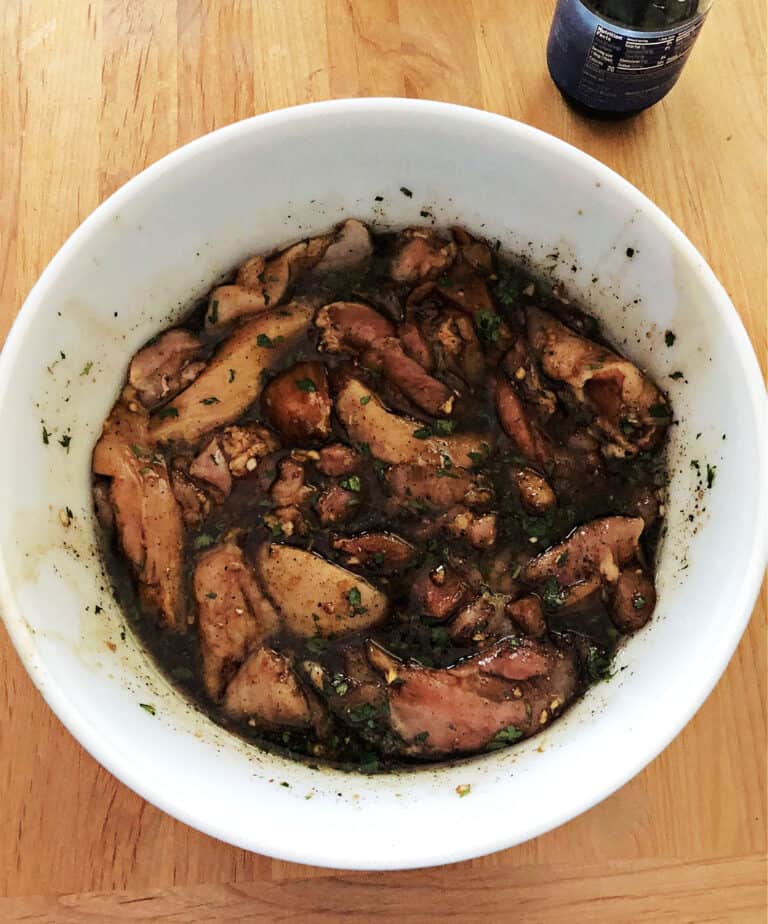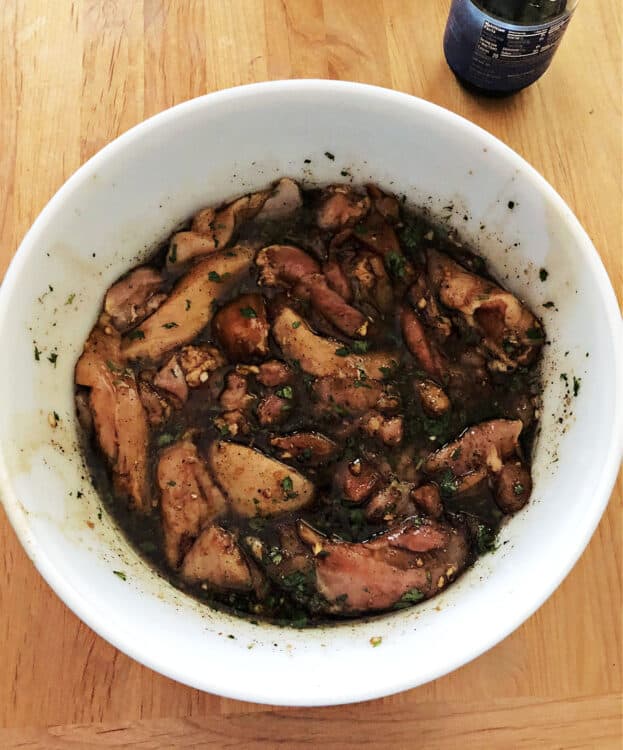 The reward? Tender, juicy pieces of chicken that cook very quickly and are bursting with flavor in every bite.
And, it's so easy.
Thread the chicken onto a skewer and throw on the grill. Because you're cutting the chicken into slices, the meat will cook very quickly.
I like to turn the skewers every 2-3 minutes. Turning twice usually ensures all "sides" will be cooked evenly and thoroughly.
In about 6-8 minutes, your skewers of lightly charred chicken pieces are ready to serve.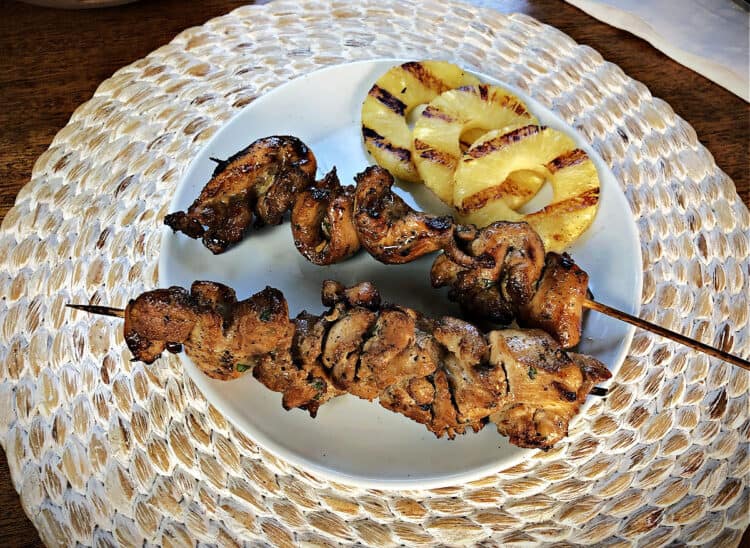 You'll want to make these chicken skewers again and again!
FAQ and tips
Is Chinese Chicken on a Stick the same as Teriyaki Chicken?
I looked up directions for homemade Teriyaki sauce, and every recipe seems to be based on four core ingredients: soy sauce, brown sugar, garlic and ginger. There are variations, of course, that add honey, and other spices. But the first four ingredients are always there. So, in my mind, this sauce is really just a variation of teriyaki sauce.

Using teriyaki sauce as a marinade is considered a non-traditional cooking method, per Wikipedia. But it definitely makes it delicious!
Can you make these chicken skewers in the oven instead of the BBQ?
Yes, this works very well in the oven. Once the chicken is threaded on the skewer, simply place all skewers in a baking pan (single layer) and bake in a 350F oven for 25-30 minutes. (this is similar to my beef kabobs)
What substitutions are available for ingredients in the "teriyaki-like" sauce?
If you don't have fresh cilantro, dried cilantro works. In general, about half the amount of dried herb is recommended to substitute for fresh. However, drying really does decrease the flavor from fresh cilantro.

Peanut oil is always my first choice for Chinese-inspired dishes, however, canola or any other neutral oil will also work well.
What to serve with BBQ Chicken on a Stick
Brown rice works well, just to keep the feel of Chinese takeout alive.
Also, try grilling pineapple slices for a unique combination of sweetness, salt and char. Very convenient, since the grill is already hot. It almost creates a new version of sweet-n-sour, similar to my Sweet and Sour Pork Kabobs. Delish!
And, for a full-on Chinese buffet experience, you can always make homemade eggrolls or potstickers. Your family will love you for it!
Most any salad will go well with this, like a Broccoli Kale Salad. Baked beans are always a popular choice with any grilled food. Wash it all down with a minty Mojito and you are good to go!
Chinese Chicken on a Stick
Everyone loves Grilled Chicken on a Stick!
Ingredients
2 ½

lb.

boneless skinless chicken

breasts or thighs, cut into thin strips

Marinade:

4

garlic cloves

minced

4

Tablespoons

fresh cilantro

chopped

3

Tablespoons

brown sugar

1

tablespoon

black pepper

1

teaspoon

salt

½

cup

soy sauce

1

teaspoon

fresh ginger

grated

2

tablespoons

lime juice

⅓

cup

peanut oil
Instructions
Mix the marinade ingredients in a large mixing bowl.

Add chicken and marinate for 4 - 6 hours, turning and stirring several times.

Soak bamboo skewers 20-30 minutes in water.

Thread chicken onto skewers and grill over medium heat. Turn every 2-3 minutes, chicken will only need about 6-8 minutes total until all sides are done.

Remove from grill and serve.
Video
Nutrition
Calories:
363
kcal
|
Carbohydrates:
9
g
|
Protein:
42
g
|
Fat:
17
g
|
Saturated Fat:
3
g
|
Cholesterol:
121
mg
|
Sodium:
1689
mg
|
Potassium:
770
mg
|
Fiber:
1
g
|
Sugar:
6
g
|
Vitamin A:
75
IU
|
Vitamin C:
4
mg
|
Calcium:
26
mg
|
Iron:
1
mg
Nutrition values are estimates only, using online calculators. Please verify using your own data.