(Playoff-worthy shrimp appetizer)
This is the final week of the football season and I have loved doing an appetizer each week of the season. During these playoff weeks we expect our teams to "up their game" so our appetizers should follow suit! And for me, I'm going big with small: a shrimp appetizer!
Now, you could just stick with cooked shrimp and cocktail sauce, a perennial favorite. But for playoff-worthy appetizers you can produce a snack with lots of wow and little work. The best kind 😏.
How to make this shrimp appetizer
I found this recipe at Taste of Home and - so easy! Start with cooked shrimp and 2 jars of olives. Drain the olives, combine with shrimp and set aside while making the marinade.
The marinade is simply oil heated in a small saucepan, to which spices are added and cooked for just a minute (this is called "blooming" the spices, it helps deepen their flavor), then, add a little lemon juice and parsley. This is poured immediately over the shrimp mixture, tossed to coat and refrigerated to marinate for at least 2 but up to 6 hours.
A note about the spices: this marinade contains a bit of ginger and curry. These are NOT popular spices in my house. In fact, anything with an unusual taste profile is typically met with a look of suspicion and the question: "Is there ginger in this?!"
So, despite the risk, I wanted to try this recipe. When preparation started, I was first surprised by the absence of a suspicious query from the TV room regarding ginger and curry odors. I have to admit, when you "bloom" your spices, the aroma can be strong. This time, no reaction. A good sign.
Once the shrimp mixture was marinated, I fed the carnivore. Sure enough, he took a bite and growled, "Is there ginger in this?!" Sigh . . . "Yes," I admitted., "But it's not very strong, don't you think?" And he AGREED!!! Amazing! (And he didn't notice the curry until I pointed it out).
While these spices add a pleasant complement to the shrimp and olives they don't dominate the taste as sometimes happens. Instead, they allow the yummy tastes to shine.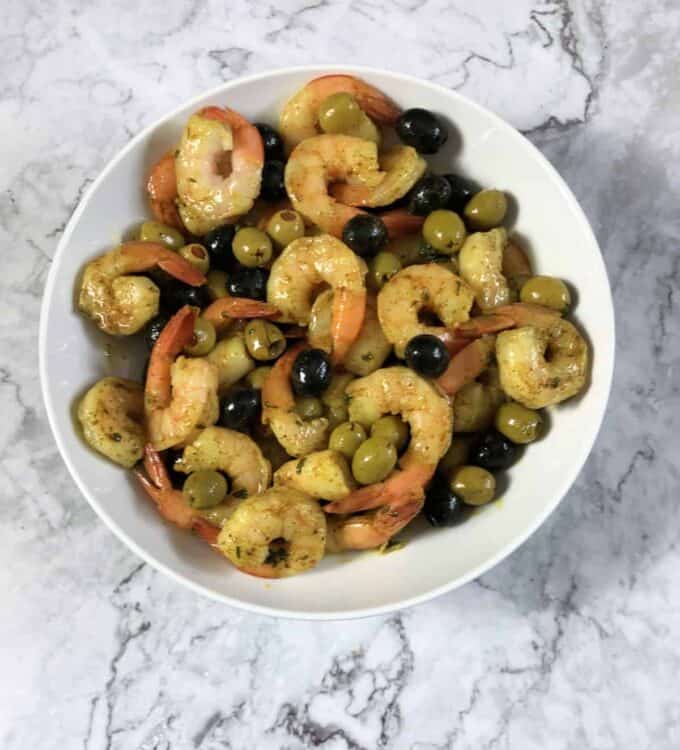 If you're looking for a new shrimp appetizer, this one may be Super Bowl worthy!
Marinated Shrimp and Olives
A simple marinade elevates shrimp and olives!
Ingredients
1½

pounds

peeled and deveined cooked shrimp

31-40 per pound

1

can

6 ounces pitted ripe olives, drained

1

jar

5¾ ounces pimiento-stuffed olives, drained

2

TB

olive oil

1½

teaspoon

curry powder

½

teaspoon

ground ginger

¼

teaspoon

salt

¼

teaspoon

pepper

2

TB

lemon juice

1

TB

minced fresh parsley or 1 teaspoon dried parsley flakes
Instructions
Combine shrimp and olives; set aside.

In a small saucepan, heat oil over medium heat. In a small bowl, combine curry, ginger, salt and pepper; whisk into hot oil. Cook and stir 1 minute. Remove from heat; stir in lemon juice and parsley. Immediately drizzle over shrimp mixture; toss gently to coat.

Refrigerate, covered, at least 2 and up to 6 hours, stirring occasionally. Serve with toothpicks.
Nutrition
Calories:
96
kcal
|
Carbohydrates:
1
g
|
Protein:
14
g
|
Fat:
4
g
|
Saturated Fat:
1
g
|
Cholesterol:
172
mg
|
Sodium:
588
mg
|
Potassium:
59
mg
|
Fiber:
1
g
|
Sugar:
1
g
|
Vitamin C:
4
mg
|
Calcium:
100
mg
|
Iron:
2
mg
Nutrition values are estimates only, using online calculators. Please verify using your own data.