Another Cinco de Mayo specialty!
As we continue the countdown to Cinco de Mayo, Tuesday, May 5, I thought this recipe for a Pink Señorita would be perfect. This beverage is an alternative to traditional Margaritas made with a surprise ingredient: Pink Lemonade! I love Margaritas AND lemonade, so for me, this is combinación perfecto: a Pink Lemonade Margarita.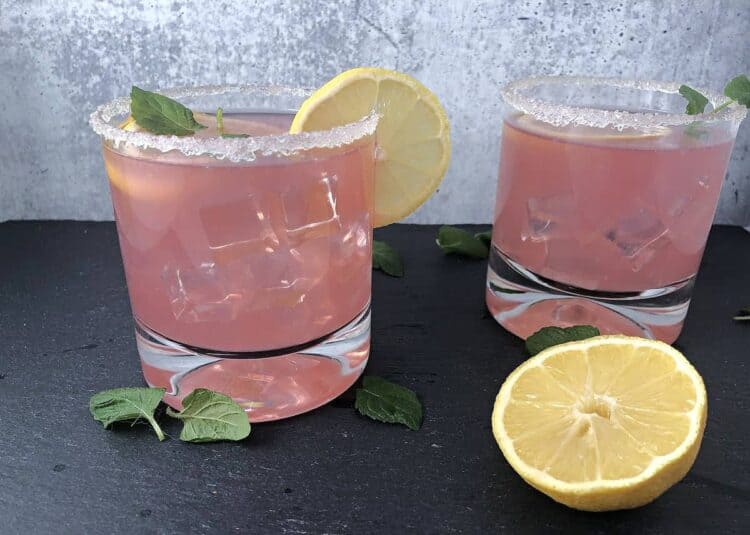 Some lemonade factoids
Little known factoid: Both lemons and sugarcane are native to India. That country gets credit for the creation of lemonade! Other little known facts: According to Wikipedia, there are two distinct types of lemonade: cloudy and clear. Clear lemonade is generally found in the US and South Asia. Cloudy lemonade, which is typically carbonated, is more popular in Australia and the United Kingdom.
Henry E. "Sanchez" Allott gets credit for inventing pink lemonade. According to his obituary in the New York Times, Allott made pink lemonade by mistake. He accidentally dropped red cinnamon candies into the drink. (Wikipedia)
How does this differ from a Margarita?
The Margarita was declared the most popular drink in America in 2004. It's possible that popularity got an assist from the 1977 Jimmy Buffett song "Margaritaville." 😀
The Pink Señorita is basically a variation of a Margarita. Just look at the ingredient list:
Margarita: tequila, orange liqueur, lime juice, salt
Señorita: tequila, orange liqueur, lemon juice, pink lemonade, salt
Think of this as a Pink Lemonade Margarita. Just substitute lemon juice and pink lemonade for the lime juice. This provides a different flavor profile, but still maintains the lovely complexity of a Margarita. Most mixed drinks have sweet and sour flavors. A Margarita and Señorita add a third primary taste: salt. Some say this makes it taste more "complete."
How to make a Pink Señorita aka Pink Lemonade Margarita
Two ways to make this drink: #1: Mix up a pitcher of pink lemonade and keep it in the fridge. Then pull it out and mix a Pink Senorita as needed. Rim the glass with salt, and fill with ice. Add a shot of tequila, half shot of orange liqueur, squeeze in a little lemon juice and fill with lemonade. Yum!
Tip: This method provides lemonade for the kids and allows you to make the "adult" version as needed. 😀
#2: There are times when an all-adult "batch" of Pink Señoritas is necessary. The batch method means mixing only once, providing about four servings; perfect for "me" time or a small gathering of friends.
Grab some chips and guacamole, and you are set!
Raise your glass in a toast
I also wanted to mention that this is a bit of an anniversary for Sula and Spice. Exactly one year ago today I published my first post. It seems very fitting to raise a glass on this day. Won't you join me in a toast?
Print Recipe
Pink Señorita
A Pink Lemonade Margarita
Ingredients
2¼

cup

pink lemonade

¼

cup

fresh lemon juice

½

cup

orange liqueur

1

cup

tequila

2

cups

ice

Salt – for rimming glasses

if desired
Instructions
Mix all ingredients (except salt) in a pitcher. Taste and adjust ingredients as needed.

For each serving: Moisten rim of glass and dip in salt.

Add lemonade mix and ice to each glass and enjoy!
Nutrition
Calories:
300
kcal
|
Carbohydrates:
27
g
|
Protein:
1
g
|
Fat:
1
g
|
Saturated Fat:
1
g
|
Sodium:
17
mg
|
Potassium:
25
mg
|
Sugar:
26
g
|
Vitamin C:
6
mg
|
Calcium:
4
mg
Nutrition values are estimates only, using online calculators. Please verify using your own data.
Enjoy your Pink Senorita (Pink Lemonade Margarita) with all your Tex-Mex favorites! Pico-Avocado Dip, Burrito Pie, chips and salsa or Queso Dip. Enjoy!
Going low carb? Make this drink with sugar free lemonade to cut out all the carbs!