Let's have a little fun with our cocktails, shall we? When I showed a friend my Midori Sour Martini, she pointed out that it is a perfect color to make a Baby Yoda drink. You know what? She was right!
Who/what is baby Yoda?
Baby Yoda is the breakout star of "The Mandalorian" on Disney+. His proper name is Grogu, but in most episodes (at least so far) he is referred to as "The Child" or "The Kid". (Wikipedia)
He is a younger version of the same unnamed species as the Star Wars character Yoda and is universally considered just as cute as can be!
The cuteness translates very well into this cocktail!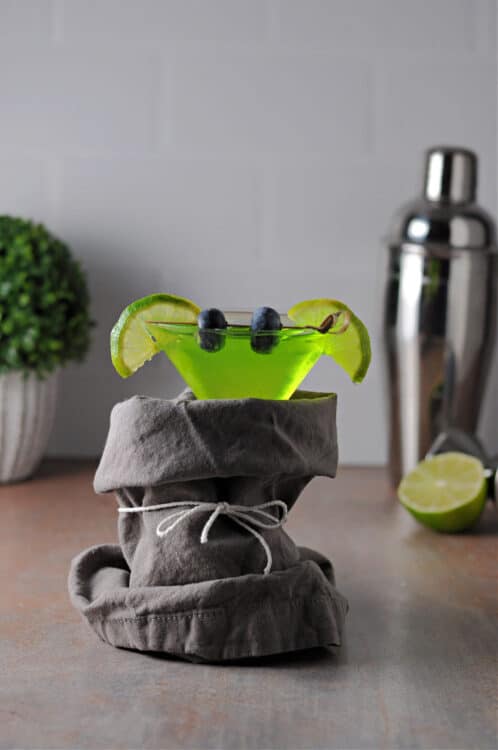 Ingredients and items needed
For the cocktail:
Midori liqueur
Vodka
Squeeze of lime juice
Lemon-lime mixer, soda or sparkling water
For the glass decoration:
Martini glass (a "coupe" shape also works well)
Brown/gray cloth to make a robe
String or similar "belt"
Blueberries for eyes
Bamboo pick
Lime slices or wedges for ears
How to make this baby Yoda cocktail
I used my Midori Sour Martini recipe for the drink. Feel free to use another "green" cocktail of your choosing. 😎
The fun, of course, is in the decoration for this one. I recommend you "dress" the glass first, as its easier to do with an empty glass.
Start with the robe. I happen to have a cloth napkin of an indeterminant gray-brown shade which works out great for this purpose. Scraps of burlap or felt would also work.
Don't have any fabric? Try a brown paper napkin from Starbucks or your local take-out place. Many possibilities so be creative with this! 
Just wrap the "robe" around the stem loosely, then use a piece of string to tie a loose belt.
For ears, cut two small wedges or slices of lime and place across from each other on the rim of the glass.
For the eyes, use a 3.5-inch bamboo pick to line up 2 blueberries, then balance this on the glass in front of the limes.
Your glass is ready, so mix up that baby Yoda drink and pour it in!
"Drink up, you will!"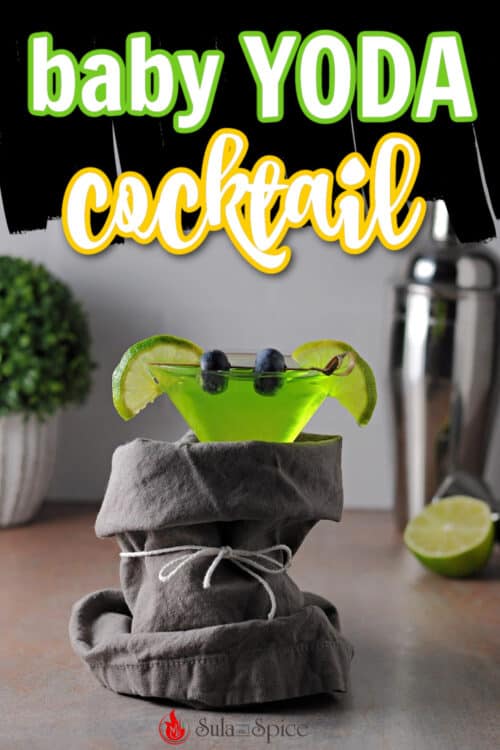 Just for fun. . . a little Star Wars trivia
C-3PO and R2-D2 have appeared in almost every Star Wars movie (except in 2018's Solo: A Star Wars Story)
C-3PO was built by Anakin Skywalker
Yoda's facial features were based on Albert Einstein
Yoda lived to be 900 years old
Chewbacca's height is 7'6"
George Lucas originally planned Luke's last name to be "Starkiller"
"Luke, I am your father" is one of the most famous lines from Star Wars. Ironically, it is incorrect. The actual line is "No, I am your father"
📖 Recipe
Baby Yoda Cocktail Drink
Everyone loves baby Yoda!
Equipment
Brown napkin

String – about 12 inches long

Bamboo pick (3.5-inch)
Ingredients
1

oz

Midori liqueur

1

oz

vodka

Squeeze of lime

3

oz

lemon-lime soda or citrus flavored sparkling water

2

Blueberries

2

slices or wedges of lime
Instructions
Decorate the glass by wrapping the napkin loosely around the stem, then tying in place with the string.

Cut 2 small wedges or slices of lime and place across from each other on the glass to make ears. Pierce the blueberries with the bamboo pick. Leave about an inch between the berries, then place on the rim of the glass in front of the lime wedges.

Mix up your Midori Sour cocktail and add it to the glass.
Video
Nutrition
Calories:
143
kcal
|
Carbohydrates:
11
g
|
Protein:
1
g
|
Fat:
1
g
|
Sodium:
18
mg
|
Sugar:
11
g
Nutrition values are estimates only, using online calculators. Please verify using your own data.