There have always been those who love coconut. But toasted coconut created a whole new set of fans. You can count me in – the extra crunch and flavor you get with toasting makes coconut so yum!
But there are many different ways to toast your coconut. I tried 3 different methods with both sweetened and unsweetened coconut and will show the results of each.
Organic Coconut vs Non
This first comparison I want to show is the difference in appearance of the 2 types of coconut I purchased. The unsweetened coconut is organic and contains only one ingredient: coconut. The sweetened is not organic, and in addition to coconut and sugar it contains water, propylene glycol, salt and sodium metabisulfite. (This alone convinces me to stick with organic) The appearance of this coconut is much whiter and fluffier.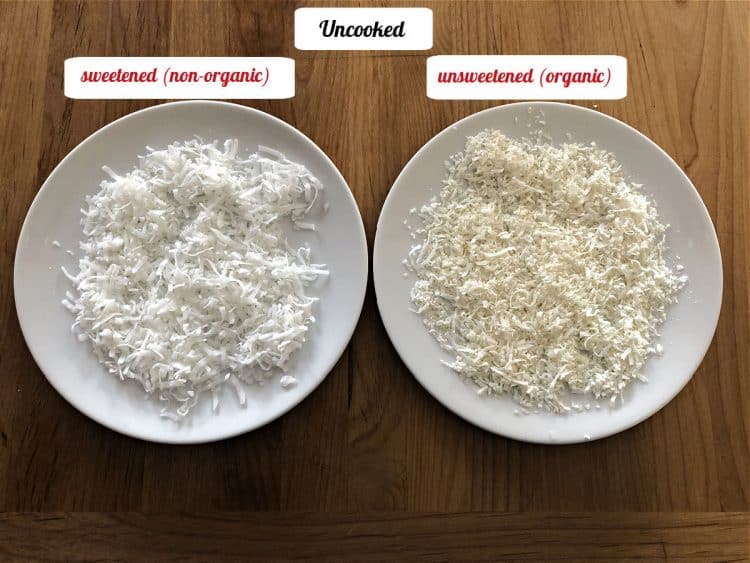 I wanted to show this as the starting point, so you do not confuse the "less white" color of the organic coconut with toasting. It simply is the more natural color for coconut.
How to toast coconut in the microwave
The microwave is everyone's favorite appliance, especially for quick cooking and heating. This is the method that showed the most difference in results between sweetened and unsweetened coconut.
To toast, place some coconut flakes in a thin layer on a microwave-safe plate. Microwave on high for 30 seconds. Stir, then microwave. Keep repeating until coconut is toasted.
Results: sweetened coconut toasts MUCH faster than unsweetened in the microwave. It also tend to have a more uneven color, which I actually find attractive but if you want perfectly even golden coconut this is probably not the best method.
The sweetened coconut took 4 minutes total, the unsweetened took 6 minutes. That doesn't sound like much until you remember that you are cooking in 30 second increments. So, it took 8 times total for the sweetened and 12 times to toast the unsweetened. I found this to be a lot of work and basically too hands-on with all the stopping, stirring, etc. But it is a good solution if you just want a small quantity of toasted coconut, especially if you're using sweetened, and if you can do the microwaving steps while doing other things in the kitchen.
How to toast coconut in the oven
To toast in the oven, I placed both sweetened and unsweetened on the same baking sheet to ensure both types were in the exact same oven environment.
Preheat the oven to 325F and spread the flaked coconut on a baking sheet. Bake for 5-10 minutes, stirring 3-4 minutes into the baking time to promote even coloration.
Results: when toasting in the oven, my unsweetened coconut toasted much faster. It was done after 5 ½ minutes of baking time (I stirred at 3 ½ minutes). The sweetened took 10 ½ minutes of total time, and I did stir every 3-4 minutes.
It is possible that some of this variation is due to the sweetened flakes being larger than the unsweetened.
This method definitely provides the most evenly toasted coconut of all the methods. And while all are crunchy, I feel like this method gives the best crunch, probably due to the evenness of the cooking. Every single flake is toasted and crisp!
How to toast coconut in a skillet
This method works great if you just want to "get 'er done", and don't want to wait for the oven to warm up. Total cooking time is 4 - 5 minutes, with no interruptions as you can keep stirring while cooking.
Place coconut in a skillet and cook over medium-low heat, stirring frequently. The coconut is done when the flakes are mostly golden brown.
Results: cooking times were very similar for sweetened and unsweetened coconut. In both cases, about 4 to 5 minutes were needed. It seemed as though the sweetened started to brown a little faster but take slightly longer to be completely done. But the difference is very subtle and probably subject to incremental differences in the heat of the pan.
It's tougher to get even browning with this method, as the flakes are not all in contact with the hot pan at the same time. This is why you need to stir almost constantly with a skillet. A definite advantage is that you can see the toasting happening and therefore have complete control over the color of the final "product." I do feel I over-toasted the sweetened coconut with the skillet, as I was trying to get ALL the coconut brown, resulting in some getting very dark.
Ideas for using toasted coconut
I love using it in a yogurt and granola bowl
Try it on a smoothie bowl
Use to garnish an adult beverage 😎
Use as a topping for ice cream or fruit
No matter how you make it, I hope you enjoy some toasted coconut soon!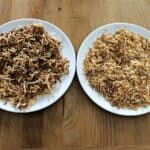 Print
Toasted Coconut
6 variations on ways to toast your coconut! Pick the one that works for you!
Ingredients
1

cup

coconut flakes

unsweetened

See notes for toasting sweetened
Instructions
Microwave Method:
Spread a thin layer of coconut flakes evenly on a microwave-safe plate. Microwave in 30 second increments, stirring after each. Repeat until flakes are golden brown, about 4 minutes for sweetened and about 6 minutes total for unsweetened.
Oven Method:
Preheat oven to 325F. Spread coconut in a thin layer on a baking sheet.

Bake 5 to 10 minutes, stirring 3 to 4 minutes into baking time to ensure even color. Unsweetened estimated time is close to 5 minutes, sweetened is closer to 10 minutes baking time.
Skillet Method:
Place coconut in a large skillet.

Cook over medium-low heat, stirring frequently.

Coconut is done when the flakes are mostly golden brown, about 4 to 5 minutes.
Video
Nutrition
Calories:
70
kcal
|
Carbohydrates:
3
g
|
Protein:
1
g
|
Fat:
7
g
|
Saturated Fat:
6
g
|
Sodium:
4
mg
|
Potassium:
58
mg
|
Fiber:
2
g
|
Sugar:
1
g
|
Vitamin C:
1
mg
|
Calcium:
3
mg
|
Iron:
1
mg
Nutrition values are estimates only, using online calculators. Please verify using your own data.