Today I am celebrating. My little corner of the Internet has reach a milestone. What you are currently reading is . . .  drumroll please! . . . post number 200!
Why only yesterday, I was on post number 100. (Cranberry Spritzer, in case you were wondering.) Busy with recipes and posts (and the occasional family visit), I sometimes lose track of time and place.
All I can say is, thanks to the many who've been so supportive!
Clearly, a cocktail is required.
Throughout the summer, I've been growing a big pot of mint, and because it's calling to me, I decided on a Mojito for my 200th celebratory post. I love how the fresh flavors of mint, lime and rum combine. It makes a fantastic summer cocktail!
What is a Mojito?
A Mojito, per Wikipedia, is a cocktail with Cuban origins. Traditionally, it consists of five ingredients: white rum, sugar, lime juice, soda water and mint. It's a combination of complementing, contrasting tastes: tongue soothing sweet, taste bud tingling citrus, and outdoorsy green herbaceous mint that dress up the rum, making the Mojito a summer frolic.
How to Make a Bacardi Mojito
Since a Mojito calls for white rum, I use Bacardi, one of the most accessible brands. Did I ever tell you about my introduction to Daiquiris in college? Perhaps another day . . .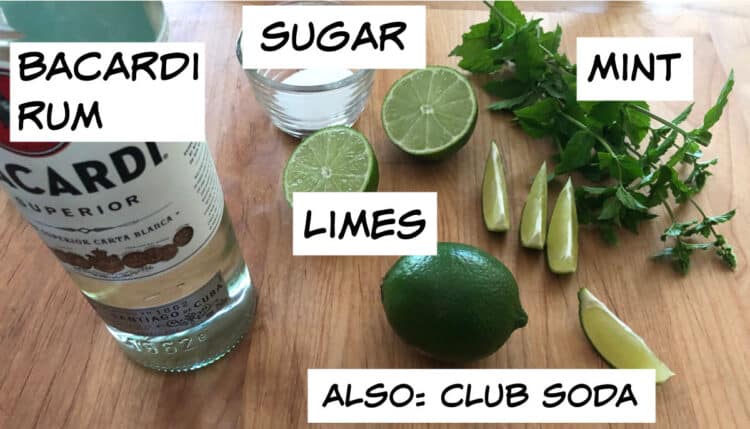 Bacardi's website provides the following proportions:
2 parts Bacardi rum
4 lime wedges
12 fresh mint leaves
2 tsp extra-fine sugar
1 part club soda.
Sprig of fresh mint for garnish
Squeeze the lime wedges to release their juice, leave the wedges in the drink and then press sugar into them. This is called "muddling," which means that you lightly mash the ingredients in a glass. This same process is used for fruit and spices in an old fashioned, for example.
The next step is the mint. According to Bacardi: "…bruise the mint leaves by clapping them between your palms, rub them on the rim of the glass and drop them in." Now, conventional wisdom suggests that mint leaves are delicate and only the essence of mint is needed in the drink. But, IMO, there is no such thing as too much mint in a mojito! So, I muddle my mint in the glass, too, ensuring a delightfully minty flavor to the cocktail!
Next, half-fill the glass with ice, add the rum and stir. Top with club soda and garnish with the sprig of lime.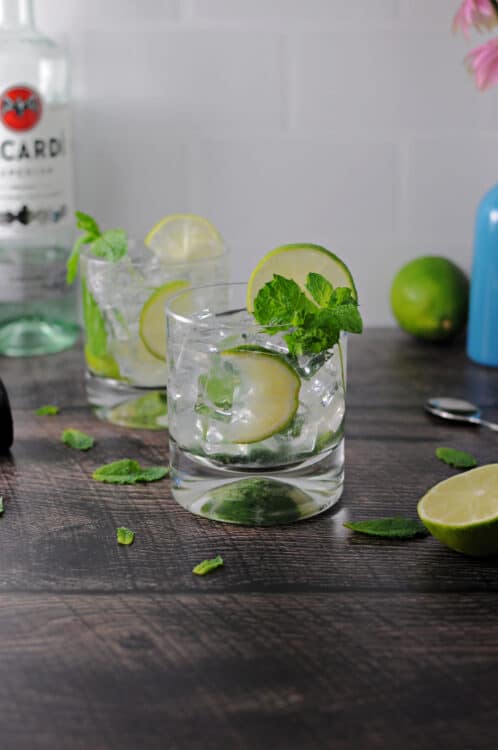 Mojito variations
The most obvious variation to a traditional Bacardi Mojito is using lime flavored rum. Bacardi's website gives essentially the same recipe, only they state to increase the sugar to 2 Tablespoons and reduce the mint leaves to 6-8. Huh? It's my favorite part! I did try this version and I have to say, I really missed the mint!
If, like me, you think the mint is the best part, keep using 12 leaves. This version is very good, but as much as I like lime, I still prefer the mojito made with unflavored white rum. To me, there's a nice balance of flavors. And, a lot less sugar (practically a diet drink!).
Speaking of balance, I like to keep mine, if possible, by making a weaker mojito with only 1 part rum to 2 parts club soda. That's the beauty of making these at home. You can play all you want with proportions and flavors!
In the flavor category, there are many ways to customize your mojito. Just muddle some fruit right in the beginning. Berry flavors work well – blueberry, strawberry, even blackberry. You might end up reducing the lime and/or mint for these (or not, LOL). It's your drink. Make it yours!
I hope you love this Bacardi Mojito as much as I do.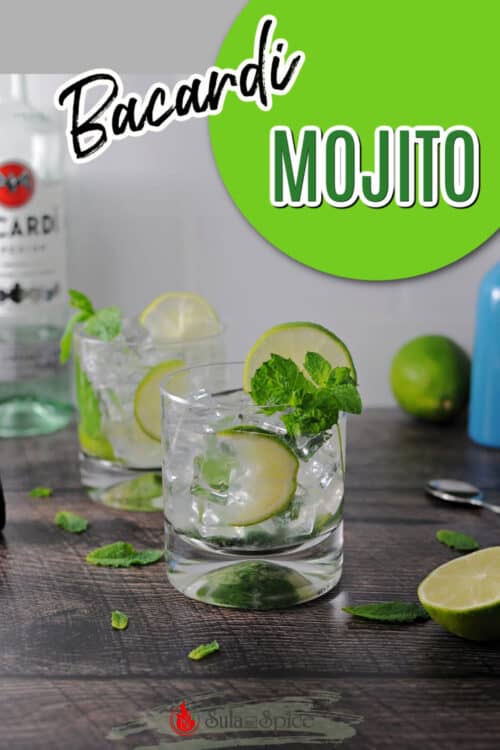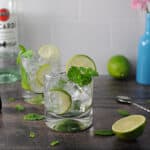 Print Recipe
Bacardi Mojito
Mint, lime and rum create a refreshing cocktail, perfect for summer!
Ingredients
2

parts Bacardi rum

4

lime wedges

12

fresh mint leaves

2

tsp

extra-fine sugar*see note

1

part club soda.

Sprig of fresh mint for garnish
Instructions
Squeeze the lime wedges while placing in the glass. Add sugar and muddle with the limes to help dissolve the sugar.

Add mint leaves and muddle gently.

Fill glass half-full with ice. Pour in the rum and stir.

Fill the glass with ice and add the club soda.

Garnish with sprig of mint and/or lime slice as preferred.
Video
Notes
Extra fine sugar will dissolve faster than regular sugar. Alternatively, you can make simple syrup and add this instead of sugar. To make simple syrup, add equal parts sugar and water to a small container. Heat and stir to dissolve. I make this in small quantities if just for me, but it can also be made in larger quantities (1 cup sugar plus 1 cup water) to keep in the refrigerator. For weeks, if you want!
Use simple syrup as a direct substitute. 1 tsp sugar = 1 tsp simple syrup.
For calculations, 1 part = 1.5 ounces.
Nutrition
Calories:
257
kcal
|
Carbohydrates:
17
g
|
Protein:
1
g
|
Fat:
1
g
|
Saturated Fat:
1
g
|
Sodium:
6
mg
|
Potassium:
142
mg
|
Fiber:
3
g
|
Sugar:
9
g
|
Vitamin A:
510
IU
|
Vitamin C:
25
mg
|
Calcium:
53
mg
|
Iron:
1
mg
Nutrition values are estimates only, using online calculators. Please verify using your own data.
Recipe FAQs
How do I make a Keto Mojito?
Ok, first of all I have to say that "Keto Mojito" is the most fun name ever! Go ahead – say it out loud. Keto Mojito! Super fun! Right? LOL

Mojitos are pretty low carb already. The recipe specifies only 2 teaspoons of sugar. I sometimes make my mojito with only one teaspoon, but if even that reduction isn't enough for you no-nonsense dieters, use no sugar, or a sugar substitute, like a monkfruit-erythritol blend.

Note: As I have written before, there are other sugar substitutes. Even though it's a tongue-twister, monkfruit-erythritol works for me.

Carb alert: My nutritional calculator says lime wedges have 8 grams of carbs and mint leaves have 2 grams. I'm not sure the limes matter because you don't eat them. As for the mint, do what works. I doubt these add any real carbs to this keto mojito.
What's the best way to grow your own mint?
Mint is considered a "vigorous perennial." What this means is, if planted in the ground, it will grow and spread rampantly, threatening to take over your entire garden if you are not careful. It is most often recommended to be grown in containers.

I have had great luck growing mint in pots. In a garden, the pot can be sunk into the dirt, leaving it raised 1-2 inches above the soil. I've had mint survive through a Wisconsin winter using this method.

But my favorite approach is planting in a free-standing pot. This pot resides on my patio and can be moved around if I feel the sunlight needs of the mint aren't being met. It's also convenient that this locates the plant right outside the door, so I can make a quick harvest when the urge for a mojito strikes. 😎 Plus, I bring the pot inside in the fall and have access to fresh mint leaves all winter long!