Happy Black Friday! (That sounds wrong, doesn't it?) For some of us this is a day of (un)rest, right after Thanksgiving. If you're not out shopping, you're dealing with leftovers. In either case, this Cranberry Spritzer from Thug Kitchen comes in so handy.
That's because this drink uses leftover cranberry sauce. Can you believe it? Clever! And yet another serving with your particular stamp of originality.
Do you have a cocktail shaker? That will make this easier. But if you don't, just get yourself a big jar with a tight fitting lid. As long as you can close it and shake it, that should do the trick.
As indicated, this drink is made with leftover cranberry sauce (although you're certainly welcome to use store-bought cranberry juice). To this, add vodka and orange liqueur, and a little juice (orange and lemon). Like Elvis, this gets "all shook up." Add some ice and the more you shake, the better, in order to break the cranberry sauce into smaller pieces. If your sauce is kinda chunky (like mine), you'll probably have a little difficulty in the next step, LOL.
The mixture is poured through the strainer into two glasses with ice, then topped off with tonic or sparkling water. I used orange flavored sparkling water for an even more citrus-y taste. It was delicious with the apricot flavors in my homemade sauce.
If your sauce mixture is still chunky or kind of thick, try removing the strainer and cleaning it a few times to get all the actual liquid out of the cocktail shaker.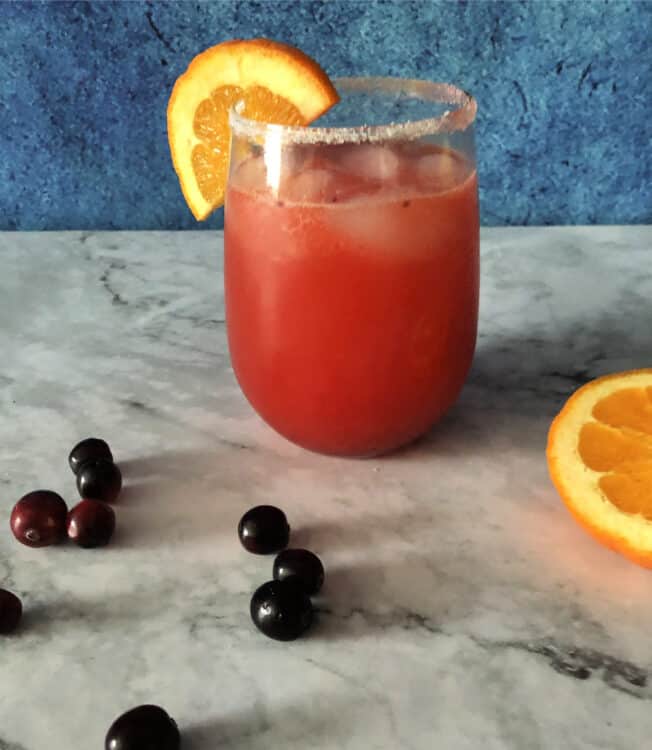 This spritzer should provide you with unique refreshment (and more space in the 'fridge).
And by the way, I realized that this is my 100th post on this blog! Wow, quite a milestone and I hit it in only 7 months! So I think it is really appropriate to have this drink recipe as my post today. I for one will be raising a toast for this post! Cheers!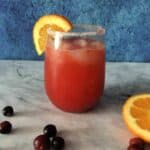 Print Recipe
Cranberry Spritzer
Ingredients
1/3

cup

cranberry sauce

4

shots vodka

3

shots orange liqueur

¼

cup

orange juice

2

TB

lemon juice

1 ½

cups

tonic or sparkling water

flavored if preferred
Instructions
In a cocktail shaker combine the cranberry sauce, vodka, orange liqueur and juices.

Add ice, cover tightly and shake to mix. Continue shaking to help break up the pieces in the cranberry sauce.

Add ice to two glasses and divide the cranberry mixture between them.

Top off each glass with tonic or sparkling water.
Nutrition
Calories:
97
kcal
|
Carbohydrates:
23
g
|
Protein:
1
g
|
Fat:
1
g
|
Saturated Fat:
1
g
|
Sodium:
14
mg
|
Potassium:
62
mg
|
Fiber:
1
g
|
Sugar:
21
g
|
Vitamin A:
62
IU
|
Vitamin C:
22
mg
|
Iron:
1
mg
Nutrition values are estimates only, using online calculators. Please verify using your own data.