These penguins are adorable
There's something about holidays . . . I just love cute food! Fourth of July, Halloween, and now Christmas. It can't be helped, just have to go with it! This Cream Cheese Penguin appetizer is suitable all winter, really, which, BTW, seemed to start this year in October (Where's my fall?!).
I found this holiday appetizer on allrecipes.com and – I can't help it - just makes me laugh whenever I look at it. It combines two sizes of black olives, cream cheese and carrots to make the most adorable little penguins.
If you want to get REALLY fancy, make a cheese ball and shape it like an igloo for your little guys. Yes, you geography geeks are going to point out that igloos are a North Pole thing and penguins are a South Pole thing. But I think combining the two is fine in service of this supremely cute, cuteness, don't you?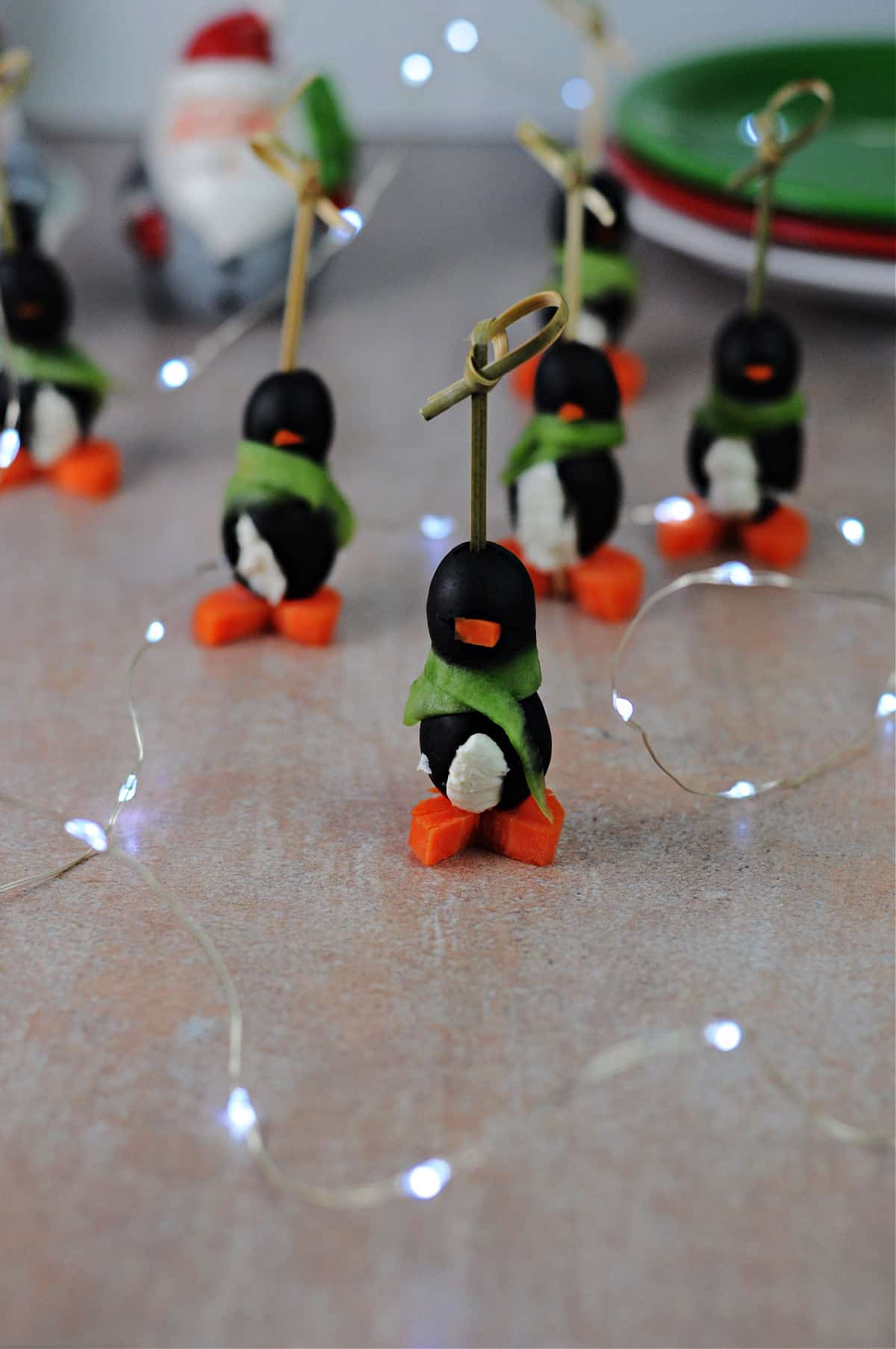 Ingredients for Cream Cheese Penguins
The materials are simple, but a little forethought helps. Two different sized olives are needed. I recommend jumbo olives and small olives for a greater contrast in size between the head and body. For the cream cheese, use the whipped and flavored type. My default here is chive flavored cream cheese. The addition of a packet of dry ranch seasoning could also amp the flavor.
The last ingredient is a carrot, peeled and sliced. It's tricky until you get the hang of it. The carrot slice should be thick enough to be a sturdy base, but you don't want it too large.
I also use a cucumber, which is technically optional. But I think once you see the visual below, you'll want to use one too. 😃
How to make these penguin appetizers
Make the carrot into feet and a beak
Start by slicing a round off the carrot. Then, cut a wedge into that slice, about ¼ of the slice.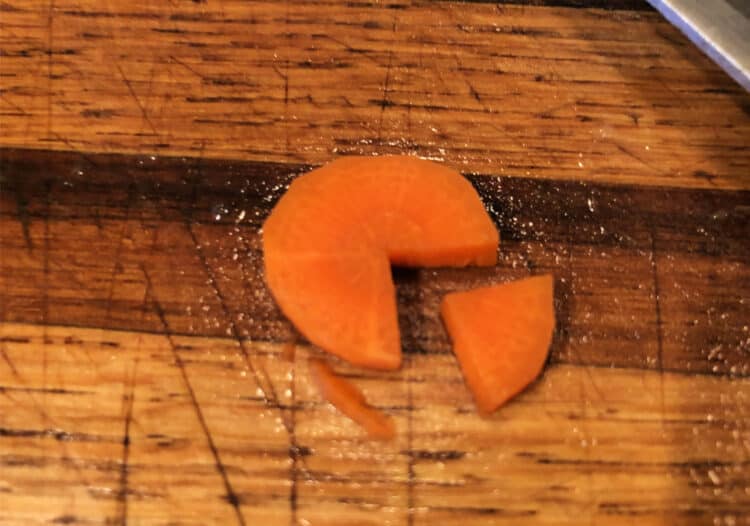 The slice becomes the feet, or base of the penguin. The little wedge, then, can be cut even smaller to make the beak and the beak is put into the small olive. I found it easiest to make a small cut in the side of the olive. Then, push the carrot beak into that.
Give your penguin a tuxedo
For the jumbo olives, cut a wedge in the side, then insert about a teaspoon of cream cheese into the wedge. For this delicate chore, I experimented with different tools, starting with a cheese knife, then, a small knife and then a spoon, but none of them did the trick.
So, I went in a different direction by spooning some cream cheese into a sandwich bag and snipping off a corner. Then, like a cake decorator, I squeezed cream cheese into the olive wedge cuts and - so much easier! I even squirted some into the small olive heads.
Put the Cream Cheese Penguins together
The last step is assembly. At first, I tried regular toothpicks. But they're just barely long enough. Instead, I used bamboo picks, which are 3 ½ inches long and have the little decorative curly-cue at the top. They make these visual treats much easier to pick up.
And, did I say? SO cute! 
Add a scarf for a decorative touch
Now, if you want to take it over the top, add a scarf! I used a vegetable peeler to cut a long strip of cucumber, then I cut thinner strips from that to make scarves.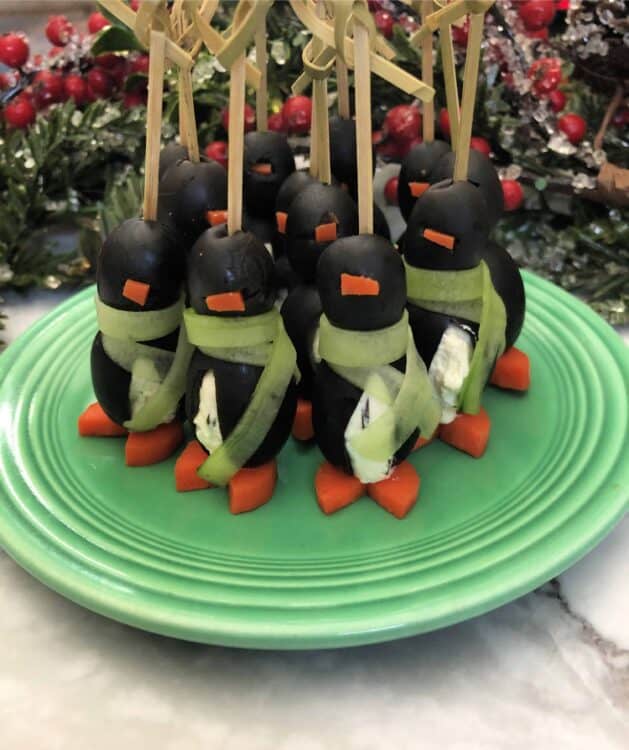 Keep in mind that if you include the vegetable skin, it makes the scarf a little stiff and harder to drape. I tried including some of the cucumber skin for a "striped" look but I preferred the softer texture of the skinless version.
What fun! Totally worth playing with and using your own creative talents!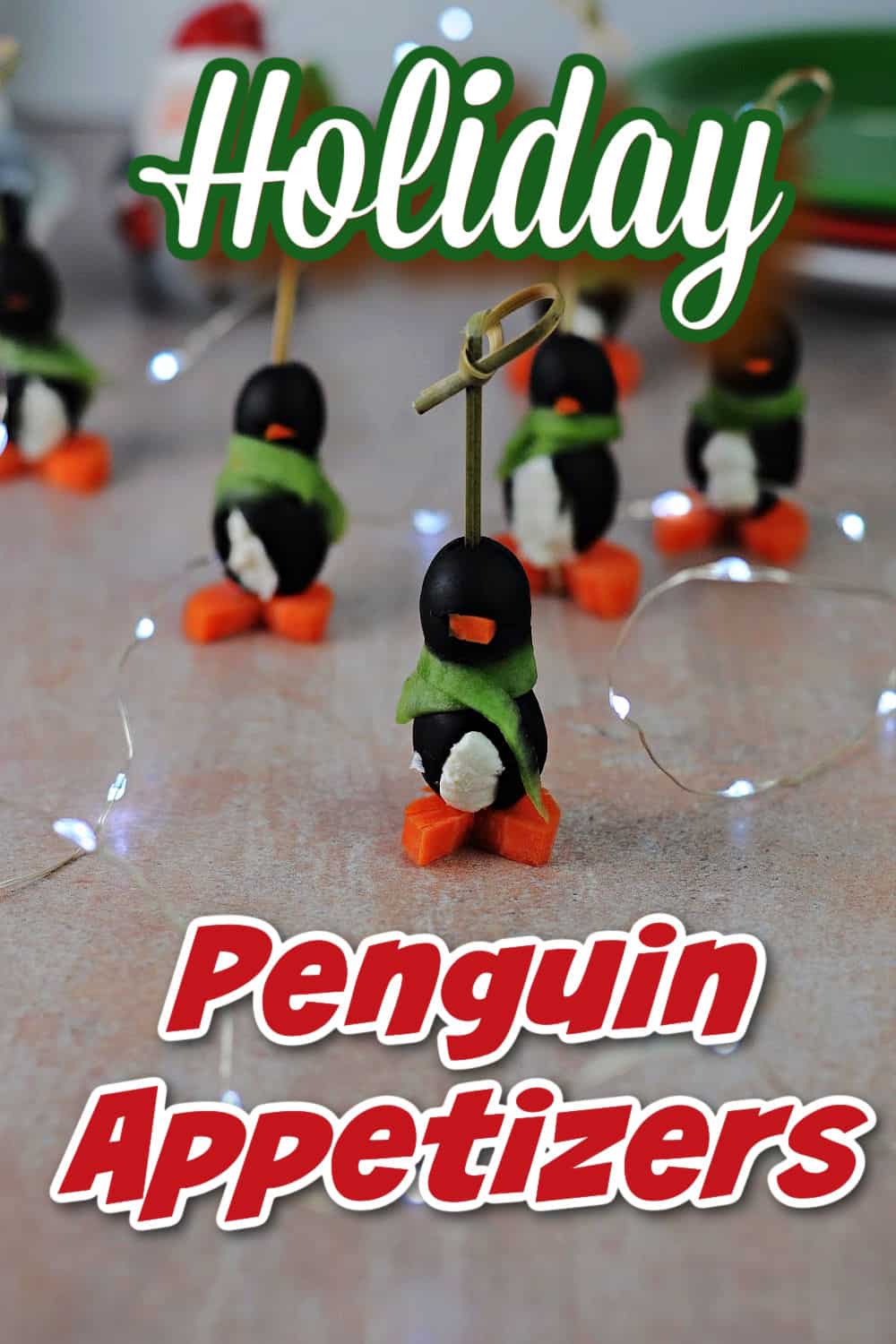 📖 Recipe
Cream Cheese Penguins
Ingredients
18

jumbo black olives

pitted

18

small black olives

pitted

8

oz

whipped cream cheese

flavored recommended

1

carrot

medium

Cucumber

optional
Instructions
Peel carrot and slice into ¼ inch rounds. Cut a notch from each slice to form feet. Save the notch and cut a little smaller (if desired) to form a beak.

Cut a small slit into each small olive and insert the beak into this slit.

Cut a long slit or wedge lengthwise into the side of each jumbo olive. Carefully insert about a teaspoon of cream cheese into each olive.

Take a toothpick and insert it through the pieces, starting with the small olive first, and then the large olive. Place the carrot slice on a solid surface and then firmly insert your assembled penguin toothpick onto the carrot base.

Optional: To make scarves, use a vegetable peeler and cut a few slices lengthwise from the cucumber. Cut off any peel for the edges, cut the remaining slice into appropriate sizes and then use the pieces to wrap around the penguin neck. With the scarves, our little guys are now snug and ready for winter.
Nutrition
Calories:
44
kcal
|
Carbohydrates:
1
g
|
Protein:
1
g
|
Fat:
4
g
|
Saturated Fat:
2
g
|
Cholesterol:
8
mg
|
Sodium:
185
mg
|
Potassium:
11
mg
|
Fiber:
1
g
|
Sugar:
1
g
|
Vitamin A:
717
IU
|
Vitamin C:
1
mg
|
Calcium:
20
mg
|
Iron:
1
mg
Nutrition values are estimates only, using online calculators. Please verify using your own data.