Halloween meals should be fun
Halloween is almost here and while costumes and candy distribution get top priority, don't forget to have fun at meal time! I make stuffed peppers every year, and love to carve Jack O' Lantern faces into each pepper.
It takes only a few extra minutes and turns an everyday meal into a Halloween treat. Spooky good!
How to make stuffed peppers
For a meal as iconic as stuffed peppers, I turn to a trusted source: Betty Crocker. Betty tells us to make our stuffing from one pound of ground beef, one cup of rice, a garlic clove and tomato sauce. When the peppers are stuffed and placed in a baking pan, additional tomato sauce is poured on top and they are baked and then sprinkled with cheese before serving.
Sometimes, I take Betty's guidelines and tailor them to my needs. I prefer all the filling to have an equal amount of "tomato" flavor, so I mix all the tomato sauce with the stuffing instead of pouring some on top.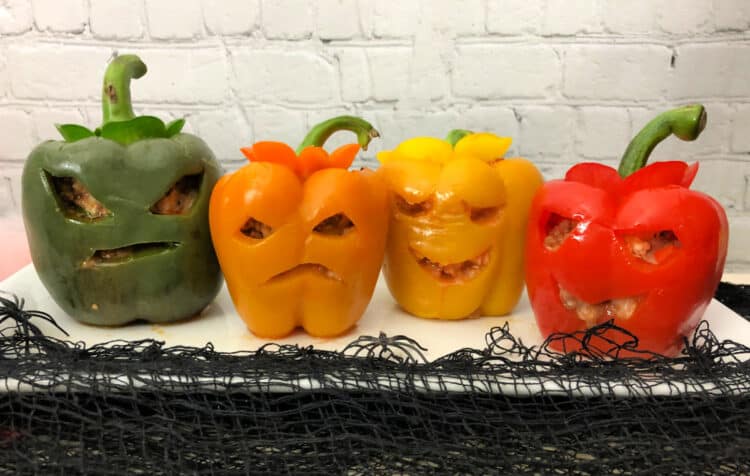 More cheese is always better
And let's talk about the cheese. A sprinkle of cheese? Puh-leez. They don't call my state "America's Dairy Land" for nothing. Besides, you need a strategy for serving stuffed peppers. You know the kids will only eat the top layer of cheese, right? So, I mix shredded cheese into the filling. That way, it's evenly distributed to provide a tasty bit of cheese in every bite.
Brown rice vs. white vs. riced cauliflower
For the rice, I'm pretty sure Betty used white rice, but I always try to use brown rice for a healthier alternative. It works great in this recipe. And this time, to boost the health factor, I tried riced cauliflower in place of the rice. It worked great! It's a nice low-carb alternative that ups the "veggie" factor for this meal.
Cooking and carving the stuffed peppers
Before stuffing the peppers, you need to par-cook them. Kind of a fancy term. Par-cooking means what it sounds like: partial cooking. In this case, the peppers are par-cooked for 2 minutes in boiling water. To make the Jack O' Lanterns, carve the faces either before or right after the par-cook step. It works best when the pepper is still rigid rather than soft and mushy. Since the stuffing is made of small pieces, I always try for small cutouts to prevent "the guts" from pouring out during the baking step (although that sounds creepy cool).
Once baked, let the peppers cool a few minutes before taking out of the pan.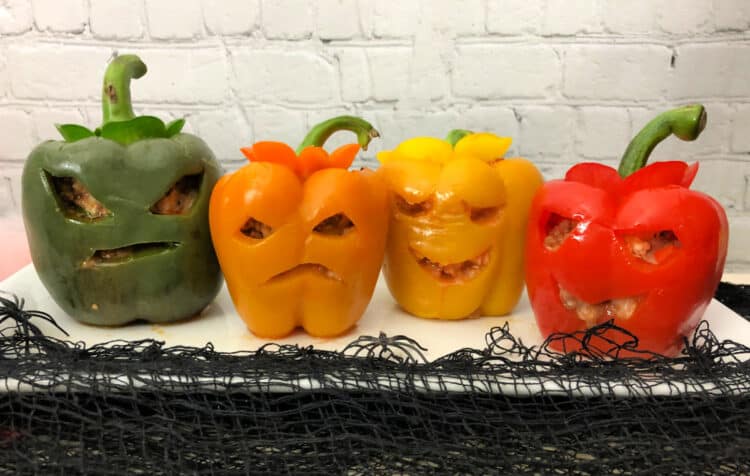 Super cute Halloween food that is a nice break from all the sugary treats!
📖 Recipe
Stuffed Peppers
A fun meal for Halloween!
Ingredients
4

bell peppers

green or color of choice

2

TB

chopped onion

1

lb

ground beef

1

cup

cooked riced cauliflower

cooked rice can be substituted

8

oz

tomato sauce

double if you like it very tomato-y

¾

cup

shredded cheese

mozzarella or Italian blend

½

teaspoon

garlic powder

1

teaspoon

Italian seasoning
Instructions
Preheat oven to 350F

Cut top off each pepper and remove seeds and membranes (Retain tops if making Jack O' Lanterns).

Bring a large pot of water to boiling. Immerse peppers in the water and cook for about 2 minutes. Remove and drain.

In a large skillet, cook the beef and onion for 8-10 minutes, stirring occasionally, until the beef is browned. Drain any excess grease.

Stir in rice, garlic powder, and tomato sauce and cook until heated through. Remove from heat and allow to cool slightly.

If making Jack O' Lanterns, carefully cut faces into the cooled peppers and stand them upright in a baking dish. If needed, cut a very thin slice off the bottom of the peppers to help them stay upright. Otherwise, just lean them against each other.

Add shredded cheese to the cooled filling and mix to distribute.

Spoon the filling into the peppers.

Cover the baking dish (use foil if a cover is not availabland bake for 10 minutes. Remove the cover and bake for 15 additional minutes or until the peppers are tender. Sprinkle the tops with a little more cheese if desired.
Notes
Nutrition estimates are based upon using riced cauliflower for filling
Nutrition
Calories:
416
kcal
|
Carbohydrates:
14
g
|
Protein:
27
g
|
Fat:
28
g
|
Saturated Fat:
12
g
|
Cholesterol:
97
mg
|
Sodium:
522
mg
|
Potassium:
880
mg
|
Fiber:
4
g
|
Sugar:
9
g
|
Vitamin A:
4113
IU
|
Vitamin C:
176
mg
|
Calcium:
158
mg
|
Iron:
4
mg
Nutrition values are estimates only, using online calculators. Please verify using your own data.
For stuffed peppers in appetizer form, try these Mini Bell Pepper Poppers.