This recipe is for the birds!!
I like to feed backyard birds and because I live in a wooded area I see many different types of feathered friends. Their beauty can be astonishing and the songbirds sing so wonderfully.
For years, I was of the mind that birdfeeders were only truly necessary in winter when natural food sources become scarce. But I have come to realize that keeping feeders stocked year-round is helpful to shrinking bird populations and provides a year round opportunity to view a wider variety of species, as some only visit during migratory times of the year.
With my suet feeder consistently stocked, I now receive daily visits from not one, but three different types of woodpeckers! So it's suet 24/7.
"But," you say, "suet is inexpensive, so why cook?" Well, a strong case can be made for reducing unnatural preservatives in what you provide to the birds. And really, it's just fun.
Especially if you have an assistant!
Let's get started: The basis for this suet is lard, which is simply rendered pork fat. This can be found near other oils in the grocery store cooking section, sold in 16oz blocks.
Cut the block in half, use one portion to make suet and save the rest for the next batch.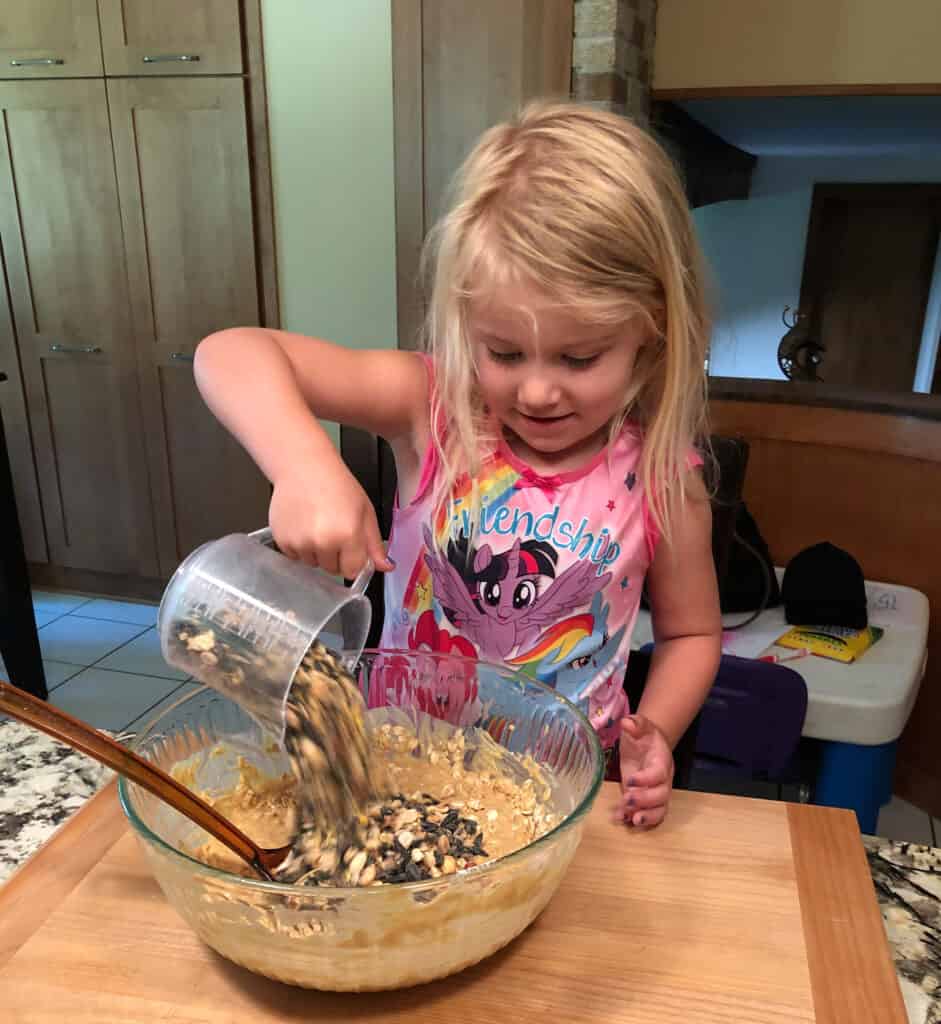 Now, melt the lard with a cup of peanut butter (microwave for a minute or two), then add the dry ingredients: flour, cornmeal, oatmeal and birdseed.
For the dry ingredients, use ½ cup of flour and then a total of 3 cups of grains, usually a combination of cornmeal and oatmeal. My recipe originally called for 3 cups of cornmeal, but if I don't have enough, I substitute with oatmeal. This batch used 1 cup cornmeal and 2 cups oatmeal. Once everything is mixed, it's ready to be made into cakes.
I try to have on hand at least one of the leftover plastic molds used for suet sold in stores. I use these to form my own cakes, since suet feeders are geared toward that specific size and shape (if you don't have a leftover suet mold, I have instructions later in the recipe for making suet in a pan).
Next, line the mold with plastic wrap. Then, spoon some suet into the lined mold pressing firmly into the mold.
More can be added and pressed until the appropriate thickness is reached. Then, wrap the plastic wrap around the cake and remove it from the mold so it's suitable for refrigeration. Repeat until all the suet is used.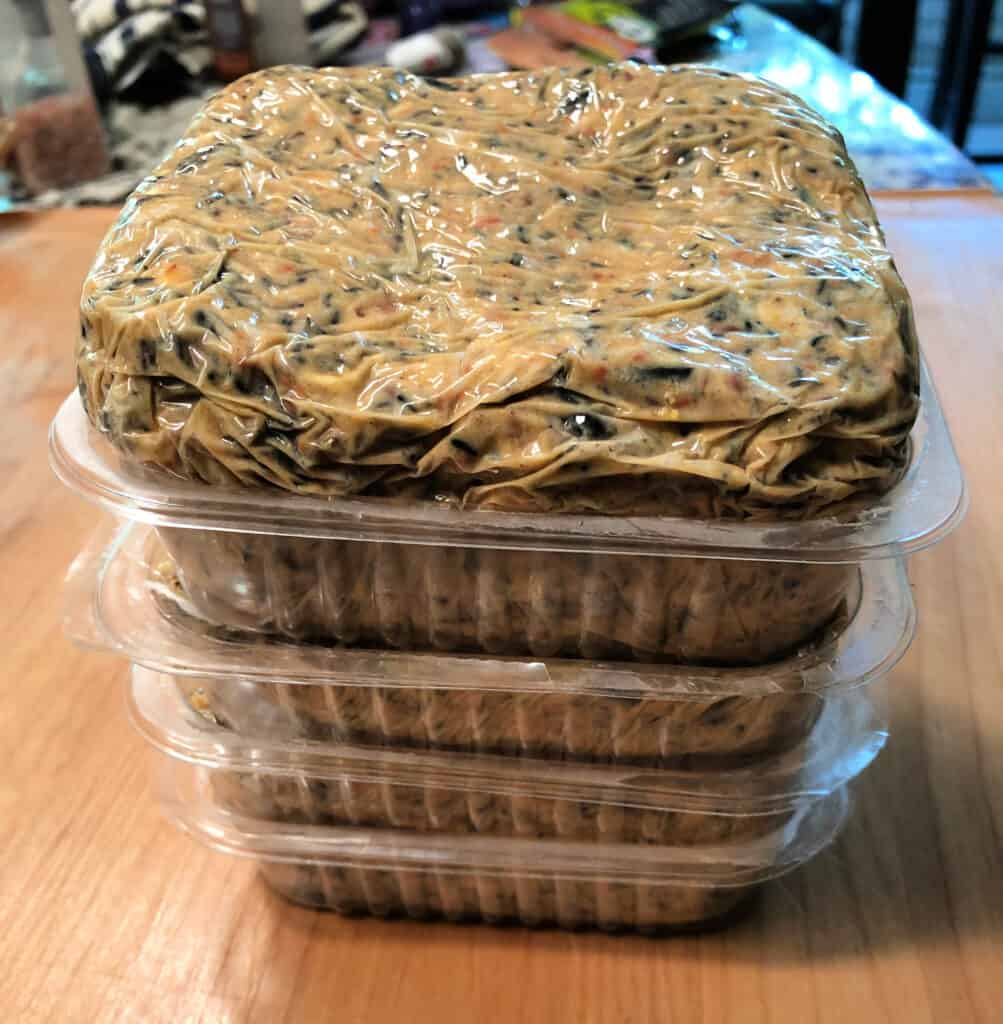 I typically get about 5 cakes from this recipe. If you have multiple molds, just leave the wrapped cake in the mold while freezing.
If you don't have a mold as described, line a 9×13 pan with parchment paper and press the suet into the entire pan. Then, refrigerate the pan for at least 30 minutes to firm the cake, cut into appropriate sized pieces and wrap in plastic individually to be frozen. The cakes do not always cut cleanly so this method may take some elbow grease, but it does work.
Place all the cakes in the freezer to fully set and keep until needed.
Keep in mind that since homemade suet has no preservatives it does run the risk of becoming spoiled and even rancid if left out too long in warm temperatures. The highest recommended outdoor temperature is up to 50 degrees. However, I have gone past that guideline by keeping close watch on the suet.
After making this batch, I'll keep some frozen until fall and alternate with store-bought versions for my summertime visitors.
Attention birdwatchers! Get ready for company!
Print Recipe
Bird Suet
How to make your own bird suet
Ingredients
1

cup

lard

8 oz

1

cup

peanut butter

chunky preferred

3

cups

cornmeal + oatmeal

1/2

cup

flour

4

cups

birdseed
Instructions
Place lard and peanut butter in a large bowl. Microwave on high for 1-2 minutes until melted and smooth.

Stir in cornmeal, oatmeal, flour and birdseed. Mix well.

Line a mold with plastic wrap, leaving a generous amount of extra wrap outside the mold on the sides. Add suet to the mold and press in firmly. Once the mold is full, fold the extra plastic wrap over to enclose the entire cake. Remove from the mold and repeat with the remaining suet.

Place the cakes in the freezer to completely set and keep until needed.