If you're a fan of cinnamon rolls and croissants (and really, that's everybody, right?), you're in for a real treat with cinnamon roll cruffins!
This delicious pastry is a combination of the two, with a flaky and buttery croissant-like exterior and a sweet and gooey cinnamon roll filling.
And the best part? They're made with puff pastry, which means they're incredibly easy to make at home!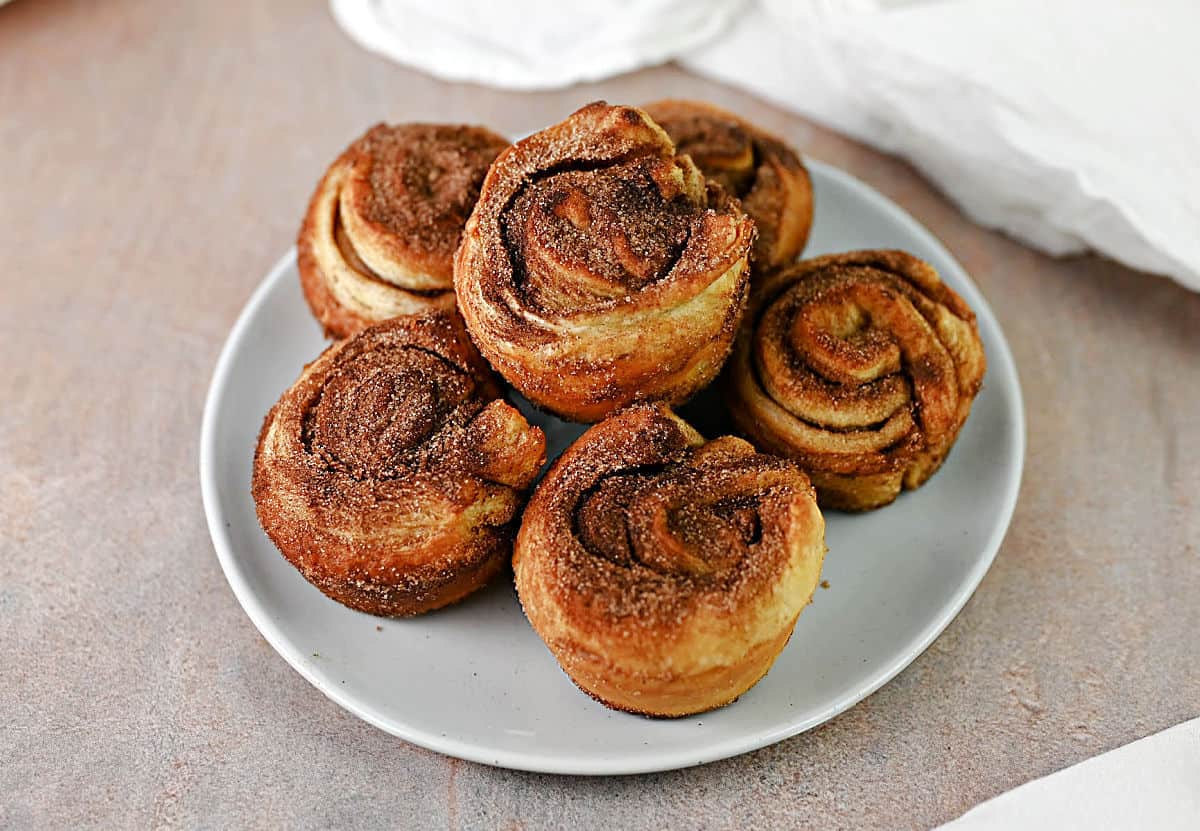 Jump to:
Why You Will Love These Cruffins
This recipe is the perfect balance of flaky and sweet. The puff pastry makes the cruffins light and airy, while the cinnamon sugar filling adds just the right amount of sweetness.
Plus, they're so fast and easy to make, which means you can enjoy freshly baked cinnamon puff pastry cruffins in no time.
This recipe makes 6 cruffins, which means you won't have too many leftovers! Of course, you can easily double it to make 12 if you're feeding a crowd. 🥰
Ingredients
How to Make Cinnamon Cruffins with Puff Pastry
Puff Pastry
Puff pastry is purchased frozen, so of course you need to thaw it. If you can manage to plan ahead, it works really great to move the package of puff pastry from the freezer to the fridge the night before you're going to make the cruffins, and just let the pastry thaw slowly overnight.
If you're being more spontaneous (me, 90% of the time), you'll have to let the pastry thaw at room temperature. This will take anywhere from 30 to 45 minutes, depending upon how warm your kitchen is. 😁
I use both sheets of puff pastry to make 6 cruffins. You can easily use just one sheet and halve the other ingredients to make just 3 cruffins, if desired. (you can use the other sheet to make turkey pot pie!)
Assemble the Pastry
Microwave half of the butter briefly to soften or melt. Mix the cinnamon with the sugar to make the filling. Reserve a couple tablespoons of this mixture to sprinkle on the baked cruffins, if desired.
Take one sheet of puff pastry and lay it flat on a lightly floured surface. Use a rolling pin to lengthen the sheet into a rectangle, about 9 by 14 inches.
Spread the pastry with the softened butter, going almost to the edge. Then sprinkle with half the cinnamon sugar.
Form the Rolls
Roll the pastry from one of the long ends to make a long spiral log. With a small sharp knife, cut about halfway into the length of the pastry. It will start to open slightly.
Now cut again, crosswise, to make 3 sections.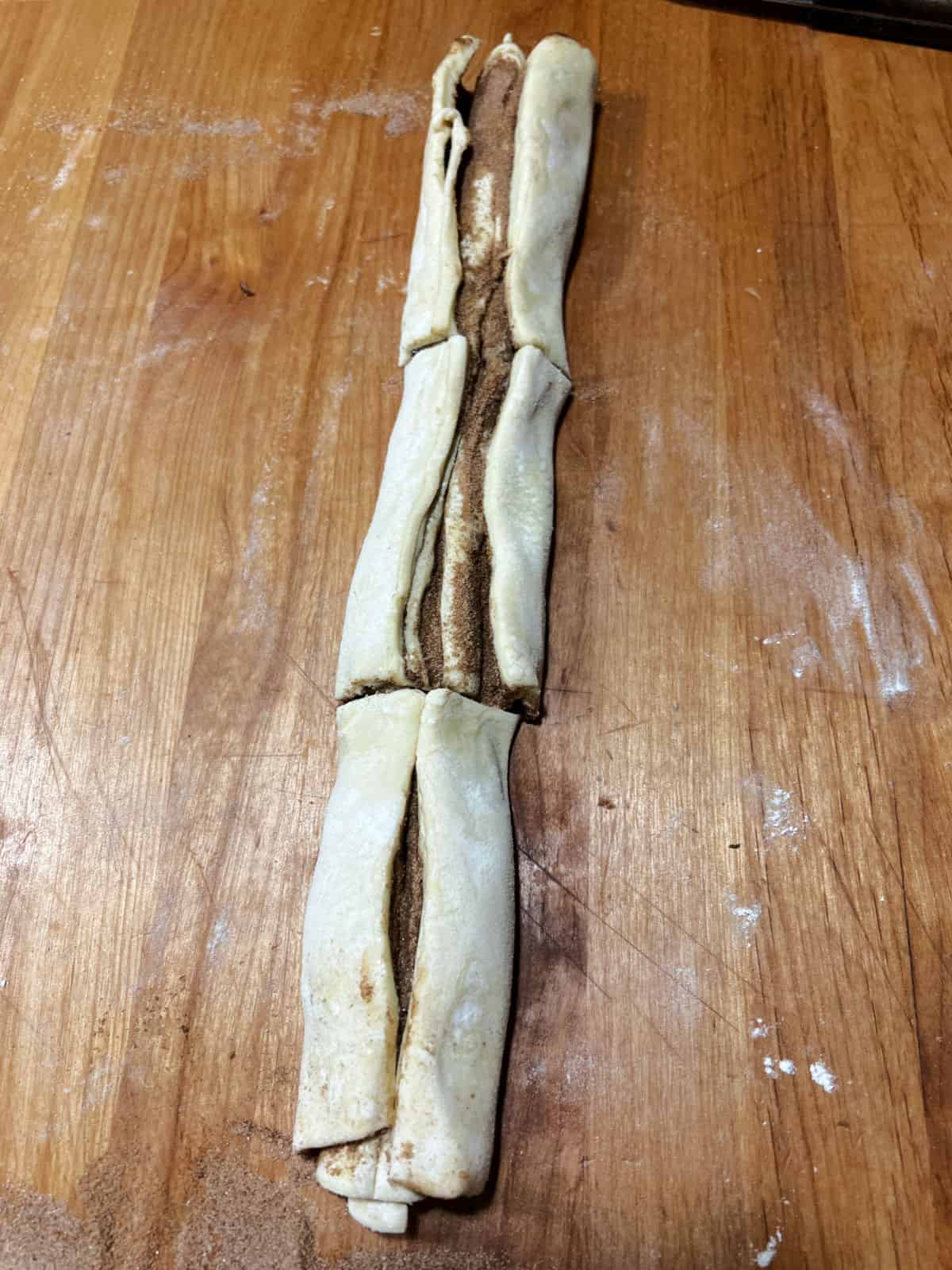 Take one section and roll it around itself to form a cinnamon roll shape.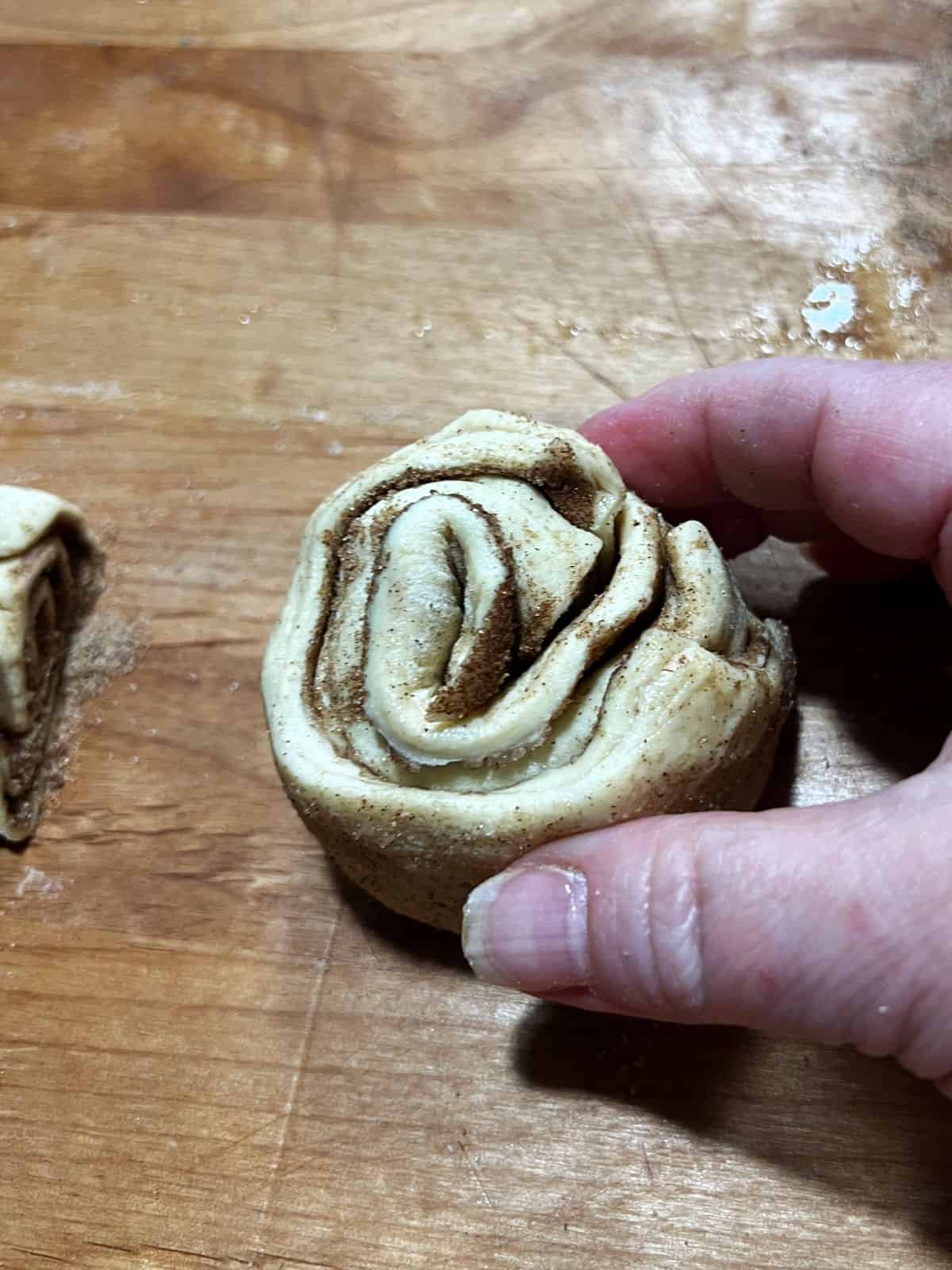 Place this in the prepared (greased or sprayed) muffin tin, then repeat with the other sections. Repeat all these steps with the remaining sheet of puff pastry, butter and cinnamon-sugar.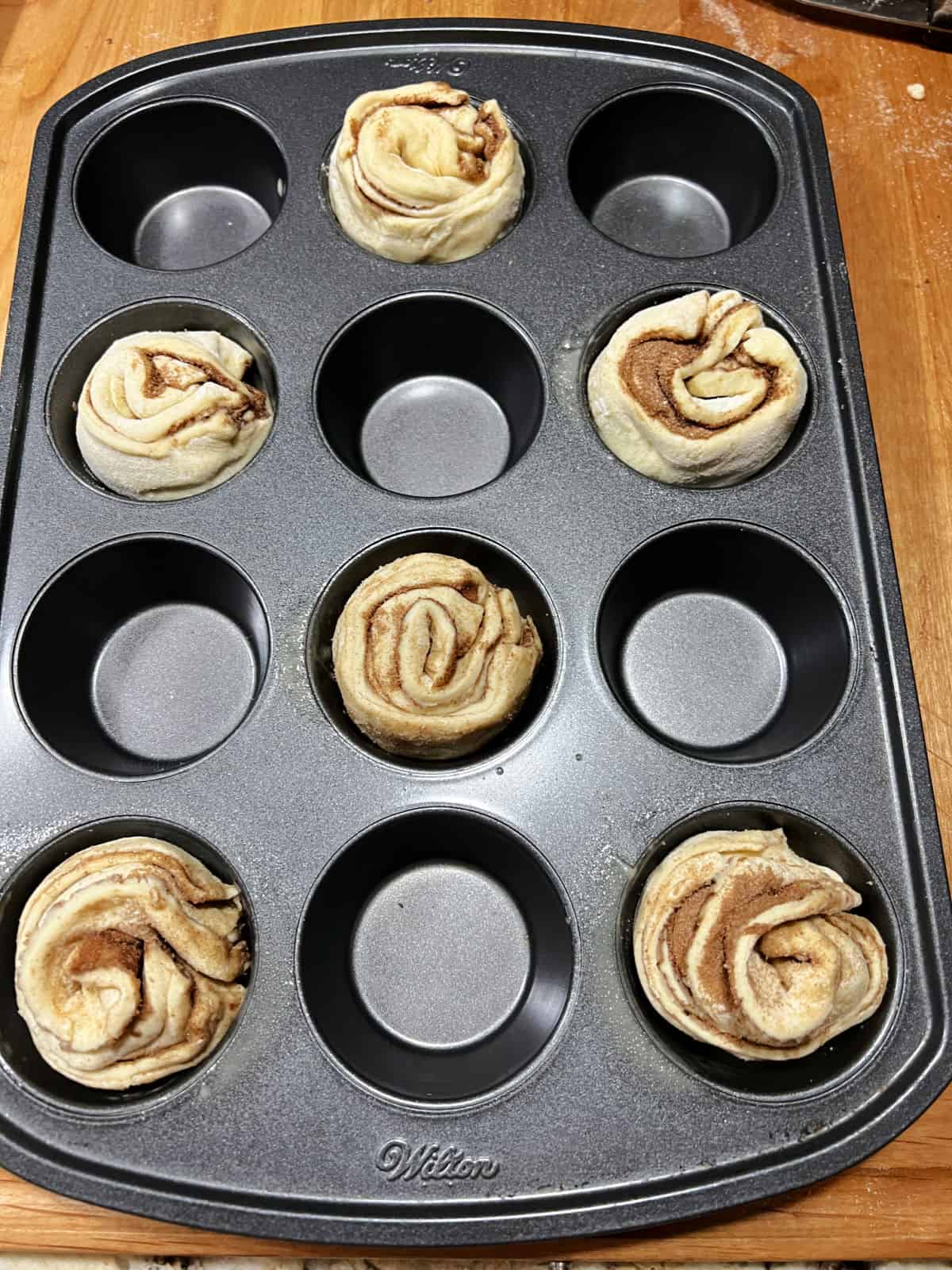 Bake the Puff Pastry Cruffins to Perfection
Bake at 400F for 18-20 minutes. The cruffins will puff slightly and be golden brown colored.
If you reserved a little of the cinnamon-sugar, now is when you use it. Sprinkle a little of the mixture over each of the hot cruffins. If you'd like, you can also sprinkle some all around, or roll the hot cruffin in the mixture to coat.
Your cruffins are now ready to serve!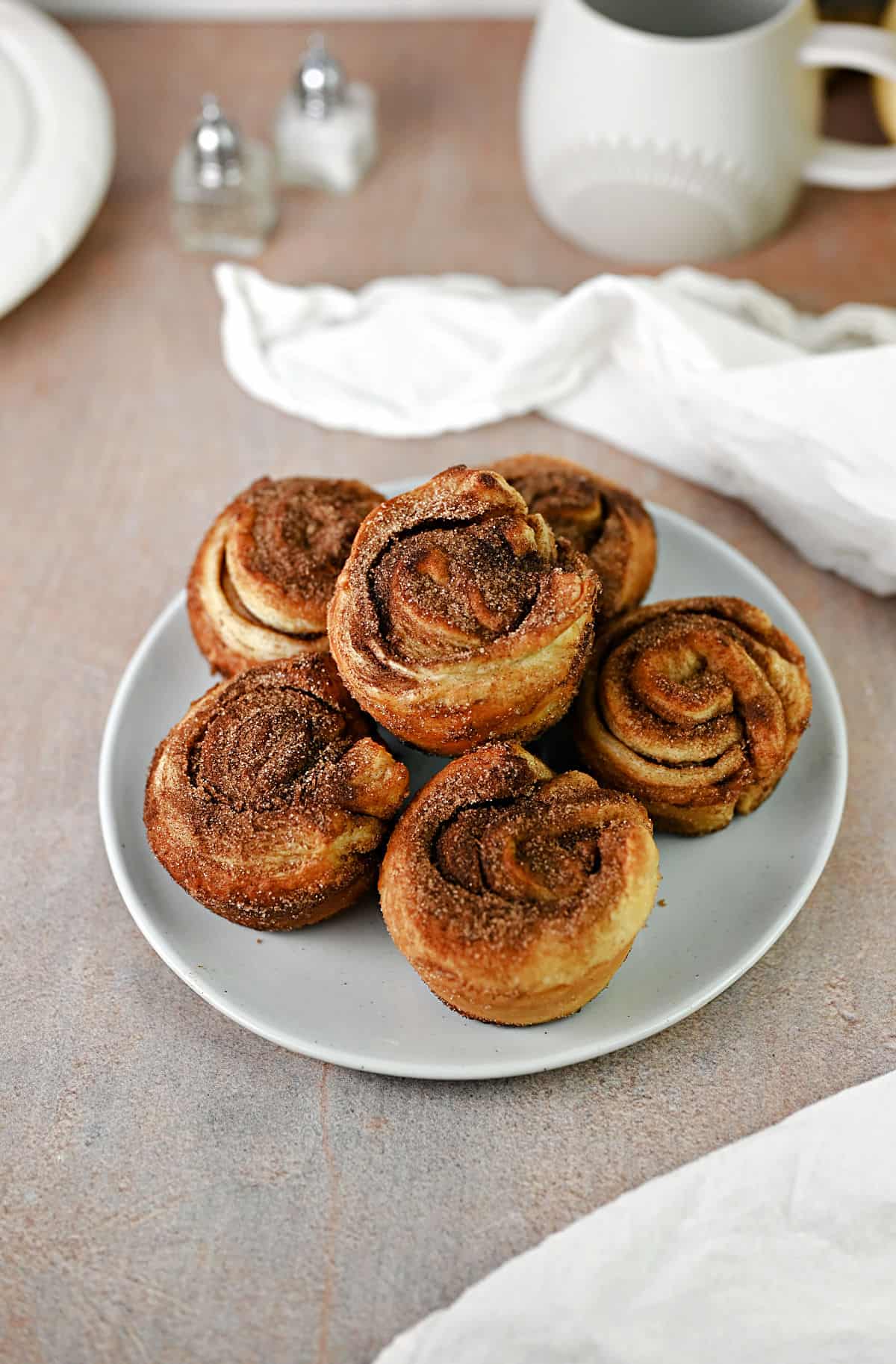 Serving Suggestions
These cruffins are like a flaky version of a cinnamon roll. Perfect for breakfast, brunch, or as a sweet treat with a cup of coffee or tea.
You can serve them warm or at room temperature.
These would be a great addition to a brunch, where you want a little something for everyone. Make some slow cooker breakfast burritos to satisfy the savory breakfast crowd, and an assortment of cruffins and muffins for the sweet.
Storage
Cruffins can be stored in an airtight container at room temperature for up to 3 days. (You'll be lucky if they last that long!)
They can also be frozen for up to 1 month. To reheat, simply warm them up in the oven at 350°F (175°C) for 5-7 minutes.
More Delicious Recipes to Try
For all of us who love cinnamon rolls, here's a new twist: cinnamon roll cupcakes! Baked in a muffin pan and frosted with cream cheese frosting, they are a fun new way to enjoy cinnamon rolls!
And if you still need MORE cinnamon goodness, try a cinnamon pie. What a delicious addition to your holiday pie menu!
Here are a few more ideas to consider:
📖 Recipe
Cinnamon Roll Cruffins with Puff Pastry
A flaky puff pastry version of a cinnamon roll, these cruffins are unbelievably delicious and so easy!
Ingredients
2

sheets puff pastry

1 package

¼

cup

butter

4 tablespoons

2

tablespoons

cinnamon

½

cup

sugar
Instructions
For best results, place the package of frozen puff pastry in the refrigerator to thaw overnight before using.

Preheat the oven to 400F and spray 6 cups of a muffin tin with baking spray. (the kind with flour in it)

In a small bowl, combine the sugar and cinnamon. Set aside 2 tablespoons of the mixture for sprinkling after baking, if desired. Place 2 tablespoons butter in a microwave-safe cup and microwave 30 seconds to soften/melt.

Remove one of the puff pastry sheets and lay it out flat on a lightly floured surface. The pastry will be about 9x9 inches square. Use a rolling pin to roll the pastry in one direction to make it a rectangle. The finished size should be about 9 by 14 or 15 inches.

Spread the softened butter thinly over the pastry, going close to all the edges. If the pastry is still cold, the butter will harden so do this as quickly as you can.

Sprinkle half the sugar/cinnamon mixture evenly over the butter.

From one of the long edges, roll the pastry to form a long log. If desired, you can wet the long edge with a little water to help it stick.

Now, use a small knife and cut into the log lengthwise, only about half-way in depth. The layers will start to open slightly.

Cut the log into thirds crosswise. Take each cut section and roll it around itself to form a cinnamon roll shape. Place each roll into a prepared muffin cup.

Repeat with the other puff pastry sheet and the remaining butter and cinnamon-sugar.

Once all 6 cruffins are formed, place the muffin tin in the preheated oven and bake for 18-20 minutes, until golden.

Remove the cruffins from the muffin pan and use the reserved cinnamon sugar to sprinkle on top or all around as desired.

Serve immediately for maximum deliciousness. 😀
Nutrition
Calories:
589
kcal
|
Carbohydrates:
56
g
|
Protein:
6
g
|
Fat:
39
g
|
Saturated Fat:
13
g
|
Polyunsaturated Fat:
4
g
|
Monounsaturated Fat:
20
g
|
Trans Fat:
0.3
g
|
Cholesterol:
20
mg
|
Sodium:
265
mg
|
Potassium:
64
mg
|
Fiber:
3
g
|
Sugar:
17
g
|
Vitamin A:
245
IU
|
Vitamin C:
0.1
mg
|
Calcium:
37
mg
|
Iron:
2
mg
Nutrition values are estimates only, using online calculators. Please verify using your own data.