Cornbread dressing is a cherished Southern comfort dish that has been passed down through generations. But what happens when you combine classic cornbread dressing with the delightful texture and flavor of hard-boiled eggs?
Delicious, that's what!
Be prepared to take your cornbread dressing experience to a whole new level! This recipe is easy, adaptable, and so forgiving regarding quantities and substitutions. The best kind!
Jump to:
Why You Will Love This Dressing
This cornbread dressing is delicious and makes a perfect side for a holiday meal. But don't limit yourself! It's a great way to round out a simple meal and make it special. Cook up some chicken thighs in the air fryer, make a batch of this dressing, and serve with a vegetable or green salad.
It's a terrific and easy way to bring a taste of holiday flavors to your weekday dinners!
Ingredients Needed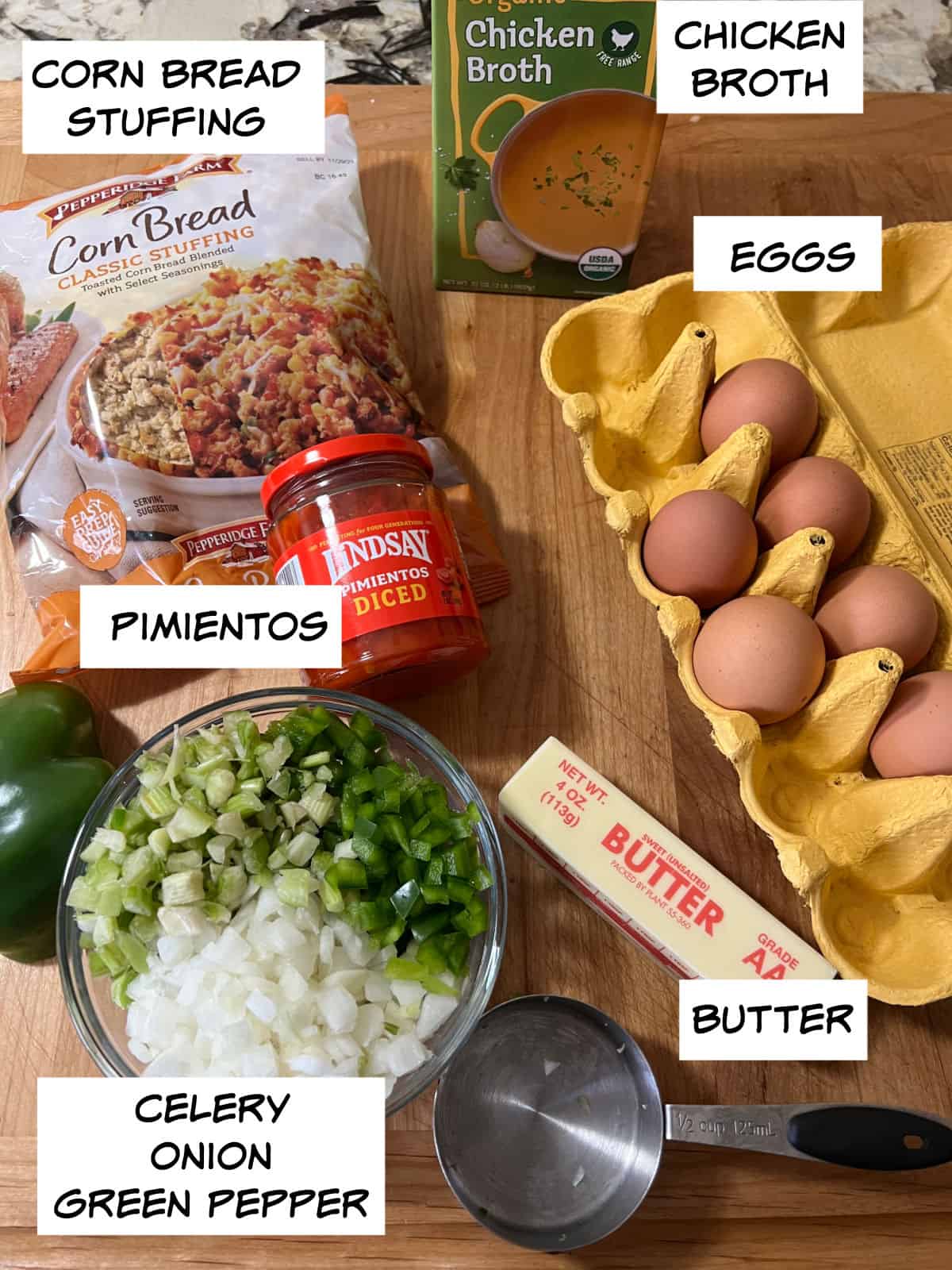 **Be sure to scroll to the recipe card for detailed quantities and directions**
How to Make this Cornbread Dressing with Boiled Eggs
The only prep work needed for this cornbread dressing is to cook and chop the hard boiled eggs. Oh, and chop the veggies, but sometimes you can find already chopped celery and onions at the grocery store, which is a real time saver!
In a large skillet, melt the butter on medium heat. Add the chopped celery, onion, and green pepper and sauté until softened, about 4 to 5 minutes.
Turn off the heat and add the cornbread, drained pimientos, and chopped eggs. Stir to distribute the butter, than add the chicken broth.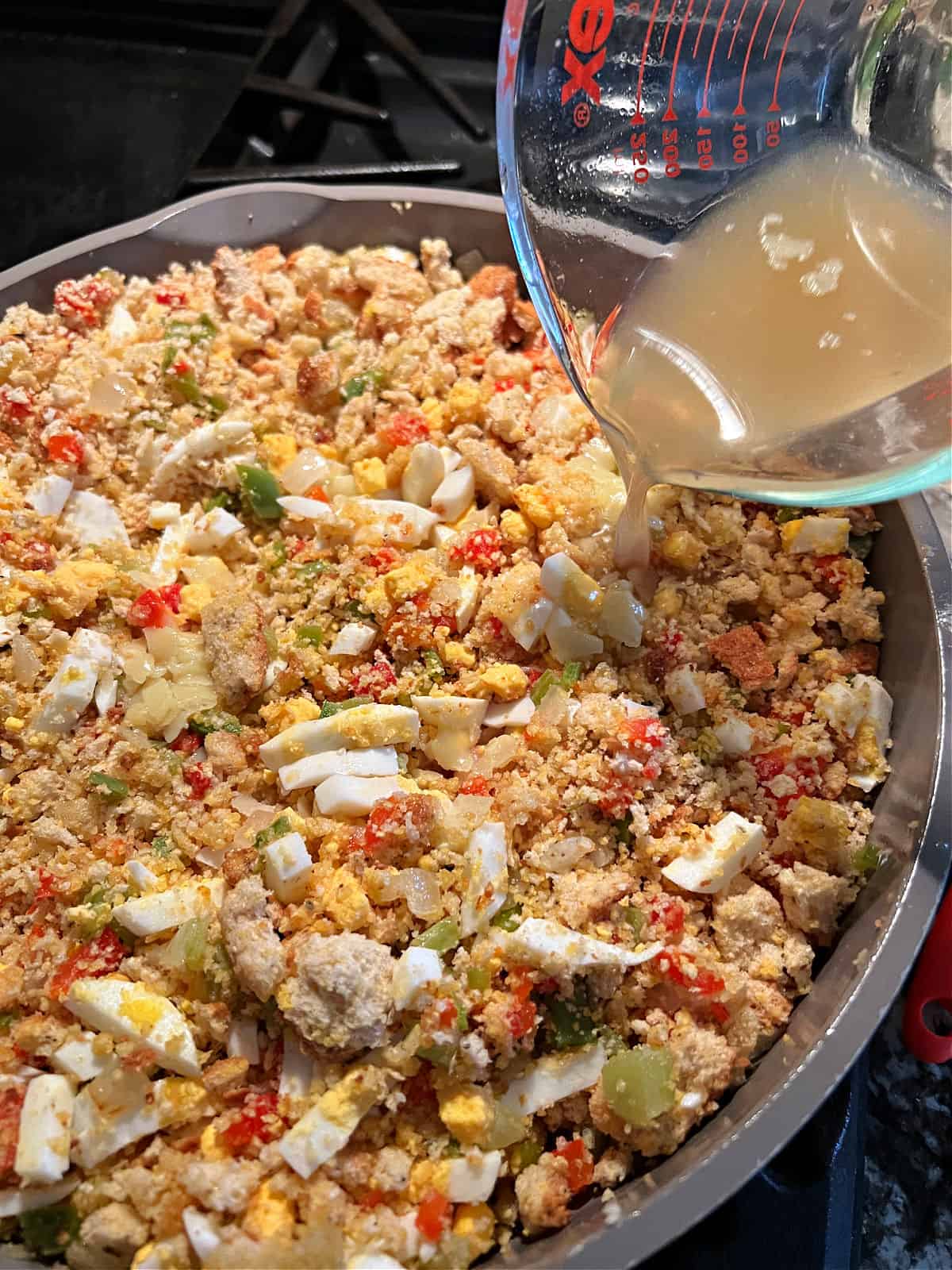 Mix well and season with salt and pepper, to taste. I typically add no salt and just some pepper, as I feel that it's easy enough to add salt on your plate as needed.
Transfer the mixture into a lightly greased casserole dish.
Cover and bake at 350F for about 35 minutes, until completely warmed through.
Optional: if you like crispy edges on your dressing like me, remove the cover and bake for an additional 10 to 15 minutes to form a crust on top. The cornbread will be lightly toasted and a thoroughly delightful texture!
Serving Suggestions
Enjoy this dish as a side with turkey, chicken, or pork. It will bring a traditional element to a meal of spatchcock turkey or air fryer chicken thighs.
Serve with some old fashioned sweet potato casserole to get all the holiday meal tastes!
The addition of hard-boiled eggs makes this dressing a fantastic breakfast or brunch option. My friend Sharon says it's her favorite Black Friday morning meal. Serve it with a side of fresh fruit for a well-rounded morning meal.
Substitutions and Variations
I've never tried it, but some people like to add sausage to their dressing, which I think would be yummy in this. You can also play with different seasonings or fresh herbs for a unique twist.
If you make your own cornbread, use the leftovers for this. You'll want it to be at least a day or two old, so it dries out some, and use a lot less broth. Just use enough to moisten to help the dressing be a little sticky.
Keep in mind that this recipe is very forgiving. Which gives you lots of leeway for your own creativity! You can use more cornbread stuffing with the same number of eggs, increase the pimientos, etc. You'll need more broth for this but use as much as seems right to you.
If you don't have pimientos, you can leave them out, or substitute with some chopped red pepper to get that same pop of color. I once thought I was buying chopped celery but it was actually a mix of celery, onion, and green pepper. I didn't realize until I had the cornbread all mixed up, so that batch was really heavy on green pepper and onion. It still tasted great. 😁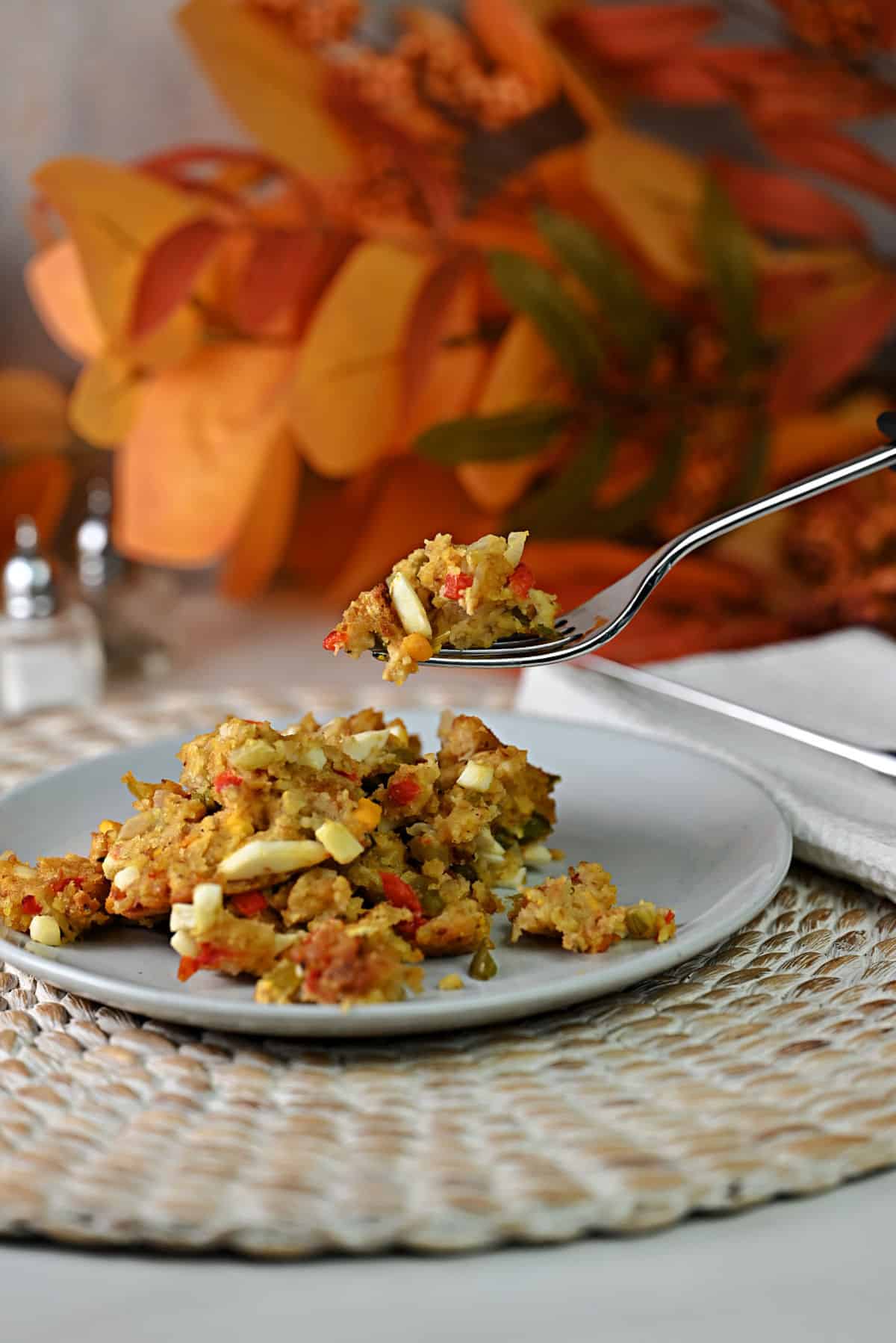 Storage
Store any leftovers in an airtight container in the refrigerator for up to 3-4 days. Reheating in the oven will give the best results, but I also use the microwave for speed and ease of use.
Frequently Asked Questions
Can I make this cornbread dressing without hard boiled eggs?
Absolutely, just omit the eggs and use all other ingredients as stated. You'll have a flavorful traditional cornbread dressing that everyone will love.
Is it dressing or stuffing?
It's really the same dish, but the cooking methods differ. If you took this mixture and spooned it into the cavity of your bird, it would be considered stuffing. When you cook it separately in a dish, it is called dressing. Cooking separately has the advantage of being easier to control the temperature, plus you get the crusty edges that aren't possible inside a bird.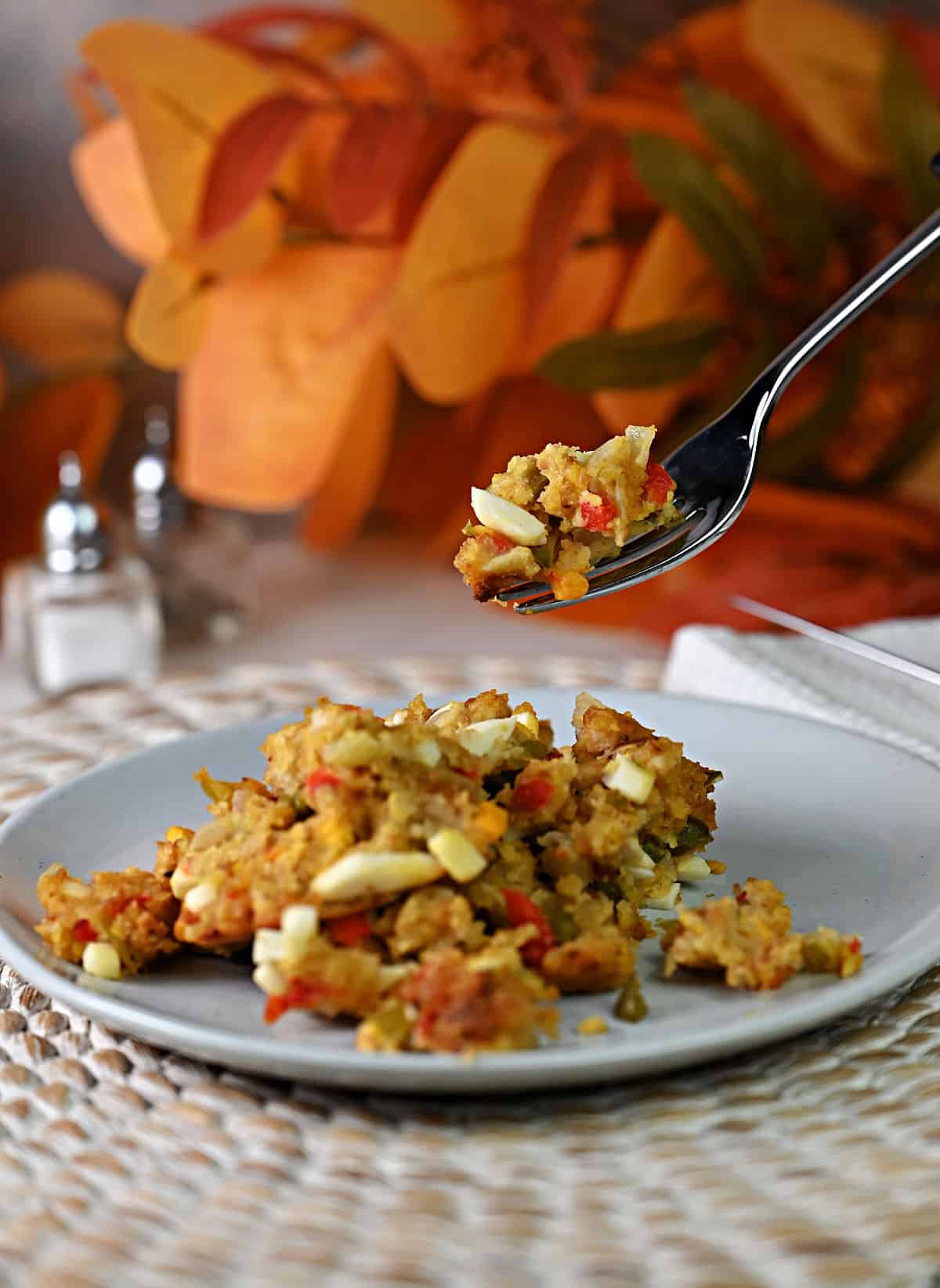 📖 Recipe
Cornbread Dressing with Boiled Eggs
Hard-boiled eggs meet traditional comfort food in this cornbread dressing. A hearty, satisfying, and delicious surprise!
Ingredients
½

cup

butter

1 stick

½

cup

onion

chopped

½

cup

celery

chopped

½

cup

green pepper

chopped

12

ounces

cornbread dressing

Pepperidge Farm

6

eggs

hard boiled and chopped

½

cup

pimientos

chopped (7 ounce jar, drained)

1½

cups

chicken broth

up to 2 cups

Salt and pepper to taste
Instructions
Lightly grease a 2-to-3-quart covered casserole dish and preheat the oven to 350F.

In a large skillet, melt the butter on medium heat. Add the onions, celery, and green pepper. Sauté until softened, about 4 to 5 minutes.

Turn off the heat and add the cornbread, chopped eggs, and pimiento. Stir to coat.

Moisten with chicken broth. Add one cup to start, and mix. Then add another ½ cup. This is usually enough for me but if you prefer your dressing more sticky/wet you can add an additional ½ cup. Season with salt and pepper to taste.

Transfer to the prepared dish. Cover and bake for 35 minutes.

Optional: for crispy edges on the top layer, remove the cover and bake an additional 10 to 15 minutes. The top layer will be lightly toasted and slightly crunchy.
Notes
If using baked cornbread, give it time to dry out a little and use less broth. For 2 quarts of crumbs, use ½ to 1 cup of broth, just enough to moisten and make the dressing stick together a little.
Nutrition
Calories:
226
kcal
|
Carbohydrates:
22
g
|
Protein:
5
g
|
Fat:
13
g
|
Saturated Fat:
6
g
|
Polyunsaturated Fat:
1
g
|
Monounsaturated Fat:
5
g
|
Trans Fat:
0.3
g
|
Cholesterol:
103
mg
|
Sodium:
438
mg
|
Potassium:
117
mg
|
Fiber:
2
g
|
Sugar:
7
g
|
Vitamin A:
643
IU
|
Vitamin C:
14
mg
|
Calcium:
36
mg
|
Iron:
1
mg
Nutrition values are estimates only, using online calculators. Please verify using your own data.