Stuff a sweet potato with leftovers
So, do you have a few leftovers from Cinco de Mayo? Try using them to make a stuffed sweet potato. Whenever I make my Brown Rice and Bean Bake , I love eating the leftovers, but sometimes I like a little variety for it.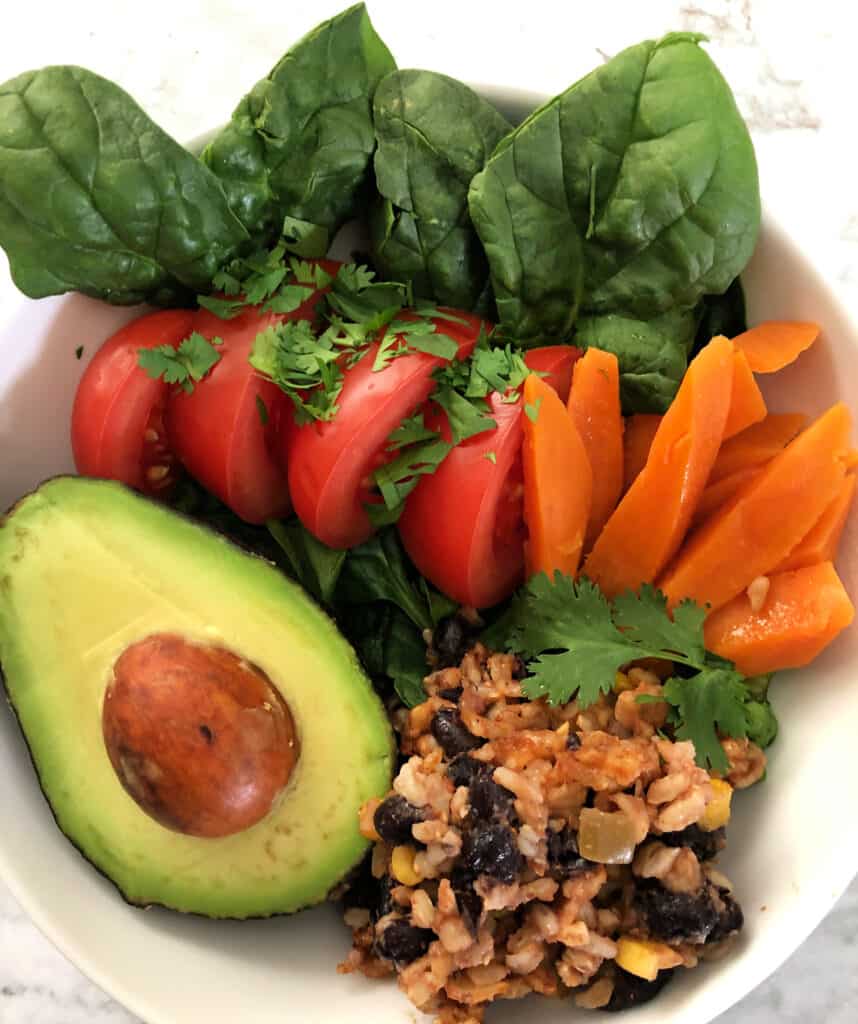 Of course, you can go with the classic Burrito Bowl: lettuce or spinach with tomatoes, maybe a little sweet potato and avocado, a scoop of the warmed-up Brown Rice and Bean Bake, and you are good to go! Need more? Add cheese! More still? Thrown on some salsa! You get the idea.
One day, I wanted something a little more substantial, so I decide to try a stuffed sweet potato; it turned out great! The best part was that all the ingredients can be heated up in the microwave, so it was ready in minutes.
How to make your Stuffed Sweet Potato
Cook the sweet potato
Start with a large sweet potato (mine was really big; about one pound).
Use a fork to puncture the skin around the whole potato before placing it in the microwave on high for three minutes. (You should do this step to microwave any potato. It allows the steam to escape, and avoids explosions. Unless of course you'd rather spend your time cleaning out your microwave.)
Once the three minutes is up, turn the potato over and microwave for two minutes more. Test the potato for "doneness" by squeezing it gently; if it feels a tad soft, you are done. Not certain? Take a fork and push it into the potato as far as you can. If you hit any spots that feel super hard or crunchy, microwave it for another minute or two until it is done. Smaller/thinner potatoes will probably cook through with two minutes on each side.
Warm up the rice
Once the potato is done, spoon some of your leftover rice into a bowl and microwave for about two minutes until warm.
Start stuffing
When the potato has cooled enough for you to handle it (or, heck, just grab it with a towel if you're in a hurry!), cut it in half lengthwise.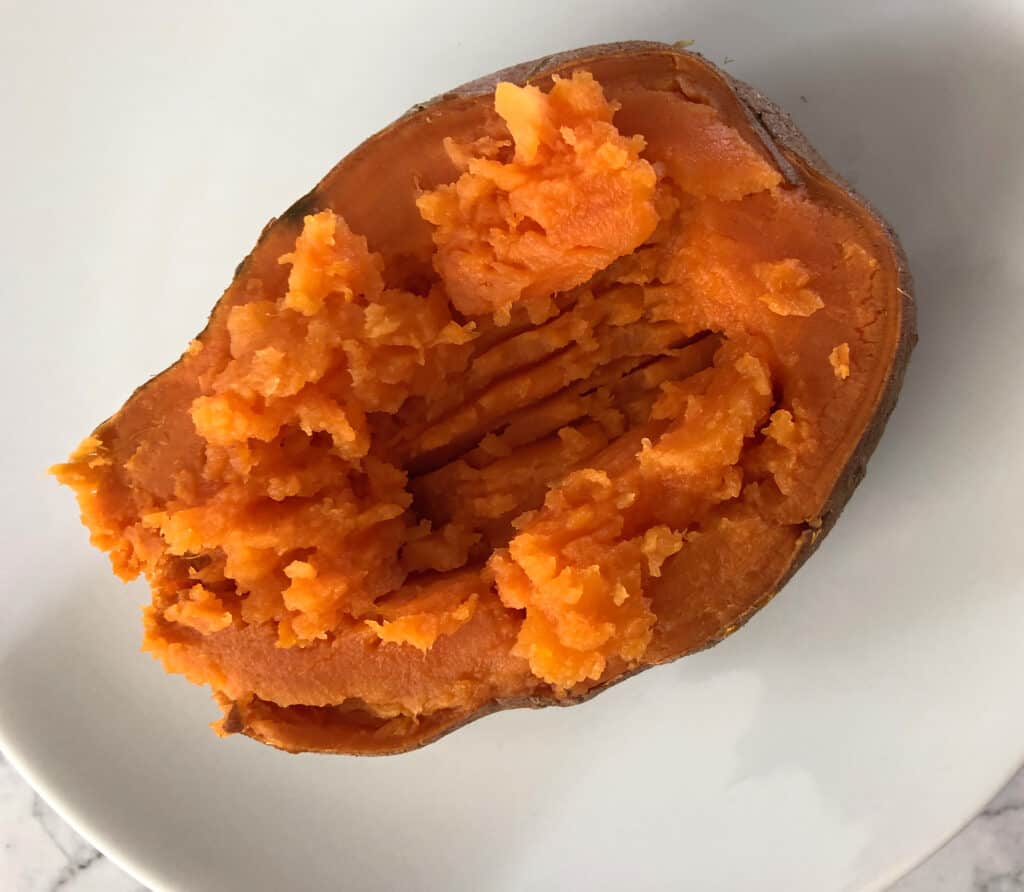 Then use a fork to disrupt the flesh some. Make a small hollow spot in your potato by either scooping some flesh out or just moving it to the side as I've done here.
Place the rice mixture into this bowl, as well as any other toppings you like.
Add some cheese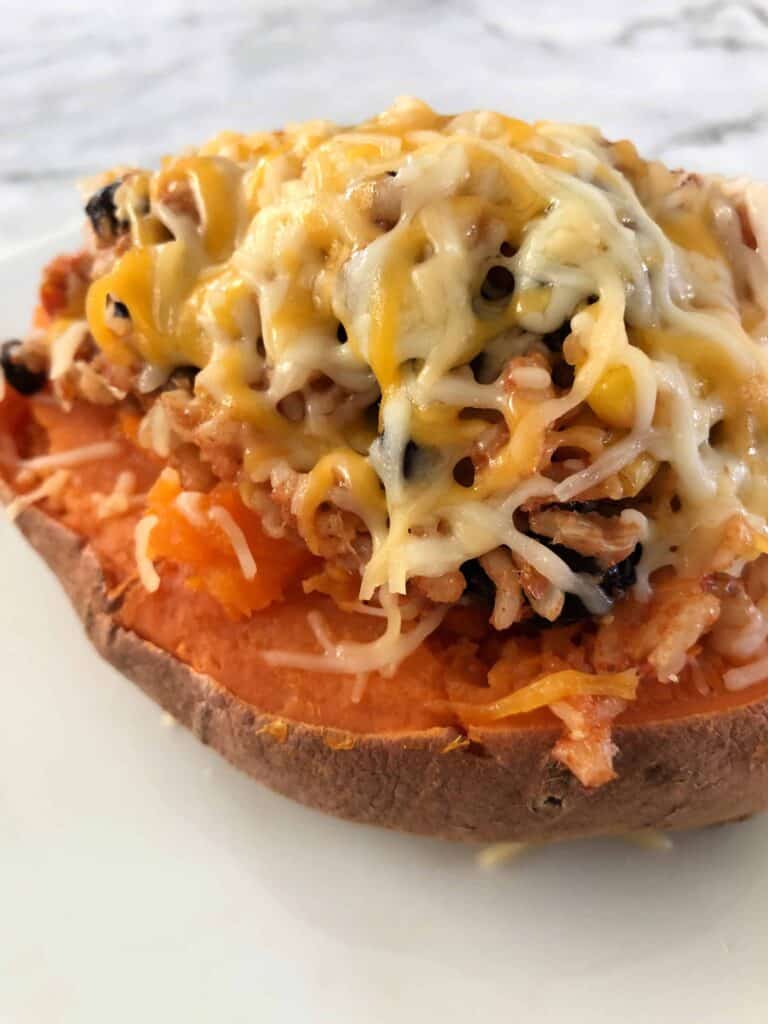 You might be satisfied stuffing this with just the rice, but hey, I'm from Wisconsin and that means ADD CHEESE, people!
Microwave the potato for 30 to 60 seconds to melt the cheese a little.
This makes a great lunch as-is or with a small salad on the side. I ate one-half stuffed potato with a cup of Black Bean Soup, which made for a very satisfying meal.
If you love sweet potatoes, you might want to try Sweet Potato Salad.
---