National Oreo Day is something to celebrate!
March 6 is National Oreo day. Now THAT is worth celebrating!! Oreos are my favorite "from a store" cookie. Let's face it, they're not easy to replicate at home so I'm not even going to try.
Instead, how about combining Oreos with something just as iconic and something made at home such as . . . Rice Krispie treats! (Cue the peanut gallery: wild applause).
Mixing Oreos and Rice Krispie treats makes Oreo Krispies. And after your kids eat them, they'll be called, "These are FANTASTIC, Mom!"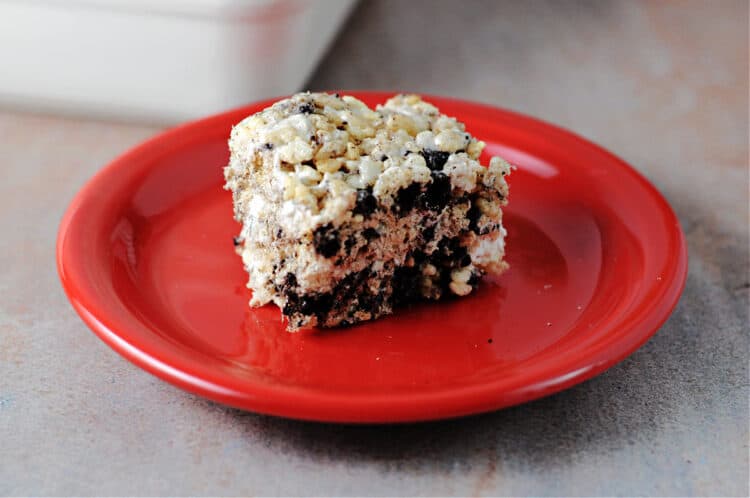 A few Oreo factoids
Since this is "their day" let's look at a few fun facts about Oreos:
Over 450 billion Oreos have been sold since their introduction
Oreos are sold in more than 100 countries worldwide
More women dunk an Oreo than men
More men eat Oreos whole than women
Oreos are 71% cookie and 29% creme filling
I don't know about you, but I was a little startled by the information that men are NOT dunking and are just eating the Oreo whole. All at once. Savages!
I always felt there was no way an Oreo could be improved. Then came the Double Stuf. Oh my. And then? Fudge dipped. No fair!
How to make Oreo Krispies
For this recipe, I have used both standard Oreos as well as Double Stuf. They are fantastic either way. 😃
So many Oreos, so little time…..mmmm.
Speaking of time, this comes together super fast! Just measure out the Krispie cereal with one cup of mini marshmallows in a large bowl. Crush up 16 Oreos and add them to the bowl.
Then, melt butter in a saucepan, add remaining mini marshmallows to saucepan and stir until the marshmallows have melted completely into the butter.
Remove from heat and pour over the cereal mixture. Stir everything to coat the cereal mixture with marshmallow goodness. Spread this mixture into a buttered pan and press gently to flatten the top.
The typical tool for this is a spoon or spatula. I like to use a sandwich bag to grease the pan and then reserve that bag to press the top of my Krispies. Works great. 😀
Now comes the hardest part: Wait - til the pan cools for 30 minutes before cutting.
Anyone else just love how gooey treats pull apart?
These Oreo Krispies should come with a warning label. They are wicked good!
More delicious treat ideas
For another snackable treat, consider making a Fruit Pizza.
Got leftover Oreos? You might want to make some Oreo Cupcakes with Oreo frosting. Or make an Oreo crust for a delicious White Chocolate Cheesecake.
It doesn't get much better!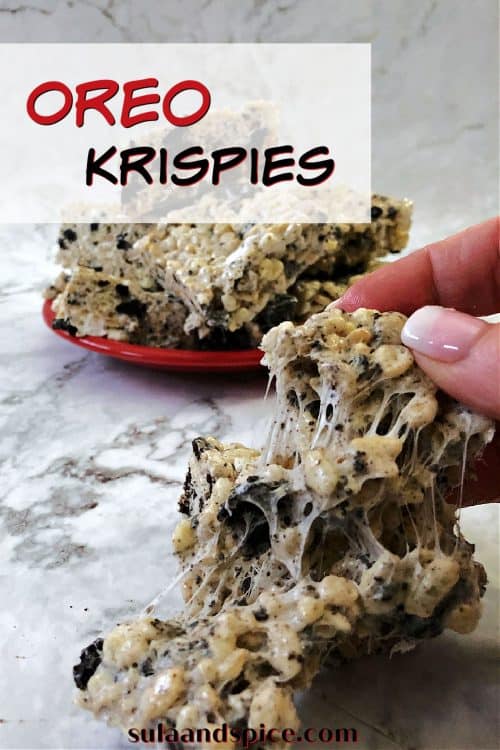 📖 Recipe
Oreo Krispies
Ingredients
5

TB

butter

plus as needed to grease pan

9

cups

mini marshmallows

16 oz bag

5

cups

Rice Krispie cereal

16

Oreo cookies

crushed

½

teaspoon

salt
Instructions
In a large bowl, mix together the cereal, crushed cookies, and one cup of mini marshmallows.

In a large saucepan over medium heat melt the butter. Add the rest of the marshmallows and the salt. Stir into the butter over medium heat until the marshmallows are completely melted and incorporated with the butter.

Pour the melted marshmallow mixture over the cereal mixture and gently stir until fully coated/combined.

Spread the mixture into a 9x9 inch (or similar sized) pan and press gently with a spoon or spatula to flatten the top.

Allow to cool in the pan for 30 minutes before slicing and serving.
Video
Nutrition
Calories:
281
kcal
|
Carbohydrates:
52
g
|
Protein:
2
g
|
Fat:
8
g
|
Saturated Fat:
4
g
|
Cholesterol:
13
mg
|
Sodium:
304
mg
|
Potassium:
49
mg
|
Fiber:
1
g
|
Sugar:
29
g
|
Vitamin A:
922
IU
|
Vitamin C:
7
mg
|
Calcium:
6
mg
|
Iron:
5
mg
Nutrition values are estimates only, using online calculators. Please verify using your own data.