Make your sandwiches special with these Hoagie Rolls
When putting together some game-day food recently, I wanted to make my sandwiches a little special. Rather than bread, I was thinking . . . rolls. I certainly could've purchased rolls at the store as I have done a ga-zillion times before. But this time, I decided to make them myself. Mmm . . . homemade sub rolls.
The smell of baking bread makes us kinder to strangers
There are few smells from the kitchen better than baking bread. For many of us, it's nostalgic, transporting us to when our mothers or grandmothers baked bread regularly. Or, maybe it reminds you of your favorite bakery, or even a trip to France. For almost everyone, the smell triggers a positive mood. In fact, according to a 2012 study, the smell of fresh baked bread even makes us kinder to strangers. No kidding. Now you can do your part: Save the World with Hoagie Rolls!
It's easier than you think
I was braced for a huge production in bread-baking, but was pleasantly surprised at how straightforward this was. This is from food.com and has the same ingredients as all basic breads: yeast, flour, water and salt. And yes, you have to let the dough rise and it needs some kneading. But honestly, the rise time is very hands-off and the kneading time is only 6 to 8 minutes.
Piece of cake. Errrrh, bread.
How to make homemade sub rolls
Mix
So here is the approach: first, take a package of dry active yeast and "wake it up" by dissolving it in warm water with sugar (sugar = yeast food). Let stand for about 5 minutes, then add oil, salt and flour. The recipe calls for 4 to 4 ¼ cups of flour. I like to start with two cups first, then add the rest slowly until a nice, soft dough forms. For me this is usually a total of 4 cups of flour, but I add more (about ¼ cup) while kneading.
Knead for only 6 - 8 minutes
Turn the dough out of the bowl onto a floured surface. Knead it for 6-8 minutes until it is smooth and elastic. Tip: Every time I make this recipe, my dough seems good until I knead, then it gets shaggy and sticky. So, while kneading I add more flour, a little at a time. Then, when the dough gets that smooth, elastic texture, you're there. Stop kneading.
Let the dough rise
Place the dough in a greased bowl and turn it once to grease the top.
Cover the bowl and let the dough rise for at least 45 minutes. Most bread "rise times" are based upon a room temperature of 70-80F. But in winter my kitchen is more like 63F unless I'm already oven baking. So on cooler days, I allow a little more time for the dough to rise. You want it approximately double its original size.
Shape the dough into rolls
When the dough is ready, uncover and punch it down. Ever seen this done? My Mom used to do it – just literally punch your fist straight down the center of the dough (imagine your boss, hubby or those fake phone callers). Not with a lot of force, just enough to deflate the dough. This releases the air so you can easily work it into the shape(s) needed.
Now, turn the dough out of the bowl onto a lightly floured surface and divide it into "hoagie" sized pieces. The recipe is meant to make about 9, but I wanted some smaller rolls so I made 12, which is a big advantage to this recipe – something for everyone.
Shape each piece into an oval and place the ovals about 2 inches apart on a greased baking sheet.
Another short rise time
Make a slash across the top of each with a small knife or scissor to avoid nasty cracks. Cover the pan and let the rolls rise for an additional 20 minutes.
I added rising time to this step. It came in handy as I was busy making other things, but I felt rewarded when I saw how nice and fluffy my rolls looked!
Bake the sub rolls to perfection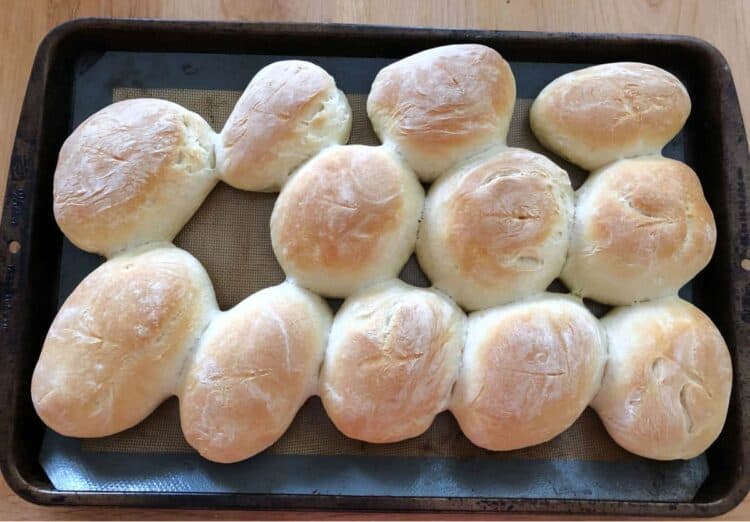 Bake the rolls for 13-18 minutes at 400F, until golden brown. I baked this batch for exactly 15 minutes and I thought they looked perfect!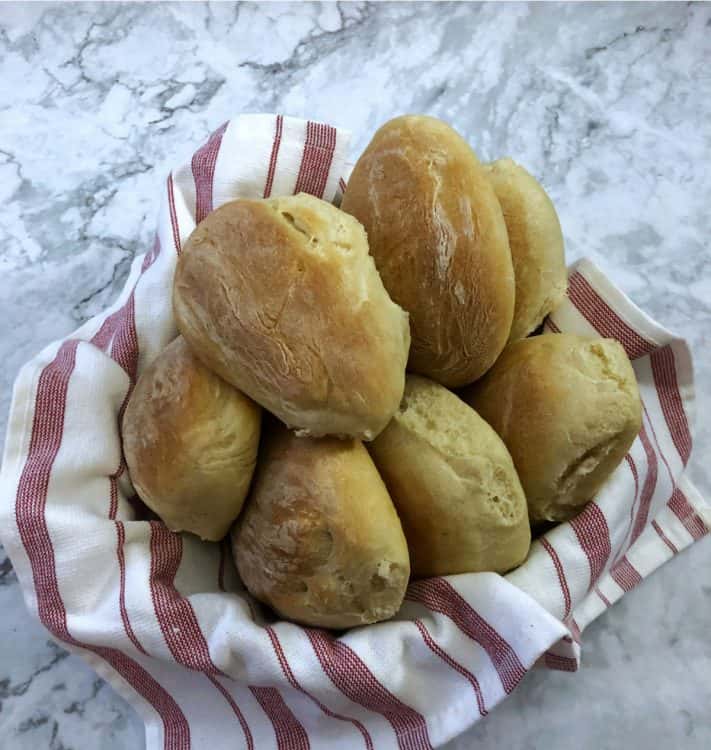 These rolls make perfect sandwiches with cold cuts, pulled pork, or chicken.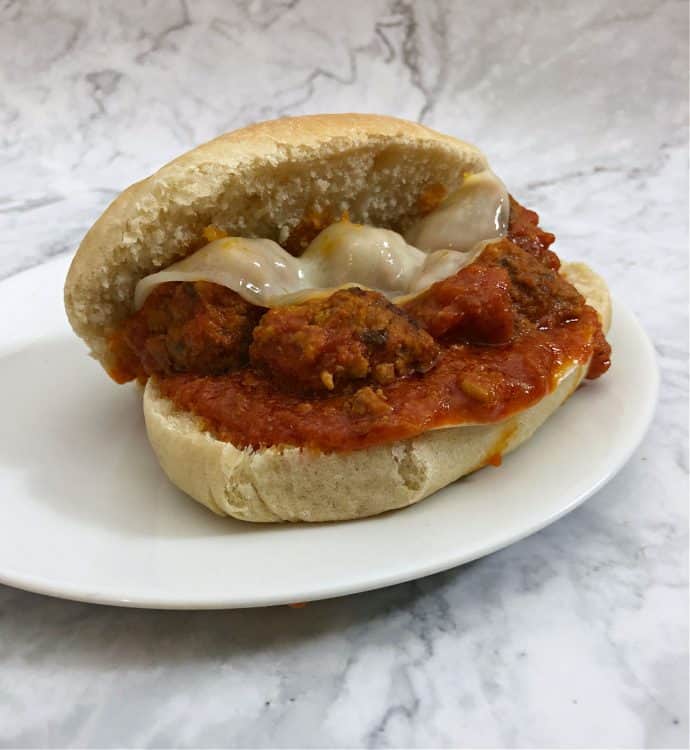 These homemade sub rolls are great for game day or any other day!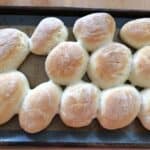 Print Recipe
Homemade Sub Rolls
Deliciously homemade hoagie rolls!
Ingredients
1

package active dry yeast

¼ ounce

1 ½

cups

water

warm, 110-115 degrees

1

TB

sugar

⅛

cup

vegetable oil

2 TB

½

TB

salt

4-4 ½

cups

all-purpose flour
Instructions
In a mixing bowl, dissolve the yeast in ½ cup of warm water. Add about half the sugar and then let stand for 5 minutes.

Add remaining water and sugar. Beat in the oil, salt and add 2 cups of flour til smooth. Continue adding flour until the mixture forms a soft dough, about 4 cups total.

Turn the dough out of the bowl onto a floured surface. Knead the dough for 6-8 minutes, until it's smooth and elastic. If dough seems too sticky, add small amounts of flour as you knead until it is the right consistency.

Grease a clean bowl with butter. Place the dough into the bowl and turn it over once to grease the top.

Cover the bowl with a kitchen towel and let it rise for at least 45 minutes.

Punch the dough down, then turn it onto a lightly floured surface. Divide the dough into about 9 pieces.

Shape each piece into an oval, and place about 2 inches apart on a greased baking sheet.

Cut a ¼ inch slash across the top of each roll.

Cover the baking sheet and let rise for at least 20 minutes.

Bake at 400F for 13-18 minutes until golden brown.

Remove to wire racks to cool.
Notes
These rolls freeze well for future use.
Nutrition
Calories:
259
kcal
|
Carbohydrates:
49
g
|
Protein:
7
g
|
Fat:
4
g
|
Saturated Fat:
3
g
|
Sodium:
391
mg
|
Potassium:
67
mg
|
Fiber:
2
g
|
Sugar:
2
g
|
Calcium:
11
mg
|
Iron:
3
mg
Nutrition values are estimates only, using online calculators. Please verify using your own data.
For a fun twist on a dinner roll, check out how I made bunny rolls from crescent dough. So fun!