There's nothing quite like the tantalizing aroma of tender, juicy pulled pork. But if you don't have hours to spend using a slow cooker or smoker, the Instant Pot will deliver tender, juicy pulled pork from country style ribs in a fraction of the time, without compromising on taste.
Whether you're planning a barbecue, a cozy family dinner, or a gathering with friends, this Instant Pot pulled pork is the perfect solution. All meals should be this easy!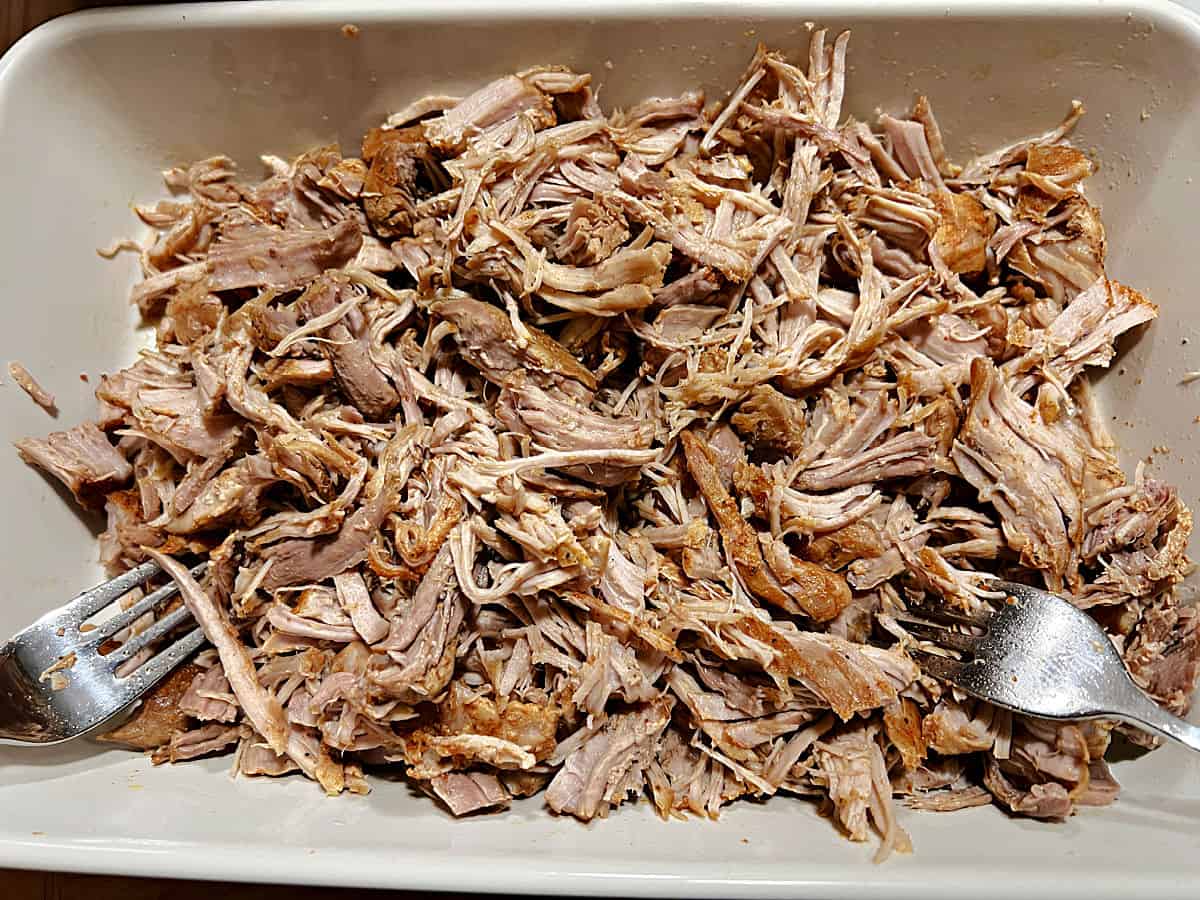 Why You Will Love This Recipe
It's such a time saver! Say goodbye to long hours of slow cooking or smoking. Using the Instant Pot and country ribs results in tender, perfectly shredded pork in about an hour, vs. all day.
It's foolproof! The magic of pressure cooking produces tender morsels of meat infused with flavor and cooked to perfection.
It's versatile! This recipe offers a classic base that you can easily customize with your favorite seasonings, sauces, or spices. You can make it your own!
Ingredients
Pork - I use boneless country-style ribs.
Seasoning - my blend includes brown sugar, paprika(smoked), garlic powder, onion powder, salt, and pepper.
Broth or water -the Instant Pot needs a little liquid to cook properly.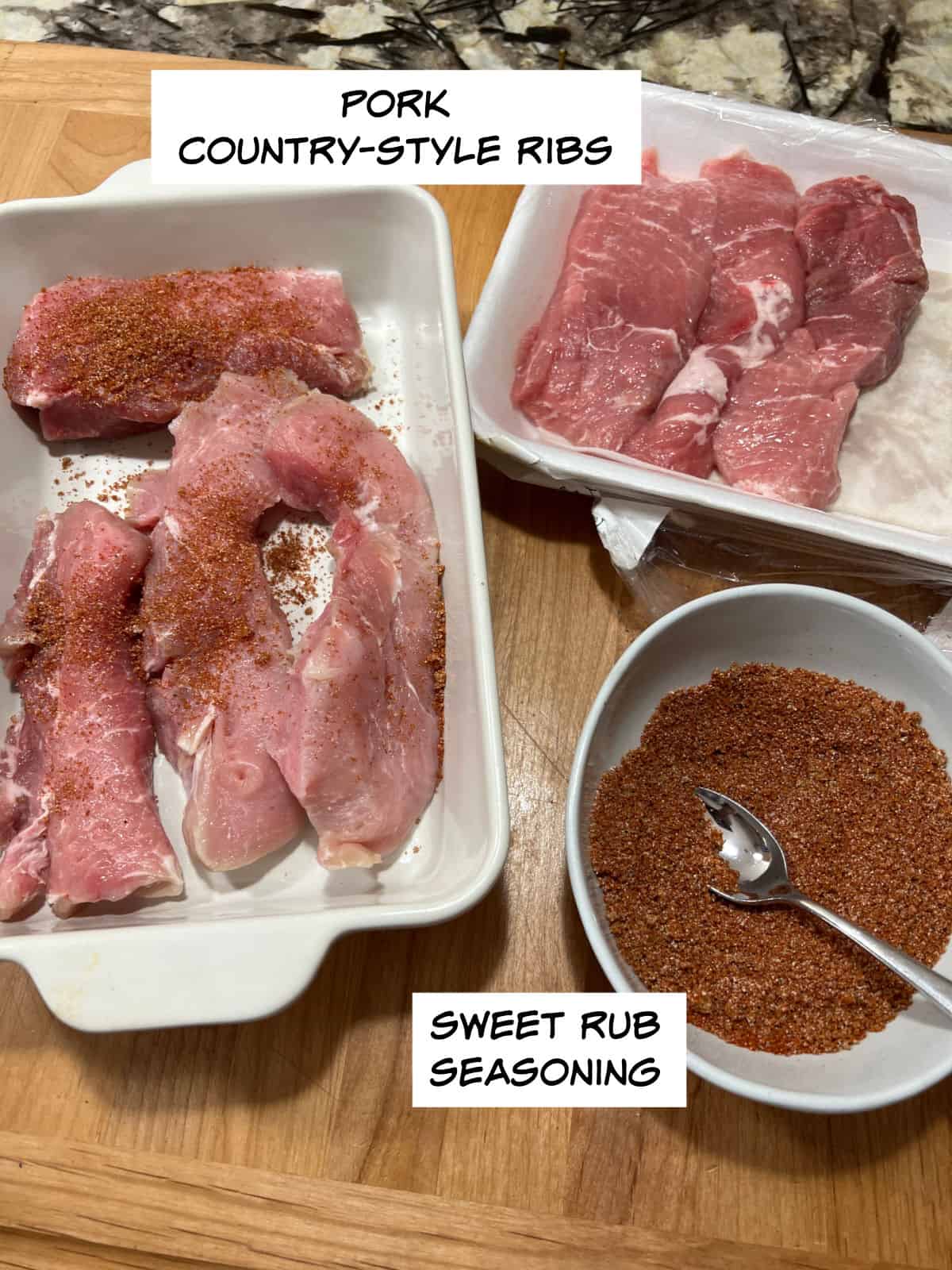 How to Make Instant Pot Pulled Pork from Country Style Ribs
First, the dry rub. A couple of years ago, I started using dry rub and was hooked! Talk about easy!! I use it to marinate the meat before cooking and it helps infuse wonderful flavor into every bite.
I make my own sweet dry rub from spices I always have on hand. But if you have a favorite seasoning mix from the store, feel free to use it!
Sprinkle the seasoning all over the strips of meat, then cover and let them marinate for a bit. I recommend at least 30 minutes, 60 is even better if you have the time. If you are someone who plans ahead you could season the meat the night before and refrigerate overnight for this step.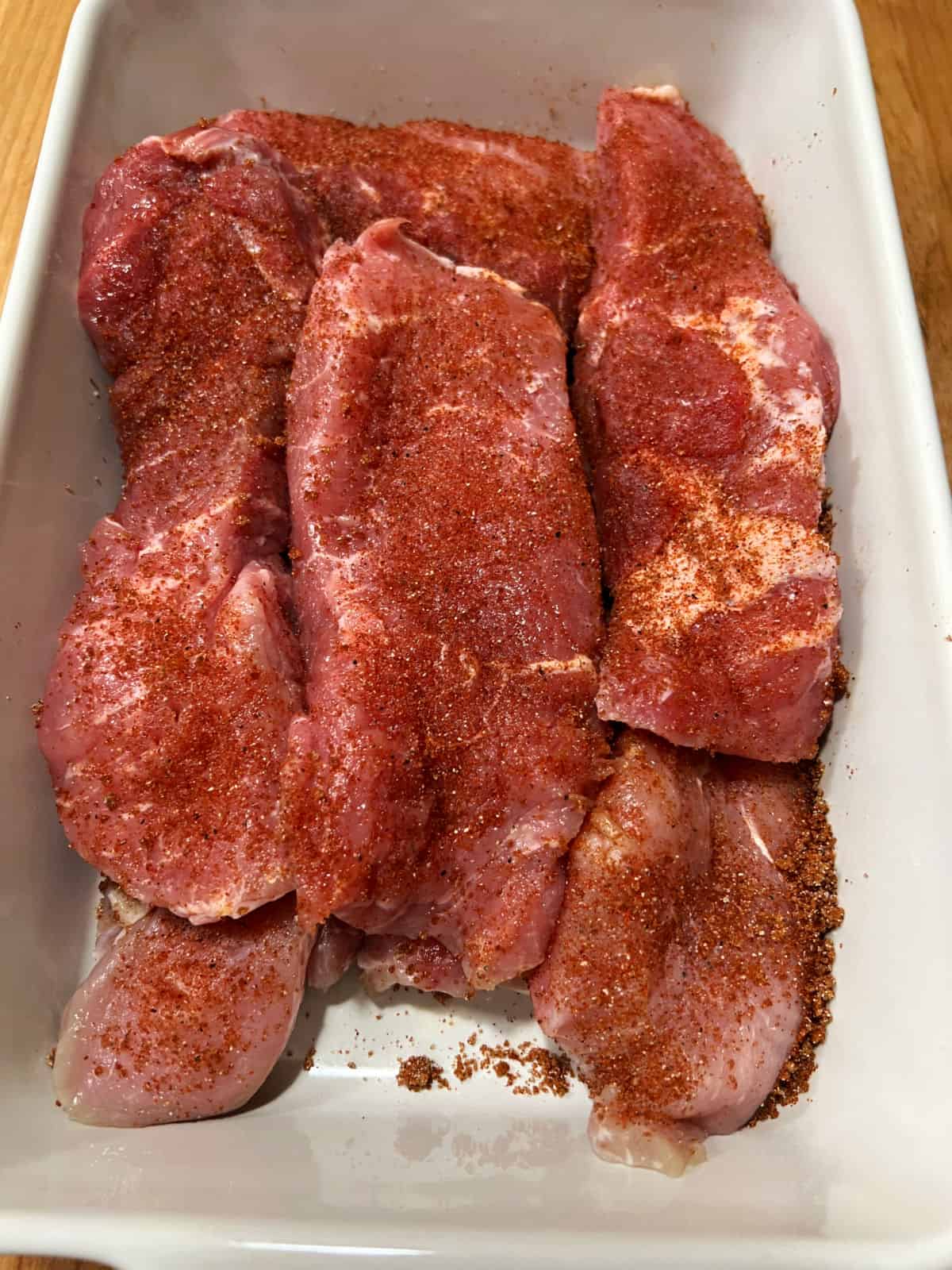 Preheat your Instant Pot by selecting the "Saute" function. Once hot, add a drizzle of oil and sear the pork pieces for a few minutes on each side. This step will lock in the juices and enhance the overall flavor.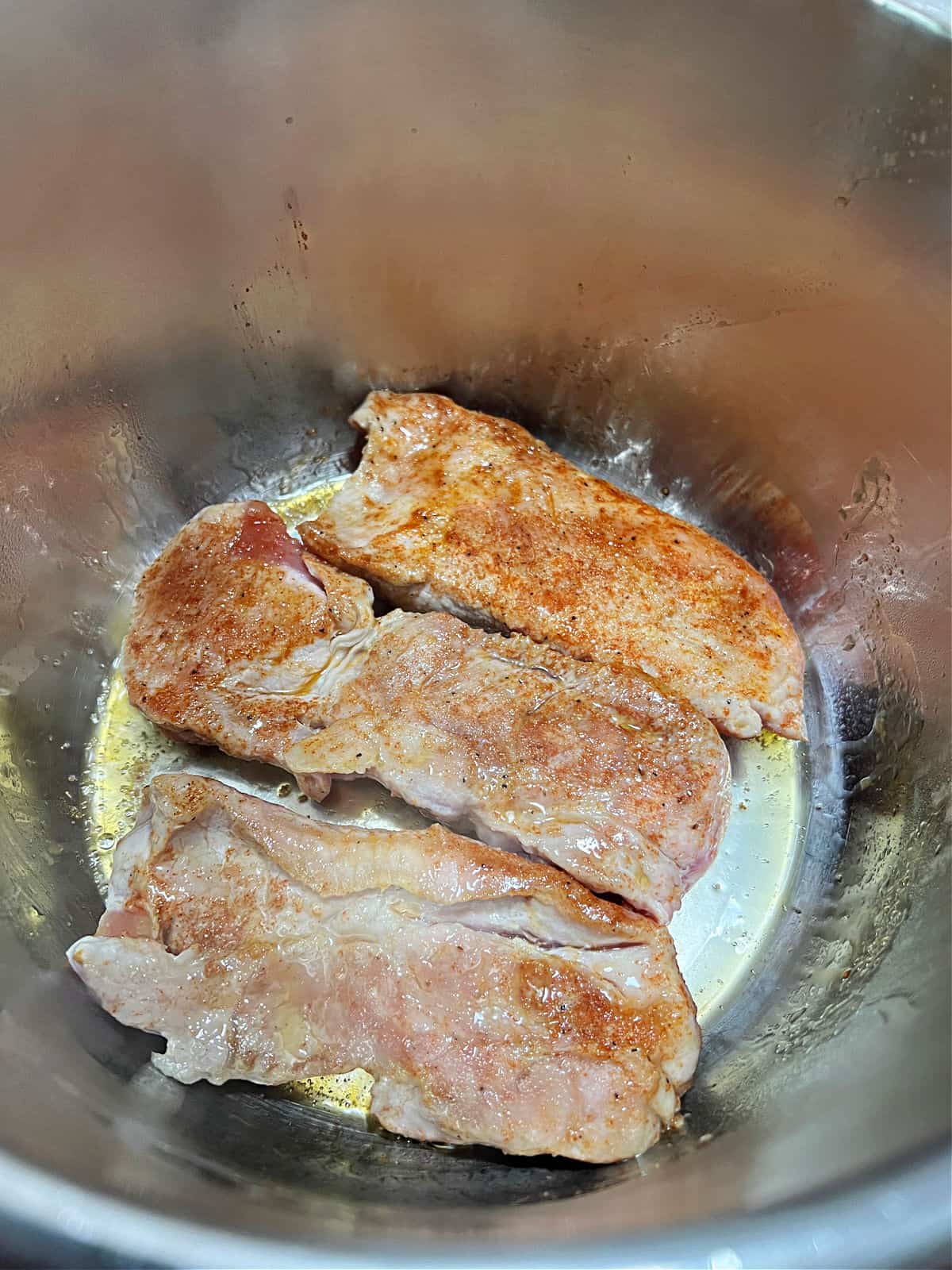 I usually do this in a couple batches, depending upon how many strips of pork I have.
Remove the pork from the Instant Pot and set it aside momentarily. Then add a little broth to the pot to deglaze, and scrape up any of the browned bits sticking to the bottom.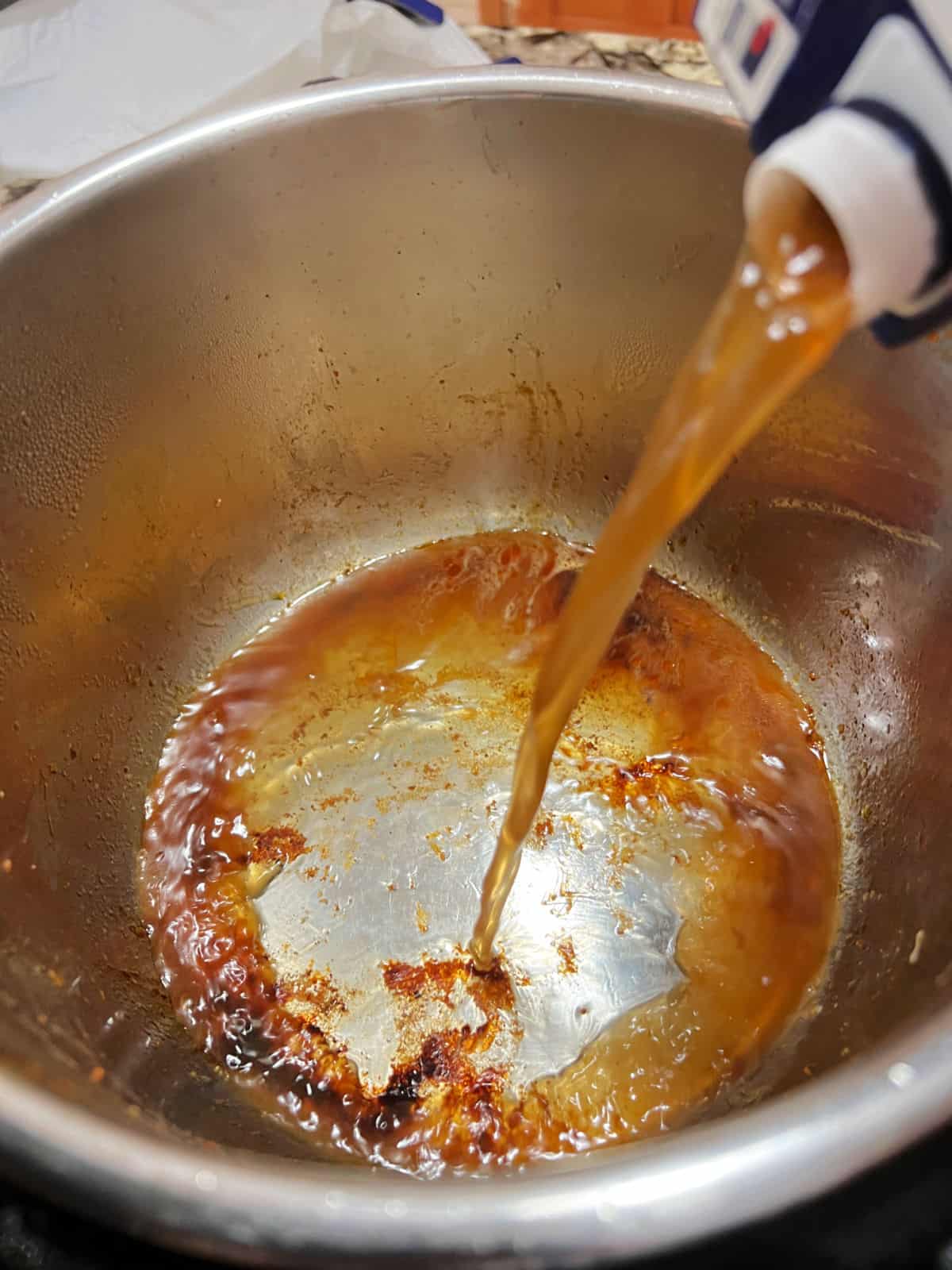 I've used chicken broth or beef broth for this, whatever is in my fridge basically. And in a pinch, water works too. 😁
Put the seared pork back in the pot with the liquid. Seal and set Instant Pot to the Meat/Stew setting (18 minutes on high pressure) and let it cook.
When the cooking cycle is complete, allow the Instant Pot to vent naturally before opening.
Shred meat using two forks. You can remove the meat to a pan to do this or shred right in the Instant Pot if you prefer.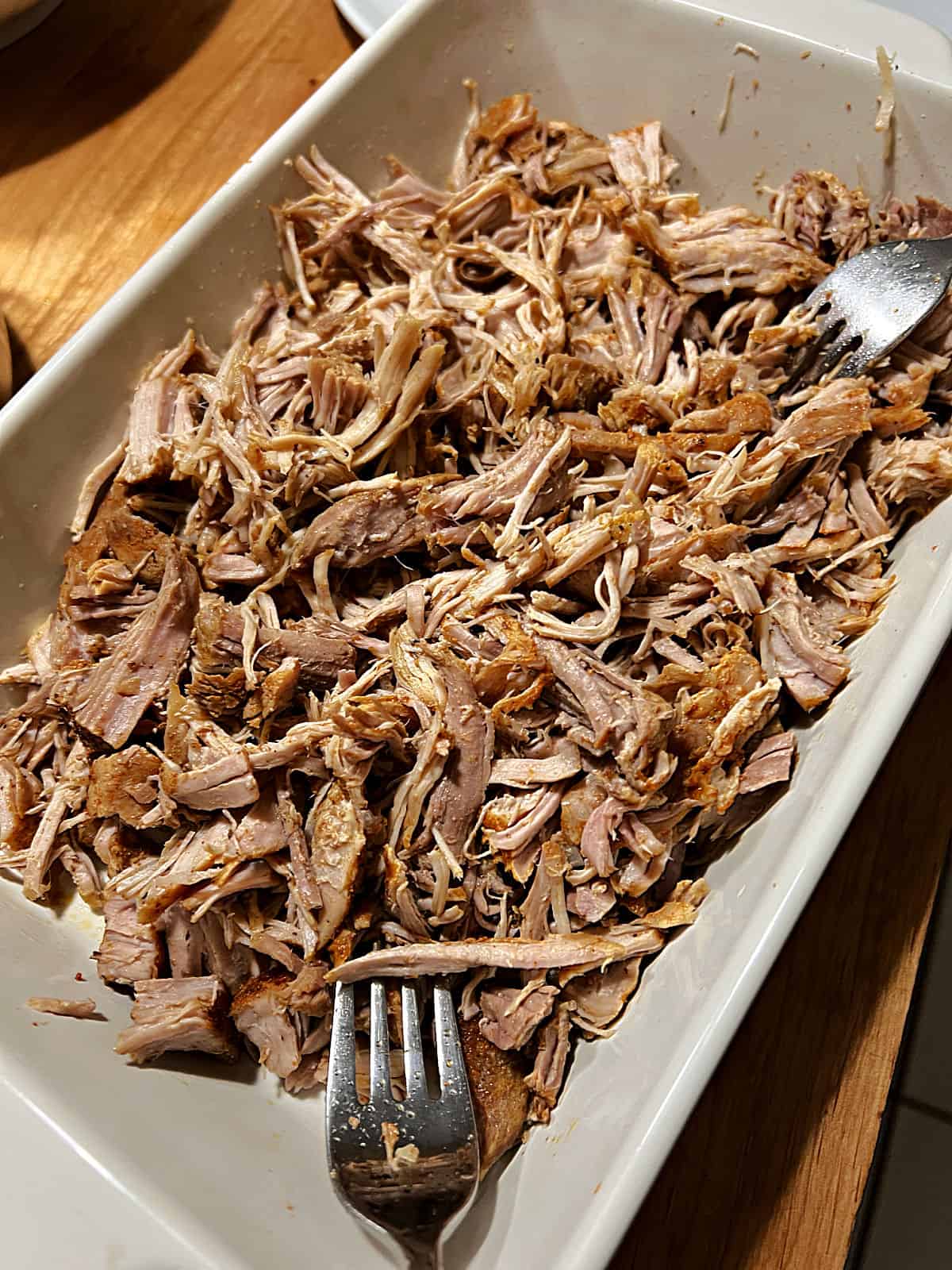 Serve the pulled pork on buns, sliders, or alongside your favorite side dishes. Don't forget to spoon some of the flavorful cooking liquid over the meat for an extra burst of juiciness.
Serving Suggestions
Once you've made this delicious pulled pork, you have plenty of options to choose from. Here are a few ideas:
Serve on soft buns with coleslaw and pickles for a classic pulled pork sandwich experience. Add your favorite barbecue sauce to taste.
Wrap the pulled pork in tortillas or lettuce cups for a lighter option.
Serve alongside creamy mashed potatoes, roasted vegetables, or a fresh green salad for a satisfying meal.
Use the pulled pork to make air fryer nachos, the perfect game day munch!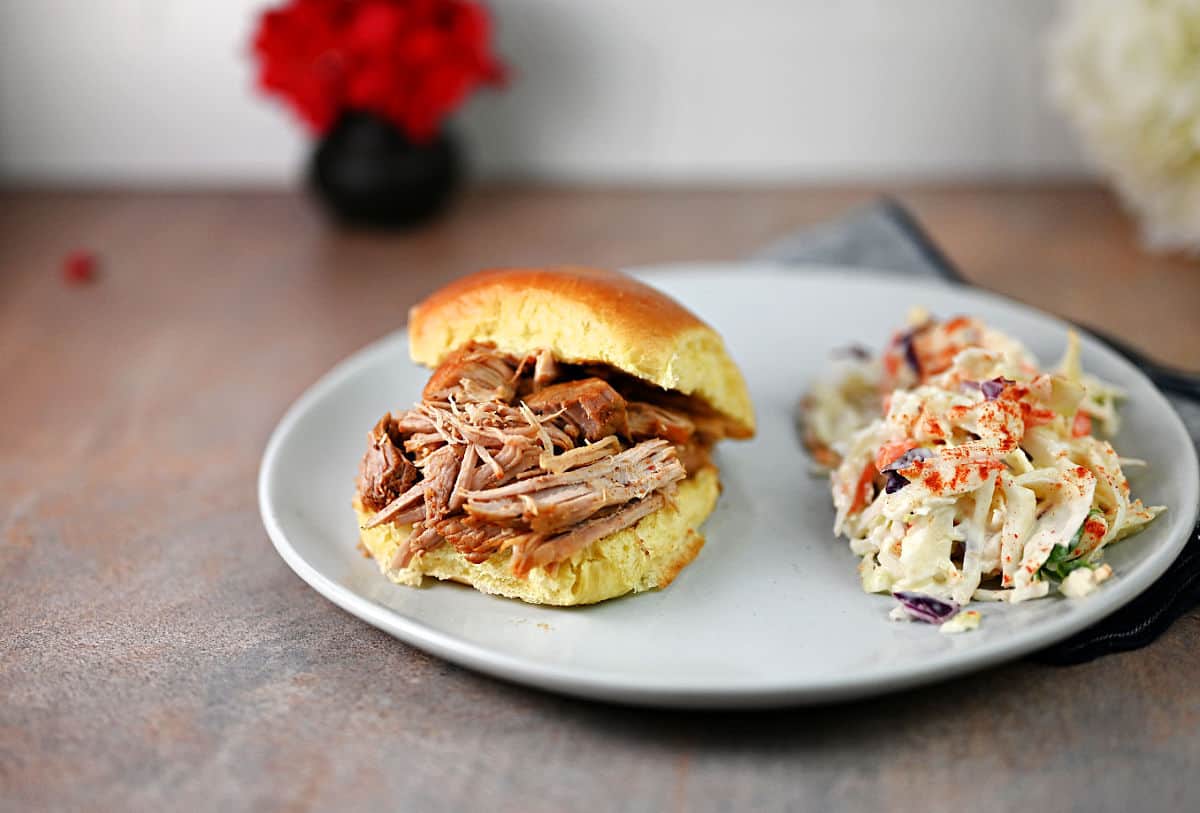 Substitutions and Variations
The classic meat choice for pulled pork is a shoulder roast. Most recipes tell you to start by cutting up your roast. Feel free to use this option if you prefer.
I use boneless country-style ribs, which are strips of meat cut from the blade end of the loin close to the shoulder. Since country-style ribs are already cut up, you can skip cutting up the meat and get right to cooking!
A purist will tell you that pulled pork is best made long and slow. So if you have the time, you have a couple choices. You can use this rub, sauté your meat on the stove top and then place it in a crock pot with some liquid on low for 10-12 hours.
Or, you can try Crockpot Bourbon Bacon Pulled Pork for some extra - special flavor in your meat.
Storage
If you're lucky enough to have leftovers, place the cooled pulled pork in an airtight container and store it in the refrigerator for up to 3-4 days. Reheat gently in the microwave or on the stovetop, adding a splash of broth or barbecue sauce to maintain moisture.
For longer-term storage, store in the freezer for up to 3 months. Thaw overnight in the refrigerator before reheating.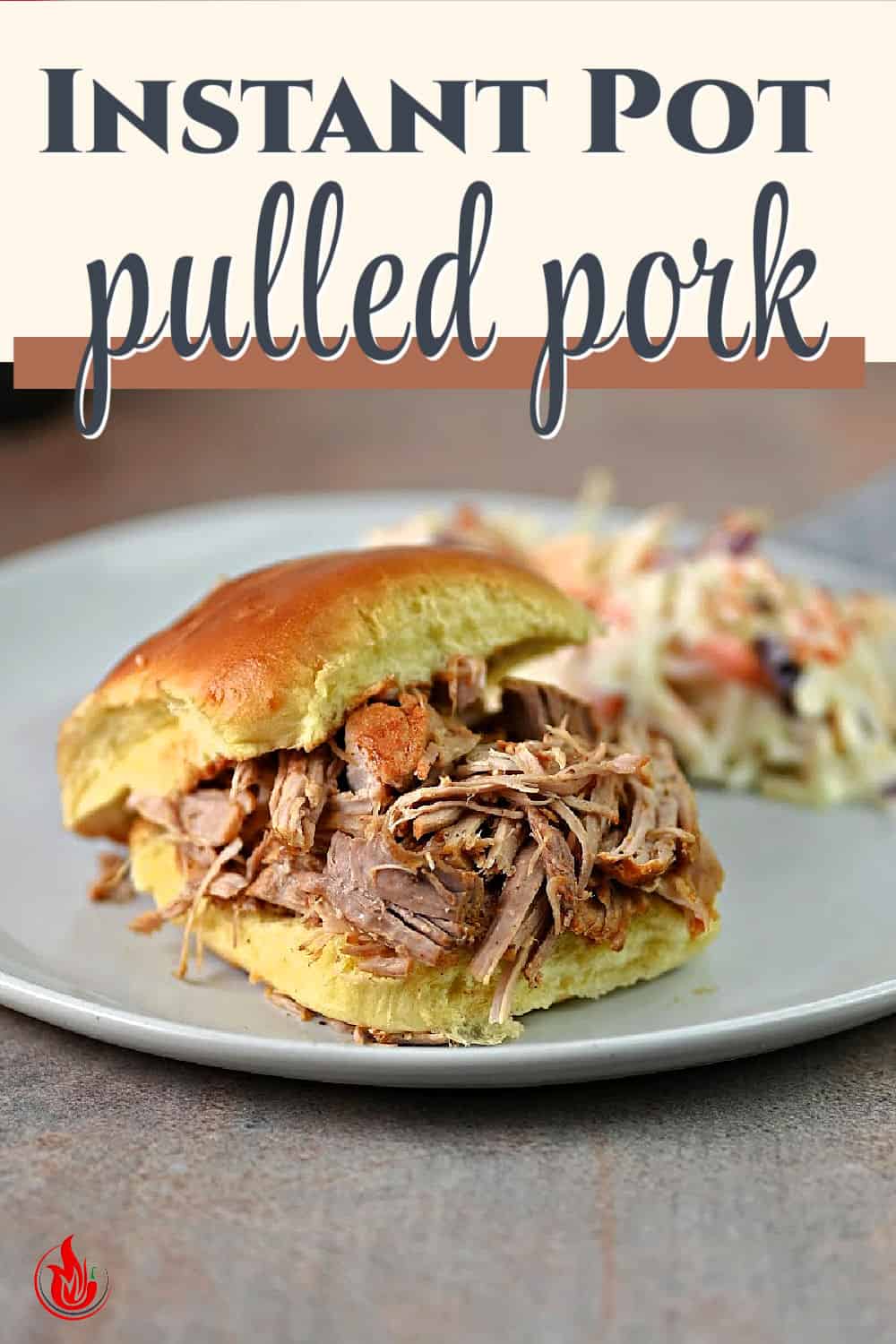 This delicious meat is perfect for holiday gatherings, weeknight dinners, or whenever you crave that delicious pulled pork experience.
📖 Recipe
Instant Pot Pulled Pork (with Country Ribs)
Love pulled pork but short on time? The Instant Pot delivers melt-in-your-mouth goodness without the wait.
Ingredients
5

lbs

pork country-style ribs

2

TB

dry rub

1

teaspoon

oil

olive or other

¾

cup

water or broth
Instructions
Sprinkle all surfaces of the strips of meat with the seasoning. Cover and let marinate for 30-60 minutes.

Start the Instant Pot with the sauté function. Add the oil, then the meat. Sear the meat for at least 2 minutes for each side or edge. Remove seared pieces from the pot.

Turn off the sauté function and add the liquid. Then add all the pork pieces back to the pot.

Cover and seal the Instant Pot and turn on the Meat/Stew setting (18 minutes).

Once the cooking cycle is done, allow the Pot to vent naturally before opening. (20-30 minutes)

Shred meat with two forks and serve.
Notes
With the time to pressurize and vent, total time needed is a little more than an hour. You can also let the Instant Pot sit even longer on the "keep warm" setting until you are ready to shred and serve.
You can easily scale this recipe down for a weeknight dinner with fewer leftovers. Just use the amount of seasoning appropriate for the amount of pork you have. The cooking times remain the same.
Nutrition
Calories:
238
kcal
|
Carbohydrates:
1
g
|
Protein:
24
g
|
Fat:
15
g
|
Saturated Fat:
3
g
|
Cholesterol:
91
mg
|
Sodium:
78
mg
|
Potassium:
395
mg
|
Fiber:
1
g
|
Sugar:
1
g
|
Vitamin A:
25
IU
|
Vitamin C:
0.1
mg
|
Calcium:
34
mg
|
Iron:
1.3
mg
Nutrition values are estimates only, using online calculators. Please verify using your own data.
Serving ideas
If you need some more salads to go with your pulled pork, try a Greek Cucumber Salad or an easy Potato Salad. I also love Balsamic Cucumber Tomato Salad and Corn Salad. They are sure to please any crowd.
📖 Recipe
Sweet Dry Rub for Pork (or Chicken)
A delicious seasoning mix for your meat! This sweet dry rub is the perfect blend of sweetness and flavor.
Ingredients
¼

cup

brown sugar

1-½

TB

paprika

2

teaspoon

salt

1-½

teaspoon

black pepper

1

teaspoon

garlic powder

1

teaspoon

onion powder
Instructions
Mix all ingredients and then sprinkle on meat before cooking.

Store leftovers in an airtight container.
Nutrition
Calories:
240
kcal
|
Carbohydrates:
61
g
|
Protein:
1
g
|
Fat:
1
g
|
Saturated Fat:
1
g
|
Sodium:
4672
mg
|
Potassium:
188
mg
|
Fiber:
2
g
|
Sugar:
54
g
|
Vitamin A:
1675
IU
|
Calcium:
46
mg
|
Iron:
1.1
mg
Nutrition values are estimates only, using online calculators. Please verify using your own data.