Greek salad: a healthy and easy salad, perfect for summer!
I just love a simple Greek salad. Some call it a Mediterranean Cucumber Salad. Chop some veggies, mix a simple dressing and — done! Only five ingredients, plus spices. Not sure it gets much easier!
What's in a traditional Greek Salad?
First, let's look at what's NOT a Greek salad. On most of your basic restaurant menus, a Greek Salad will be listed based on lettuce. It's what we expect of our salads in America. But an authentic Greek salad contains NO lettuce. The ingredients are:
Cucumber
Tomato
Onion
Feta cheese
Olives (Kalamata)
See? No lettuce. No Romaine. It does contain green (cucumbers), but there are no green leaves of any kind.
The ingredients are seasoned with salt and oregano, then dressed with olive oil. The authentic Greek salad is often imagined as a farmer's breakfast or lunch, as its ingredients resemble what a Greek farmer might have on hand. (Wikipedia)
The primary ingredients are cucumber and tomato. So, if you'd rather call this a Cucumber Tomato salad, who's going to argue?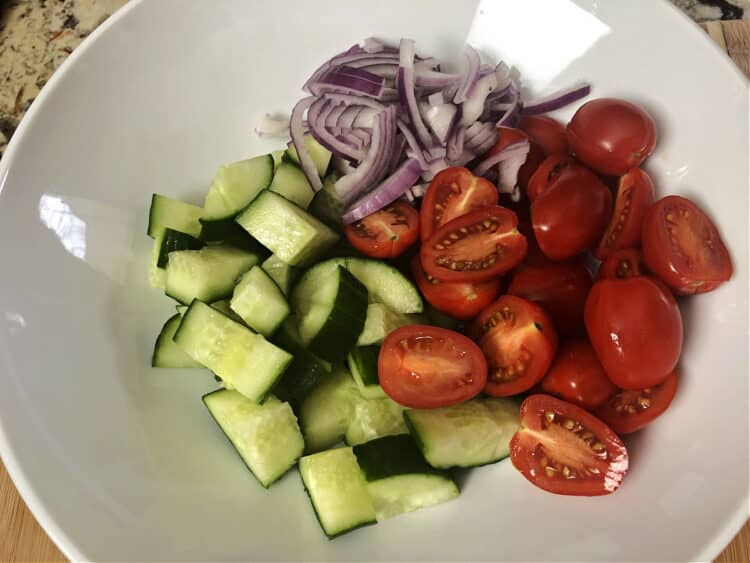 On to the Mediterranean salad dressing
As stated above, the traditional dressing for Greek salad is very simple. I'm using a more "Americanized" type of dressing, while still keeping it simple.
The dressing is similar to what was used in my Mediterranean Chopped Salad. And, actually, one might consider this Mediterranean Cucumber Salad a stripped-down version of that one. Remove the chickpeas and lettuce and it's close.
This dressing uses olive oil, lemon juice, dried oregano, and salt and pepper. Use fresh-squeezed lemon juice if you can; you'll be rewarded with the best flavor.
The dressing is very light because it's simply meant to complement the fresh veggie flavors. You should taste cucumbers and tomatoes, not Greek salad dressing.
How do you make this Mediterranean Cucumber Salad?
First, prep the veggies. For this recipe, I like my English cucumbers in chunks, made by cutting the cuke in half lengthwise and then in fourths. Then from those pieces, cut ¼ to ½ inch pieces and place in a bowl. Use half the cucumber and save the rest for another salad. You should have about 2 cups of cucumber.
Halve the grape tomatoes, then add them to the bowl.
For the onions, I use one half of a medium red onion, or one fourth of a large. This is less than many other "American" versions of Greek salad, so if you like a lot of onion, go ahead! Use the whole thing! For me, I find myself leaving a lot of onion on the plate. So I just reduce on the front end. It's enough to contribute to the flavor without being a main ingredient.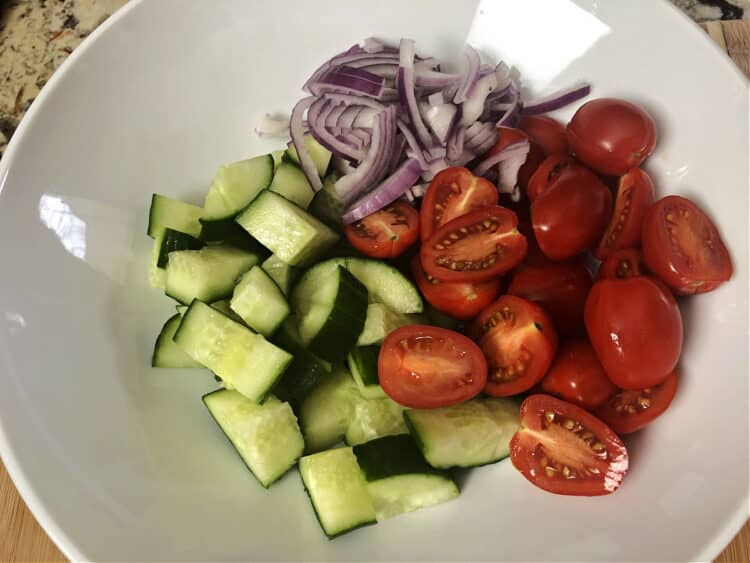 Slice the onion very thin and add to the bowl.
(It really does look like Cucumber Tomato salad, right?)
What kind of feta is best in Greek salad?
I recommend soft fresh feta, purchased in a block and packaged in brine to preserve its freshness.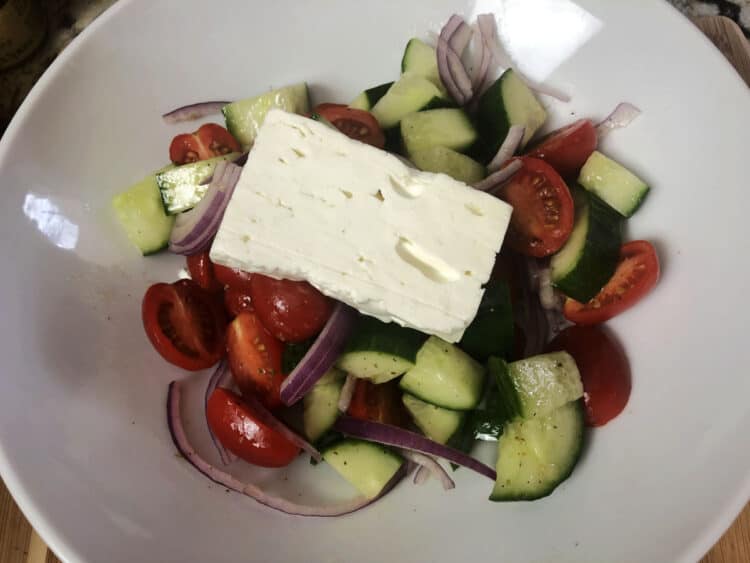 An authentic Greek salad would be served with a large slice of this cheese on top.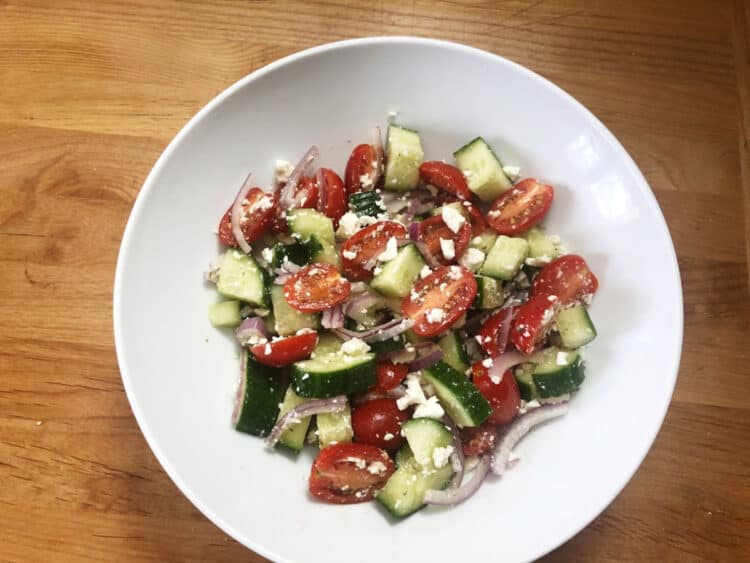 The "Americanized" version is to cube or crumble the feta.
In a pinch, you can use feta sold in packages of already crumbled cheese. However, be aware that this feta is significantly drier and less tasty than brine-preserved feta.
Make the dressing
Whisk lemon juice and olive oil together for a minute, then add spices.
Then add dressing to the salad and toss gently.
Ready to serve!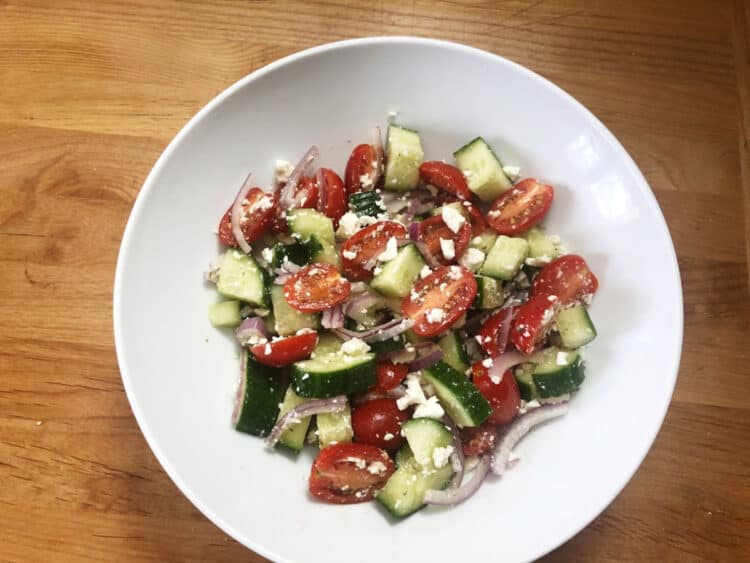 If needed, this salad will keep in the refrigerator for a day or two. But I like it best when eaten right away.
📖 Recipe
Mediterranean Cucumber Salad (Greek salad)
As easy as a salad gets, perfect for summer!
Ingredients
½

English cucumber

1

cup

grape tomatoes

halved

2

oz

feta cheese

½

medium red onion

sliced

2

teaspoon

lemon juice

fresh squeezed

2

teaspoon

olive oil

extra-virgin

⅛

teaspoon

oregano

dried

Salt and pepper

to taste
Instructions
Cut cucumber lengthwise into quarters, then slice chunks of ¼ to ½ inch thick. Place in bowl.

Halve the grape tomatoes and add to bowl with cucumber.

Slice red onion, add to bowl.

In a small cup, whisk together lemon juice and olive oil, then add oregano and some salt and pepper.

Add dressing to the bowl and toss gently.

Cut or crumble feta cheese and add to bowl.

Taste and adjust salt and pepper as needed. Toss and serve.
Video
Nutrition
Calories:
76
kcal
|
Carbohydrates:
5
g
|
Protein:
3
g
|
Fat:
5
g
|
Saturated Fat:
2
g
|
Cholesterol:
13
mg
|
Sodium:
161
mg
|
Potassium:
163
mg
|
Fiber:
1
g
|
Sugar:
3
g
|
Vitamin A:
409
IU
|
Vitamin C:
8
mg
|
Calcium:
83
mg
|
Iron:
1
mg
Nutrition values are estimates only, using online calculators. Please verify using your own data.
More cucumber salad recipes