I'm sure you've all heard of Avocado Toast. Most of you have probably tried it. Here are a few variations to keep you from getting bored with this very healthy take on toast!
First, a few ground rules. Start with some really good bread. Think whole grain, seedy, healthy. Words to live by: Good bread makes good toast.
Next, pick a ripe avocado. Be sure to follow my avocado tips for cutting and storing your avocado. I generally use up to half an avocado per slice of bread. Avocado is very healthy, but the calories do add up. So, be mindful!
How to make avocado toast
Toast bread, add avocado and choice of toppings as seen below.
The avocado. Two options: Either slice the avocado and arrange on toast (very decorative!). Or, mash it up and spread on toast. I switch between the two, depending upon my mood.
Simple Avocado Toast
Avocado and salt:
Avocado plus toast equals avocado toast. How hard can it be, right? And super yummy. Just add salt; because what is avocado toast without salt? Boring, that's what.
(Unless salt is bad for you, healthwise. Then avocado toast without salt is super-cool and super-sexy!! My apologies to the AMA).
Avocado and EBTB seasoning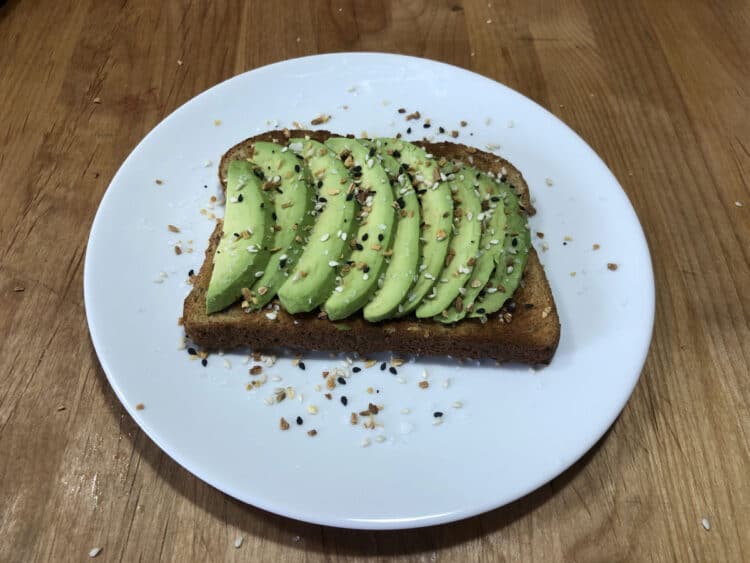 Instead of plain salt, crank your seasoning up a notch. Try "Everything But the Bagel" (EBTB) seasoning from Trader Joe's.
Super delicious, this seasoning does have a fair share of salt plus garlic, onion and three types of seed. Love it!
Add Dairy
Ricotta + Avocado + EVOO + salt (or EBTB)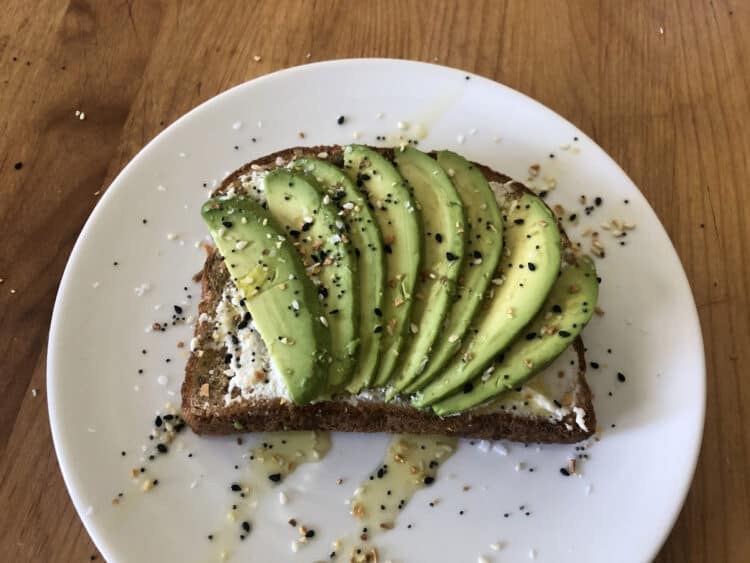 This combination (and the next) comes from my daughter. I'm a big fan. Start with a layer of ricotta cheese (cream or goat cheese works as well). Add sliced avocado, some extra-virgin olive oil and season with salt.
I like to add EBTB seasoning on this one…it's become a favorite of mine, can you tell?
Avocado + cottage cheese + EVOO + red pepper
My daughter's ultimate favorite starts with avocado, and cottage cheese is layered on top. A drizzle of olive oil and a sprinkle of red pepper flakes makes it yummy!
Go nuts with your avocado toast
Avocado + chopped almonds + EVOO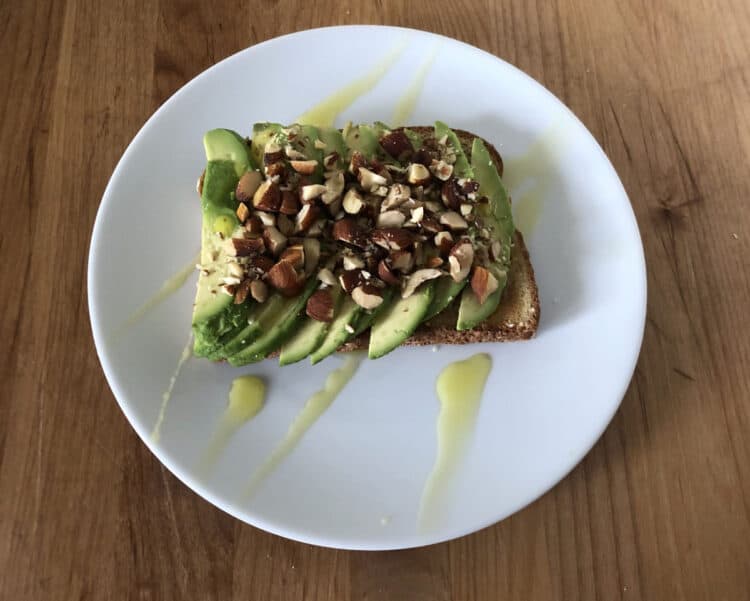 Holy healthy fats, Batman! I went into this one thinking I'd take one bite and put it aside. I ended up eating the whole thing. If you're trying to include more healthy fats in your diet, this combo can't be beat.
Add tomato
Avocado + tomato + EVOO + salt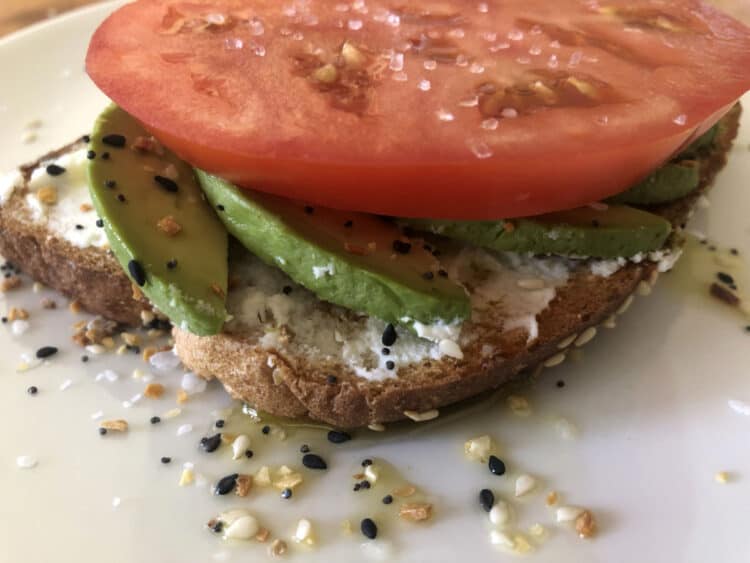 I am a tomato lover, for sure. Adding a big ole slice to my toast seemed like a natural step. Loved it. 😀
Ricotta + avocado + tomato + balsamic glaze
Adding tomato created a natural stepping stone to balsamic glaze, which I always have on hand.
The ricotta gives a nice balance to the glaze and the whole combination really enhances the ripe tomato slice.
Avocado + fresh mozzarella + tomato + basil + balsamic glaze
Probably saw this one coming, right? Only a slight step from the previous, this version is essentially a caprese version of avocado toast.
Fresh mozzarella, tomato and basil top the avocado. Drizzle it all with balsamic glaze and devour!
Add egg
Ricotta + Avocado + egg (soft scrambled)
You can add egg to almost any version above. Although, a few might become a little messy to eat. LOL. All are delicious.
Scrambled egg is shown, but over-easy and poached work as well. Just make your favorite and add. 😀
Spice it up
Avocado with hot sauce
This version comes from my daughter-in-law. Very surprising, as she is the girl who "didn't like spicy" when she started dating my son. Note: My son puts hot sauce on VEGETABLES.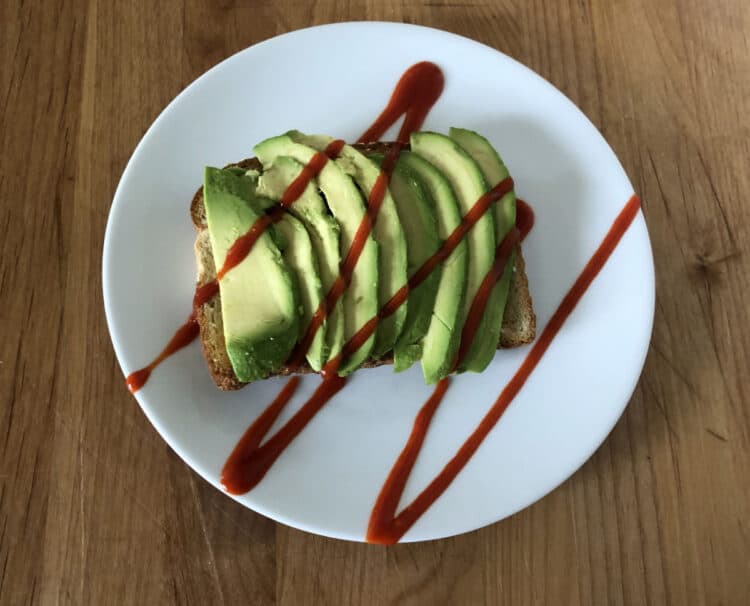 Clearly her taste buds have evolved, and she likes hot sauce on her avocado toast. She will even use guacamole in place of plain avocado, topped with – what else? - hot sauce. Quite the evolution.
Avocado + salsa + tortilla chips
Wanting to take the hot sauce idea one more step, I decided to use salsa. Now THIS is tasty! Extra terrific: Crush some tortilla chips on top and you are set!
Kinda feels like a good breakfast for the morning after a Cinco de Mayo celebration, right?
Avocado + corn + lime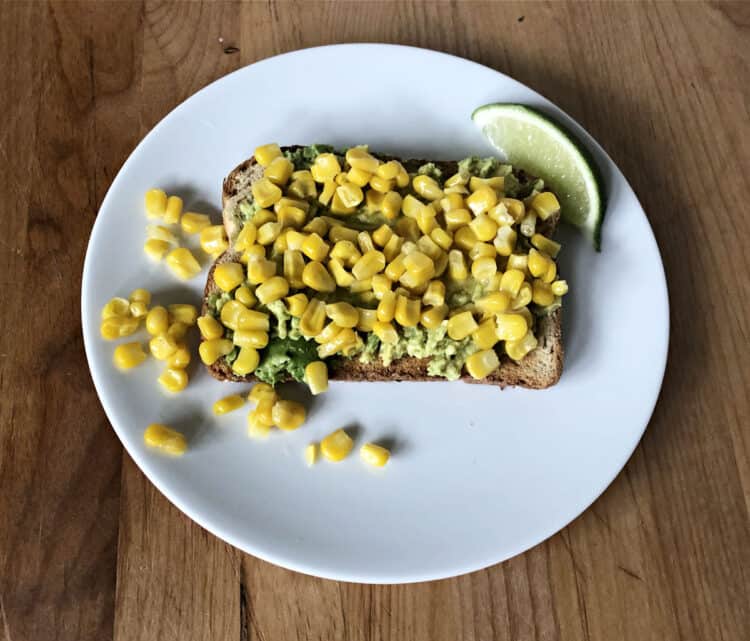 This is another version with a Tex-Mex feel to it. Corn provides a sweetness that plays nicely with tart lime. Corn salad would be a good substitute as well.
Avocado + Greek yogurt + Za'atar seasoning
Here's a whole different flavor for you. I hopped on the Za'atar seasoning bandwagon when I first heard about it, and then kind of sat on my jar of seasoning for a while. It's not one that comes to mind for many dishes. But it works well with Greek yogurt.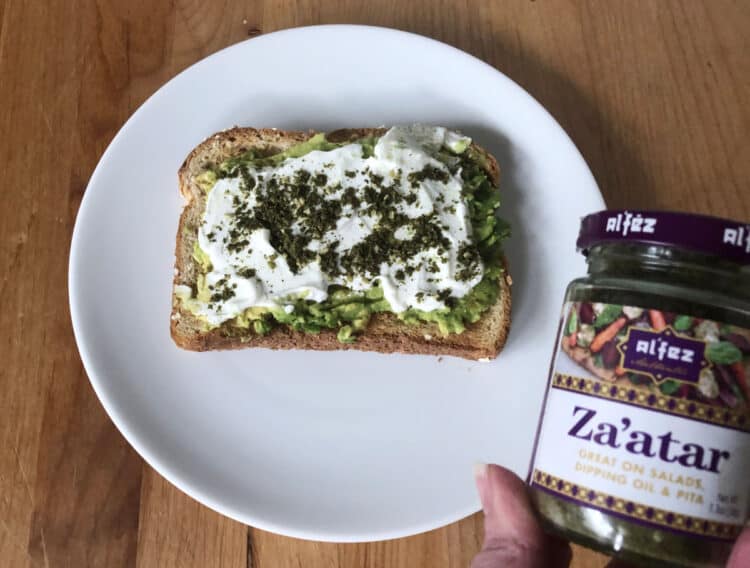 Put both on your avocado toast and enjoy!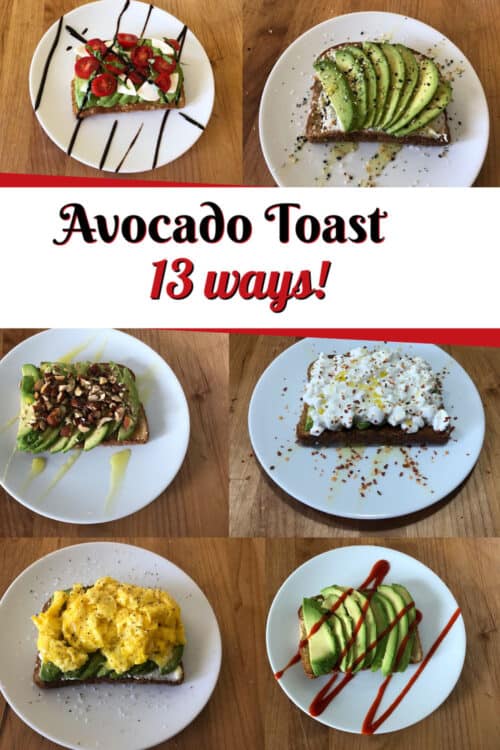 So many toppings for avocado toast, so little time! Have fun with these ideas!
Print Recipe
Avocado Toast
13 ideas to mix up your avocado toast routine!
Instructions
Slice or disrupt the avocado half with a fork to facilitate spreading.

Spread the avocado onto teh toast and the finish with toppings of choice.
Notes
Nutrition estimates are for the bread and avocado, and do not include optional toppings.
Nutrition
Calories:
236
kcal
|
Carbohydrates:
22
g
|
Protein:
5
g
|
Fat:
16
g
|
Saturated Fat:
2
g
|
Trans Fat:
1
g
|
Sodium:
152
mg
|
Potassium:
538
mg
|
Fiber:
8
g
|
Sugar:
2
g
|
Vitamin A:
147
IU
|
Vitamin C:
10
mg
|
Calcium:
51
mg
|
Iron:
2
mg
Nutrition values are estimates only, using online calculators. Please verify using your own data.