Fresh baked, homemade chips = Yum!
I don't know about you, but my first impression of a Mexican restaurant is based on its tortilla chips. Bringing that freshly baked, crispy, salty taste home is even better. Fantastico!
How to make your own baked tortilla chips
I've been trying for some time to make these at home, many attempts until I finally found the right combination of techniques. Tip: While this may take you a couple attempts to get it right, you can combine a meal and cooking chips. Very efficient. For instance, when I make Burrito Pie or Cauliflower Tacos I usually have some tortillas left over.
To begin, in creating this recipe I had the mistaken impression that making chips was as easy as eating them. As if all you had to do was cut up tortillas, season, and bake. Well, those are the steps, but like so many things, the devil's in the details.
Perhaps the most difficult part of the process is getting just the right chip texture. Get it wrong and your homemade baked chips can get chewy, not like a chip at all (unless you like tortilla corn chips to chew like a cookie). Here are some tips that work for me.
How to prevent soggy tortilla chips
First, some words to live by: The smaller the chip, the faster it seems to cook. So, the first task is to find the tortilla most suitable to make chips. It's surprising how different they are.
I started first with "street" taco, 4-inch sized tortillas, and then 6-inch tortillas. The smaller "street" tortillas got crisp for me at a minimum bake time (15 minutes), whereas, a cut-up 6-inch tortilla took longer. I always make 8-piece cuts no matter the size of the tortilla, so, if you want to experiment, it's possible that cutting a tortilla even smaller and making more chips will make a difference.
But I stick with the smaller tortilla. I just like the way they bake up.
Also notice that I found street taco tortillas in fun colors – it's always better when you can have fun with your chips!
Now the baking: I bake chips in my oven using the "convection roast" setting. I think the air circulation of convection cooking helps dry the chips faster.
It's important to place the unbaked chips in a single layer. No overlap!
Then, "taste test" the chips right after pulling them from the oven. Try one of the biggest pieces first. If it has "chew," leave the chips on the baking sheet in the open air for another 5-10 minutes. They will crisp up even after baking. Magic!
Alternate flavors/spices
I've tried a couple spice combinations, and ancho chili pepper is my favorite. However, smoked paprika with a little cumin is good as well. Feel free to try some basic taco seasoning, if that's what you have on hand. Use a tablespoon or less of seasoning. Otherwise, the spices overwhelm.
Just don't skip the salt. Pretty important in a chip, amiright? And if, like some people, you enjoy things SALTY (*cough* The Carnivore *cough*) feel free to increase the salt a little. HIS favorite batch was made without measuring the salt (I forgot to add it when mixing, so I sprinkled the salt directly onto the chips on baking sheets before baking). I honestly don't know how much salt it was, but it was definitely MORE than specified in the recipe. That was one batch of SALTY chips.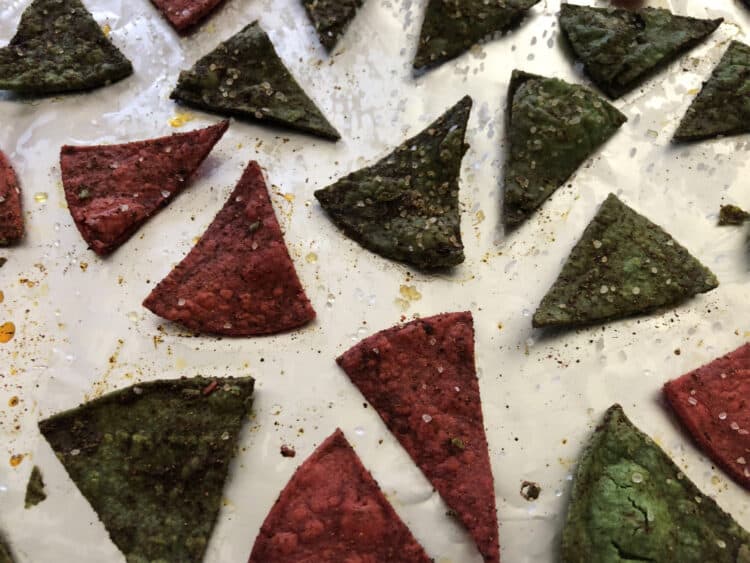 ("FANTASTIC!" says The Carnivore).
How to store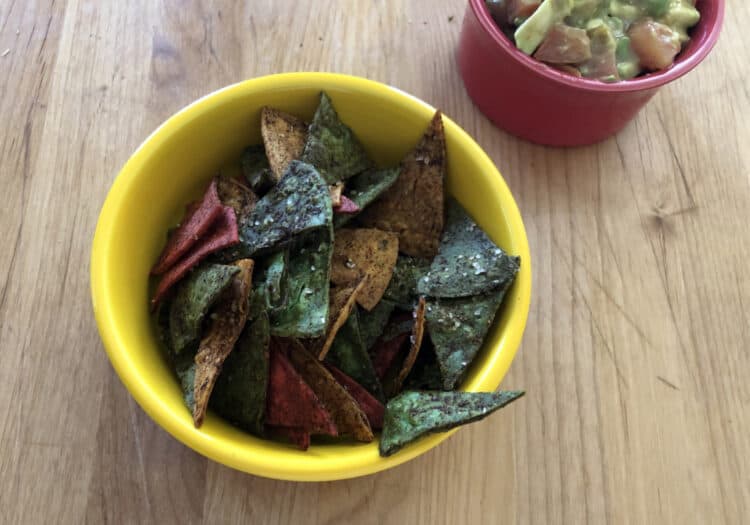 Chips are so good fresh, it's unlikely you'll have leftovers.
But if you do, store in an airtight container for up to 4 days.
These chips go with all your favorite dips!
**insert your favorite here**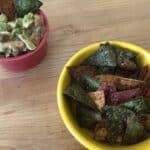 Print Recipe
Baked Tortilla Chips
Easy to make fresh chips at home!
Ingredients
12

corn tortillas

2

TB

olive oil

2

tsp

ancho chili pepper

1-2

tsp

sea salt
Instructions
In a small cup, mix olive oil and ancho chili pepper.

Preheat oven to 350F.

Line two large baking sheets with foil.

Using a pizza slicer, cut the tortillas into eighths, triangle shaped. This works best if you first cut the tortilla into quarters and then halve each quarter.

Place cut tortillas in a large bowl and add the olive oil/spice mix. Mix well to evenly coat. This step works best if you use your hands to mix. Add salt and mix again.

Divide the tortilla pieces evenly on the foil-lined baking sheets. Spread them out to make an even layer. IMPORTANT: CHIPS SHOULD NOT OVERLAP OR TOUCH ON BAKING SHEETS.

Bake for 15-18 minutes, until browned. Check after 15 minutes and adjust time from there.
Notes
Ovens can vary. I have found "convection roast" works best, if you have that setting. I also only bake one sheet at a time to ensure an even bake.
Remove sheet from oven. If a few of the chips seem a little uneven or under done (maybe a little soft/chewy in spots) leave the chips on baking sheets in the open air to cool for about 5-10 minutes. Using this longer cooling method is recommended for extra-crispy chips.
Once cool, the chips can be served. Or, they store best in an airtight container for up to 4 days.
Nutrition
Calories:
240
kcal
|
Carbohydrates:
37
g
|
Protein:
5
g
|
Fat:
9
g
|
Saturated Fat:
1
g
|
Sodium:
619
mg
|
Potassium:
191
mg
|
Fiber:
6
g
|
Sugar:
2
g
|
Vitamin A:
653
IU
|
Vitamin C:
1
mg
|
Calcium:
63
mg
|
Iron:
1
mg
Nutrition values are estimates only, using online calculators. Please verify using your own data.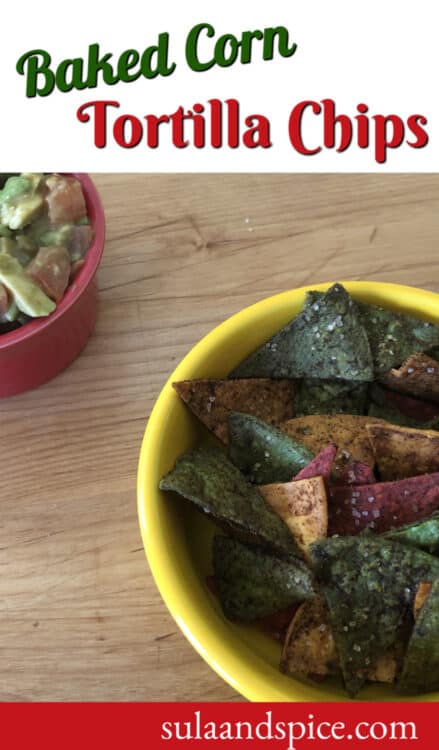 So festive! Pin for your next party!