Burrito Pie is perfect for Cinco de Mayo (or any other day)
I'm posting this in anticipation of Cinco de Mayo (May 5) but really, Burrito Pie is one of those meals that works year-round. I make both meat and vegetarian versions to suit individual preferences, so you can take these recipes and adjust as preferred.
How is Burrito Pie different from a regular burrito?
Besides combining two disparate words (i.e. Burrito + Pie), there isn't much difference. A burrito is a dish in Mexican and Tex-Mex cuisine consisting of a flour tortilla wrapped into a sealed tubular shape around various ingredients.
According to Wikipedia, the word burrito means "little donkey" in Spanish, being the diminutive form of burro, or donkey. The name burrito, as applied to the dish, possibly derives from the tendency for burritos to contain a lot of different ingredients, similar to a donkey carrying a lot.
In the case of Burrito Pie, all the ingredients of a burrito are laid out in a baking dish and cooked together.
The only other distinction between the two is that I find making Burrito Pie much easier than making individual burritos.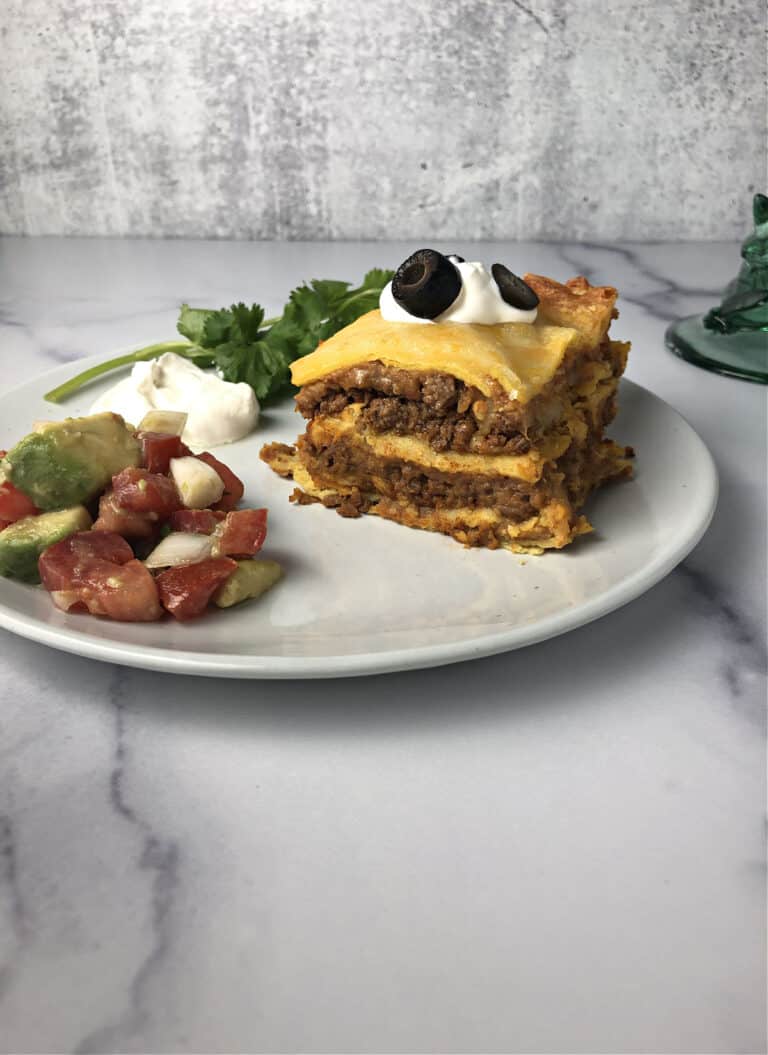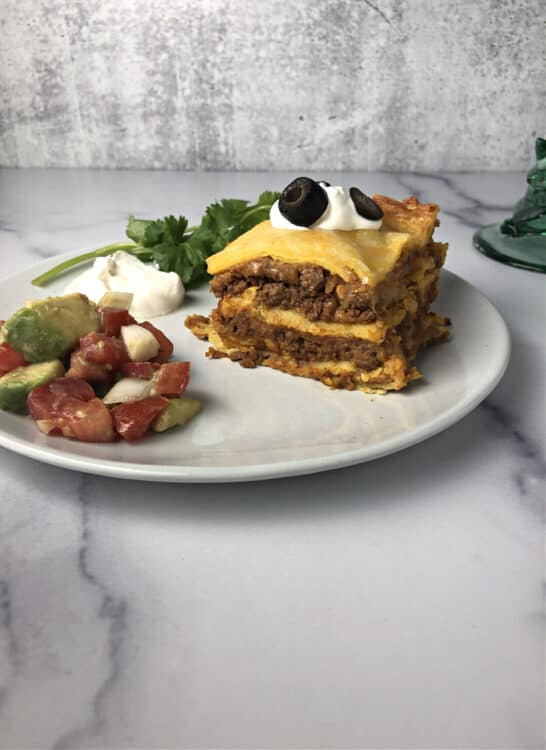 BONUS: Burrito Pie is delicious when you make it but also very leftover friendly!
Each version of this is enough to fill an 8x8 baking pan. That may seem small, but it is very filling! Feeding a crowd? Just double the ingredients and use a 9x13 pan.
Ingredients needed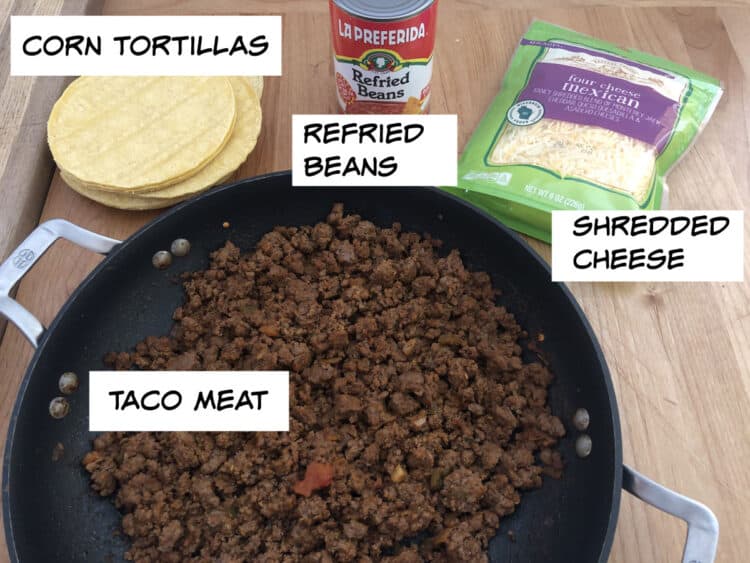 Once you make the taco meat, the rest is just assembly and a quick bake. Meat not for you? Please continue reading to see the option for a vegetarian filling.
How to make Burrito Pie
Make the filling
In a skillet, brown a pound of ground beef. Once cooked through, add water, taco seasoning and salsa. Cook on low heat until thick, about 10 minutes. Remove from heat.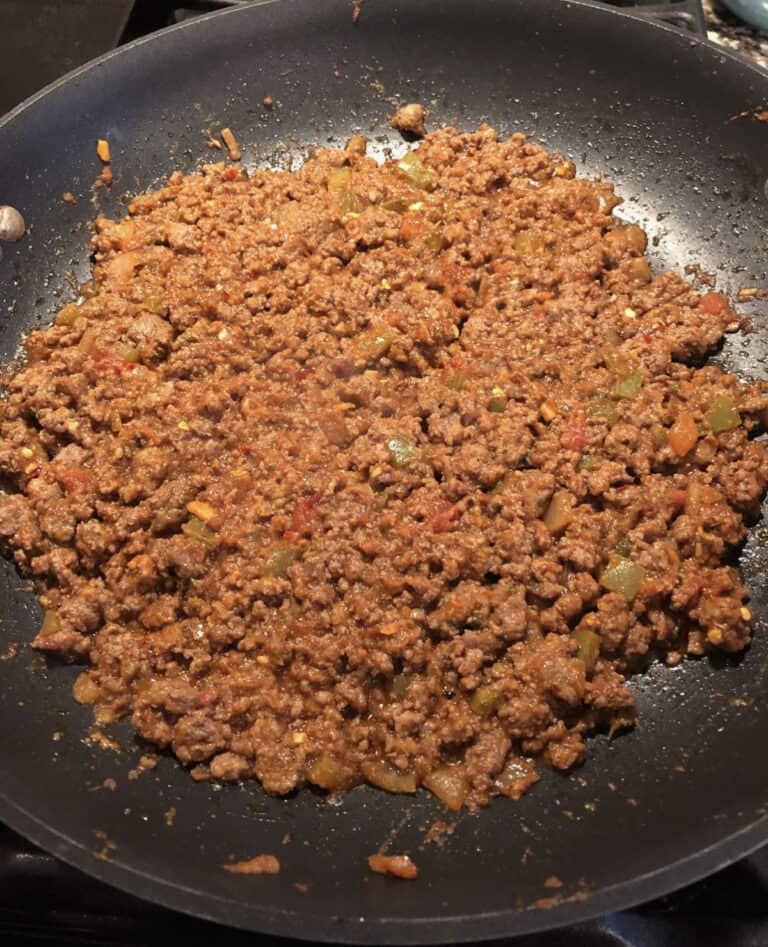 Vegetarian filling
Place black beans, salsa and seasoning in a microwave safe bowl. Cover and microwave on high for 2-3 minutes, until beans start to "pop."
Stir to make a semi-thick mixture.
Assemble the pie
Line an 8x8 pan with parchment paper. For the first layer, use 4-5 corn tortillas (depending on the size of tortillas). Spread a thin layer of refried beans on each tortilla and place bean side down in the pan (this may seem counterintuitive, but it works).
Use enough tortillas to form a complete first layer in the pan.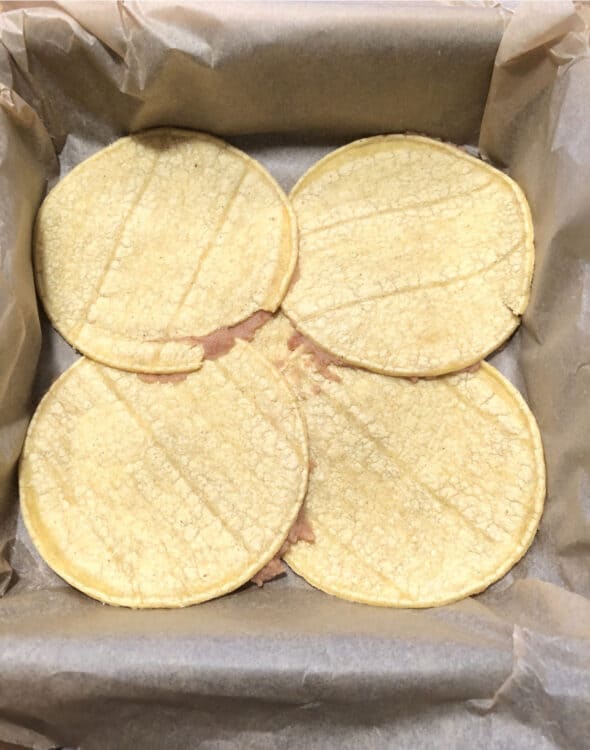 Then, add about half the filling and spread evenly to fill the pan.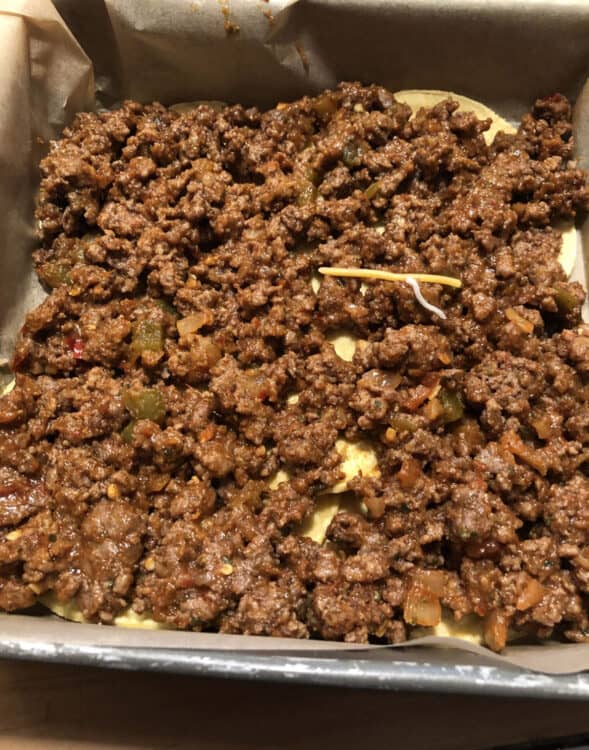 Add one third of the cheese in a layer over the filling.
Repeat with another layer of "beany" tortilla, filling and cheese.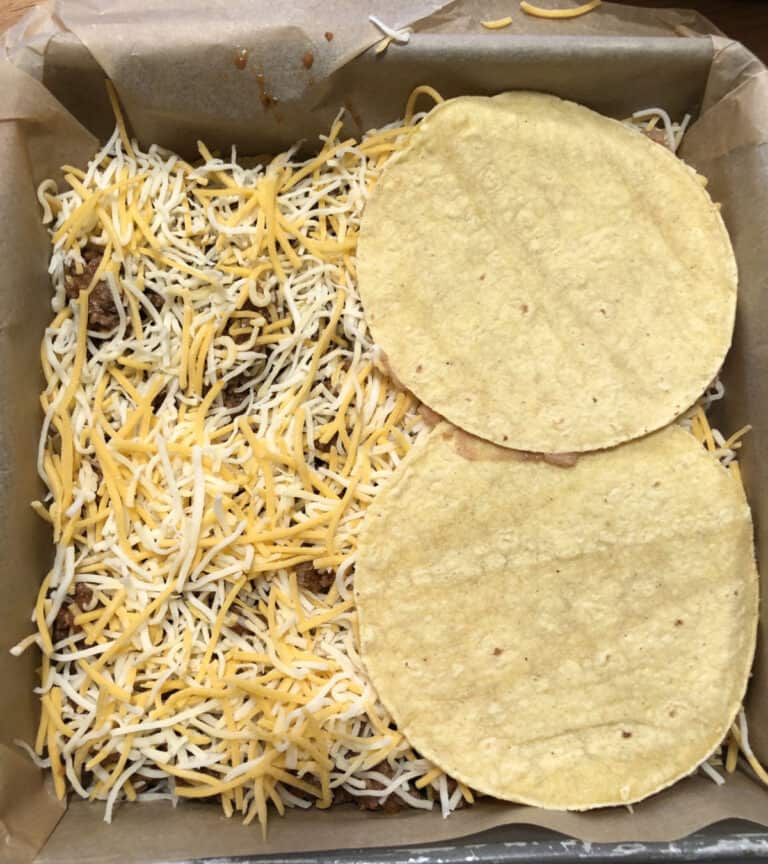 Make another layer of bean tortillas, then finish with the remaining cheese.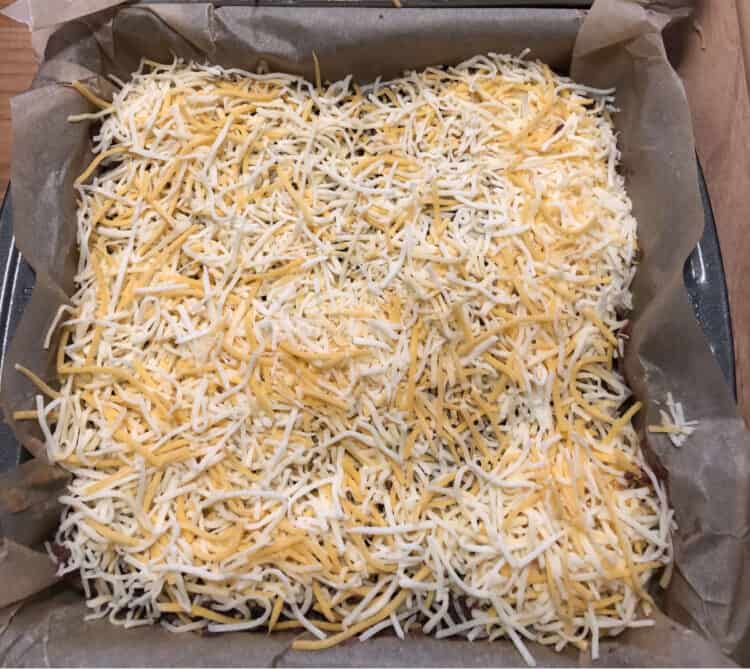 In all, you'll end up with 2 layers of meat between 3 tortilla layers.
Bake the Burrito Pie
This can easily be assembled ahead of time and baked when you are ready.
If you're baking right away, only 20-30 minutes of baking time is required, until the cheese is slightly browned and bubbly.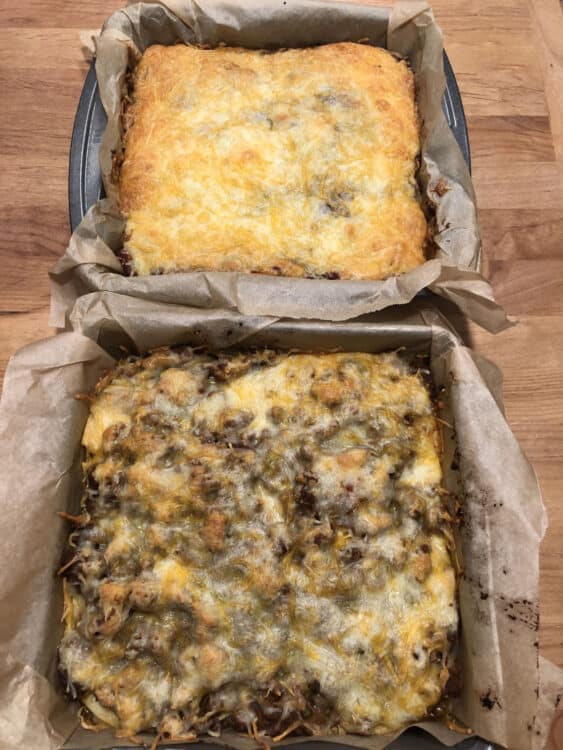 If you've assembled this ahead of time and placed it in the refrigerator, add another 10-15 minutes of cooking time.
Serve
Notice that this recipe concentrates on the protein and cheese parts of a burrito; in other words, a typical burrito. For some, that's enough. But I like to power up the nutrition with a few veggies as well. I don't bake those in, rather, I serve them on the side.
Think chopped tomato, shredded lettuce, sliced avocado, etc.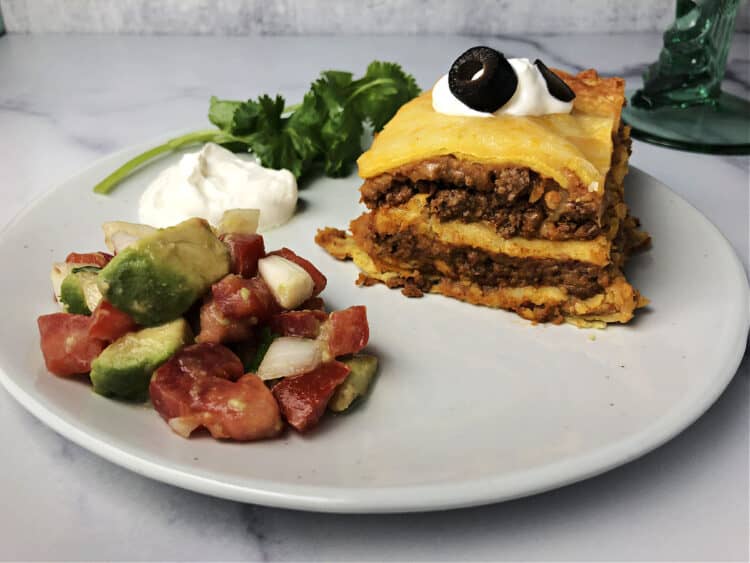 And, with either version, condiments! Sour cream and salsa, for sure! Maybe even some guacamole. You do you. 😀
I'm going to bet that once you give this larger version of a "little burro" a try, it'll become a regular part of your meal rotation.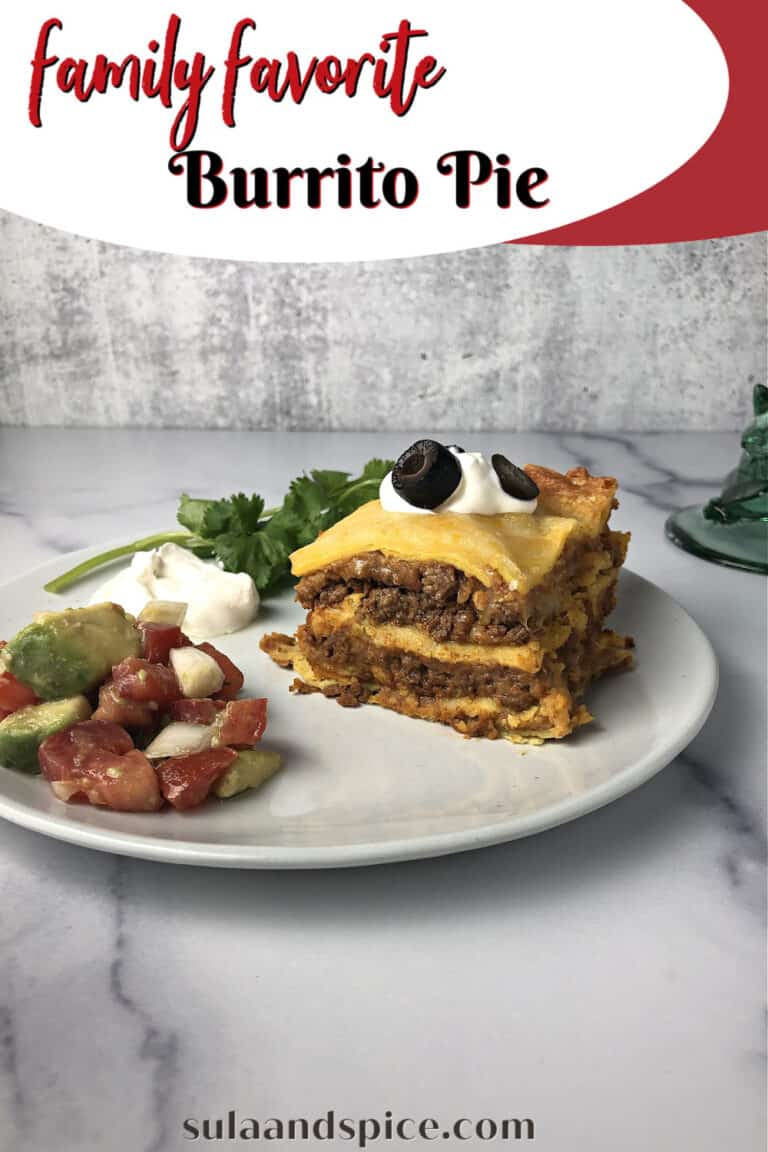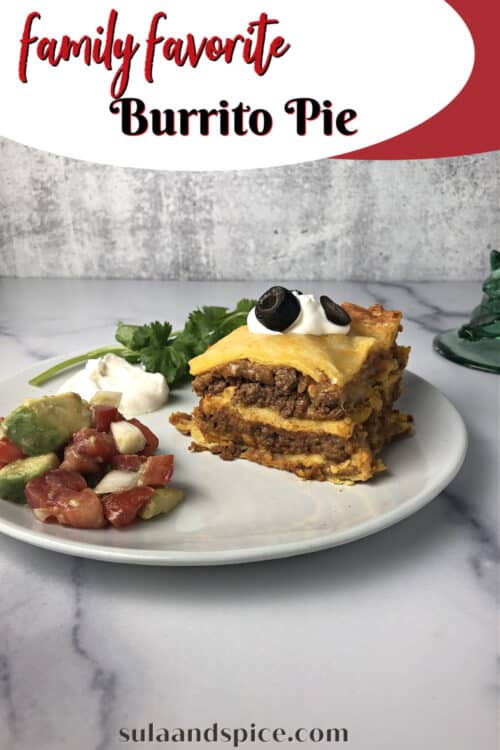 Burrito Pie
Ingredients
Taco Meat
1

LB

ground beef *see vegetarian option in notes

¾

cup

salsa

2

TB

taco seasoning

¼

cup

water
Pie
10-15

corn tortillas

approximately

1

can refried beans

2

cups

shredded cheese

Mexican or cheddar
Instructions
In a large skillet, cook the beef on medium heat until browned through. Add salsa and taco seasoning, reduce heat to low. Cook for 10-15 minutes, or until heated through and liquid is reduced. Preheat Oven to 350F.

Line a 8x8 baking pan with parchment paper. Spread about 2-3 tablespoons of refried beans on a tortilla, then place this bean side down in one corner of the lined pan. Repeat with 3-4 more tortillas to completely layer the pan.

Add half of the meat mixture to the pan and spread out evenly to fill the pan.

Sprinkle with one third of the cheese.

Make another layer of beany tortillas, meat and cheese.

Make a final layer of beany tortillas then finish the last third with cheese.

Bake at 350F for 20-30 minutes, until cheese is light brown and bubbly.
Video
Notes
For vegetarian filling, rinse and drain a can of black beans. Place in a bowl with salsa and taco seasoning and stir. Microwave, covered, for 2-3 minutes, until beans begin to pop. Stir. The mixture should be somewhat thick and spreadable. If still loose or watery, microwave a little more and stir. Use this mixture to replace the meat filling in the layers.
Nutrition
Calories:
427
kcal
|
Carbohydrates:
33
g
|
Protein:
27
g
|
Fat:
22
g
|
Saturated Fat:
10
g
|
Cholesterol:
81
mg
|
Sodium:
611
mg
|
Potassium:
465
mg
|
Fiber:
5
g
|
Sugar:
2
g
|
Vitamin A:
487
IU
|
Vitamin C:
1
mg
|
Calcium:
262
mg
|
Iron:
3
mg
Nutrition values are estimates only, using online calculators. Please verify using your own data.
This Burrito Pie recipe is now a web story - you can check it out here!
More taco meal ideas
If you loved this meal, try some Jalapeno Popper Hasselback Chicken. It's a whole new flavor profile!!!
The carnivore version describes exactly what I use to make ground beef taco meat. Once you have that, it's easy to make Air Fryer taquitos or ground beef quesadillas. It just proves that "Taco Tuesday" doesn't have to be boring!