For a while during "Covid quarantine," it seemed like chicken breasts were the only "meat" I could count on finding. So, I started looking for new ways to cook them. From that, comes today's recipe: Jalapeno Popper Hasselback Chicken. This new twist on an old staple was warmly received in my kitchen.
Let's break down the parts of this:
What are Jalapeno poppers?
This is an appetizer made of hollowed out jalapeno peppers that are stuffed. The stuffing is typically cheese with spices, and sometimes ground meat. The peppers are typically breaded and deep fried, but also sometimes wrapped in bacon and baked. Some call the bacon-wrapped variety an armadillo egg because the contours of the bacon wrapping resemble an armadillo shell. (Wikipedia)
This recipe takes the "spirit" of the jalapeno popper and translates it into a main course chicken dish.
Hasselback Chicken
You may recognize the term "Hasselback" associated with potatoes. The Hasselback potato is cut very thinly halfway through the potato before baking. Various toppings are added per preference. The name comes from its point of origin: the Hasselbacken restaurant in Djurgarden, Stockholm.
The name is NOT to be confused with "Hasselbeck" (NFL quarterback and his TV host spouse) or "Hasselhoff" (of Baywatch fame).
How to make Jalapeno Popper Hasselback Chicken
First, the bacon. Start with 8 slices and cut those slices in thirds. Then, cook the bacon by your preferred method. Frying in a pan works, but I prefer to microwave the pieces. For this, place bacon between a few layers of paper towel and microwave for a minute at a time. Repeat until the bacon is to your liking. Just don't go so crisp that it's crumbly – if you do, the stuffing step will become very challenging!
Make the cheese stuffing by combining cream cheese, shredded cheese, and finely diced jalapeno pepper.
Cut 6 slices widthwise across each chicken breast, about halfway through the breast. Stuff some of the cheese mixture into each slice. Use all of the cheese mixture for stuffing. Add one slice of bacon to each cheese-stuffed area.
Optional: add a thin slice of jalapeno pepper to each stuffed area.
Bake in a 375F oven for 30-40 minutes until internal temperature is 165F.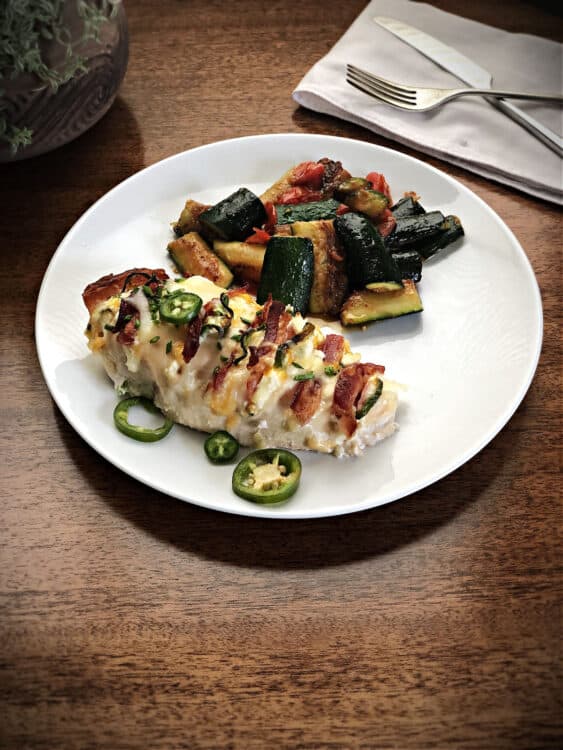 Remove from oven and allow chicken to sit for at least 5 minutes before serving.
📖 Recipe
Jalapeno Popper Hasselback Chicken
Spice up that boring chicken breast into something new!
Ingredients
4

medium chicken breasts

6

oz

cream cheese

room temperature

¾

cup

shredded cheese

4-Cheese Mexican or similar

8

slices

bacon

1-2

jalapeno peppers
Instructions
Preheat oven to 375F.

Cut bacon slices into thirds and cook according to your preferred method.

Place chicken breasts in a baking pan and cut 6 slits widthwise across each breast, about halfway into the breast.

Finely mince one jalapeno pepper (remove pith and seeds first) and place in a medium bowl. Add cream cheese and shredded cheese to the bowl and mix well to combine.

Stuff each chicken breast slit with some of the cheese mixture. Continue until all slits are stuffed and all the cheese is used. Add one piece of bacon to each stuffed slit.

Optional: add a thin jalapeno slice to each stuffed slit.

Bake uncovered, for 30-40 minutes until the internal temperature of the largest breast reaches 165F.

Remove from oven and allow the chicken to sit for at least 5 minutes before serving (I like to cover the chicken with foil while it sits).
Video
Nutrition
Calories:
522
kcal
|
Carbohydrates:
3
g
|
Protein:
37
g
|
Fat:
40
g
|
Saturated Fat:
17
g
|
Cholesterol:
165
mg
|
Sodium:
691
mg
|
Potassium:
580
mg
|
Fiber:
1
g
|
Sugar:
2
g
|
Vitamin A:
801
IU
|
Vitamin C:
6
mg
|
Calcium:
153
mg
|
Iron:
1
mg
Nutrition values are estimates only, using online calculators. Please verify using your own data.
Options and substitutions
Are substitutions available for some of the ingredients?

Cream Cheese: feel free to use light cream cheese for a lower-fat option. You could also use Greek yogurt or sour cream. However, be aware, these last two options will make the stuffing more runny. In fact, it might run right out of your chicken breast when cooking. Taste vs. practicality: the eternal debate.

Jalapeno peppers: I prefer fresh jalapeno pepper, however jarred/pickled peppers will work as well. If you are worried about the spice level, try bell peppers or banana peppers - both are much milder.

Cheese: many jalapeno popper recipes require cheddar cheese, a popular taste choice. Being from Wisconsin, I naturally prefer - MORE CHEESES - so I use a combination of milder flavored cheeses. Think 4-cheese Mexican or a Colby-Monterey Jack mix. What's your favorite cheese mix?
How to reduce the spice in this Jalapeno Popper Chicken

For jalapeno poppers, all the pith and seeds are removed from the peppers. The remaining pepper is actually quite mild. Follow that same procedure here to keep the spice level low.

You can also skip the optional slice of jalapeno added to each slit and reduce the amount of diced pepper added to the cheese.

As mentioned above, bell peppers can substitute for the jalapenos to achieve an even milder taste.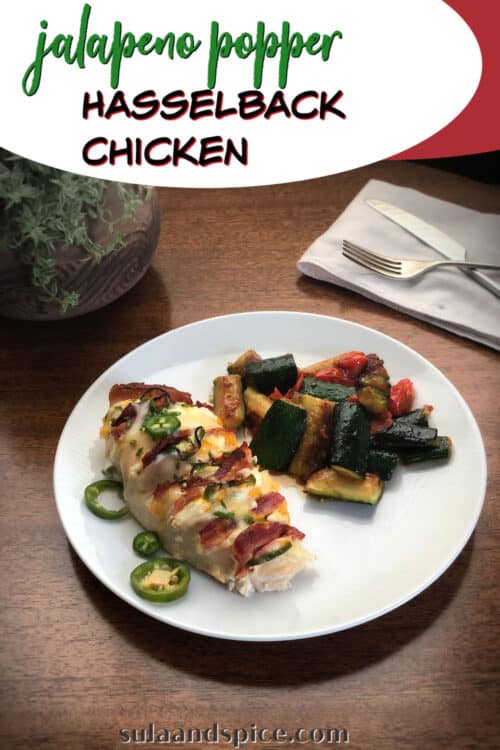 This jalapeno popper chicken is low carb/keto friendly! So add this to your chicken recipe main dish list, It really helps to change things up!
Other chicken meal ideas