This coming weekend will be Cinco de Mayo, so what better time to discuss some Mexican-inspired dishes?
I'm going to start with Salsa Chicken because it is a simple way to prepare your chicken to use as the basis for many other dishes. I have prepared this in both an oven and Instant Pot and both work great. So no matter what cooking method you prefer, this is guaranteed to be an easy way to prepare an ingredient for the carnivores coming to your Cinco de Mayo party.
How to make Salsa Chicken
First, start with chicken-I prefer boneless/skinless chicken thighs-they are cheaper and more flavorful than white meat. The only other ingredients are dry taco seasoning and salsa-whatever happens to be your favorite brands for these! (you can even use your own Roasted Salsa)
I typically use my Instant Pot for this, but your oven will work just as well-directions for both methods are in the recipe below.
Set your cook cycle
To start, place the chicken, seasoning, and salsa in the Instant Pot.
Set your Instant Pot to the Meat/Stew setting (18 minutes) - seal and start.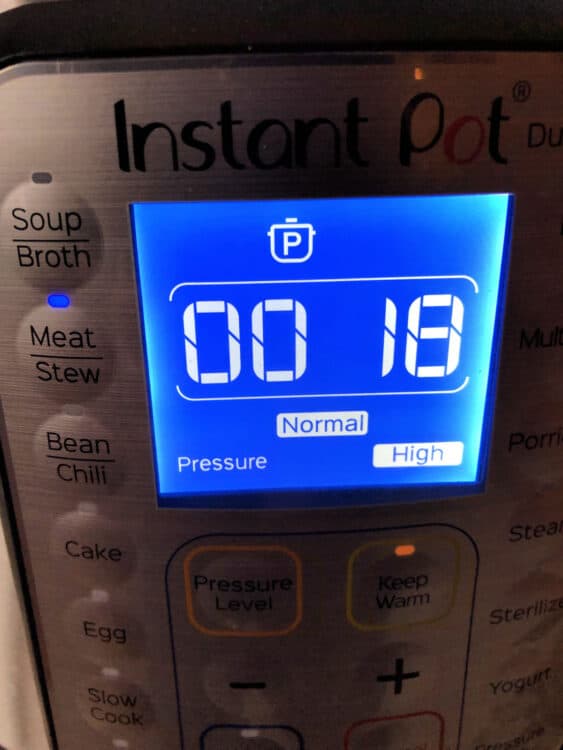 Once the Instant Pot is finished, allow it to depressurize for at least 20 minutes before manually venting.
I typically set this up an hour or more before I need it and just let it vent naturally. The Instant Pot keeps the meat warm, and I use the time to make all the other items on my list. Just always verify that the Instant Pot is fully vented (all pressure has released) before removing the lid.
Shred the Salsa Chicken
Once you open the Instant Pot, take a couple forks and shred your meat. If you let the Instant Pot keep everything warm for a long time, simply stirring with a spoon might be enough.

One thing you will notice - this is quite "soupy" just from the liquid of the salsa and the meat juices.
If I want it a little drier I typically take some out and put it in a small bowl, then take "from the top" when using the meat for a burrito or quesadilla. This helps prevent these meals from getting all soggy-nobody wants that!
If you are making a burrito bowl or taco salad then the liquid is probably not a problem. It's all a matter of personal preference.
Serving suggestions for Salsa Chicken
Serve with Brown Rice and Bean Bake, Black Bean Soup, and Crunch Wraps for a great Tex-Mex meal!
I also found this great recipe for Instant Pot Mexican Shredded Beef to give you even more variety!
If you enjoyed this Instant Pot Salsa Chicken, you might want to check out my Keto Taco Casserole, Fajita Chicken or Keto Chicken Taco Casserole for even more Yummy Tex-Mex food.
p.s. goes great with a Keto Margarita!!
Salsa chicken is a great option for taco night!
Instant Pot Salsa Chicken
Salsa Chicken is so easy to make and so versatile! I use my Instant Pot but directions for using your oven are also included.
Ingredients
1

lb

Chicken thighs, boneless and skinless

¾

c

Salsa

1

TB

Taco seasoning
Instructions
Instant Pot Method:
Combine all ingredients in the Instant Pot.

Set the time to 18 minutes.

Once the cooking cycle is done, wait at least 20 minutes before venting. The longer you wait, the easier the chicken will be to shred.
Oven Method:
Preheat oven to 350°F.

In a 2-3 quart casserole dish, layer the raw chicken pieces first, then sprinkle with the taco seasoning. Pour the salsa over the top.

Cover and bake for 45 to 50 minutes at 350°F.

Once it is finished baking, allow the chicken to cool for at least 15 to 20 minutes, and then shred the meat. (Use two forks, or any other method you prefer – the longer you wait, the more likely the meat will just fall apart – it sometime shreds just by stirring!)
Use the chicken in your burritos, tacos, quesadillas, and taco salads. Enjoy!
Nutrition
Calories:
175
kcal
|
Carbohydrates:
2
g
|
Protein:
12
g
|
Fat:
12
g
|
Saturated Fat:
3
g
|
Cholesterol:
74
mg
|
Sodium:
322
mg
|
Potassium:
247
mg
|
Fiber:
0
g
|
Sugar:
1
g
|
Vitamin A:
255
IU
|
Vitamin C:
0.8
mg
|
Calcium:
16
mg
|
Iron:
0.6
mg
Nutrition values are estimates only, using online calculators. Please verify using your own data.
This Salsa Chicken now has a Web Story!