Even in spring, we get cool weather days. And a warm bowl of soup is exactly what I want to warm me through and through.
But it does help to have soups that are a little lighter and healthier, and this chicken and barley soup definitely fits the bill!
Similar to my hamburger barley soup, this version is delicious and richly satisfying. Many chicken soups can be so thin you feel like you haven't eaten anything! But this one has both barley and potato to help give it more structure, in addition to all the beneficial nutrients.
And the best part? I make it in the Instant Pot, so I can have delicious chicken barley soup ready in much less time than using conventional methods. Love it!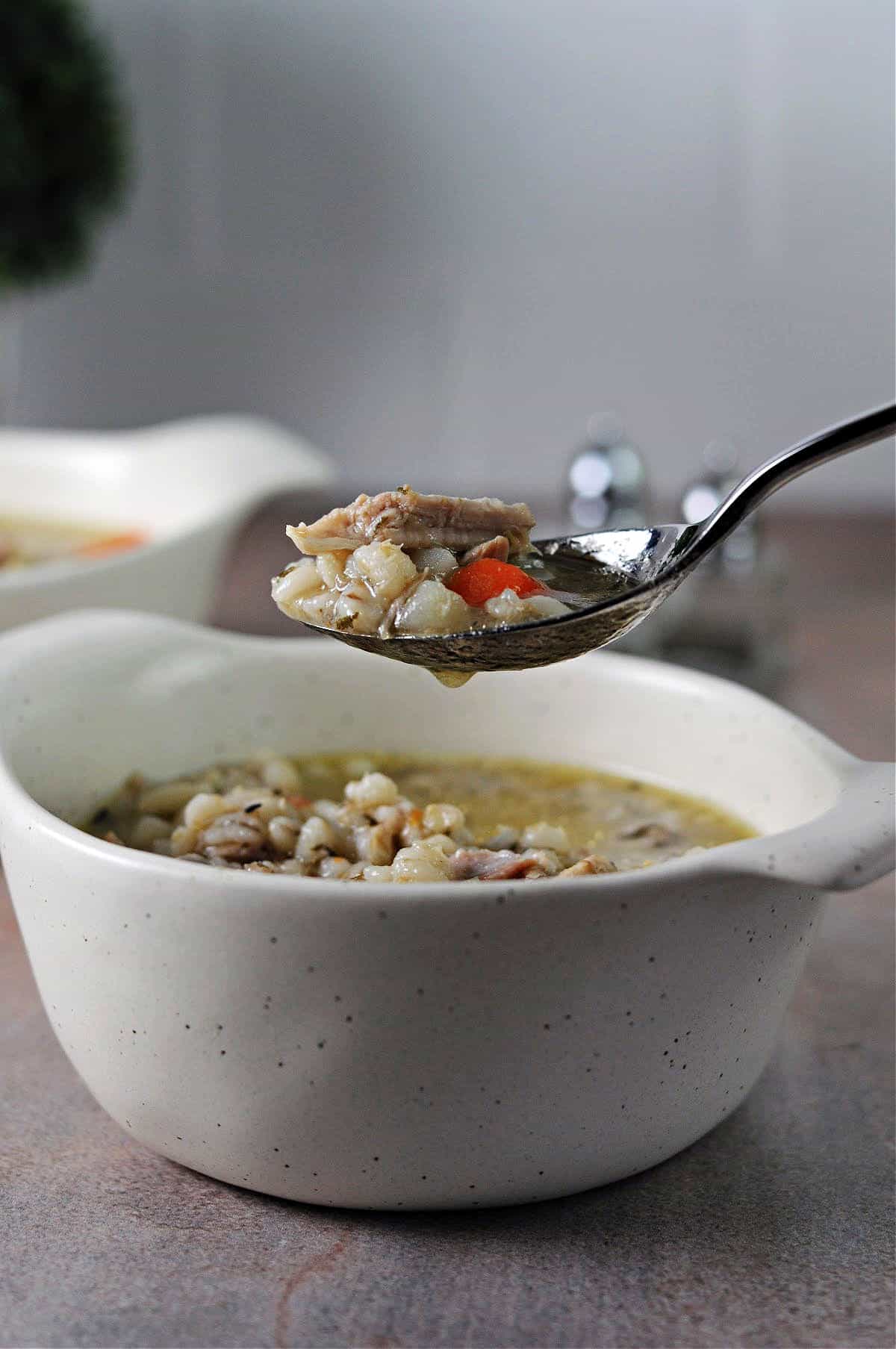 Why I love this recipe
This soup's origins are in my mother's old recipe boxes. She had a recipe for chicken barley soup that was typed out on an old typewriter and then had some handwritten notes on it. It made a bigger pot of soup, referred to some old brand names I've never heard of, and required 5 hours of cook time in a crock pot with some pre-heating of the liquids and barley.
I knew I could adapt the recipe for ingredients and used my hamburger barley soup as a guide for that. The Instant Pot adaptation was a necessity. My slow cooker died a few months ago and I haven't replaced it.
I have to say, I was beyond happy with the resulting soup! It's a little bit like chicken noodle soup, but so much better. The whole grain of barley makes a fantastic replacement for noodles.
Rich with taste and texture, this chicken barley soup makes a healthy and satisfying meal. This one will be on repeat!
Ingredients
How to make chicken barley soup in the Instant Pot
By far my favorite feature of the Instant Pot is the sauté function. If you use a slow cooker for a soup like this, there is usually a separate step required involving searing the meat or vegetables before starting the cooking cycle. Using the sauté function means you can do it all in the same pot!
For this soup, we first sauté the onion, celery and carrot. This only requires about 3 to 5 minutes, just enough to soften. Then add the garlic, stir and cook about 30 seconds before adding the barley.
Now add the rest of the ingredients: potatoes, chicken, spices, and broth. Cover and seal the Instant Pot and set the cycle to cook for 8 minutes on high pressure. Expect the Instant Pot to take about 15 minutes or so to come up to pressure before the cycle begins.
Once the cycle is done, let the pressure natural release for 10 minutes, then manual release the remaining pressure.
Remove the chicken to cool slightly before shredding. At this point, I like to give the barley a little taste. The barley will be a little chewy, but if you feel it could use a little more cooking time just turn the Instant Pot back to sauté and your soup will soon be bubbling. You can leave it boiling, stir occasionally, while you process the chicken.
When the chicken has cooled a little, remove the skin and bones. Then shred and/or cut it into bite-sized pieces. Once the chicken is all cut, return it to the soup in the pot. When the chicken is heated through, the soup is ready to serve.
The Health Benefits of Barley
You may have heard that barley is "good for you" but what does that mean? Here are a few of the health benefits, according to Healthline. I think there's something here for everyone!
Barley is rich in many beneficial nutrients, especially when consumed as a whole grain.
It reduces hunger and may help with weight loss.
With both soluble and insoluble fiber content, it improves digestion.
Barley may prevent gallstones.
Barley may also lower cholesterol levels.
It may reduce the risk of heart disease.
With high levels of magnesium and fiber, barley may protect against diabetes.
It may help prevent colon cancer.
Variations
It's your soup, so you have plenty of options for variation! If you prefer a thinner broth, you can omit the potato. That does tend to thicken the broth some. You could also add about 2 cups of water to the pot, in addition to the chicken broth. I like my soup thick, so I just go with the liquid listed. But you do you!
If you have rotisserie chicken, you can use that in this soup. It won't really need to be cooked but including it during the cook cycle will help give more flavor to the barley. About 2 to 3 cups of shredded chicken should be about enough.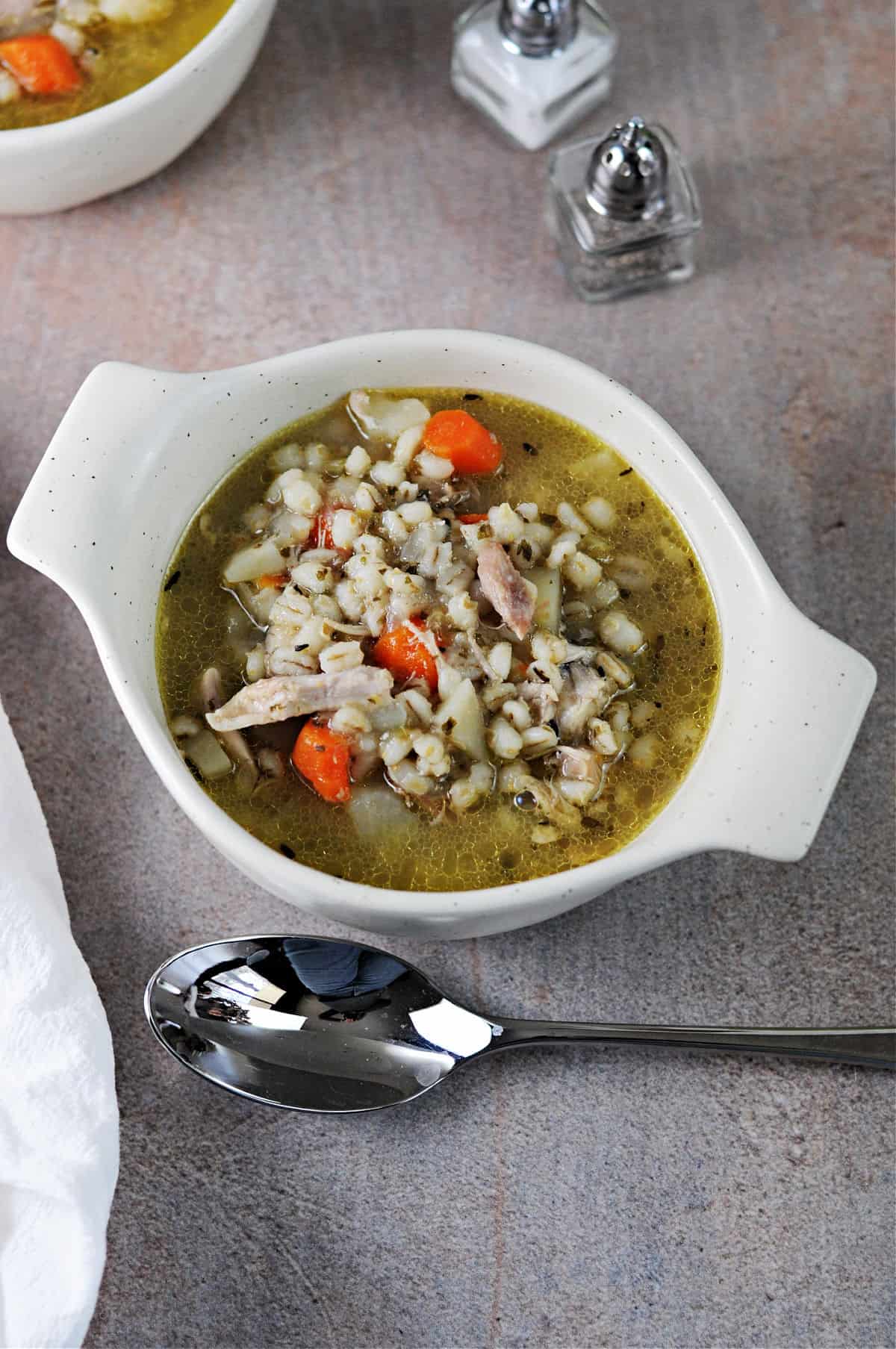 Recipe FAQs
Can I use chicken breasts for this barley soup?

Yes, chicken breasts will work but I do recommend bone-in for the best soup flavor. In addition, since chicken breasts are so big these days, your chicken may need a little additional time. If, when you cut up the chicken, it seems a little under done, just place the cut up pieces back into the pot and boil the soup (using the sauté function) for at least 10 minutes to fully cook the chicken.
Can I make this soup in a slow cooker?

As I stated earlier, I currently have no slow cooker so I haven't tried it. But, going by the original recipe, a 5 to 6-hour cycle on low should be about right. You will still need to shred the chicken as described and you will be able to judge the chicken's "doneness" at that time.
Is barley considered low carb?

Barley is not low carb; it does contain plenty of carbohydrates. However, it is a much better choice than processed carbs such as from pasta, in my opinion.
More Soup Recipes to Love
📖 Recipe
Instant Pot Chicken and Barley Soup
A rich, healthy, and satisfying soup!
Ingredients
1½

pounds

chicken thighs

bone-in

1

yellow onion

chopped

2

stalks celery

chopped

4

carrots

chopped

1-2

medium potatoes

diced

2

cloves

garlic

minced

½

cup

pearled barley

32

ounces

chicken broth

½

teaspoon

dried thyme

1

tablespoon

dried parsley

1

bay leaf

2

peppercorns

½

teaspoon

salt

1

tablespoon

cooking oil

olive or canola
Instructions
Heat the cooking oil in the Instant Pot on the Sauté setting. Add the onion, celery and carrots. Cook, stirring occasionally, about 3 to 5 minutes, until softened. Add the garlic and sauté for about 30 seconds. Add in the barley and stir to coat it slightly.

Add in the potatoes and chicken. Sprinkle the spices over the chicken, then add the broth.

Cover and seal the Instant Pot. Set the cycle to cook for 8 minutes on high pressure. (Expect about 15 minutes for the pressure to build before the cycle begins.)

When the cycle is done, wait at least 10 minutes for the pressure to naturally release, then manual release the remaining pressure. Remove the chicken from the Instant Pot. Check a little of the barley by tasting for doneness. It will have a little "chew" to it, but if you think it should cook a little more just turn the Instant Pot to sauté. This will cook the barley a little more while you cut up the chicken.

When the chicken is cool enough to handle, remove and discard the skin and bones. Shred or cut the chicken into bite-sized pieces. Return the shredded chicken to the pot and heat through using the sauté setting.
Notes
If your pieces of chicken are very large, you can check for doneness with a meat thermometer. Or, you may notice the chicken seems a little under done while cutting it up. If so, return the chicken to the pot and use the sauté setting to bring your soup to a boil. Boil about 10 minutes to ensure the chicken and/or barley is completely cooked through.
Nutrition
Calories:
355
kcal
|
Carbohydrates:
27
g
|
Protein:
20
g
|
Fat:
19
g
|
Saturated Fat:
5
g
|
Polyunsaturated Fat:
4
g
|
Monounsaturated Fat:
8
g
|
Trans Fat:
1
g
|
Cholesterol:
97
mg
|
Sodium:
864
mg
|
Potassium:
594
mg
|
Fiber:
5
g
|
Sugar:
4
g
|
Vitamin A:
6893
IU
|
Vitamin C:
7
mg
|
Calcium:
49
mg
|
Iron:
2
mg
Nutrition values are estimates only, using online calculators. Please verify using your own data.