Summer is all about cooking on the grill! It's the perfect time to enjoy some delicious and crispy beef skewers. Each one of these tasty recipes will have your whole family coming back for seconds!
One of my favorite grilling recipes is my beef kabobs, and here I've grouped some more recipes from other food bloggers to help you change things up.
I found recipes like steak kabobs with garlic butter, Asian sesame beef skewers, marinated steak skewers with chimichurri, and so many more. There is something here for whatever your family's favorite summer flavor is!
So try one of these beef skewer recipes, or a few, this summer! Because everyone loves having their meat on a stick!
Feel free to pin this post so you can always find it!
I think this list has something for everyone. I think you will agree!
Beef Kabobs in the Oven or Grill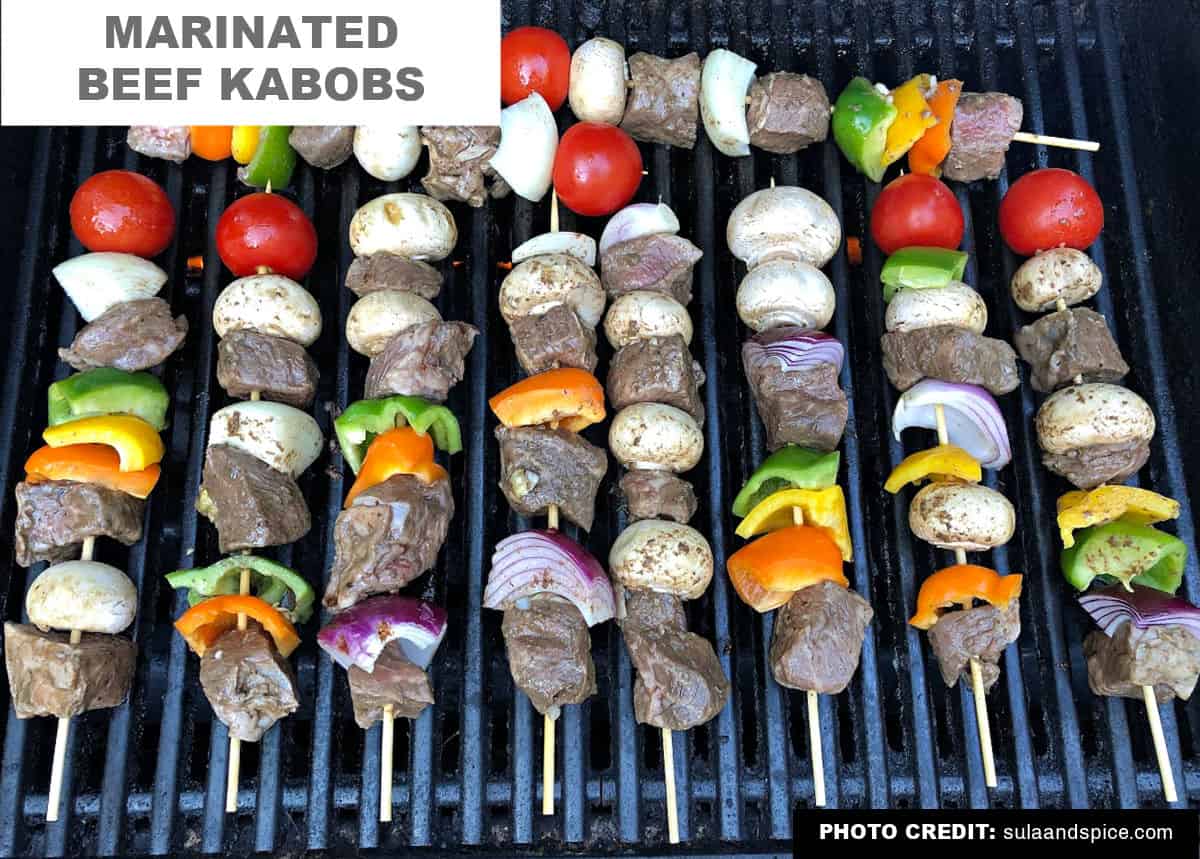 These Beef Kabobs are an easy summer meal! They're made with a flavorful marinade and loaded with tender steak and veggies. And if the weather doesn't cooperate, you can cook them in your oven!
Get this recipe at Sula and Spice
Steak Kabobs with Garlic Butter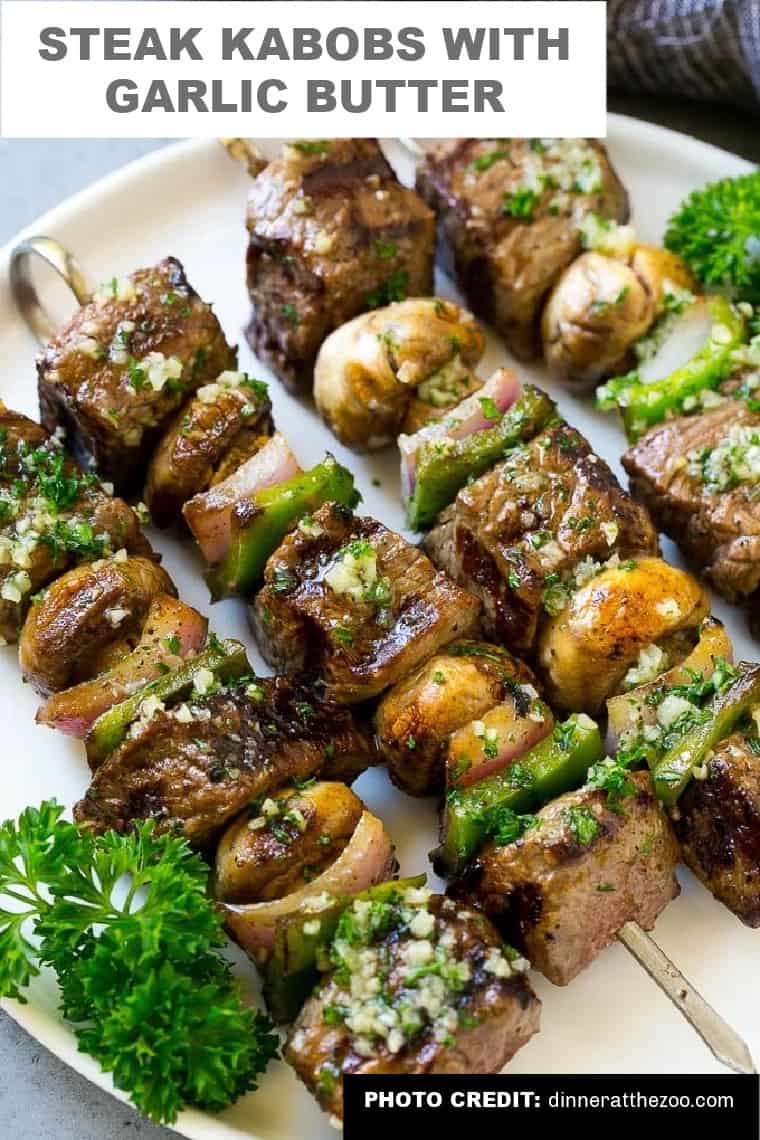 These steak kabobs are pieces of sirloin beef skewers with mushrooms, peppers and onions. They are grilled to perfection and finished off with garlic butter.
Get the recipe at Dinner at the Zoo
Ground Beef Kabobs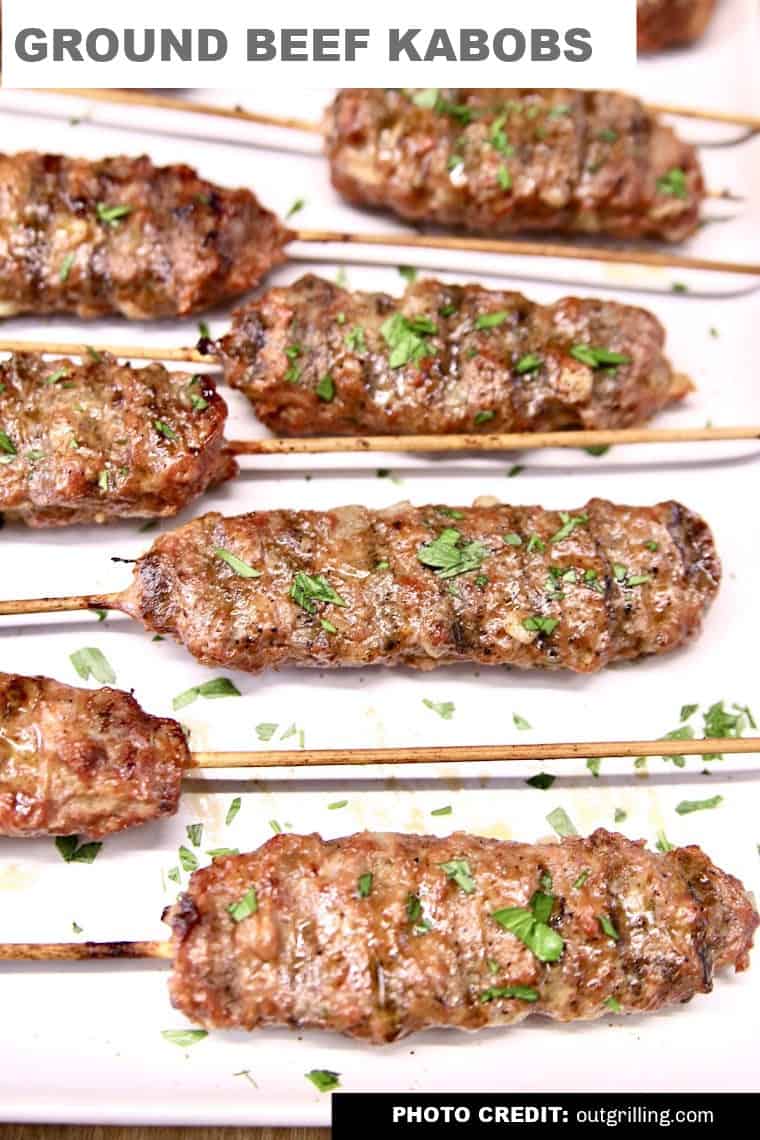 Who knew, you could make kabobs from ground beef? Like a burger on a stick! Tender, juicy and full of flavor. Great for cookouts, tailgating and family gatherings.
Get this recipe on Out Grilling

Indonesian Beef Satay Skewers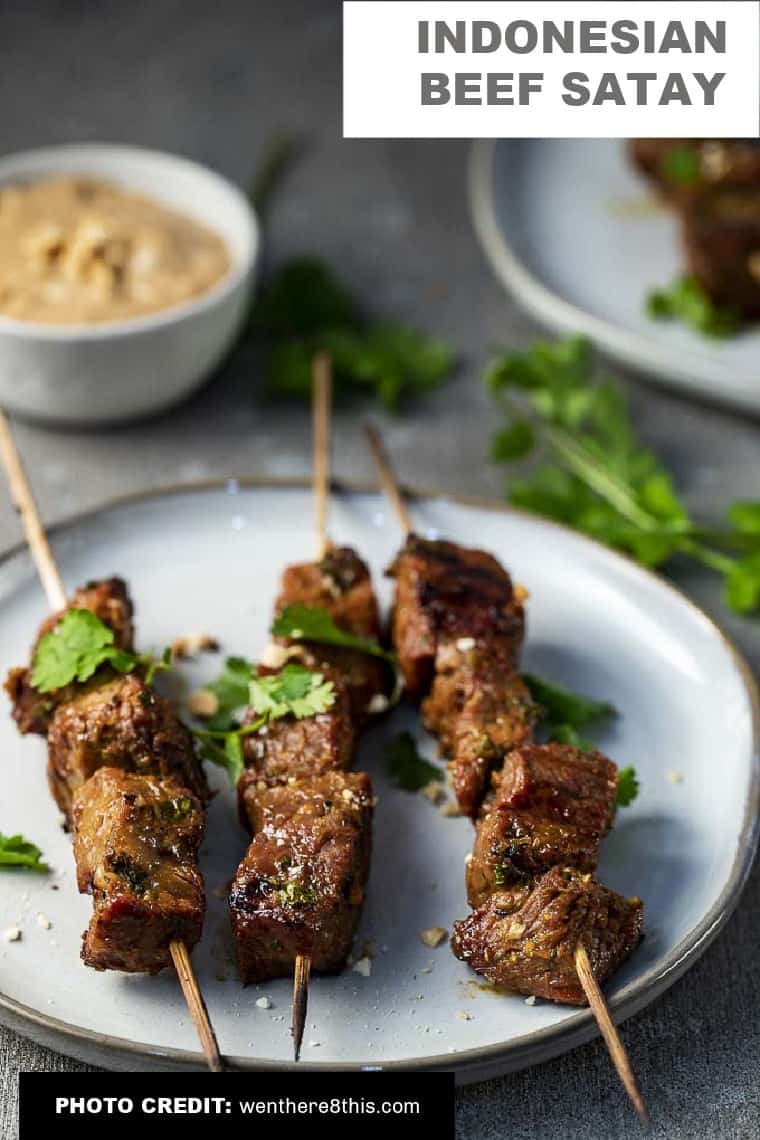 Beef Satay is tender pieces of marinated beef grilled on skewers. It's easy to make and perfect served with a creamy, tangy peanut sauce.
Get the recipe at Went Here 8 This


Moroccan Beef Kebabs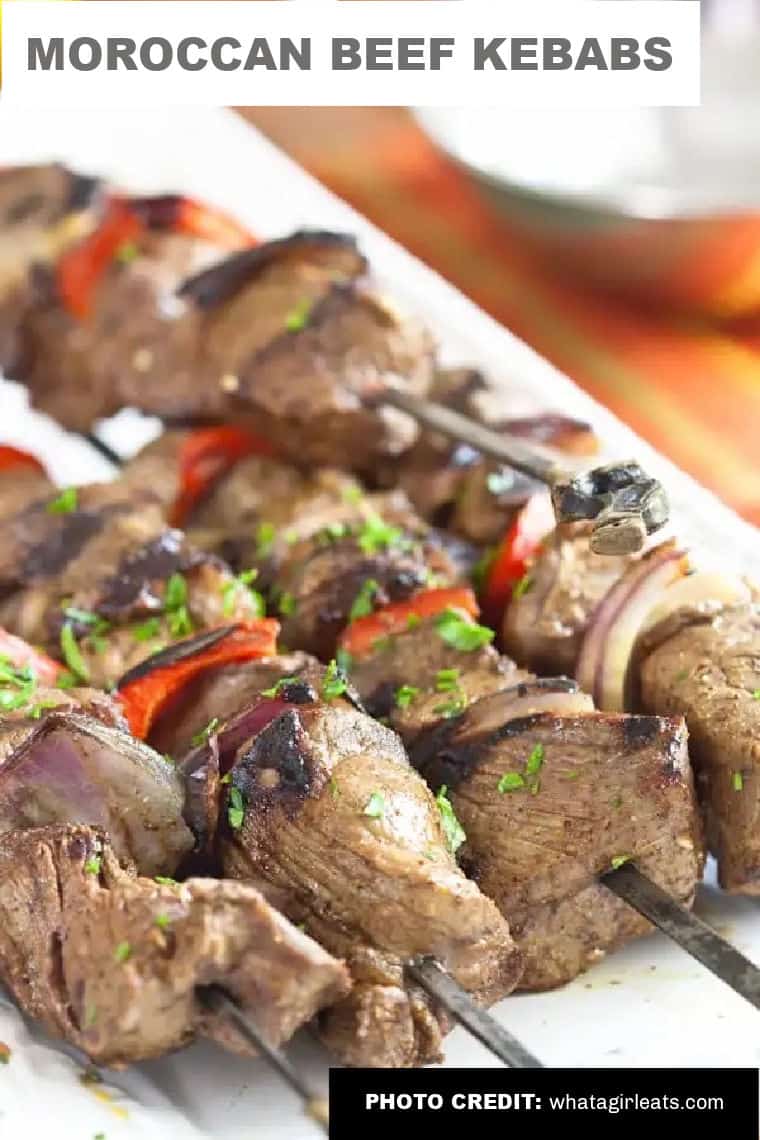 Moroccan beef kebabs may just become your new favorite dinner! They're perfect for a summer dinner, straight from your grill. Flavored with earthy spices, this is a dinner to love.
Get this recipe on What a Girl Eats


Thai Flank Steak Kabobs

Add a little Thai flair to your next barbecue with this mouthwatering nutty nibbles on a stick recipe. It's tender and juicy with the flavors of lime, chili and peanuts!

Get this recipe on Simply Stacie
Smoked Steak Kabobs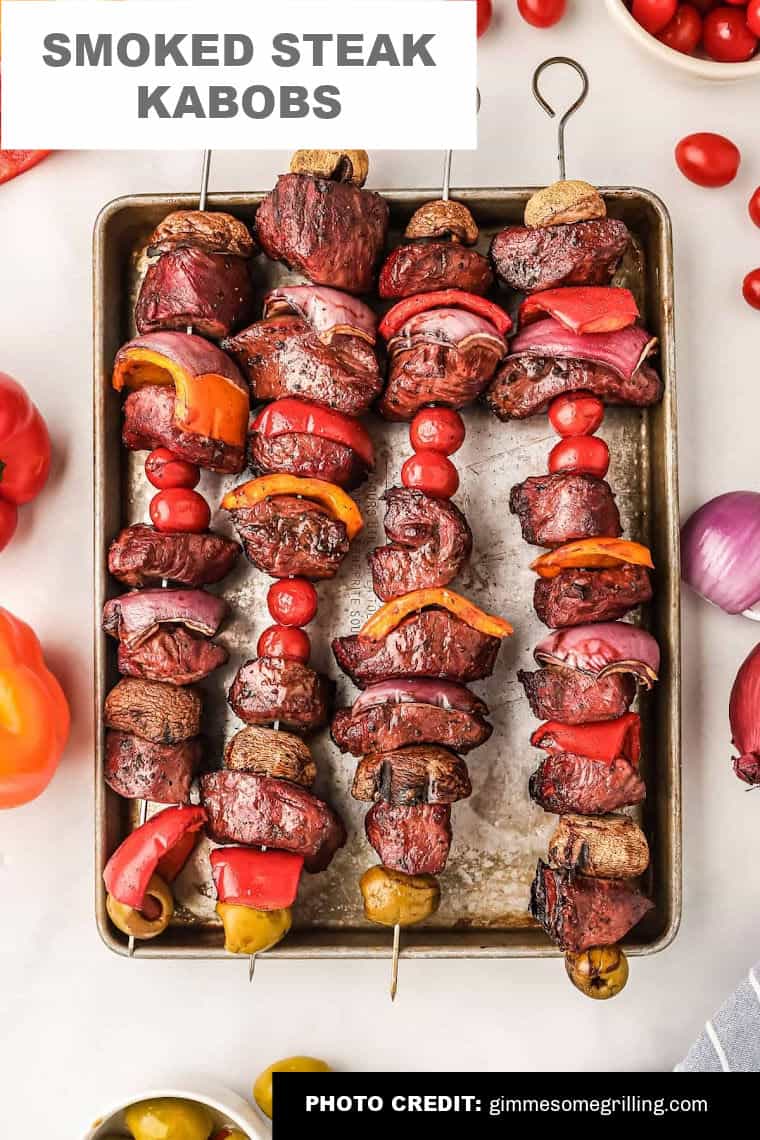 Marinated pieces of Sirloin Steak, red onion, cherry tomatoes, Spanish Olives, Portabella Mushrooms and bell peppers make these Smoked Steak Kabobs amazing! An easy and quick dinner recipe on your smoker.
Get this recipe on Gimme Some Grilling


Asian Sesame Beef Skewers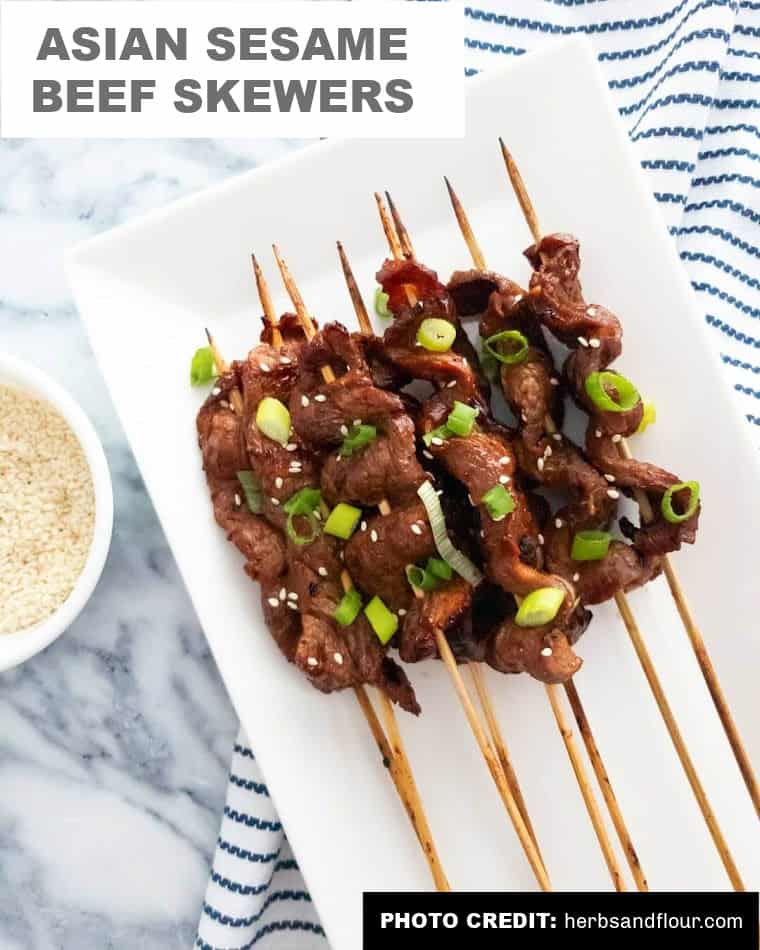 These Asian Sesame Beef Skewers are made with a super simple, flavorful marinade and grilled to perfection! Tender and packed with delicious flavor, they're sure to be a hit!
Get this recipe on Herbs and Flour


Grilled Hawaiian Steak Skewers

Take a trip to the islands without leaving your backyard! These sweet Grilled Hawaiian Steak Skewers are a quick and easy main course. Perfect for a summer barbecue or a weeknight dinner!
Get this recipe on The Soccer Mom Blog


Marinated Steak Skewers with Chimichurri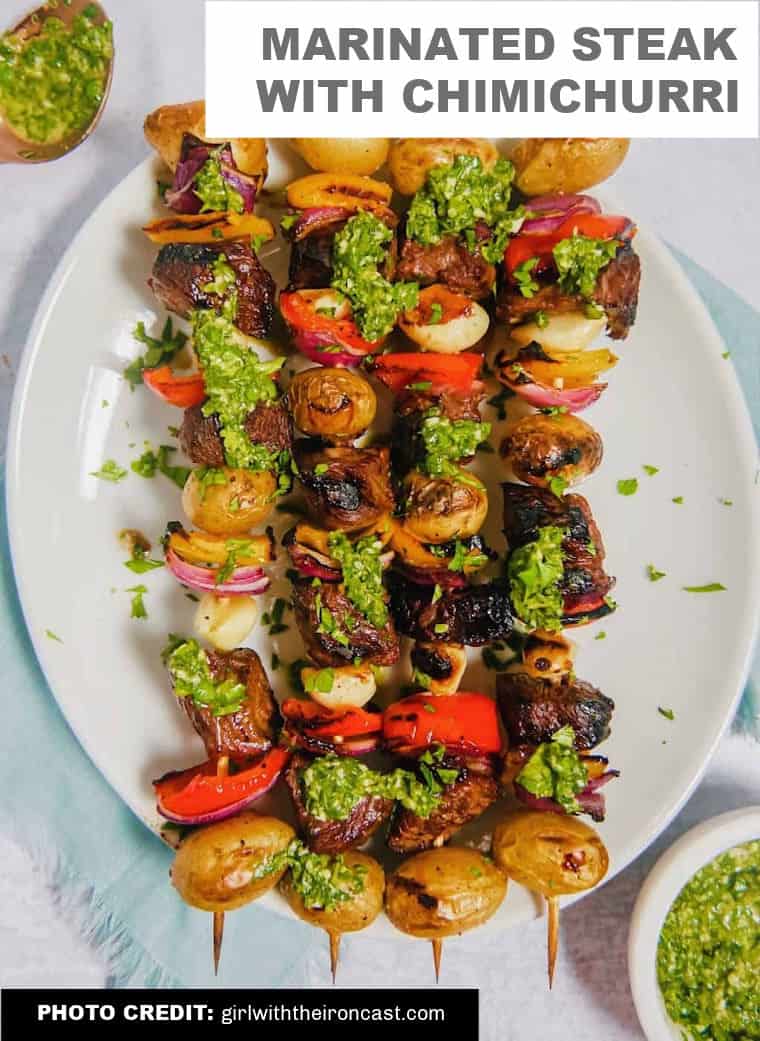 Marinate some sirloin steak cubes. Then load them on skewers. Add baby potatoes, bell peppers, red onion, garlic cloves, and top with a homemade blended chimichurri sauce.
Get this recipe on Girl with the Iron Cast


Steak and Shrimp Kabobs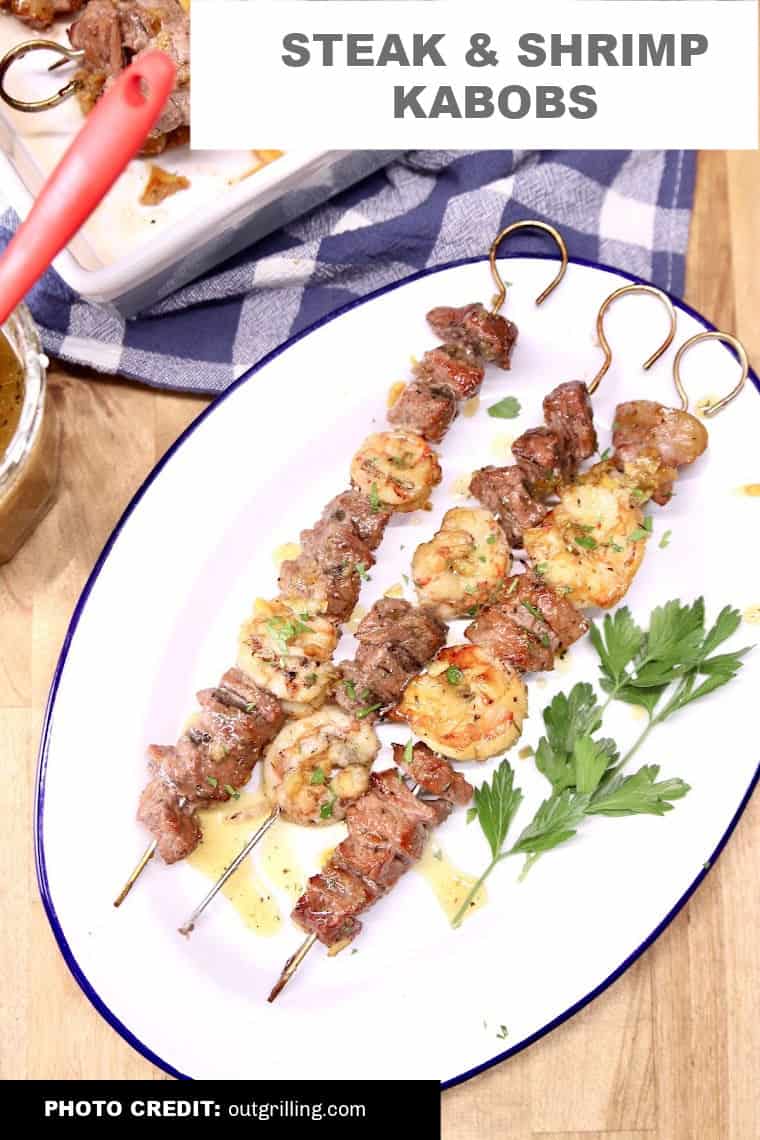 Steak and Shrimp Kabobs with a tasty orange glaze is a great dinner on the grill for busy weeknights and backyard cookouts.
Get the recipe on Out Grilling


Spicy Beef Kabobs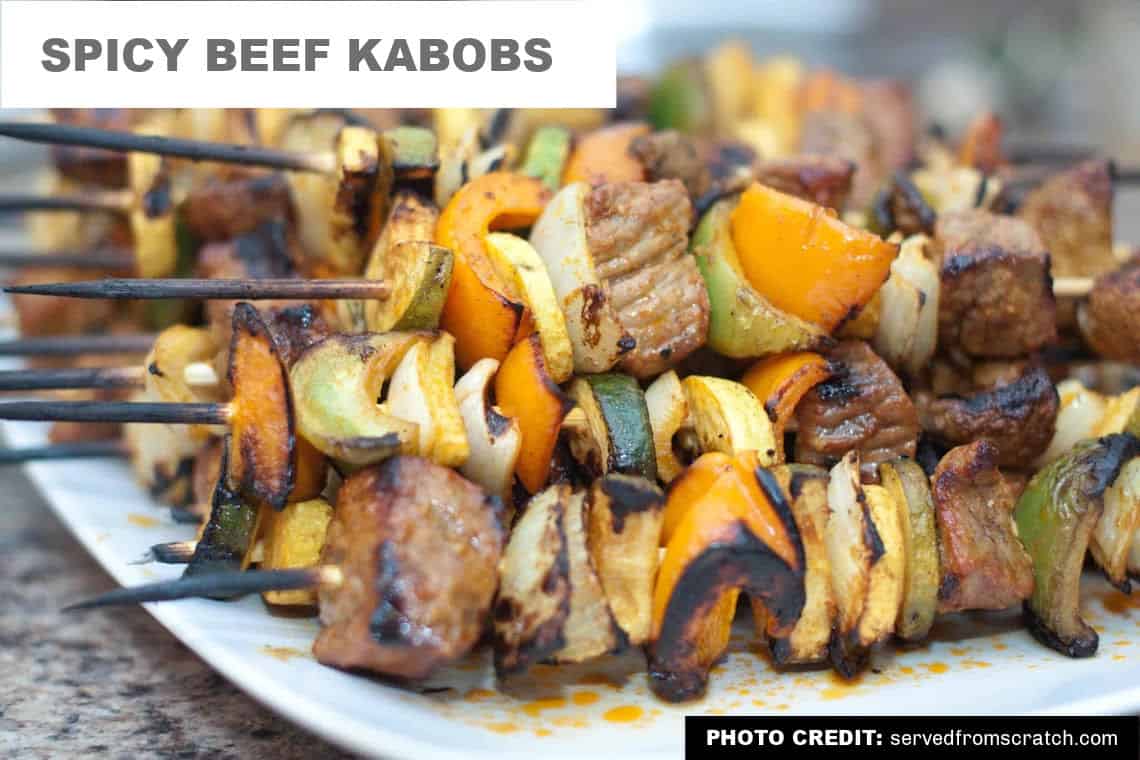 Spicy Beef Kabobs are made with a super easy marinade, it has the perfect amount of kick, which makes it the perfect marinade for a meat and veggie filled kabobs ready for your grill!
Get this recipe on Served From Scratch

Beef Kofta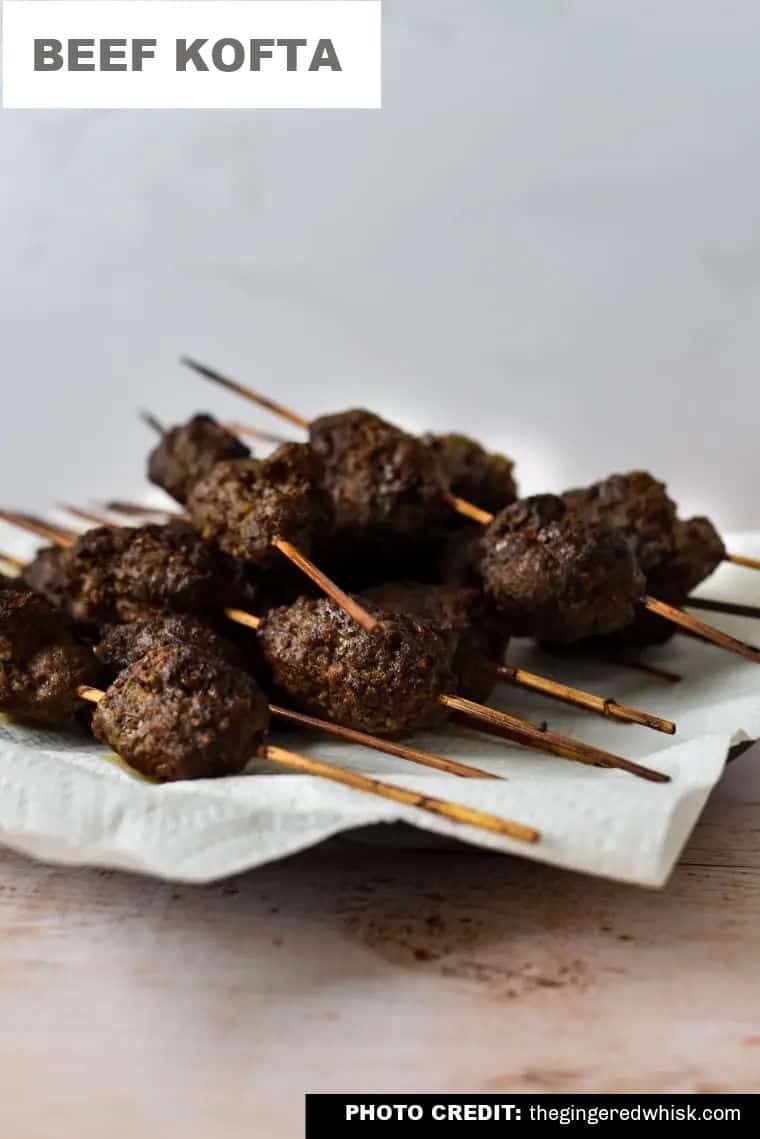 This Easy Beef Kofta Recipe is an easy 30 minute meal with tons of flavor. Gently spiced beef patties served with flatbread, hummus, crisp cucumbers and juicy tomatoes. Perfect for any weeknight – and your kids will love to eat dinner!
Get this recipe on The Gingered Whisk

Grilled Za'atar Beef Kabobs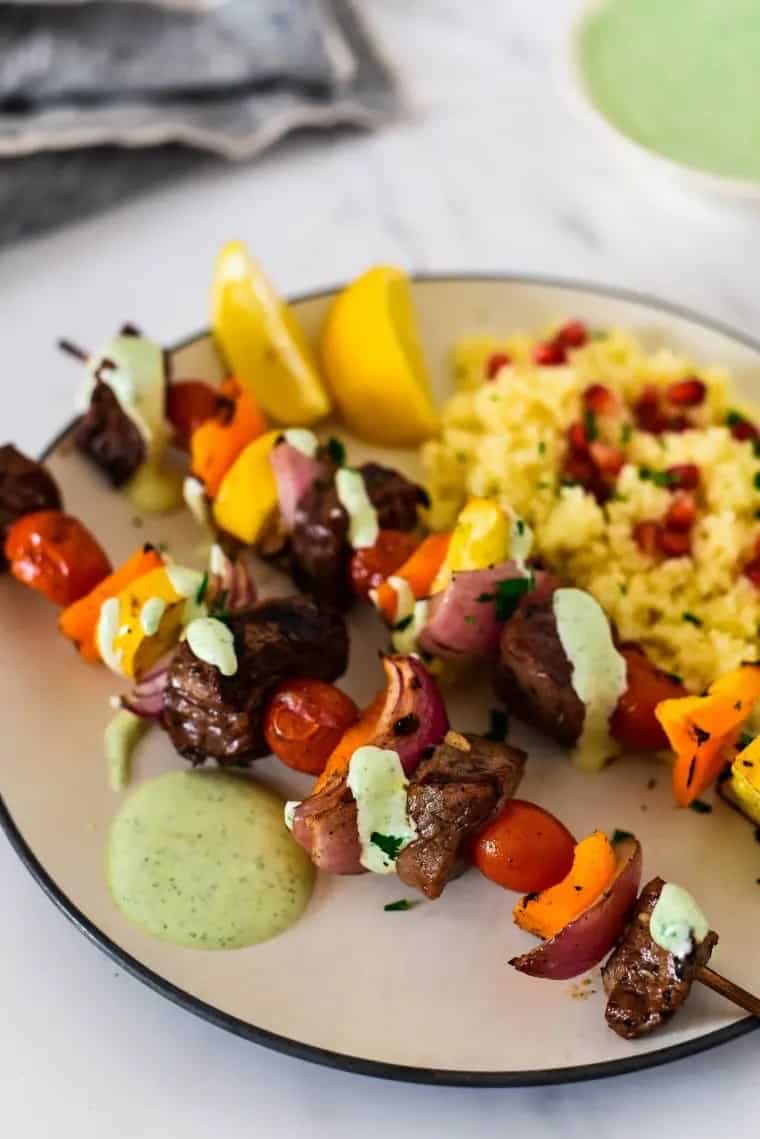 These easy grilled steak skewers are seasoned with za'atar spice and paired with rainbow vegetables to make flavorful and kid-friendly beef kabobs the whole family will love.
Get this recipe on The Gingered Whisk

Mexican Beef Skewers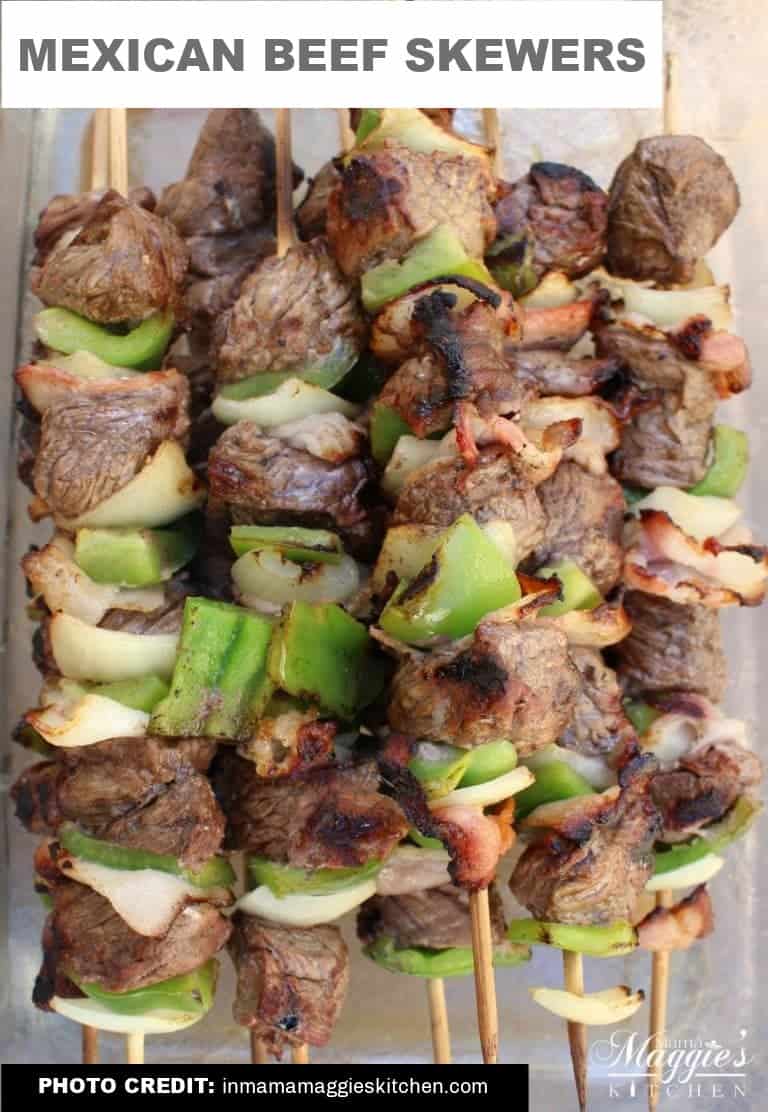 These Mexican beef skewers are ready for the grill. Serve with tortillas and salsa to enjoy this tasty dish.
Get the recipe at In Mama Maggie's Kitchen

Which is your favorite?
Which of these beef skewer recipes will you try first?
Let me know in the comments below!