When you're in the mood for a snack, Hummus is an excellent choice. Healthy plant protein blended into a delicious dip. I love it with pita bread and crackers, and with veggies for the ultimate feel-good snack!
Hummus is traditionally made with chickpeas (garbanzo beans) but you can actually use any white bean to make your hummus. What I have found is that butter beans, in particular, make a most excellent hummus!
These creamy beans make such smooth and velvety hummus, I've stopped using chickpeas altogether. Butter bean hummus all the way!
Why I love this recipe
Hummus is pretty easy to make. I've read and tried quite a few recipes. A lot of people will provide tips on how to reduce the grainy-ness of the final dip. Usually this involves peeling the skins from the chickpeas or pre-treating them in another way.
Using butter beans makes this a non-issue. I use canned butter beans and have never peeled the skins. I've even purposely purchased the cheapest store-brand beans to see if that would make a difference. It didn't.
So without the need to worry about the skins, making hummus just got even easier! It's just a matter of using your food processor to blend everything together to create a silky and delicious dip.
Ingredients
How to make butter bean hummus
First, mince the garlic and place it in a small bowl with the lemon juice. Let this marinate for a minute or two, to help mellow the garlic a little.
Drain a can of butter beans and reserve the liquid. Or at least a little; you'll only need about 2 tablespoons for the hummus.
Place the beans and tahini in your food processor and blend to break up the beans and start to form a thick paste with the tahini.
Now, while processing, drizzle in the lemon juice/garlic mixture. Drizzle in one tablespoon olive oil and continue processing until the mixture is smooth.
Remove the lid from the food processor and sprinkle in the spices. Close and process to fully incorporate the spices. Drizzle in 2 tablespoons of the reserved bean liquid. If the mixture still seems a little thick, you can add up to one additional tablespoon olive oil.
Process for one full minute to ensure the hummus is perfectly mixed.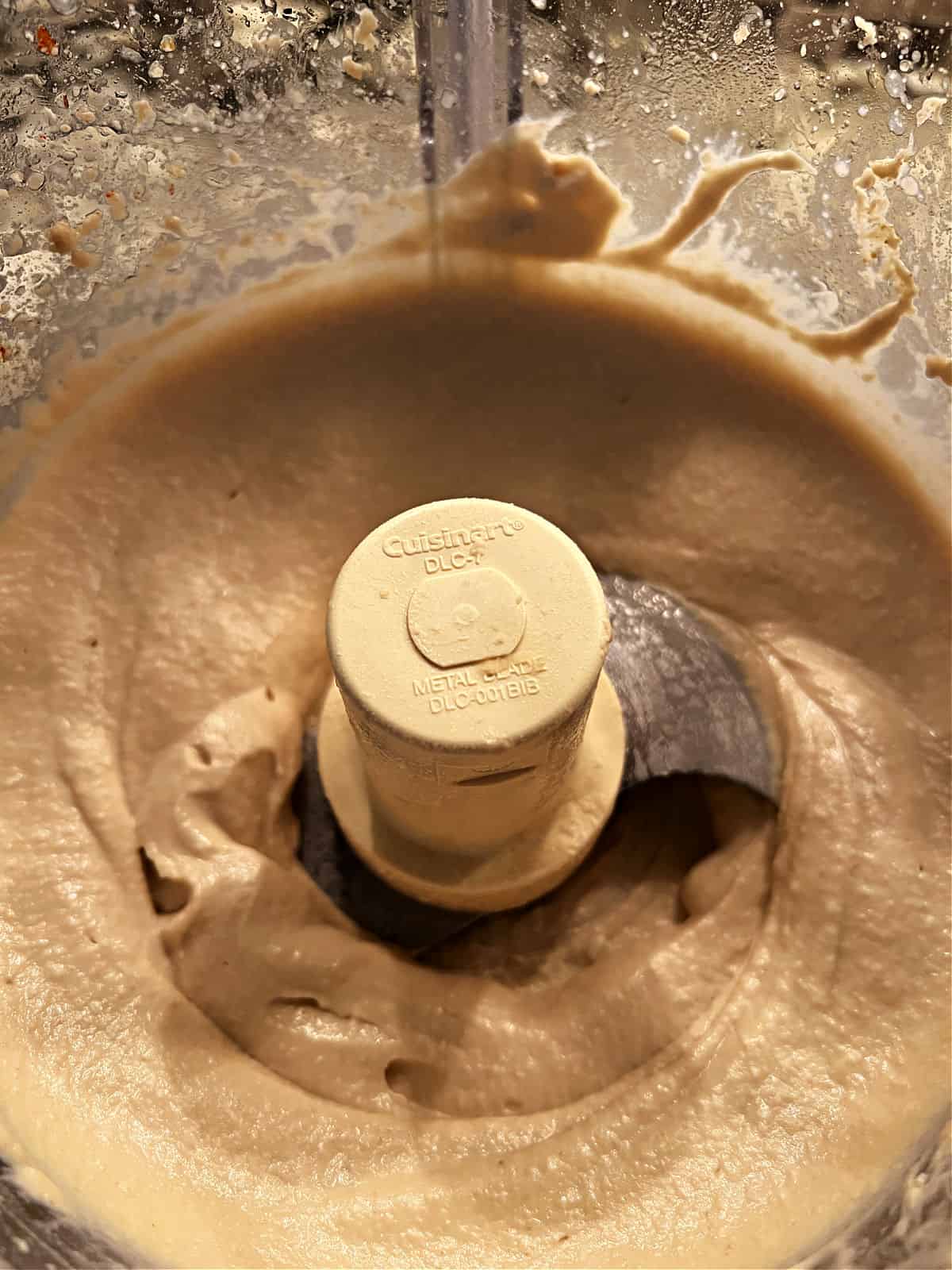 Remove the lid and give the hummus a quick taste. You might find you want to add a little lemon juice, olive oil, or salt. If you do make any adjustments, be sure to re-process thoroughly.
Your hummus is ready to serve!
Try making some Air Fryer Pita Chips for a fantastic combination!
What are butter beans?
The term butter bean is most popular in the southern US and the UK, referring to a flat, broad bean with a creamy texture. I (in Wisconsin) typically see this choice in the canned beans section of my local grocery store.
Butter beans are the same as lima beans. And if I am looking in the dry bean area, they are labeled as lima beans there.
Butter beans, once cooked, have a delicate, buttery texture, which makes them perfect for hummus. In addition, they are filled with nutrition.
Like other beans, butter beans are high in fiber. Dietary fiber helps to lower cholesterol levels, and to regulate blood sugar.
Butter beans are a good source of a couple trace minerals: molybdenum and manganese. Molybdenum is needed to detoxify sulfates, a common food preservative. Manganese is an antioxidant which is also believed to help in bone formation, therefore may help to prevent osteoporosis.
Expert Tips and Variations
The one important tip I will provide here is to mix/process well. Give your food processor plenty of time to whip the hummus into a smooth and creamy texture. The result will be so worth it!
Once you've mastered this butter bean hummus, there are so MANY variation possibilities! Here are a few you can try:
Add some chopped sun-dried tomatoes while processing.
Similarly, roast some red bell pepper and add that to the mix.
Roasted pine nut hummus is one of my favorites!
Olives make a great garnish, chopped on top.
Sprinkle with some "Everything Bagel" seasoning.
Roasted garlic – this will really mellow out that garlic, and makes a fabulous addition!
More dip recipes to love
📖 Recipe
Butter Bean Hummus
Butter beans make smooth and silky hummus, irresistible for dipping!
Ingredients
1

can

16 oz butter beans

drained, liquid reserved

¼

cup

lemon juice

fresh squeezed

¼

cup

sesame tahini

1

garlic clove

minced

2

tablespoons

olive oil

extra-virgin

½

teaspoon

salt

½

teaspoon

cumin

Dash smoked paprika

2-3

tablespoons

water or reserved bean liquid
Instructions
Place the lemon juice in a small bowl. Add the minced garlic and set aside for 2-3 minutes.

Place tahini and butter beans in a food processor and begin to process until the butter beans are broken down and beginning to form a paste with the tahini. Scrape the sides of the processor container as needed.

While processing, drizzle in the lemon juice/garlic mixture.

Add 1 tablespoon olive oil and process until smooth.

Remove the lid of the food processor and sprinkle in the spices. Close the lid and process to completely incorporate the spices. Drizzle in 2 tablespoons of reserved bean liquid and (if desired) one more tablespoon olive oil.

Process one additional minute to ensure the hummus is completely mixed.

Taste the hummus and adjust taste as needed with a little salt and/or lemon juice. Process again to incorporate.

Transfer hummus to a small plate or bowl and make swirls on the top. Top with garnishes of your choice and serve.
Notes
Garnish ideas:
Extra-virgin olive oil
Everything But the Bagel Seasoning
Chopped olives
Sun dried tomatoes
Roasted garlic
Roasted pine nuts
Nutrition
Calories:
246
kcal
|
Carbohydrates:
22
g
|
Protein:
8
g
|
Fat:
15
g
|
Saturated Fat:
2
g
|
Polyunsaturated Fat:
4
g
|
Monounsaturated Fat:
8
g
|
Sodium:
678
mg
|
Potassium:
342
mg
|
Fiber:
6
g
|
Sugar:
1
g
|
Vitamin A:
14
IU
|
Vitamin C:
7
mg
|
Calcium:
50
mg
|
Iron:
3
mg
Nutrition values are estimates only, using online calculators. Please verify using your own data.