If you love Tex-Mex flavors and want a new twist with that taste, this is good one to try: Fajita Stuffed Chicken. Take the yumminess of sauteed onions and peppers added to cheesy goodness, then stuffed in a chicken breast. Only good can come of this!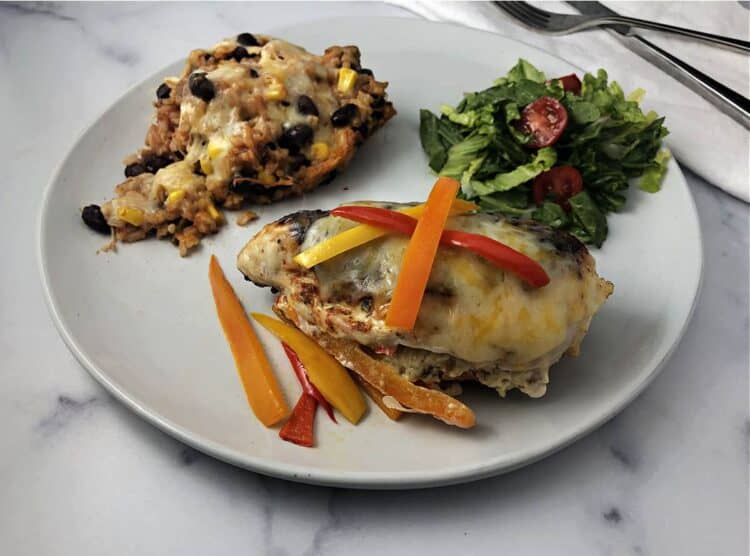 Ingredients needed
Chicken breasts
Cream cheese
Bell pepper (or mini peppers)
Onion
Shredded cheese
Taco seasoning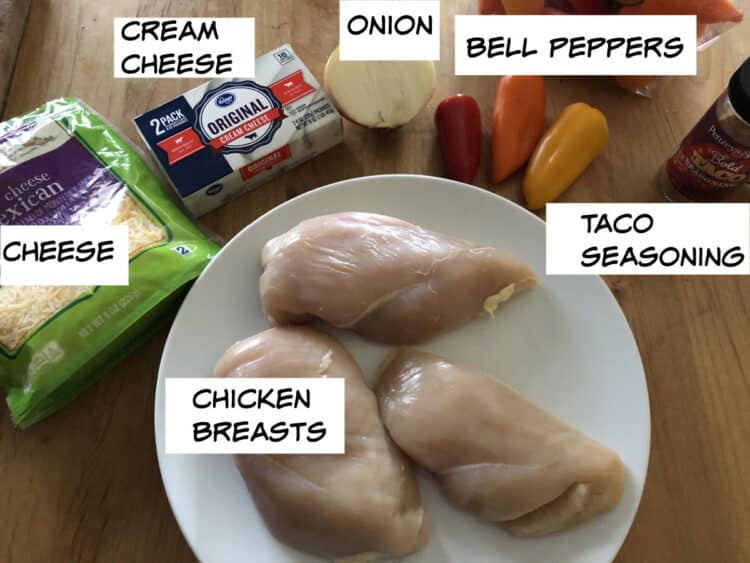 How to make the Fajita filling
Start with the bell pepper. If you are a fan of green peppers, feel free to use them here. I prefer the sweeter peppers for this, like the yellow/orange/red type. I also like to get the mini peppers, in order to have a mix the colors. Plus, any leftover peppers never go to waste – I can make mini stuffed pepper poppers or even just snack on the pepper as is.
Sauté chopped peppers and onions in a skillet until soft. Add in a little taco seasoning for flavor. Stir in some cream cheese and turn off the heat. Transfer to a bowl and stir in shredded cheese. Wipe out the skillet to prepare it for cooking the chicken.
How to stuff the chicken breast
With a thin, sharp knife, cut a pocket into each chicken breast. The trick to this is, you want a big enough pocket to hold a decent amount of filling, but you don't want to cut so aggressively that you cut clean through to the other side of the meat. If you have a filet knife, like for fish, it works very well. I have found the best way is to start with a small pocket, then expand it carefully with very small movements of the knife. If you do happen to cut through, see note below about toothpicks.
Once the pockets are ready, place 2 to 3 tablespoons of the filling into each pocket. The temptation here is to really overfill the pocket in order to use up every bit of filling. But most of the time, that extra filling is going to just ooze out while cooking and end up in your pan. So try to limit the filling to an amount where you can still easily close the edges of the meat together. Use a couple toothpicks to help secure that opening and keep the filling in. If you have extra openings from when you cut the pocket, use toothpicks to secure those as well. Sprinkle taco seasoning on both sides of the breasts.
Chicken breasts – size matters
Once breast meat became wildly popular, the size of those we find available has grown. A lot. To someone who grew up on a farm, they look very unnatural. The result of hormones and weird diets? Maybe.
But the size you happen to buy will be a factor in this recipe. Ginormous breasts will have a larger pocket for the filling. I like to look for pasture raised or organic meat and find it to be more reasonably sized.
This last time I made this recipe I used the filling for 3 chicken breasts, and still had quite a bit left over. For a previous dinner, I made 2 huge breasts and still had some left over. So understand that the amount of filling you need will be very dependent on the size of your chicken breasts.
If you know you are only making 2 breasts and they are a reasonable size, you can easily scale the filling recipe down by using only 2 ounces of cream cheese and about half of everything else.
Cooking the fajita stuffed chicken
Re-heat the skillet with some oil using medium to medium-high heat. Place the stuffed breasts in the hot skillet and cook 5 minutes. Carefully turn and cook 5 minutes on the other side. Turn off the heat and sprinkle breasts with a little more cheese. Cover the pan and let the meat rest 10 minutes before serving.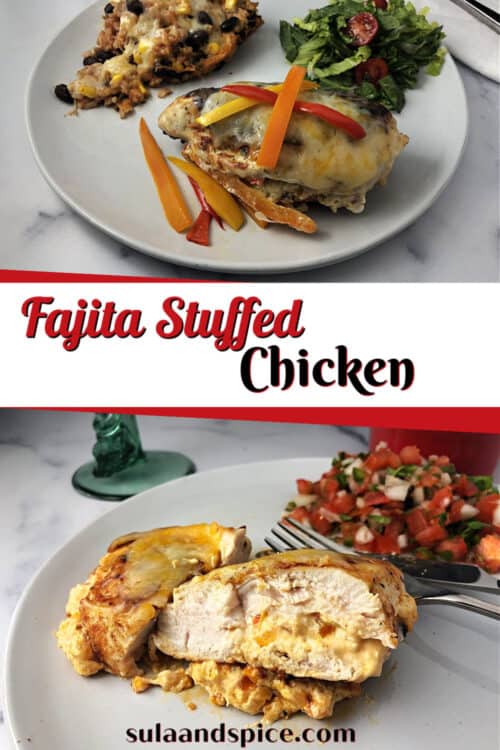 This fajita stuffed chicken is low carb/keto friendly and will be a welcome addition to any dinner plate!
Enjoy with a salad, brown rice and bean bake, or any other favorite side!
For a similar approach to chicken breast, check out my Jalapeno Popper Hasselback Chicken. It's another great combination of chicken breast and cheesy goodness!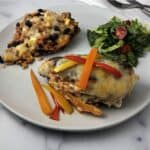 Print Recipe
Fajita Stuffed Chicken
A deliciously creamy and cheesy stuffing makes a chicken breast great!
Ingredients
3-4

chicken breasts

4

ounces

cream cheese

1

bell pepper

diced (or use ~3-4 mini peppers)

1

small yellow onion

diced

1

cup

shredded cheese

4 cheese Mexican (divided)

1

Tablespoon

Taco seasoning

divided

Oil for cooking
Instructions
Heat a tablespoon of cooking oil in a skillet with medium heat. Add the diced onion and pepper and stir. Sprinkle with a little taco (about a teaspoon) seasoning and cook, stirring, until vegetables are soft. Add the cream cheese and stir to incorporate. Turn off the heat, transfer to a bowl and stir in ½ cup shredded cheese. Wipe out the skillet to remove any cheese.

With a sharp knife, slice lengthwise into each chicken breast to form a pocket. Place 2-3 tablespoons of the cheese mixture into each pocket. If needed, use a couple toothpicks to help keep the edges of the pocket together during cooking. Sprinkle both sides of each breast with remaining taco seasoning.

Reheat the skillet with a little more oil. Add the chicken breasts and cook on medium to medium-high heat, 5 minutes each side. Turn off the heat, sprinkle each breast with shredded cheese and cover pan. Allow to rest 10 minutes before serving.
Nutrition
Calories:
396
kcal
|
Carbohydrates:
6
g
|
Protein:
44
g
|
Fat:
20
g
|
Saturated Fat:
10
g
|
Trans Fat:
1
g
|
Cholesterol:
162
mg
|
Sodium:
516
mg
|
Potassium:
790
mg
|
Fiber:
1
g
|
Sugar:
4
g
|
Vitamin A:
1612
IU
|
Vitamin C:
42
mg
|
Calcium:
186
mg
|
Iron:
1
mg
Nutrition values are estimates only, using online calculators. Please verify using your own data.