I've been on a Chinese takeout kick lately, have you noticed? First Egg Rolls, then Vegetarian Egg Roll in a Bowl. I even make Chinese chicken skewers. Well, no Chinese menu is complete without Potstickers. For some, it's the best thing offered.
What is a Potsticker?
It's a type of Chinese dumpling cooked with a combination of frying and steaming. It is said that they were invented by mistake when a chef left his pan unattended too long and the dumplings "stuck" to the pan. Turns out that fried dough makes the dumpling mighty tasty! Typically potstickers are filled with a combination of meat and vegetables and are served with a dipping sauce.
How to make Potsticker filling
I'm going to keep this simple. The only filling I use for my potstickers is . . . LEFTOVERS. If you have no suitable leftovers and want a recipe, please refer to my Egg Roll recipe or my Vegetarian Egg Roll in a Bowl. I have used leftovers from both those recipes for potstickers with great success. For an all-meat version, I use plain old leftover pork roast. Turns out great. Leftover cooked chicken works, too. The only important step is to mince the cooked filling uniformly into very small pieces. This makes it much easier to form dumplings.
So instead of making the filling, I'm going walk through how to make potstickers with whatever filling you happen to find in your fridge 😀.
How to make Potstickers
Form the Chinese dumplings
If you saw my Egg Rolls post, you will remember that when rolling up an egg roll, you moisten the edge of the dough to make it stick to any other piece of dough it touches. Same holds true for this dough.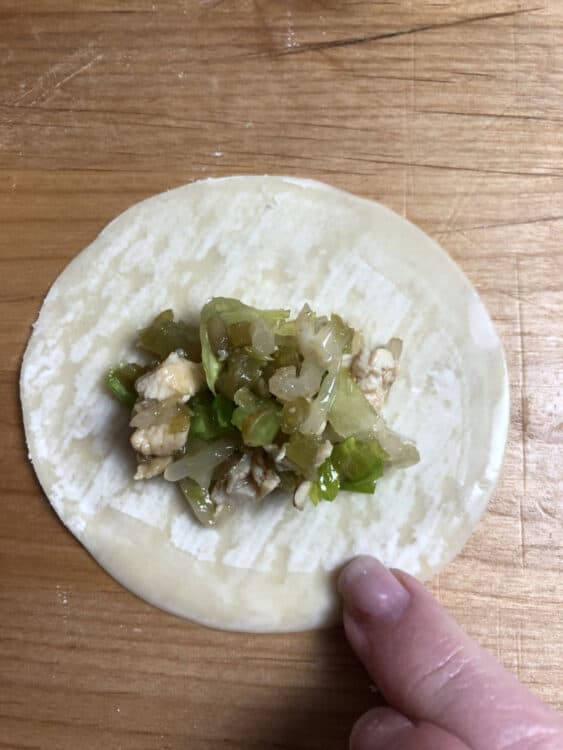 To begin, moisten the edge of a round potsticker wrapper. Place about a tablespoon of filling in the middle of the wrapper.
Now, I'm gonna show you two ways to form the dumplings.
The first, and more traditional way is to form Chinese dumplings by "pleating" the edge.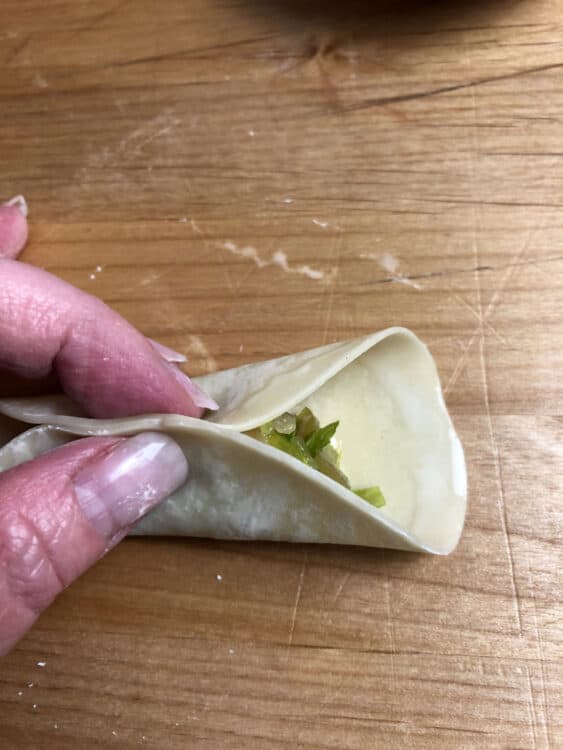 To do this, gather the two sides together and lightly press together just at the top.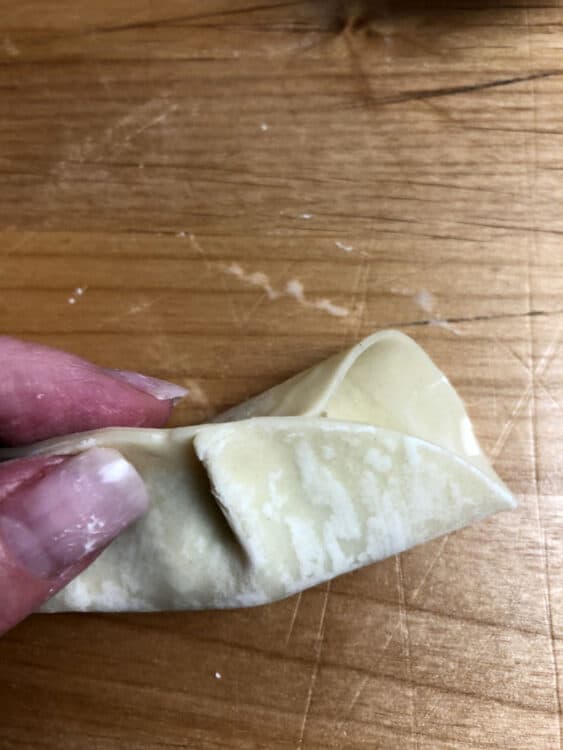 Then, put a small fold, or pleat, in the edge closest to you.
Repeat until edges are fully sealed.
Repeat with the rest of the dumplings. I consider this technique a little fussy. It takes time. And if, like me, you're bugged by imperfect looking dumplings (which are almost inevitable) you might want to try the next method.
The second way to form dumplings is a little simpler. It starts the same: moisten the edge of the wrapper and place filling in the center.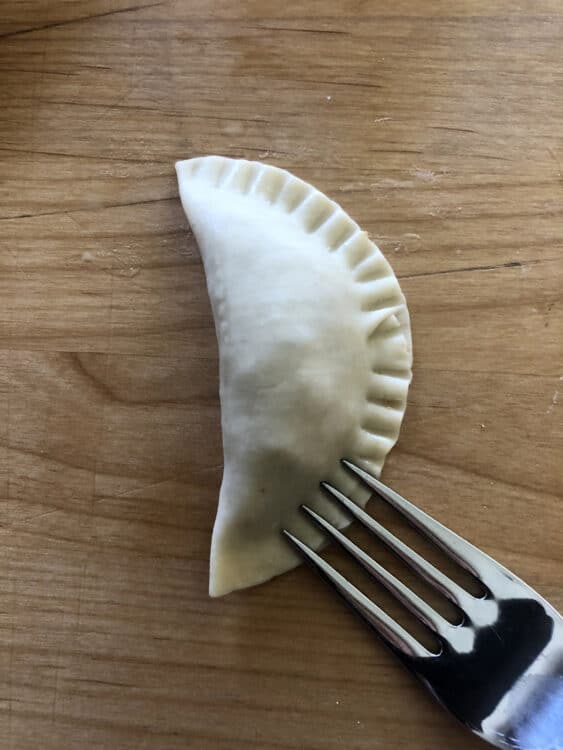 Now, fold the wrapper over to make a half moon, flat on the work surface. Use a fork to seal the edges all the way around the dumpling.
Repeat with the rest of the dumplings. As you can probably tell, this technique is much faster and less likely to raise your blood pressure, LOL.
Steam-fry the dumplings
Chinese dumplings are cooked in a unique way, a combination of steaming and frying. First, we fry. Heat a large flat skillet with oil. When the oil is hot, add the dumplings.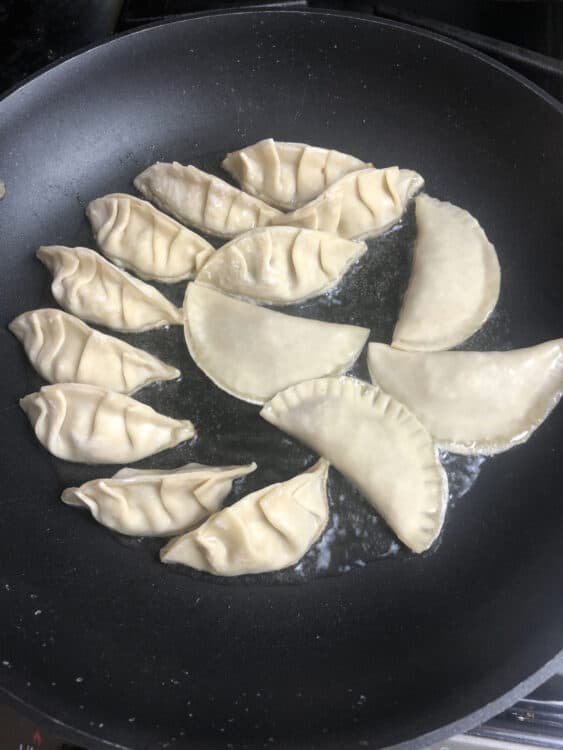 For pleated dumplings, I set the bottom edge down first. The fork sealed dumplings only have 2 "sides" so go ahead and place down on one of the (mostly) flat sides.
These cook very quickly, it only takes about 2 minutes to start to brown. Here, too, there are two directions to go.
The first option: Usually, this is when you steam. To do this, add about two tablespoons of water to the pan and cover immediately. Steam the dumplings for 1-2 minutes, then remove the cover and cook until the water fully evaporates. Remove dumplings from pan.
The second option: In this house we like our dumplings extra-crispy LOL. It's probably less authentic but it is utterly delicious. So before steaming, I brown a second side of the dumplings.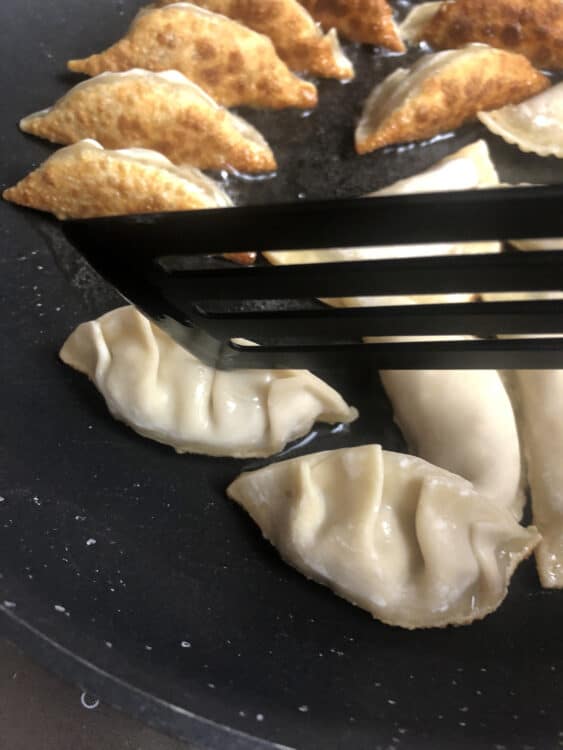 This is actually where the pleated dumplings are easier, because I can just tip them over. The fork sealed dumplings need to be turned. It's a minor difference, but it's noticeable when trying to quickly turn a bunch of little dumplings in a pan.
Once that second side is brown (again, only a minute or two) steam the dumplings 1-2 minutes, then remove the cover and cook until the water is fully evaporated. Remove dumplings from pan.
Serve the dumplings
Potstickers need dipping sauce! Usually, this is a combination of soy sauce and sesame oil. But what we simply love is duck sauce, found on most grocery shelves. It's the same sweet sauce that goes so well with egg rolls. So good!
The combination of an extra-crispy dough and the sweet duck sauce made these irresistible. They are like little pillows of dough stuffed with yummy filling!
The Carnivore tends to be less enthusiastic than I for Chinese takeout. But these? He DEVOURED the potstickers.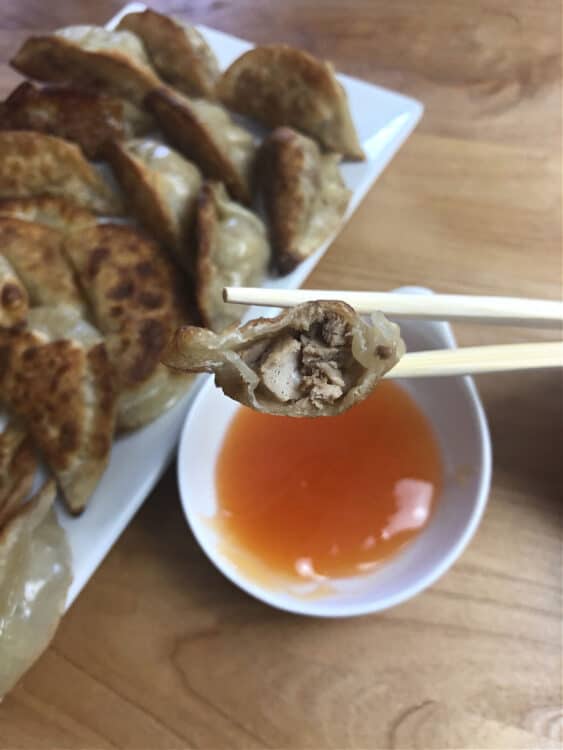 Tofu or pork, he didn't care. He inhaled every. single. one.
Give these potstickers a try – they are fun to make AND eat.
Print Recipe
Potstickers (Chinese Dumplings)
Irresistible stuffed pillows of dough!
Equipment
Large flat covered skillet for frying
Ingredients
2

cups

cooked filling of choice

Potsticker wrappers

2-3

TB

oil

peanut or canola

Water – for wrapping and steaming
Instructions
With each wrapper, moisten all edges with water. Place one tablespoon filling in the center and seal edges. Repeat until all dumplings are formed.

Heat 2-3 tablespoons of oil (medium-high) in a large flat skillet. Place dumplings in the hot oil and fry for 1-2 minutes until the edges start to brown.

Optional: For extra-crispy dumplings, turn each one and fry a second side for a minute before proceeding to the next step.

Add 2 tablespoons water to the pan and cover immediately. Steam dumplings for 2 minutes, then remove cover. When all liquid has evaporated from the pan, turn off heat and remove dumplings.

Serve with dipping sauce of choice.
Nutrition
Calories:
56
kcal
|
Carbohydrates:
9
g
|
Protein:
1
g
|
Fat:
2
g
|
Saturated Fat:
1
g
|
Trans Fat:
1
g
|
Cholesterol:
1
mg
|
Sodium:
101
mg
|
Potassium:
20
mg
|
Fiber:
1
g
|
Sugar:
1
g
|
Vitamin A:
151
IU
|
Vitamin C:
1
mg
|
Calcium:
6
mg
|
Iron:
1
mg
Nutrition values are estimates only, using online calculators. Please verify using your own data.