Easier than you think
As I shared before, I took a Chinese cooking class a long time ago. It was a very casual type of class generously offered by my employer as a quality of life enhancer. My co-workers and I learned how to make stir-fries and other delicious dishes. The most useful thing I learned was how to make homemade egg rolls.
Making egg rolls may seem intimidating at first – the filling, the rolling, the stir frying - but it's actually quite easy. And homemade egg rolls are incredibly delicious and easy to customize to your personal preferences.
How to make homemade egg rolls from scratch
Make the filling
The first step to make egg rolls is the filling. My recipe should be treated as a starting point because it's so easy to substitute ingredients. I find both celery and bean sprouts important. Bean sprouts in particular provide a specific crunch to the egg rolls. I'm sad if it's missing so I always make a point of finding some bean sprouts, if possible. I have even resorted to canned bean sprouts *gasp* when desperate! But fresh is definitely best.
Start with the chicken. Marinade in a small bowl with sherry, salt and cornstarch.
Then, heat up your pan with oil, add the chicken and stir fry a few minutes until cooked through. Remove cooked chicken from the pan and set aside.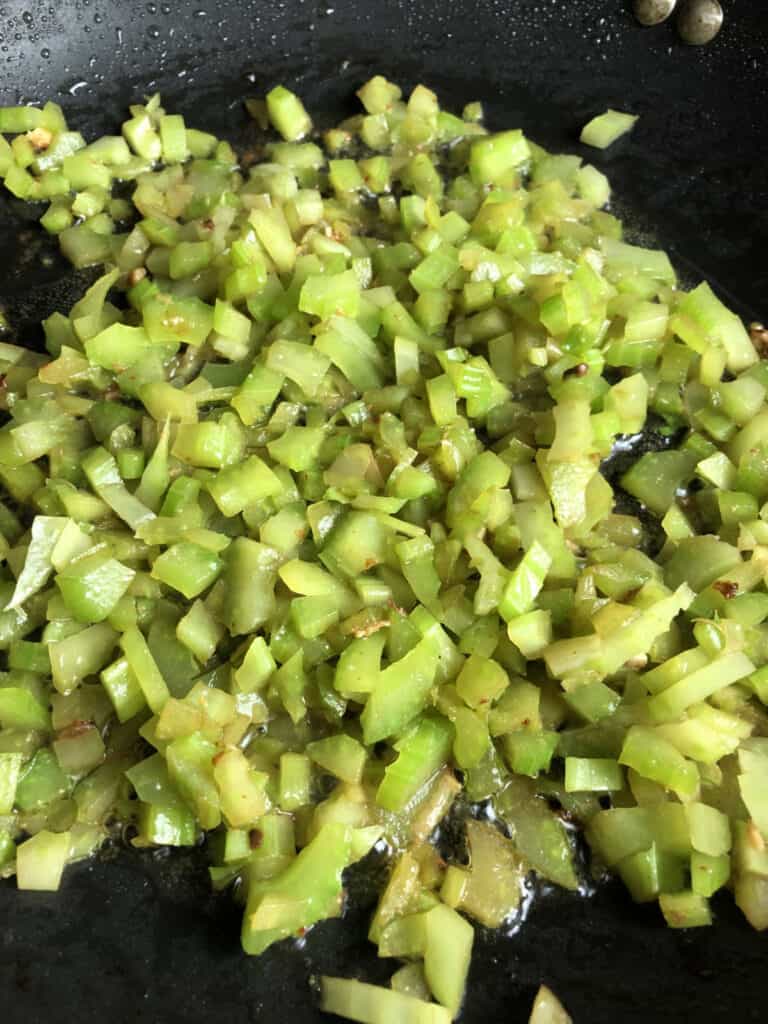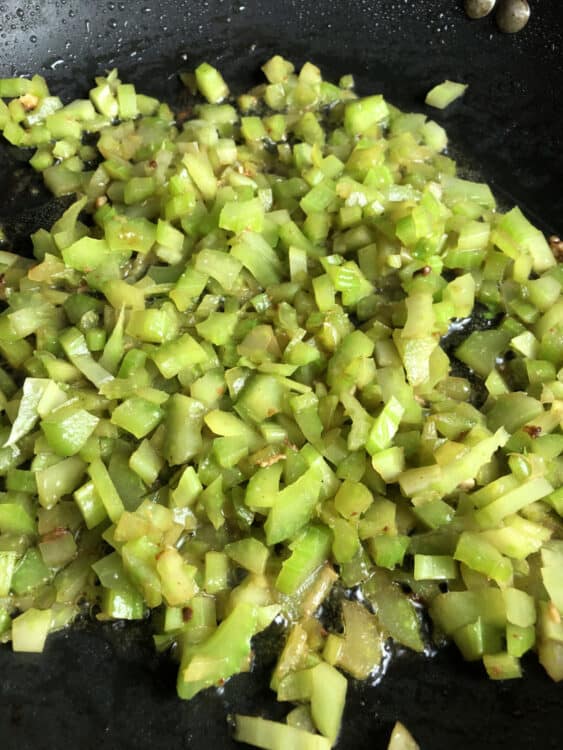 Now, add more oil and chopped celery.
The celery is stir fried for a couple minutes, then add a little sugar and water. Cover and steam for a minute. Then uncover and allow the liquid to evaporate. Remove from heat and add to the chicken.
The remaining ingredients - fresh bean sprouts and shredded lettuce - are added while the mixture is still warm.
Mix and set aside to cool before using.
What ingredients can I substitute in my egg roll filling?
The list is long! The original recipe uses baby shrimp, which I changed to chicken breast. Feel free to double the chicken amount for a meatier egg roll. For alternatives, ground chicken or pork are popular choices. Scrambled egg and/or tofu also work very well. If using tofu, you might like to season with soy sauce and/or toasted sesame oil to add flavor. (Some like tofu the way it is. Others - I'm not naming names here - dislike tofu of any kind)
If you want more crunch, chop up some water chestnuts and add them with the bean sprouts.
For lettuce, almost any will do. When I took the class, we actually used iceberg lettuce. But I most often shred romaine. Or, feel free to use cabbage. Chinese cabbage or Bok choy are great. Because cabbage is tougher, I recommend adding to the skillet at the end of cooking time to stir fry for a minute to get it cooking. You want the cabbage slightly cooked but still crunchy.
The sugar – I've always questioned this, but the recipe does specify that little bit of sugar. Feel free to omit if you prefer.
Wrap the egg rolls
Have a small bowl of water nearby. You will use this to moisten the edges of your egg roll wrapper to make it stick together.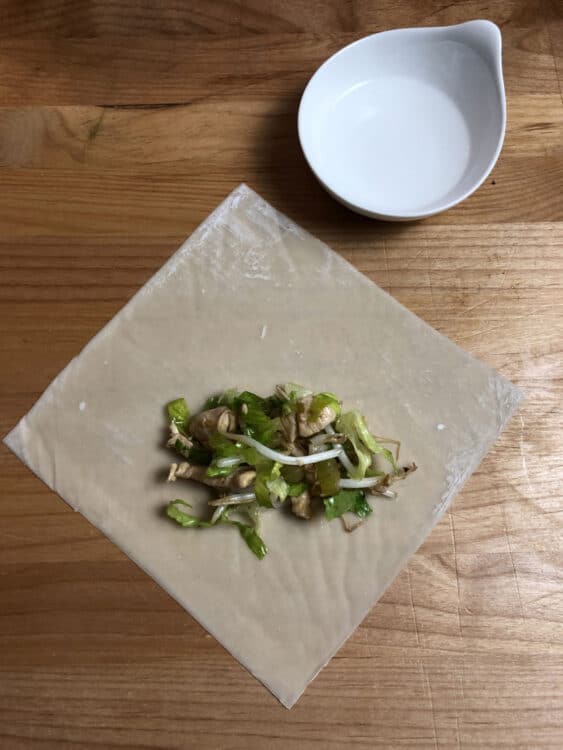 Take one wrapper and position it with one tip pointed toward you. Place 1-2 tablespoons of the cooled filling in the center of the wrapper.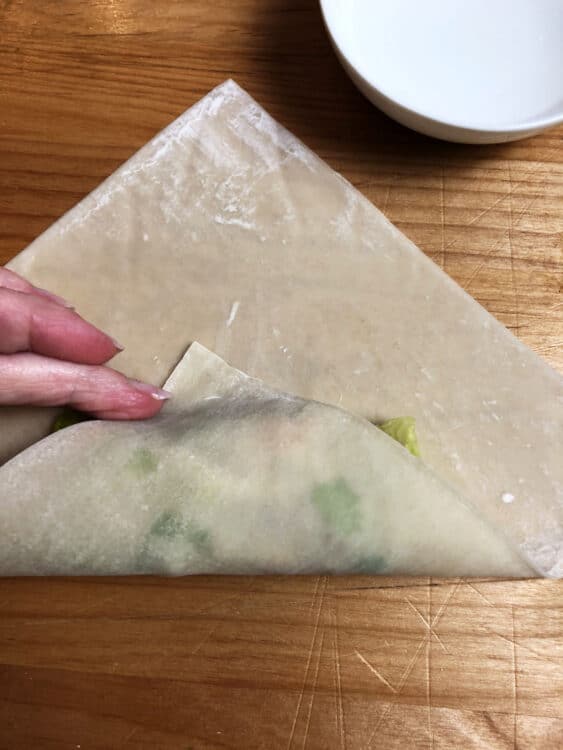 First fold the pointed edge nearest you over the top of the filling. Tuck the wrapper around the filling so it's a little snug.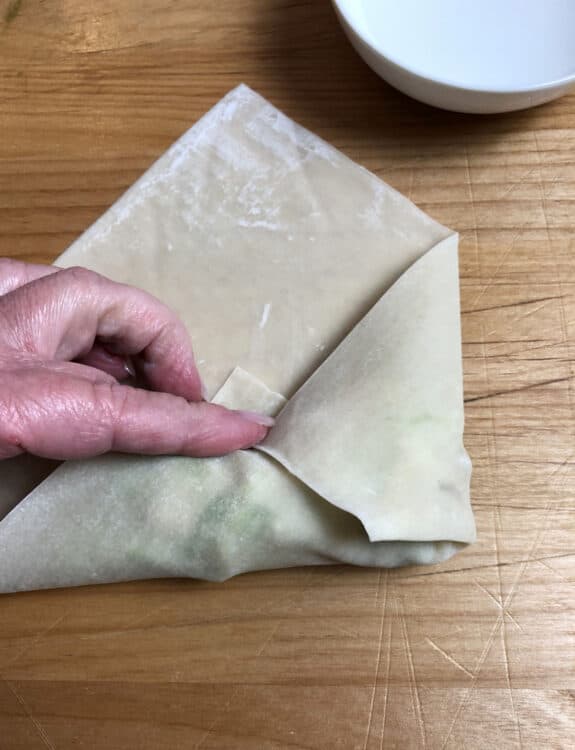 Then, bring each side point to the center, one at a time.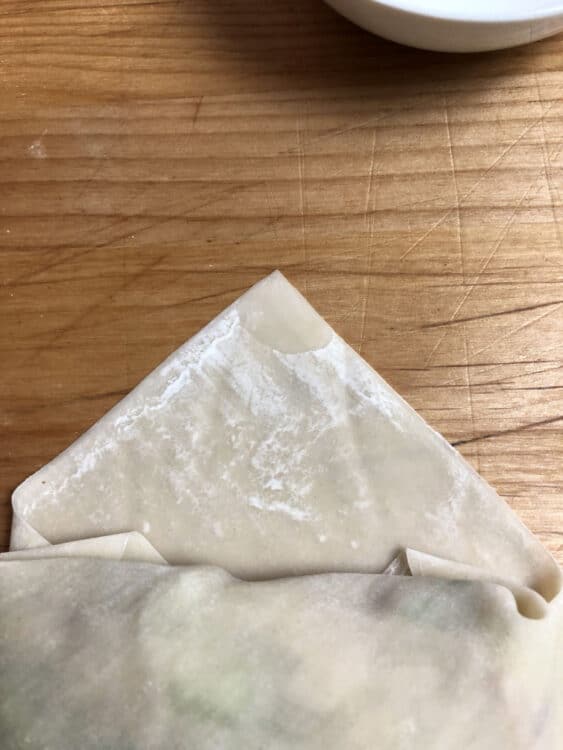 The final step is to roll. But first, dip your finger in the water and touch the remaining point of the wrapper.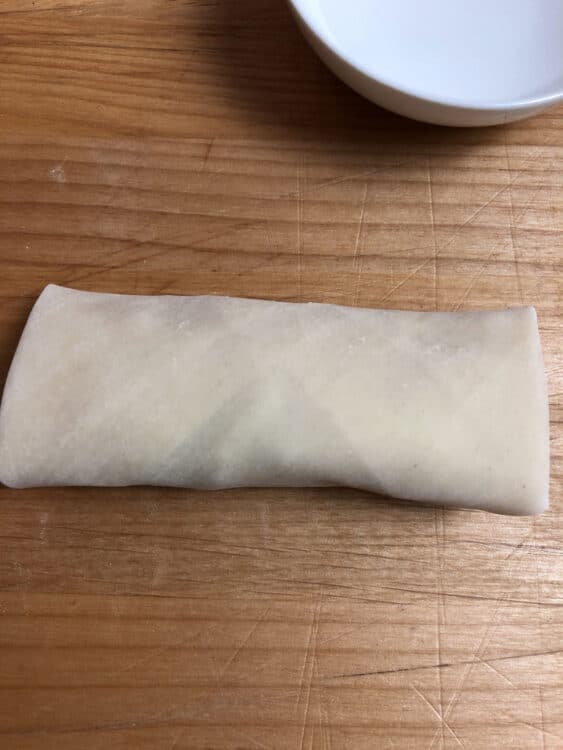 When the wrapper dough touches that wet edge the two pieces will stick together.
Place the egg roll on a plate, with that edge down. Repeat with the rest of the filling, or until you have enough. You can always save the leftover filling to make an egg roll in a bowl 😀.
Note: if your filling seems kind of juicy, put a paper towel on the plate before placing the wrapped rolls there. If the filling soaks through the wrapper, the rolls might start to stick to your plate. Messy.
Fry the egg rolls
Ok, there's really no way around this. For really great egg rolls, you need to deep fry. Sorry! Even though everything sounds pretty healthy up to this point, here's where it goes downhill. LOL
If you own a deep fryer, go for it!
I do not, and haven't for a couple decades. Long ago I started deep frying egg rolls in a saucepan. Here's how:
Fill the saucepan (one with deep sides) at least 1 ½ inches with peanut oil (Canola or any other neutral oil will also work). A small saucepan will require less oil but you'll probably only be able to fry 4 egg rolls at a time. Think that part through before you begin.
Heat the oil on medium-high and when you think it's ready, flick a tiny drop of water into it. The water will "pop" when the oil is ready.
Place egg rolls in the oil carefully – use as many as will fit - with a tiny bit of space between.
Be very careful, the moisture from the filling will sometimes leak out and cause the oil to splatter. Cover the pan if needed to contain splatters.
The egg rolls will float and fry on one side, turning a nice crispy brown within about 2 minutes. The tricky part is getting the other sides to brown.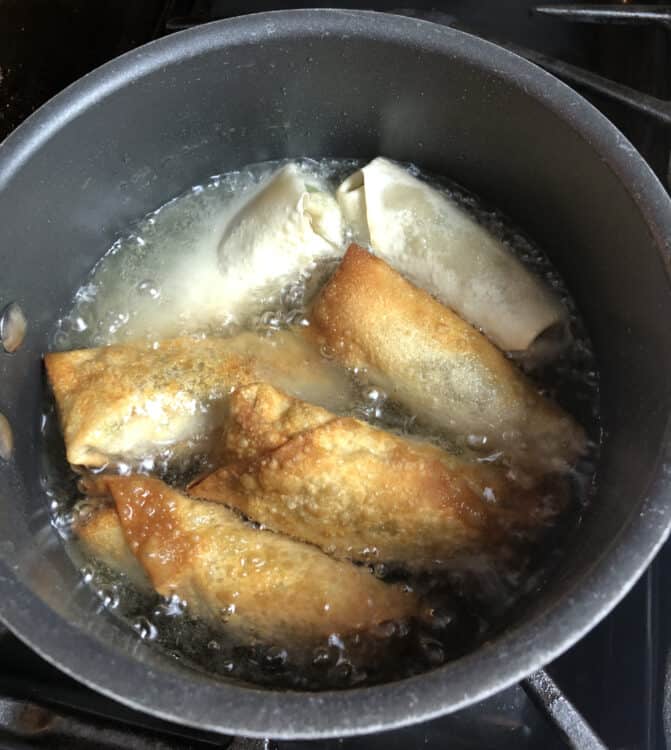 I always turn with tongs, and if they won't stay turned around, I wedge another couple uncooked rolls into the pot to help keep them positioned as needed.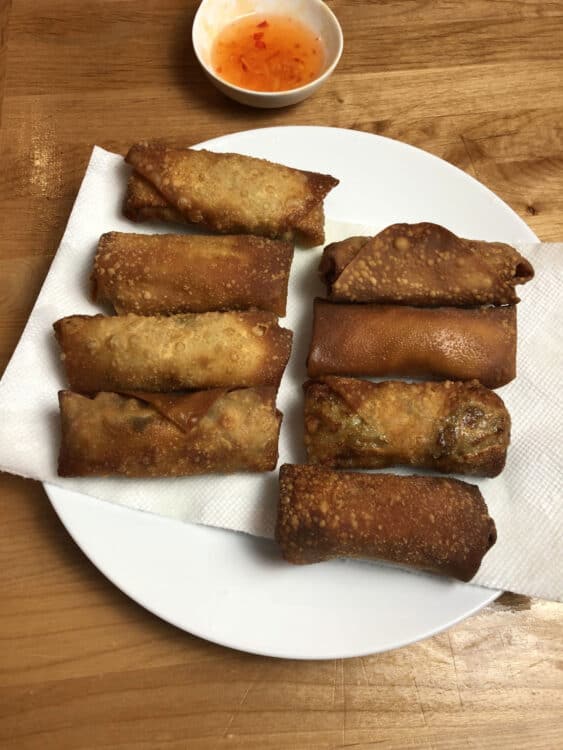 When the egg rolls are fully browned, remove from oil and place on a paper towel-lined plate to drain and cool.
Repeat with remaining egg rolls.
Serve!
Note: Remember, these egg rolls are incredibly hot, so give them a few minutes to cool down before serving.
Of course you need dipping sauce! I like to serve with bottled duck sauce and/or soy sauce, but feel free to use a sauce of your preference. I like to serve with a side of rice to help round out the meal.
Rice on the side was the only way to slow down my kids when they had these!
📖 Recipe
Homemade Egg Rolls
Ingredients
1

package egg roll wrappers

1

large chicken breast

diced

1

teaspoon

sherry

1

teaspoon

salt

½

teaspoon

cornstarch

2

cups

diced celery

about 2-3 ribs

½

teaspoon

sugar

1

TB

water

½ - 1

cup

fresh bean sprouts

1

cup

shredded lettuce

Peanut oil
Instructions
In a small bowl combine chicken, sherry, salt and cornstarch. Let stand 15 minutes.

Heat 1 tablespoon oil in a skillet or wok. Add chicken and stir fry until cooked through – about 3-4 minutes. Remove cooked chicken to a medium bowl.

Heat an additional 3 tablespoons oil in the pan, then add celery. Stir fry 2-3 minutes. Add sugar and water. Cover and steam for one minute. Remove cover and stir fry until liquid evaporates. Add cooked celery to bowl with chicken.

Add bean sprouts and lettuce to bowl and mix. Set aside to cool.

Roll wrappers into egg rolls using 1-2 tablespoons of filling for each.

Deep fry egg rolls for about 2-4 minutes, until crispy and brown.

Serve with sauce of choice.
Notes
Nutrition estimates do not include oil
Nutrition
Calories:
56
kcal
|
Carbohydrates:
9
g
|
Protein:
4
g
|
Fat:
1
g
|
Saturated Fat:
1
g
|
Cholesterol:
8
mg
|
Sodium:
213
mg
|
Potassium:
95
mg
|
Fiber:
1
g
|
Sugar:
1
g
|
Vitamin A:
67
IU
|
Vitamin C:
2
mg
|
Calcium:
12
mg
|
Iron:
1
mg
Nutrition values are estimates only, using online calculators. Please verify using your own data.