What IS an egg roll in a bowl?
I know I'm not alone when I say: I LOVE egg rolls! The crispy deliciousness, the oil that warms the meat and vegetables – all the things that make egg rolls so unhealthy! LOL. Whatever health benefits one might search for in conventional egg rolls (let's face it, there are only a thimble's worth of vegetables) they are completely wiped out in the deep fryer. Even the meatless varieties contain just tiny servings of vegetables.
So that's why there's so much to love about a vegetarian egg roll in a bowl. All the yummy taste without the guilt!
The idea is simple: Stir fry all the ingredients for an egg roll and eat it. Just like that. No wrappers, no rolling, and most importantly, no frying in oil. Just the goodness of the filling in your bowl. If you've ever ordered Moo Shu Pork (or chicken, etc.) it's very similar, just skip the pancakes and eat the moo shu. Yum!
There are many versions of egg roll in a bowl. Most start with a pound of ground pork, beef, or sausage. The veggies are mostly a package of coleslaw mix – so convenient! Some recipes also have egg, which I definitely support, along with the appropriate spices for that "Chinese takeout" flavor.
Where's the meat?
When making a vegetarian version of egg roll in a bowl, I figured I could just start with my filling for Egg Rolls, take out the meat and would love the result. Well, no. There's that special "umami" (Japanese for "pleasant savory taste" Wikipedia) that seems to primarily come from meat. Although soy sauce is said to impart a umami taste, I felt it wasn't enough. So I challenged myself to find an alternative that provides the taste I crave.
I finally found what was, for me, the magic ingredient: toasted sesame oil. This oil is used not for cooking, but to finish the dish with an extra layer of flavor.
So, let's do this!
Making a Vegetarian Egg Roll in a Bowl
Tofu prep
This recipe calls for 7 ounces of tofu, or about half a typical package. Choose a firm or extra-firm type. The tofu is first "pressed" to extract the extra liquid. To do this, place it on a plate between multiple layers of towel, paper or cloth. Place something heavy on top (I use a cast iron lid) and wait about 20-30 minutes. Remove the weight and towels.
Crumble the tofu into a small bowl. I used a fork for this step, but you can crumble with your hands as well. Once the tofu is crumbled, add a little sherry and soy sauce. Stir and set aside. Optional: Add a little toasted sesame oil to give the tofu even more flavor.
(Note: for even more ideas to flavor your tofu, here is a resource I found with tofu marinade ideas.)
Cooking the Vegetarian Egg Roll in a Bowl
Heat 2 tablespoons oil in a wok or large skillet on medium-high heat. Add sliced garlic and ginger to the oil and stir fry just until beginning to turn brown , then remove. I use the ginger and garlic slices only to flavor the oil. By cutting them into larger slices, they are easier to remove. If you prefer a stronger garlic and/or ginger taste, feel free to mince both and leave in for the entire cooking process..
Add tofu to the skillet and stir fry gently to warm, about a minute. Push to one area of the pan.
Add beaten egg to the open area of the pan and stir fry rapidly while it cooks.
Once all of the egg is cooked through, push aside. Add chopped onion to the pan and stir fry for a few seconds.
Pour the coleslaw mix into the pan. Add 2 tablespoons soy sauce and stir fry all ingredients together for 1-2 minutes.
Coleslaw will just begin to wilt. Turn off heat, sprinkle with toasted sesame oil, and serve.
Optional ingredient ideas
I kept the ingredient list short and simple. But once you get the hang of this, it's easy to customize with your favorites. Here are some ideas:
Peas – To add extra sweetness and color. A package of fresh snow peas are great, or even a handful of frozen loose peas to keep it simple.
Bamboos shoots – Will provide a different texture. Consider slicing thinner to match the other ingredients.
Water chestnuts – They deliver that unique crunch. Definitely cut these smaller. Purchase the sliced kind and then cut into matchsticks.
Other vegetables – Broccoli florets work well. Just cut them into small pieces. Consider steaming briefly in the microwave before stir frying. Then add to pan before coleslaw to ensure sufficient cooking time
Broccoli slaw – I have substituted broccoli slaw for the coleslaw mix. The broccoli slaw seems to need a little more time in the pan. I haven't perfected the cooking time yet. It is yummy though. 😀
Eliminate the egg – I love egg in this, probably because I love moo shu, which always has egg. But feel free to eliminate if you wish. I think that would actually make this vegan 😊.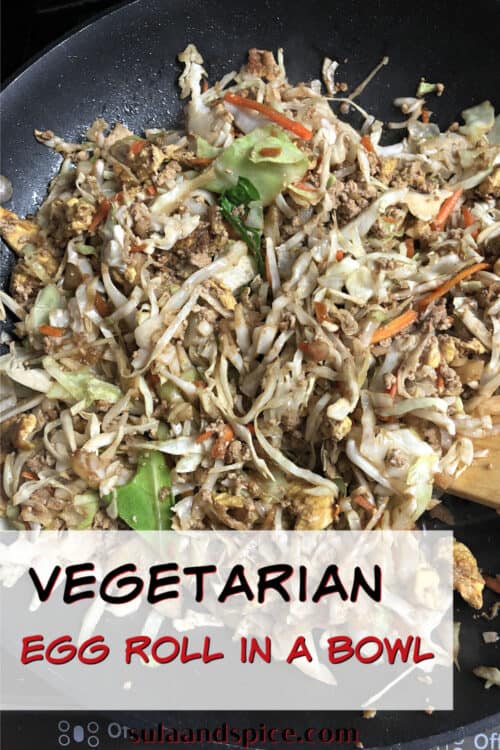 Give this Vegetarian Egg Roll in a Bowl a try. It's delicious!
Vegetarian Egg Roll in a Bowl
An easy and healthy alternative to an Egg Roll
Ingredients
2-3

TB

oil for cooking

peanut, sesame or canola oil

7

oz

tofu

extra-firm (about half a block)

1

TB

soy sauce to marinade

1

TB

sherry to marinade

1

garlic clove

1-2

slices

fresh ginger

2

eggs

beaten

14

oz

coleslaw mix

½

small onion

chopped

2

TB

soy sauce

1

TB

toasted sesame oil
Instructions
Place the tofu between layers of a towel and put something heavy on top to press out liquid. Let rest for 20-30 minutes then remove. Crumble tofu into a small bowl. Add 1 tablespoon each of sherry and soy sauce. Stir to combine. Set aside while you prep the other ingredients.

Chop the onion, beat the eggs and slice the garlic and ginger.

Heat 2 tablespoons oil on medium-high heat in a wok or large skillet. When the oil is hot, add the sliced garlic and ginger. Stir fry for about a minute, until just starting to brown, then remove garlic and ginger from the oil.

Add tofu to pan and stir fry gently for a minute. Then push to one area of the pan.

Pour the eggs into an open area of the pan and stir fry rapidly for 1 – 2 minutes, until cooked.

Add chopped onion to the pan and stir fry 30 seconds.

Add coleslaw mix and 2 tablespoons soy sauce. Stir fry the entire pan contents together for 1- 2 minutes until cabbage is just beginning to wilt.

Remove from heat, sprinkle with toasted sesame oil and serve.
Nutrition
Calories:
418
kcal
|
Carbohydrates:
19
g
|
Protein:
20
g
|
Fat:
30
g
|
Saturated Fat:
4
g
|
Cholesterol:
164
mg
|
Sodium:
1612
mg
|
Potassium:
495
mg
|
Fiber:
6
g
|
Sugar:
9
g
|
Vitamin A:
432
IU
|
Vitamin C:
75
mg
|
Calcium:
234
mg
|
Iron:
4
mg
Nutrition values are estimates only, using online calculators. Please verify using your own data.