When I first heard about cauliflower tacos I was skeptical, but once I tried them at a local restaurant I was really impressed. And, that wasn't the only surprise I discovered with this recipe.
Cauliflower provides such a perfect blank slate for flavors, and really lets the taco spices shine. And the fixin's – mmm, best part. So many ways to dress your taco and make it your own.
So I was delighted to see this recipe from Bon Appetit. I think I first made it 24 hours later. It happens to be vegan, which made me pause. As you know, vegan means no animal products of any kind. No honey, milk, and - cringe! - no CHEESE. I should've known, but it was still a surprise. I mean, a taco without cheese?!
Well, I was willing to give it a try (after verifying the presence of shredded cheese and sour cream in the fridge . . . just as backup).
How to make cauliflower tacos
Make the cashew crema sauce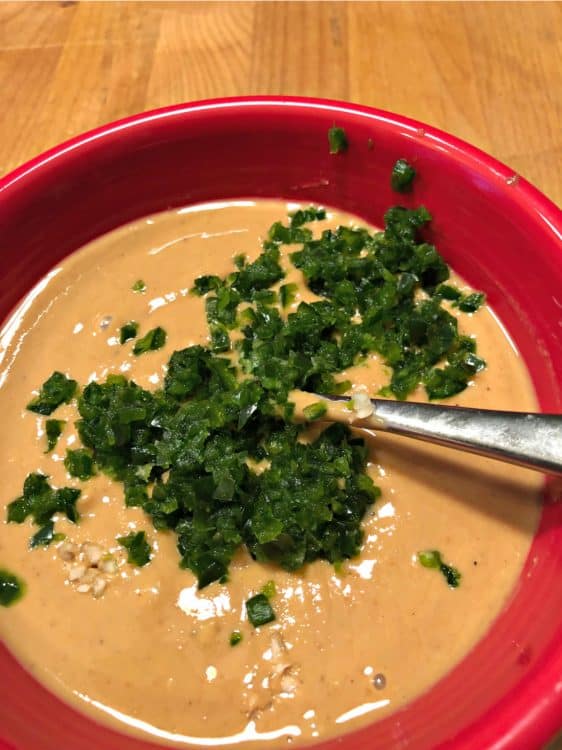 The first step for these tacos is the sauce. It's made from cashew butter, to which lime juice, spices, a grated serrano pepper and garlic clove are added.
Anyone ever try to grate a serrano pepper? It's pretty near impossible. The first time I made these, I grated the best I could and then used a knife to mince the rest of the pepper. That took a long time. So, after that I switched to just mincing, and then evolved to mincing and using a garlic twister to help break it up it a little more. Even though it seems like you're pulverizing the pepper by mincing and using a garlic twister, you still end up with some pepper chunks in the sauce, but it's not noticeable.
Once the sauce is mixed, set aside while you make the cauliflower.
Cook the cauliflower
The cauliflower is cut into florets, about one to two inches each. This is a little larger than a typical floret; if they are smaller they will cook too quickly and likely burn so keep a close watch! The florets are mixed with oil spiced with cumin and paprika. I felt there wasn't enough of this for my first batch, so I doubled the oil and spices for this recipe. If you feel hesitant about the spices, feel free to cut back, but I didn't find them overpowering in these quantities.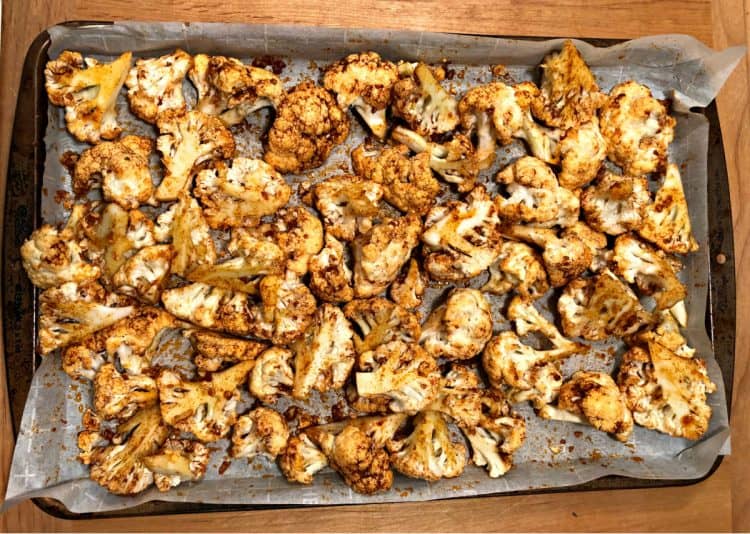 The coated cauliflower is roasted at 450F for 15 minutes, tossed, and then roasted 15 minutes more.
Prepare garnishes
In the meantime, prepare the other "fixins". Sliced onion, avocado, and radishes are all good. Cilantro, of course! Maybe a few lime wedges for a piquant squeeze of lime juice.
The corn tortillas can be used right out of the package but they're even better if you warm them. Just heat the tortillas in a skillet briefly, about 30 seconds to a side.
Serving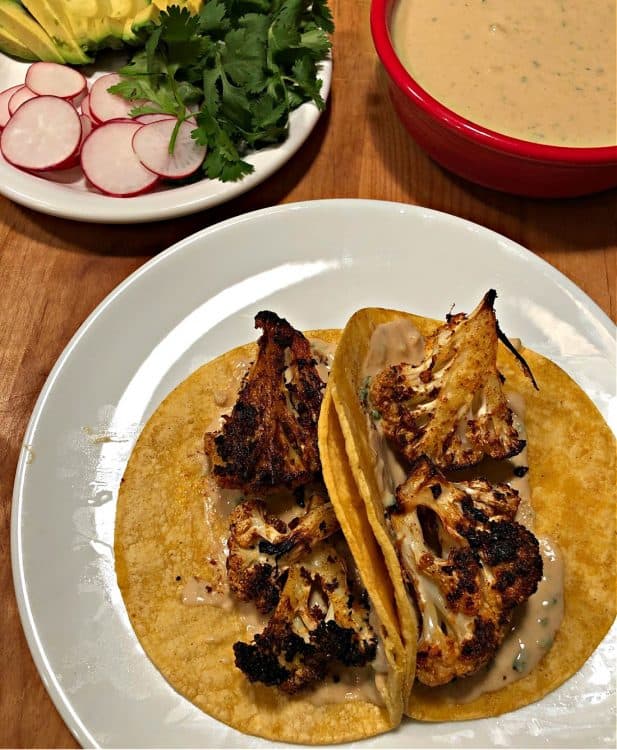 To serve, spread each tortilla with sauce, top with cauliflower and add garnishes as desired.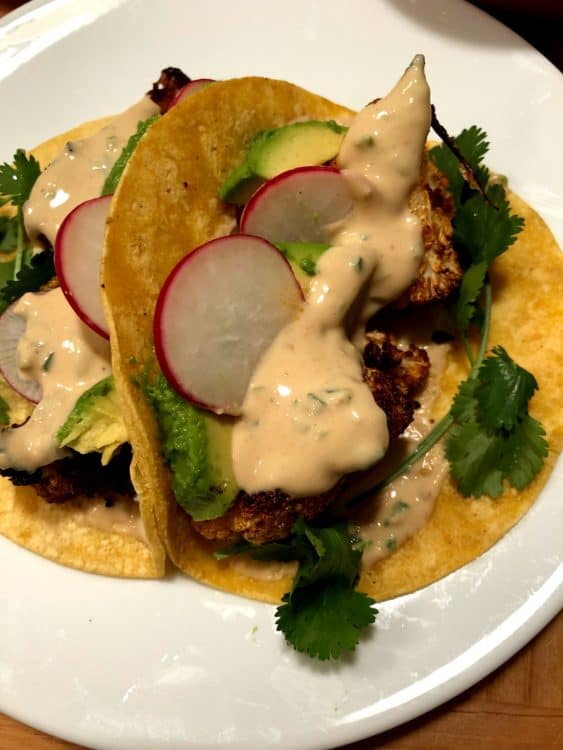 And don't be afraid to use generous amounts of sauce for those who like it because the sauce is what really makes this work! (Note: The recipe provided for the sauce is double the original recipe amount, based upon this)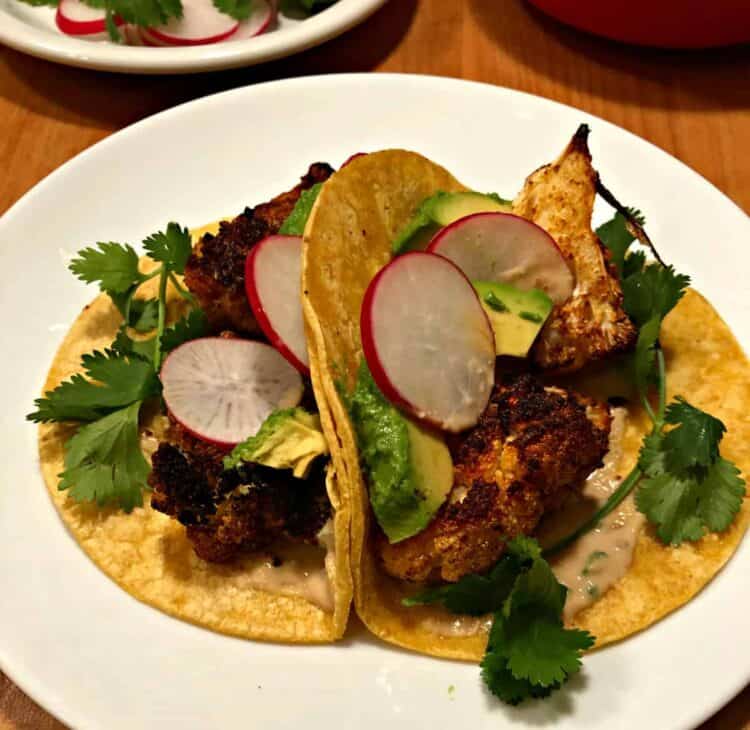 After eating these cauliflower tacos without cheese, my "Wisconsin girl" roots are in shock , but I have to say: You really won't miss the cheese!
Cauliflower Tacos
A truly delicious vegan meal!
Ingredients
Sauce
2

serrano peppers

finely grated

2

garlic cloves

finely grated

½

cup

cashew butter

3

TB

lime juice

6

TB

water

Salt
Tacos
6

garlic cloves

finely grated

½

cup

grapeseed or canola oil

4

teaspoon

ground cumin

2

teaspoon

smoked paprika

2

medium heads cauliflower

cut into 1"-2" florets

12

corn tortillas

6-inch diameter

1

small onion

sliced thin

Sliced avocado

sliced radishes, cilantro leaves with tender stems and lime wedges (for serving)
Instructions
Sauce
In a small bowl, mix serrano peppers, garlic, cashew butter, lime juice and water. Season with salt and set aside.
Cauliflower
Place oven rack in lowest position and preheat oven to 450F. Combine garlic, oil, cumin and paprika in a small bowl.

Arrange cauliflower on a large rimmed baking sheet and pour spiced oil over the cauliflower. Season with salt and toss to evenly coat the cauliflower.

Roast undisturbed for 15 minutes. Remove from oven and toss florets over. Roast for an additional 15-20 minutes until cauliflower is dark brown and crisp.

Heat a griddle or large skillet over medium high heat. Toast tortillas singly, for about 30 seconds to a side. Transfer to plates.

Spread each tortilla with some sauce, top with cauliflower.

Garnish with onion, avocado, radishes and cilantro. Serve with lime wedges.
Notes
Note: Nutrition calculation does not include garnishes
Nutrition
Calories:
470
kcal
|
Carbohydrates:
43
g
|
Protein:
11
g
|
Fat:
31
g
|
Saturated Fat:
4
g
|
Sodium:
89
mg
|
Potassium:
879
mg
|
Fiber:
8
g
|
Sugar:
5
g
|
Vitamin A:
364
IU
|
Vitamin C:
98
mg
|
Calcium:
117
mg
|
Iron:
4
mg
Nutrition values are estimates only, using online calculators. Please verify using your own data.