If you told me 10 years ago that I would absolutely LOVE avocado fries, I would have considered you crazy. But I really do love them, and in my quest for keto supremacy, I was led to making these "frites," as the French call them.
Decisions
I've seen recipes several places. The one I follow is from tasteaholics. There are really only a few decisions involved in making this: 1) How many avocados would you like? 2) What's your cooking method? And, 3) Dipping sauce or no?
The original recipe is for 3 avocados, which makes a LOT of avocado fries. However, I like to make a small batch for just myself, so I scaled down the recipe to a single avocado. I eat the whole batch for lunch. 😀
The original cooking method calls for a deep fryer, which I do not have. Instead, I use a small (6-inch) frying pan and fry the pieces in the oil, turning each fry once. These can also be baked in a 450F oven for 15 minutes (but then you miss out on the yumminess of a fried coating, so I stick with the frying method).
As far as a dipping sauce, I LOVE the sauce suggested by the author. The are only two ingredients: mayo and sriracha sauce, which combine to make a spicy and tangy complement for your avocado fries.
How to make avocado fries
To start, halve an avocado and remove the pit (remember safety tips for cutting avocados), then cut each half into slices. Remove avocado slices from the skin.
To coat the peeled slices, first dip them in a beaten egg, then in almond flour. The flour can be flavored with a little cayenne pepper and salt if desired, but I've made these with and without those spices and for me the taste difference is negligible. I get enough spice from the sauce, and it's so easy to adjust the sauce's spice level by adding more mayo or sriracha, as needed.
To fry in a pan, first heat the oil until hot.
To test the oil for "hotness," insert a wooden spoon into the hot oil. If you see bubbles rise from the spoon, your oil is ready.
In my small pan I fry half an avocado's worth of fries at a time, about a minute per side.
Be careful when turning the fries – that oil is HOT!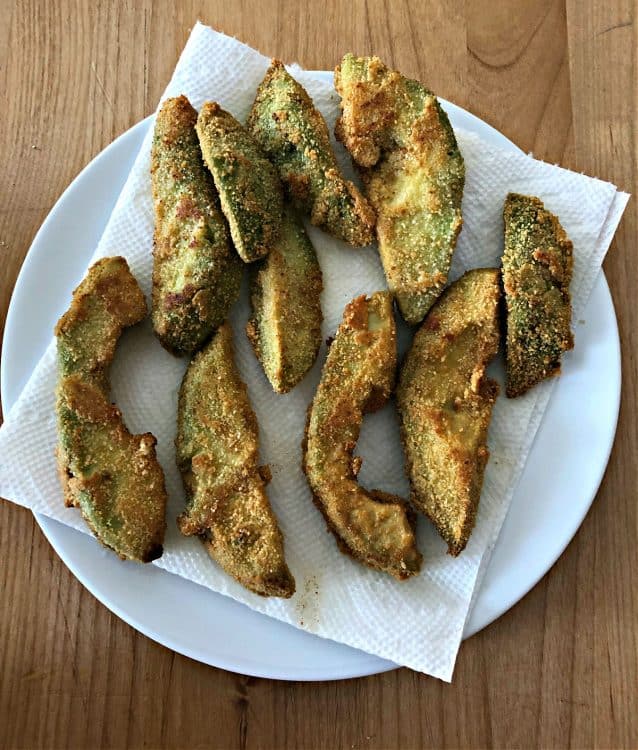 When all fries are golden-brown, remove to a plate lined with a paper towel to absorb the excess oil.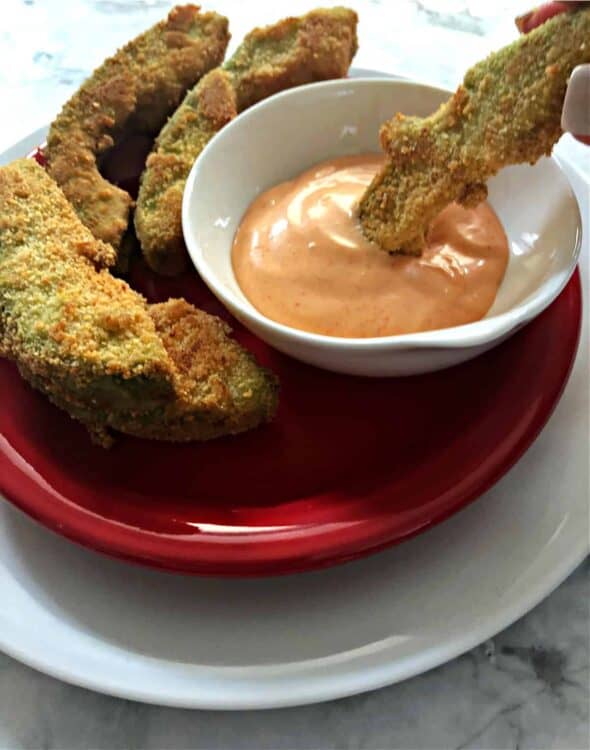 Mix up the dipping sauce and enjoy the awesomeness!
Avocado Fries
Ingredients
Fries
1

avocado

1

egg

½

cup

almond meal/flour

½

cup

avocado oil

or similar

⅛

teaspoon

cayenne pepper

optional

¼

teaspoon

salt

optional
Spicy Mayo
2

TB

mayo

1

teaspoon

sriracha sauce
Instructions
Break the egg into a bowl and beat lightly. In a separate bowl add the almond flour, salt and cayenne (if using).

Slice each avocado in half and remove the pit. Remove each half from the skin and then slice into 4-5 slices per half - OR - cut the slices while still in the skin and then remove rind from skin.

Heat oil in a deep fryer to 350F or in a stovetop pan until a wooden spoon inserted forms bubbles.

Coat each avocado slice by dipping first in egg, then the almond flour.

Place coated slices in oil and fry for about a minute in a deep fryer or a minute per side if using a pan.

Remove cooked fries fires to a plate lined with paper towel to absorb excess oil.

Make sauce by mixing mayo with sriracha and use for dipping.
Notes
Nutrition calculation is based upon using only a portion of the egg, almond flour and oil.
Nutrition
Calories:
419
kcal
|
Carbohydrates:
11
g
|
Protein:
5
g
|
Fat:
42
g
|
Saturated Fat:
5
g
|
Cholesterol:
14
mg
|
Sodium:
443
mg
|
Potassium:
487
mg
|
Fiber:
8
g
|
Sugar:
1
g
|
Vitamin A:
199
IU
|
Vitamin C:
12
mg
|
Calcium:
36
mg
|
Iron:
1
mg
Nutrition values are estimates only, using online calculators. Please verify using your own data.