Like most Americans, I always thought of salad as a bed of greens and a bunch of veggies slathered with salad dressing from a bottle. But when I read that the Italians take an entirely different approach, I needed to give it a try.
The basic idea is: stop thinking of dressing as being separate from the salad. Dressing is a verb, not a noun. So the process of "dressing" is the treatment you give to your salad greens before eating.
This is how it works: oil, salt and vinegar. Now, each person feels these ingredients should be used in a specific order, but that's where the agreement ends. Some start with oil, some with vinegar, etc.
Jump to:
How to use Oil and Vinegar for Dressing a Salad:
First, generously drizzle the greens with extra virgin olive oil, and toss well to coat.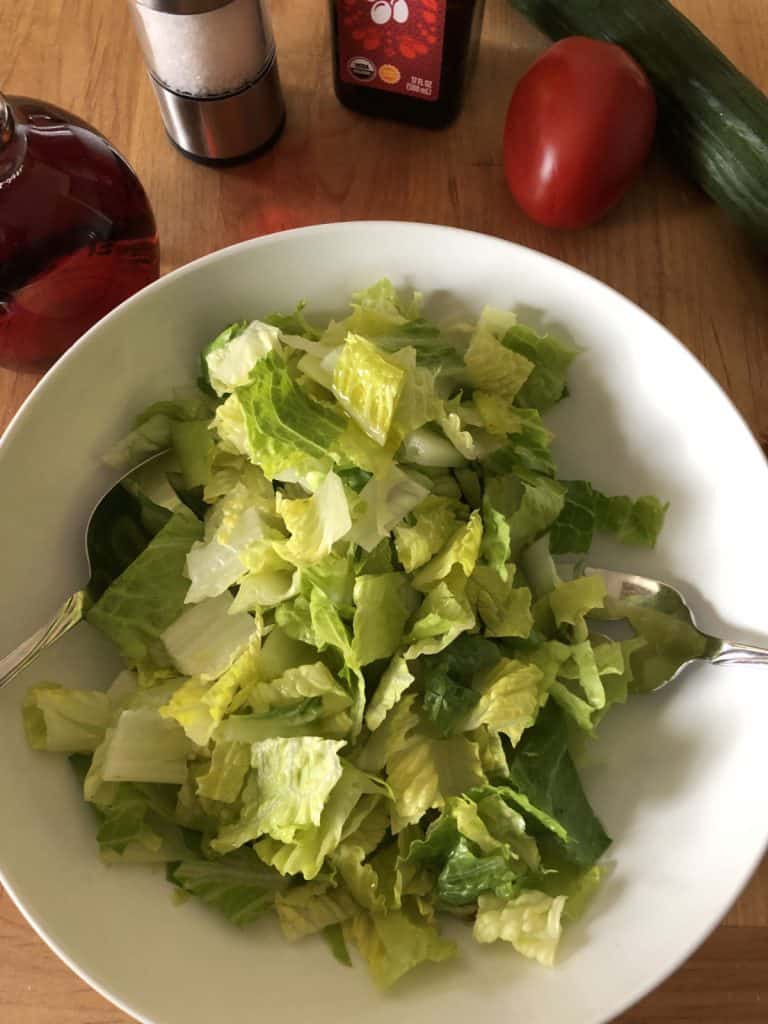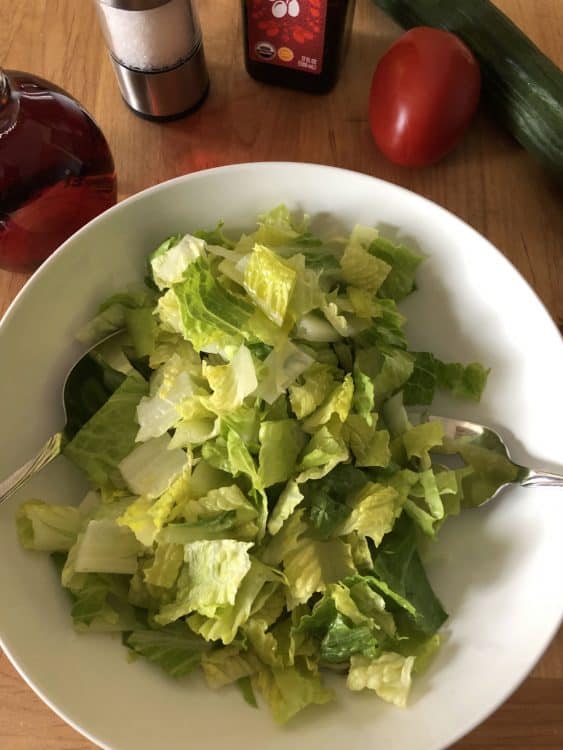 Then add salt and toss again. (yes, my fancy electric salt grinder has a light LOL)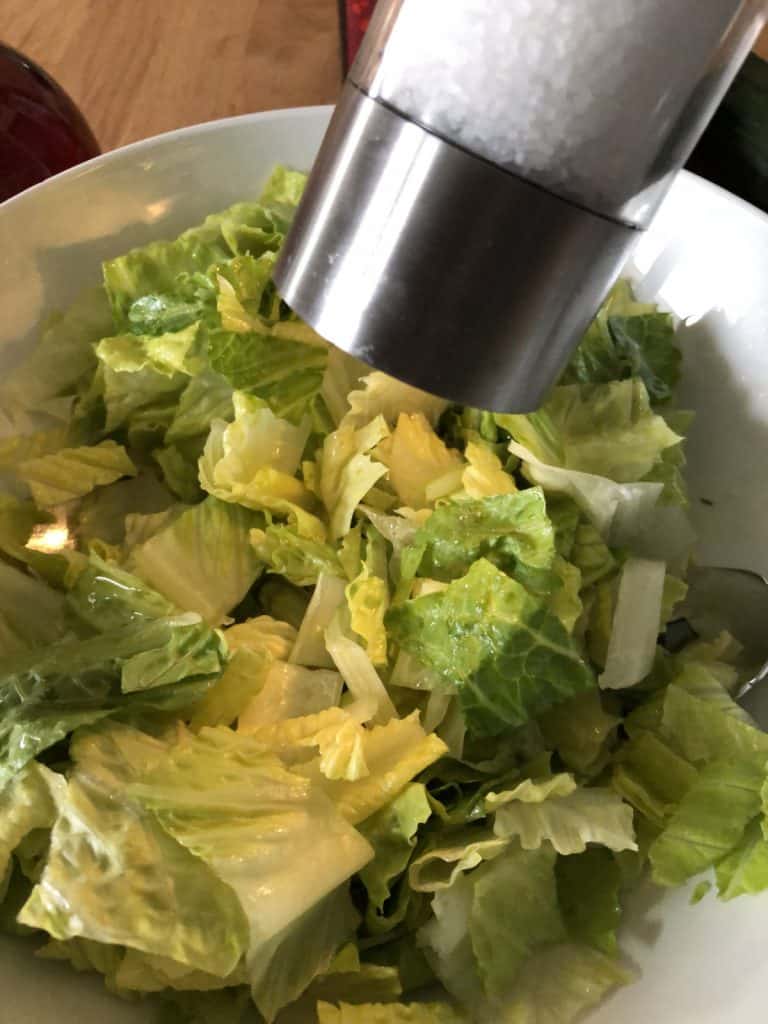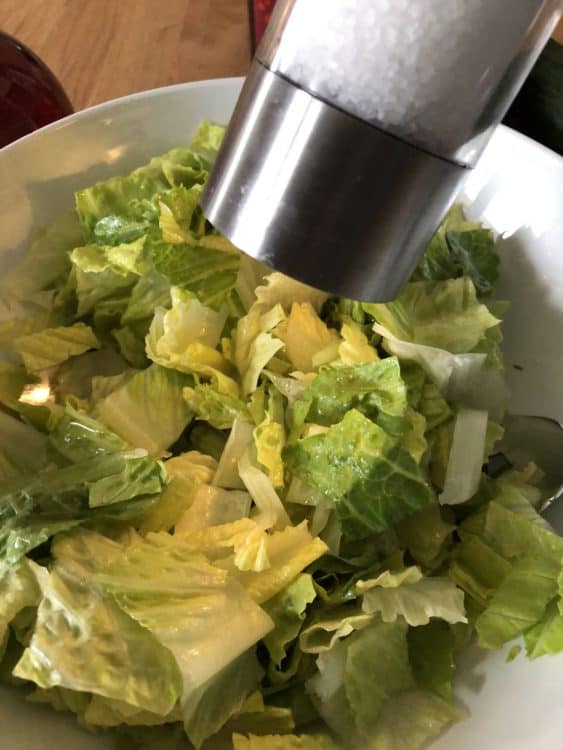 The "quantity" of salt I use is when I can visibly see the granules on the lettuce.
Sprinkle/splash the salad with red wine vinegar and give a final toss.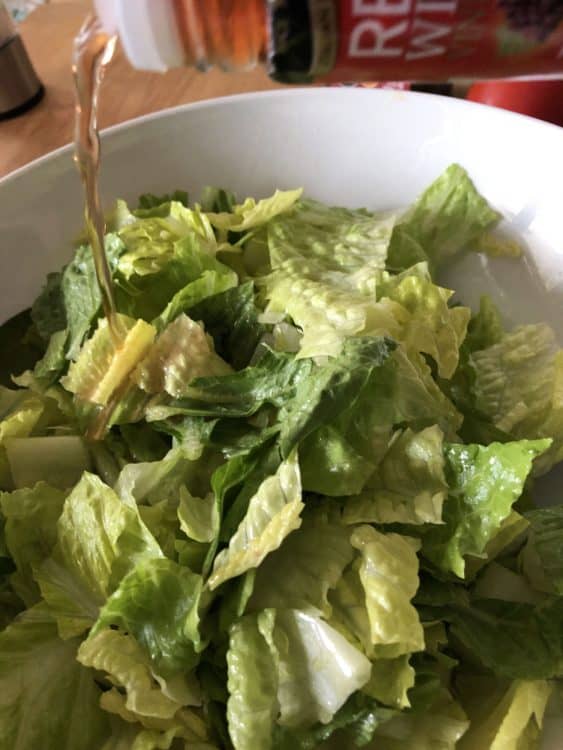 Adding other Veggies to the "Dressed" Salad Greens
If you notice, I do this only with the greens. If I want a few veggies I add them after the vinegar.
I tend to keep it simple: a little cucumber and tomato, possibly a sprinkle of Parmesan cheese. Another little toss and it's done.
Try growing growing broccoli sprouts for another add in to your salad!
If I'm having my salad with salmon or other fish, I substitute lemon juice for the vinegar. Other vinegars also work. Try white wine vinegar, balsamic, or champagne vinegar.
Leave it to the Italians to sum it up nicely: A ben condire l'insalata, ci vuole un avaro per l'aceto, un giusto per il sale e uno strambo per l'olio.
Loosely translated, this means, "To properly dress a salad, you need a miser to add the vinegar, a judge to add the salt and a spendthrift to add the oil." In other words, be generous with the oil, add just enough salt and be very sparing with the vinegar. Let your taste buds tell you the right amounts.
So give it a try. You'll get the hang of it in short order.
Note: I'm perfectly happy using this simple approach to salad dressing. But some people (ahem, the guy of the house) prefer more flavor from the salad dressing. In that case, you can add another dressing of choice. This will create an additional layer of flavor to the salad.
Deliziosa!
Do you enjoy making your own Salad Dressings? Here are a few more to check out: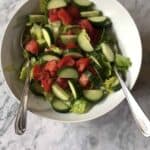 Print Recipe
Dressing a Salad with Oil and Vinegar
The simple Italian approach to dressing your salad greens with oil and vinegar! Easy and so healthy!
Cost:
cheaper than bottled dressing!
Equipment
big bowl

spoons or forks for mixing
Ingredients
4

cups

mixed salad greens

1-2

TB

extra virgin olive oil

or to taste

1

teaspoon

salt

to taste

1

teaspoon

red wine vinegar

to taste
Instructions
Place washed salad greens in a bowl. Add oil and toss gently to coat.

Sprinkle with salt and toss again.

Sprinkle lightly with vinegar and toss again. Sample and add vinegar and/or salt as preferred.
Once you get the hang of this, try it on massaged kale!
A simple salad like this is a great complement to a seafood main course, such as Baked Pineapple Salmon, or Salmon with Whole Lemon Dressing.
I also like it to help balance out any main dish that is really rich, like Hasselback Chicken. And terrific with Butternut Squash Spaghetti Bake.