When you need a quick salad dressing, balsamic vinaigrette is an easy choice.
Lovers of vinaigrette know that it is sweet and tangy with a smooth and silky texture, and it works on so many salads, especially anything with fruit!
And there's something so satisfying about making it yourself. You can customize the flavor to suit your preferences, like adding or omitting garlic, onion or other flavors.
Homemade is always better, and no one needs to know how easy it was to make!
Why I love this recipe
We are big fans of balsamic vinaigrette in this house. It's been my go-to salad dressing for years! And what's even better is that it's so easy to make, with ingredients I always have on hand.
It's a great alternative to bottled salad dressings. They are convenient and delicious, but when you read that ingredient list? It gives you a lot to think about. Good reason to use homemade whenever feasible.
As you will see below, it's also easy to customize to your specific tastes. Balsamic vinaigrette dressing will be a blend of sweet and tangy, and you can adjust to the right balance with the amount of honey you add.
Ingredients
How to make this balsamic vinaigrette dressing
This dressing will take you 5 minutes flat to make. That includes mincing the shallot and garlic and measuring everything out.
Put all the ingredients in a small blender or food processor. Start with 1 Tablespoon of honey so you can adjust as needed.
Blend on medium to high speed for about a minute, until all ingredients are well incorporated. Give the dressing a quick taste. If the balsamic or mustard taste is too sharp, add a little more honey and blend again. Up to two tablespoons honey might be needed, depending upon the balsamic vinegar you are using. It is best to start with the lesser amount and add as needed.
If you don't want to use a blender, whisking by hand will also work. Or, just put everything in a Mason jar, put the lid on tight and shake like crazy!
I must admit, I prefer using a blender simply to help chop up the little pieces of shallot and garlic more than I accomplished with my knife. Plus, it helps to emulsify the liquids, producing a silky texture that I love. It's possible that I lack the patience to whisk and/or shake long enough to get that same texture by hand. LOL
Storage is easy
Keep the dressing in a covered container in the refrigerator. I like to put it in a small jar with a lid. It should keep for a couple weeks in the fridge, if it lasts that long.
After a time, the oil might separate but you only need to give the jar a good shake and your dressing is ready to go!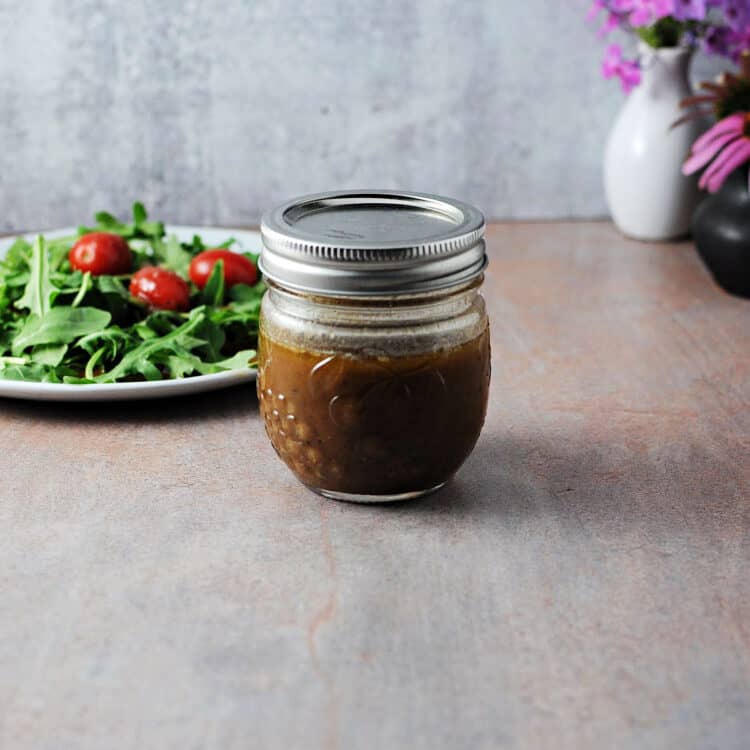 Balsamic Vinegar – Aged is Better
I've always heard that "aged" balsamic vinegar is so much better than the regular kind, but never understood why. Until I started making my own balsamic vinaigrette dressing. Then the difference became clear.
In the store where I shop, they stock a variety of brands and sizes of balsamic vinegar. All seem to imply that a certain amount of "aging" has taken place.
So, instead of reading the labels, I start with the price tags. Usually, a well-aged balsamic vinegar will cost significantly more than the others. After that, I do read the label of course, but the price filter narrows things down much more quickly.
And you might be asking, what is the difference? Here is what I have found: the taste of a well-aged balsamic vinegar is rich, smooth and much sweeter than the regular kind.
When making this vinaigrette dressing, it means you need less honey to get the right balance of sweet and tart. That's why I list a range of honey needed. For "the good stuff" I only use one tablespoon of honey. When using a less aged balsamic vinegar, I need at least two tablespoons to get the taste I expect.
Ever since I discovered this, I'm afraid I've become a bit of a balsamic vinegar snob. I only buy the good stuff now. To keep your budget in line, you might want to stick with the other stuff and just add more honey. LOL #nojudging
How to use this salad dressing
On salads, of course! I love it on a simple salad of greens and tomato, but when you want something more, try a beet salad with goat cheese or a strawberry walnut salad. Both are incredible with this homemade balsamic vinaigrette dressing!
Balsamic Vinaigrette
This easy 5 minute salad dressing will make your taste buds sing!
Ingredients
¾

cup

olive oil

extra virgin

¼

cup

balsamic vinegar

1

Tablespoon

Dijon mustard

1-2

Tablespoons

honey *

1

tablespoon

shallot

minced (about ½ a medium shallot)

1

clove

garlic

minced

½

teaspoon

salt

½

teaspoon

pepper
Instructions
Add all ingredients (start with 1 Tablespoon honey) to a small blender or food processor.

Blend ingredients at medium to high speed until well incorporated.

Taste the dressing and adjust with a little more honey if needed.

Store in the refrigerator in a covered jar.
Video
Notes
Taste is highly dependent upon the balsamic vinegar used. A well-aged balsamic vinegar will taste sweeter and therefore require less honey.
Recipe yields about one cup of salad dressing, and serving size is 2 tablespoons.
Nutrition
Calories:
197
kcal
|
Carbohydrates:
4
g
|
Protein:
1
g
|
Fat:
20
g
|
Saturated Fat:
3
g
|
Polyunsaturated Fat:
2
g
|
Monounsaturated Fat:
15
g
|
Sodium:
169
mg
|
Potassium:
20
mg
|
Fiber:
1
g
|
Sugar:
3
g
|
Vitamin A:
2
IU
|
Vitamin C:
1
mg
|
Calcium:
5
mg
|
Iron:
1
mg
Nutrition values are estimates only, using online calculators. Please verify using your own data.