I'm just gonna say it: I love beets! Always have. I was raised on a farm and we grew beets so I understood the yumminess of fresh vegetables straight from the garden. Cook 'em up, slather in butter — all good! Then came a new way to enjoy my fav veggie: Beet salad. So, of course, I was first in line!
What's in a name?
In the US (and Canada), we refer to this yummy vegetable as a "beet." But in many other parts of the world, it is called a "beetroot." (Wikipedia) That's somewhat more descriptive since the vegetable we consume is the taprootof the beet plant.
Note: Beet salads are not be confused with beet greens, which are also edible. That's a whole different recipe. 😀
What ingredients are in a beet salad?
Beet salads are convenient, too, because of their variety. For instance, I make it as meal-sized salad. Or, this can certainly be portioned to smaller servings as a side.
I've tried many combinations of ingredients and finally narrowed them down to my favorites:
Mandarin oranges (love the burst of sweet citrus)
Walnuts – delicious, healthy crunch
Cheese – more on this later
Mixed greens
Balsamic vinaigrette dressing
What kind of cheese is best in beet salad?
There are many opinions on this. Some say feta, others swear by bleu cheese. I've tried both, but my hands-down favorite is goat cheese. This may not be for you, but I like its mild taste and creamy consistency. If you prefer a sharper or bolder taste, by all means give feta, bleu or maybe gorgonzola cheese a try.
Can I add protein to this salad?
Of course, protein can be added as preferred. I like to keep it vegetarian and will happily eat this as-is. If I want to up the protein, I will add a little edamame to the mix.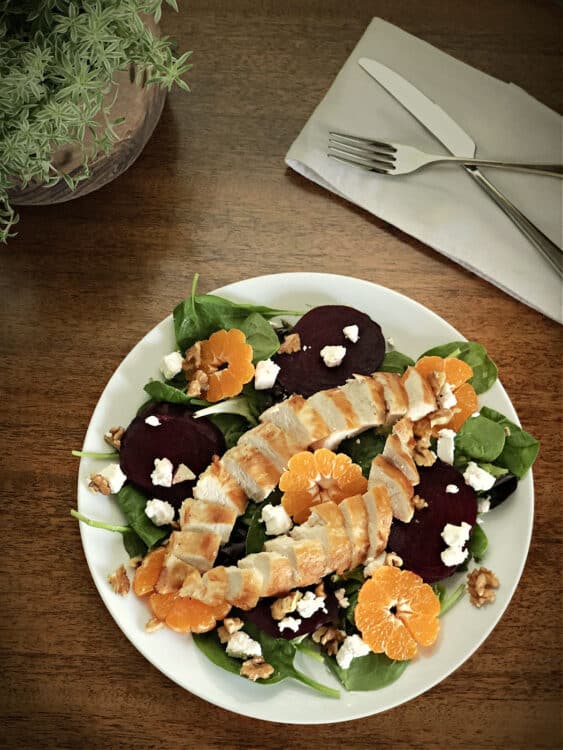 For The Carnivore, cooked chicken breast makes this a multi-dimensional meal. 😀
Do I need to peel the beets before cooking?
There are a couple approaches to cooking beets, and the peeling does factor into the equation. If you want to cut up beets before cooking, then peel them first. The advantage: pieces cook faster. Disadvantage: peeling is messy, and the beet juice will probably stain your hands.
If you decide to cook the beets whole, you can peel first if you want, but the skin is actually easier to remove after cooking. Scrub the beet well before cooking, then cook according to your preferred method (see below). Allow the beets to cool some before handling. The skin on the cooked beet will usually peel right off using just your fingers. Easy peasy. 😀
How to cook the beets
Any cooking method works for this, so it depends upon priorities. If caramelized edges are a must, not to mention that distinct grilled flavor, then grilling the beets is the way to go. If grill marks aren't your thing, but you like grill cooking, try placing beets in foil (also described in the grilled beets post) and throw on the grill.
To cook indoors, I use either the oven or the microwave. To oven roast, clean each beet, cut off the end root and greens, then wrap in foil. Roast in a 400F oven until tender. This will typically take 1-1½ hours depending upon the size of your beet. I tend to avoid this kind of oven time in summer.
The microwave method is more my style. Clean each beet using the oven method (above), then place in a covered microwave safe dish with a little water. Microwave on high for 5 minutes. Remove dish from the microwave and turn the beets. Check for doneness. A medium beet will usually need about 3 additional minutes. Adjust as needed for the size beet you're cooking.
How to make Beet Salad with Goat Cheese
Once you know what ingredients you're using, assembly is pretty simple.
Cook the beets and protein (if applicable), then cut up
Peel the mandarin oranges and cut up as preferred
Crumble the goat cheese
Chop the walnuts
Wash the greens and pat dry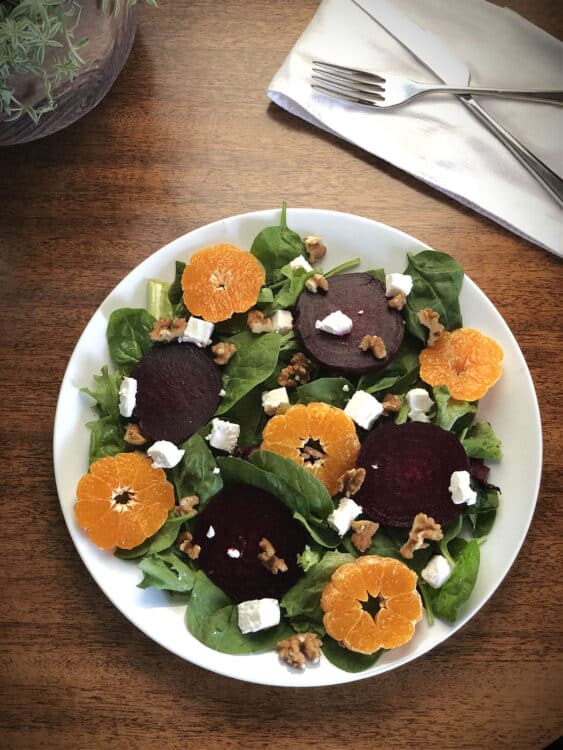 Divide the ingredients either into two portions for a meal-sized salad, or 4-6 side salads.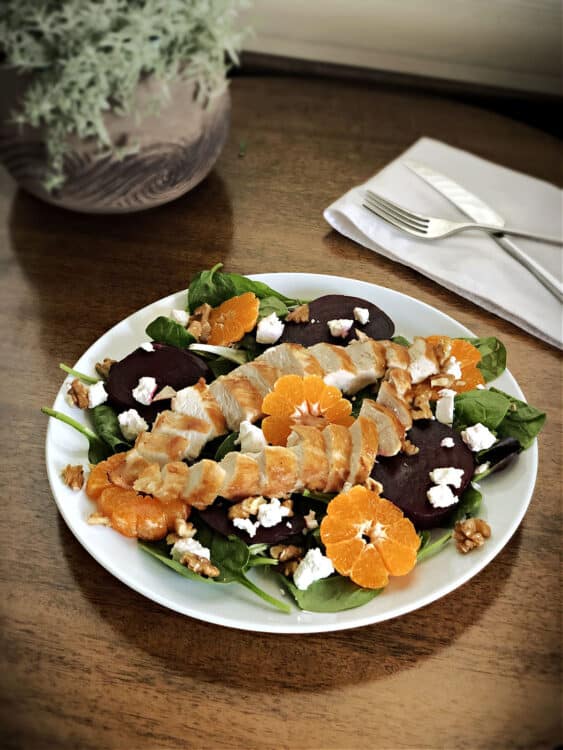 Beet Salad with Goat Cheese can almost be eaten as-is, with nothing added. But most of us like it better if served with your favorite balsamic vinaigrette dressing.
📖 Recipe
Beet Salad with Goat Cheese
Enjoy all the yumminess of beets in salad form - with chicken or keep it vegetarian. It's delicious either way!
Servings:
2
as a meal, 4-6 as a side
Ingredients
2- 3

medium beets

about ½ pound total

2

mandarin oranges

2

oz

goat cheese

¼

cup

walnuts

4

oz

mixed greens

washed and patted dry

Optional: edamame or chicken breast
Instructions
Clean, cook and peel the beets by your preferred method. Cut into bite-sized pieces.

Peel and cut up the mandarin oranges and chop the walnuts as needed.

Assemble the salads by arranging the greens, followed by beet and orange pieces. Then add crumbled goat cheese and chopped walnuts.

For additional protein, add edamame or cooked chicken breast.

Serve with balsamic vinaigrette or other salad dressing as preferred.
Video
Notes
Nutrition estimates do not include optional ingredients.
Nutrition
Calories:
275
kcal
|
Carbohydrates:
26
g
|
Protein:
11
g
|
Fat:
16
g
|
Saturated Fat:
5
g
|
Cholesterol:
13
mg
|
Sodium:
210
mg
|
Potassium:
677
mg
|
Fiber:
6
g
|
Sugar:
18
g
|
Vitamin A:
1574
IU
|
Vitamin C:
42
mg
|
Calcium:
112
mg
|
Iron:
2
mg
Nutrition values are estimates only, using online calculators. Please verify using your own data.