With summer in full swing, a lot of cooking happens on the grill. But that doesn't mean just meat. Many vegetables are both easy and delicious when grilled. One such is the beet.
For many people, beets seem to fall into either the "love" or "hate" category. For me, I SUPER love (new category) beets (but not pickled, because I just don't think you should do that to a perfectly good vegetable).
You've heard of sugar beets, right? They're called that for a reason: Beets are naturally sweet, due to their high sugar content. But here's the magic: sugar + heat = caramelization = scrumptious flavor produced by char grilling (think barbeque sauce, for example).
When I decided to grill beets, I purchased a small bunch – one medium and a couple smaller sized beets. They were delicious, but the smaller slices cooked very quickly. Too quickly. I walked away from the grill for a moment and bang! the smallest slices were toast. So I went to a different grocery store, hoping to find something "a little bigger."
I think I succeeded!
The golden beet weighed 1 lb 3oz.
The red beet was a whopping 1 lb 14oz.
Grilling beets is very easy. First, peel them.
Note: The red beet juice can be very messy and tends to stain, so I always wear gloves for this step. The golden beets don't have this problem, which is probably why they've become so popular.
Once peeled, cut the beets into slices, about ¼ inch thick. Then brush each side of the slices with olive oil, and place on the hot grill. I like to cook these over medium heat on a closed grill for about 8 minutes per side. While cooking, give the slices a little squeeze with the grill tongs to check for "doneness": either pierce with a knife or squeeze with your tongs. When cooked the slices will still be firm but "give" slightly when squeezed. As I remove the cooked slices, I put them on a plate and cover with foil to retain the heat allowing the pieces to cook through.
Now, with two ginormous sized beets like I had, it took up pretty much my entire grill surface. But with normal-sized beets there should be plenty of room for other yummies you will be making to go with those beets.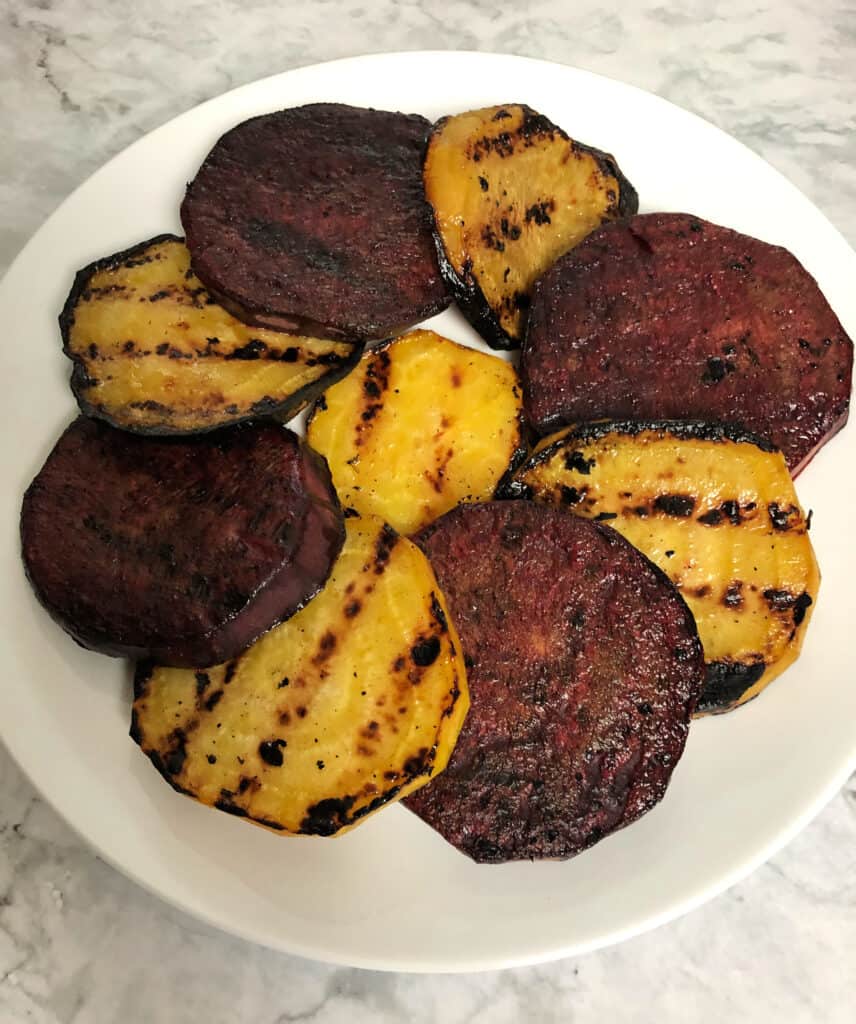 The two main ways I serve beets is either as a simple side to go with other grilled food, or as part of a beet salad, which is delicious!
Give this a try. You can't "beet" it!
Print Recipe
Grilled Beets
Veggies on the grill-yum!
Ingredients
1-2

lb

beets

1

TB

olive oil
Instructions
Peel beets and cut into ¼ inch slices.

Brush both cut edges with olive oil.

Heat grill to medium and place the beets directly on the grate. Close the grill and cook for 8 minutes, then flip the slices to cook the other side for another 8 minutes.

Check for doneness and adjust times as needed.
Nutrition
Calories:
80
kcal
|
Carbohydrates:
11
g
|
Protein:
2
g
|
Fat:
4
g
|
Saturated Fat:
1
g
|
Sodium:
89
mg
|
Potassium:
369
mg
|
Fiber:
3
g
|
Sugar:
8
g
|
Vitamin A:
35
IU
|
Vitamin C:
5.5
mg
|
Calcium:
18
mg
|
Iron:
0.9
mg