(Also known as "Kebabs")
For the love of Chinese takeout
The first formal cooking class I took (aside from Junior High Home Economics) was for Chinese cooking. It was the 1980's and I worked at a hospital that offered sports leagues and enrichment classes to employees. What fun!
My co-workers and I, all lovers of Chinese take-out, signed up to learn how to make it ourselves, and we had a blast. But the real winners were the guys playing basketball in the same building. They worked in various departments of the hospital, and felt comfortable showing up at the door the minute they smelled us cooking. Nice guys, just kind of…. sweaty. We were glad to have some test subjects for our marvelous creations. 😀
From that class, I saved a couple of recipes. One of them was sweet and sour pork. Over the years I've adapted the recipe and now use it three different ways. One is for making kabobs, a great way to get your fix for Chinese and to grill at the same time.
Choose your cut of meat
I've used different cuts of pork for this – pork loin from chops or a roast are lean and work well, but more recently I've been using country-style ribs. They require a little more trimming, but they freeze well so I always have some on hand. A quick "go to."
How to make sweet and sour pork kabobs
To start, cut the pork into one to two inch cubes and marinade in a simple mix of cooking sherry and soy sauce. Drain a can of pineapple slices with the juice reserved for use in the sauce. Cut an onion and a green bell pepper into large chunks.
Carrots are cut into chunks and pre-cooked slightly in the microwave. There are a couple reasons for this. First, large pieces are needed to put on a skewer. Smaller pieces just fall apart. But large chucks of raw carrot will take forever to cook on a grill, plus it is almost impossible to push a bamboo skewer through them. Getting the cooking process started in advance solves both those problems.
Make the sauce
Once everything is prepped, it's time to make the sauce. I like to put all the sauce ingredients in a small pan and, while it's warming, use that time to assemble the kabobs on the skewers.
Load the skewers
There are a couple of ways to load the skewers. The classic and most visually appealing approach is to alternate the meat and vegetables. That produces a colorful looking meal all on one stick.
If you've ever made kabobs, you know it's tricky. Invariably, at least one of the ingredients cooks much faster than the meat and either falls off the skewer or turns into a chunk of charcoal. For this combination, the problem ingredient is pineapple.
The issues with grilling pineapple
I swear, the canned pineapple chucks used to be bigger. The chunks fall off the skewer almost as soon as they get hot. Canned pineapple tidbits are even smaller. Then, I tried slices, but slices are too thin. I even tried to "stack" the slices to provide more structure and support.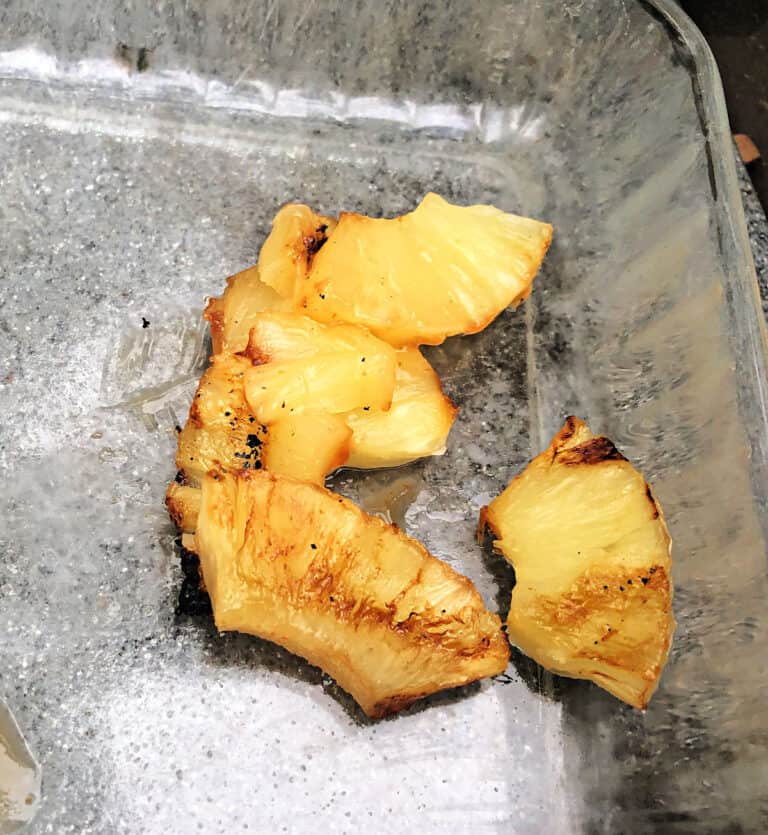 Sigh. These also fell apart.
I considered using a fresh pineapple to cut my own large chunks, but that would not provide enough juice for the sauce, plus it's more expensive and more work.
Ultimately, the best solution is the simplest: Ignore the skewers and place the pineapple slices right on the grill. They cook beautifully and stay together!
Grilling the sweet and sour pork kabobs
When grilling, use some of the sauce to baste the ingredients to give them that delectable sweet and sour flavor. Once everything is cooked, the rest of the sauce is served with the meal, either for dipping or poured over rice and the cooked ingredients.
I hope you give these sweet and sour pork kabobs a try – it's a crowd pleaser for all ages!
Try serving the grilled sweet and sour pork kabobs with rice and sauce for a delicious, satisfying and novel meal!
📖 Recipe
Sweet and Sour Pork Kabobs
Ingredients
2

lb

pork

loin or country-style ribs

½

c

sherry

2

TB

soy sauce

1

can pineapple slices in juice

1

green bell pepper

cut into chunks

2-3

large carrots

peeled and cut into chunks

1

large yellow onion

peeled and cut into chunks
Sauce
Reserved juice from canned pineapple

⅓

c

ketchup

3

TB

soy sauce

¼

c

sugar

1½

TB

vinegar

1

c

water

3

TB

cornstarch
Instructions
Cut pork into 2 inch cubes and place into a bowl. Add ½ cup sherry and 2 tablespoons of soy sauce. Marinade for at least 30 minutes.

Important: If using bamboo skewers, pre-soak in water for at least 30 minutes.

Drain pineapple, reserving the drained juice for the sauce.

Peel and cut the carrots into large chunks. Place in a bowl, immerse in water. Microwave for 3-4 minutes to soften slightly.

Cut onion and pepper into large pieces.

In a small saucepan, add all sauce ingredients except cornstarch. Heat on low, stirring often, until smooth.

Increase heat on sauce and bring to a simmer. In a small jar or glass, mix 3 tablespoons cornstarch with about ¼ cup water. Add slowly to the sauce, stirring while adding. If desired, the amount of cornstarch can be adjusted to thicken the sauce to personal preference. Place about ¼ cup of the finished sauce in a small container to use for basting.

Place meat and vegetables (not pineapple! Grr...) on the skewers.

Heat grill to medium-high heat. Place skewers on the grill and cook for about 5 minutes each side, then turn. Use the reserve sauce to baste the skewers while cooking. Continue cooking and turning until all meat pieces are cooked (about 15-20 minutes total).

Place the pineapple slices directly on the grill grates to cook. Brush lightly with reserved sauce. Cook for 5-8 minutes per side.
Nutrition
Calories:
511
kcal
|
Carbohydrates:
23
g
|
Protein:
28
g
|
Fat:
32
g
|
Saturated Fat:
12
g
|
Cholesterol:
109
mg
|
Sodium:
1063
mg
|
Potassium:
660
mg
|
Fiber:
1
g
|
Sugar:
15
g
|
Vitamin A:
3550
IU
|
Vitamin C:
21
mg
|
Calcium:
40
mg
|
Iron:
2
mg
Nutrition values are estimates only, using online calculators. Please verify using your own data.
Once you try these sweet and sour pork kabobs, you'll want to have them again! Try with Easy Pasta Salad!
You can get even more Chinese taste from your grill with Chinese Chicken on a Stick.