I love a good baked potato, yet I have always considered it "winter food." But, because a baked potato is great with many things, it can easily be transformed to year-round food by throwing it on the grill.
How to grill a baked potato
Start by prepping the grill and potatoes. Preheat the grill using medium-high heat. The target temperature for inside the grill cover is 400-425F. Allow 10-15 minutes for the grill to get nice and hot.
While the grill is warming, prep the potatoes. Russet potatoes are the classic choice, because their high starch content creates a light and fluffy cooked potato. Scrub the potatoes well (for you tater skin-eaters), and blot dry. Then, coat with a little olive oil and a generous dusting of salt.
Wrap each potato well in aluminum foil. With a knife or fork, pierce the potatoes through the foil all the way 'round the potato, about 5-6 times, total. These small holes allow excess steam to escape and simultaneously absorb that delicious smoky grill flavor. Win-win!
Place the potatoes directly on the preheated grill grates and close the cover. Potatoes can be turned every 15-20 minutes to promote even cooking while grilling. I like to buy fairly large russet potatoes, so I expect an hour's cooking time. Obviously, smaller potatoes require less time to cook.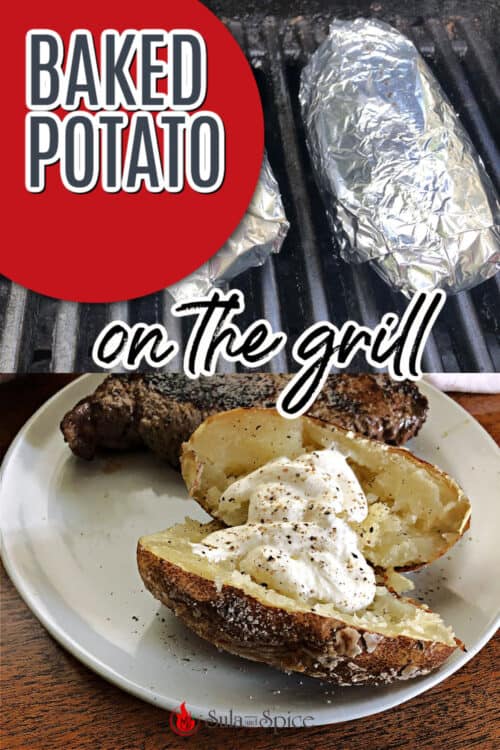 How to tell when potatoes are done
If you're familiar with the term "fork tender," then you probably already know the answer. Test the potatoes by inserting a paring knife or fork to estimate doneness. If the fork slides in easily, the potato is done. If you feel resistance, the potato needs a little more time.
A more high-tech approach means using a meat thermometer to monitor the potatoes. Slide the probe of the thermometer into the middle of the largest potato and leave it in while the potatoes cook. Target temperature is 210F for a fully done and fluffy potato. I'm a fan of using a meat thermometer because it shows how close the potatoes are to being done. That's a huge help to time the rest of my meal.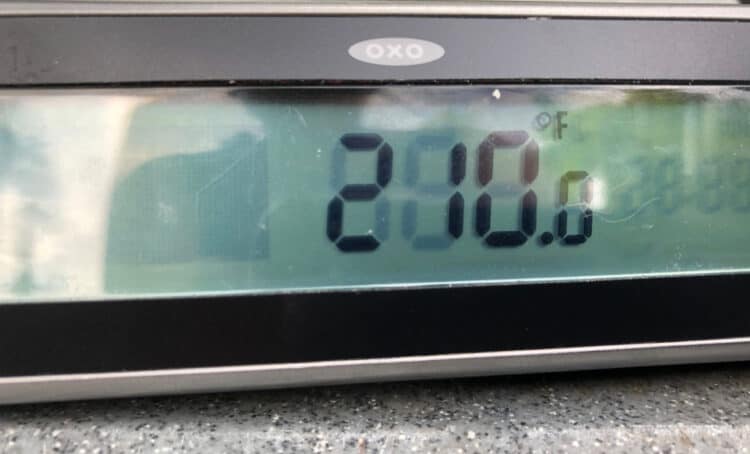 Serving grilled baked potato
The sky's the limit here, but I love a basic potato with butter, salt and pepper, and a little sour cream. If you like designer potatoes, load up on whatever you like: cheese, green onions, chives, bacon bits — even chili. Make it a meal!
And, as I mentioned before, you'll probably want to eat the skin. When you grill a potato in foil, the skin becomes crispy and flavorful. I simply love it!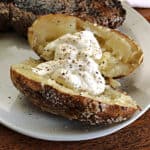 Print Recipe
Baked Potato on the Grill
Let your grill do the baking!
Ingredients
2

medium-large russet potatoes

1

tablespoon

olive oil

Salt

to taste
Instructions
Preheat grill to 400-425F.

To prep potatoes, scrub clean and pat dry, then coat in olive oil and salt. Wrap tightly in tinfoil.

With a fork or knife, pierce each potato through the foil about 5-6 times around the potato.

Place potatoes directly on preheated grill grates. Close cover and cook for about an hour, turning occasionally.

Potatoes are done when easily pierced with a small knife or fork, or when internal temperature is 210 degrees F.

Allow to cool for a few minutes before unwrapping and serving.
Video
Nutrition
Calories:
230
kcal
|
Carbohydrates:
38
g
|
Protein:
5
g
|
Fat:
7
g
|
Saturated Fat:
1
g
|
Sodium:
11
mg
|
Potassium:
888
mg
|
Fiber:
3
g
|
Sugar:
1
g
|
Vitamin C:
12
mg
|
Calcium:
28
mg
|
Iron:
2
mg
Nutrition values are estimates only, using online calculators. Please verify using your own data.
Recipe FAQs
Are there any ingredient substitutions when grilling baked potatoes?
Instead of olive oil, feel free to use butter to oil the potato skin before wrapping, because butter is ALWAYS a good choice.

And, if you're partial to garlic, sprinkle a little garlic powder on your oiled potato with the salt. Think of THAT flavor sensation! Abbondanza!
Can I grill the potatoes at a lower temperature?
As is often the case, grilling can involve more than one part of the meal. Pork, for instance, takes a shorter grilling time at a lower temperature, as you can see with this recipe for pork tenderloin. I recommend grilling tenderloin at 350F.
At that temperature, potatoes normally take well over an hour to cook. To finish cooking pork and potatoes at the same time, either start the potatoes an hour before the meat or pre-cook the potatoes by microwaving them 4-5 minutes before wrapping in foil and grilling them.
The microwave method "jump-starts" the cooking process so both potatoes and pork are done together. Note: If you do this, first oil and salt the potatoes, pierce a few times, then microwave. Let cool slightly before wrapping (they will be hot!!) and pierce the foil a few more times before placing on the grill.
Are potato skins good for you?
You can read about this lots of places, but I will quote Sfgate when I say that potatoes are a rich source of fiber, iron, vitamin C and vitamin B-6. But to get the most nutrients you'll need to eat the whole potato. So, go ahead and eat that super tasty skin!
More ideas for side dishes