It's August and anyone with a garden tends to be overflowing with summer squash by now. So I bring a simple way to make zucchini and yellow squash in the microwave. This recipe will help break up your routine a little, yet it is still easy to make, which is perfect for these hot days of August.
Why is zucchini so prolific?
Zucchini is considered one of the easiest plants to grow in a garden. In addition, its production is cyclical, meaning the more you harvest, the more the plant will produce (harvestright.com). As my friend Dawn told me, "when they start coming in the garden you better start picking or they could quickly be a murder weapon."
So, to recap, you need to pick them quickly before they get too big, but the more you pick the more the plant produces. See the problem? That's why gardeners commonly have difficulty with zucchini supplies and will often gift friends and neighbors with the surplus bounty of their harvests.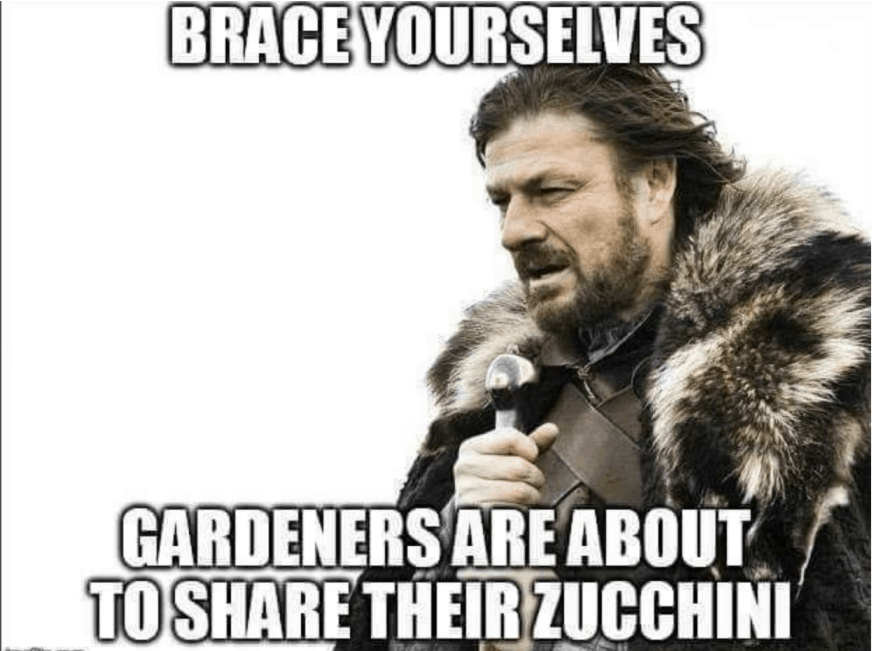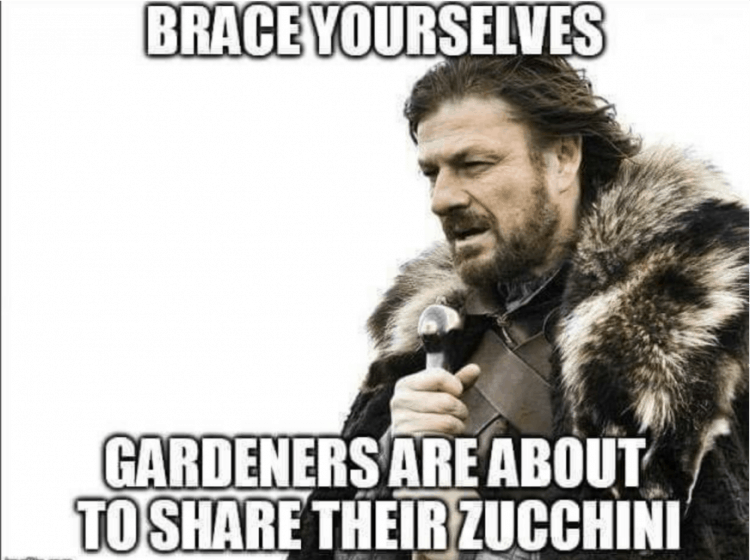 Which is probably why this image showed up in my FB feed the other day!
How to make this green and yellow squash in the microwave
This recipe only requires 3 ingredients. And less than 10 minutes. Because zucchini is so readily available year-round, you'll want to save this recipe for repeated use.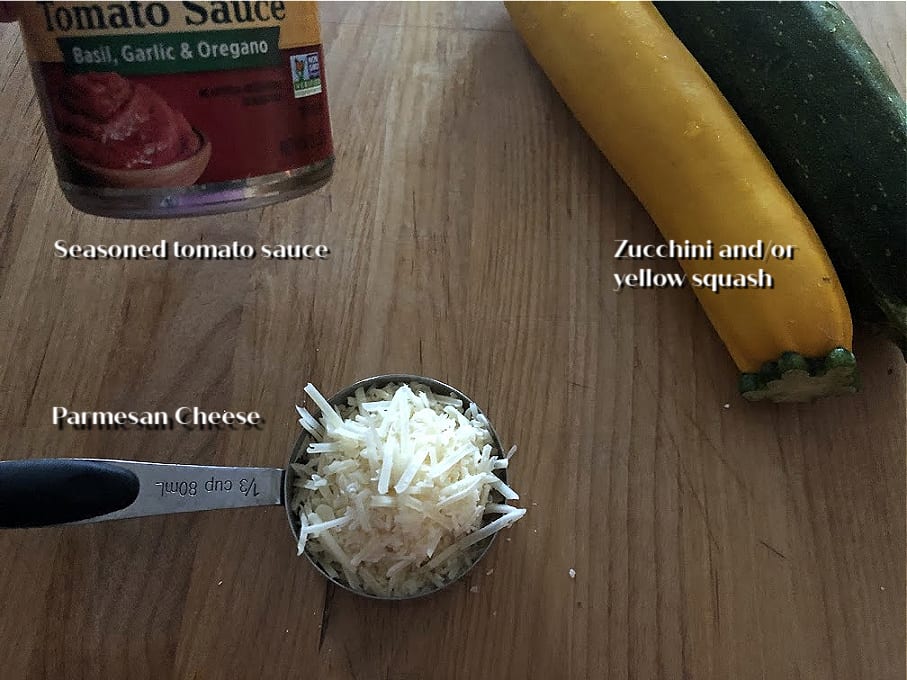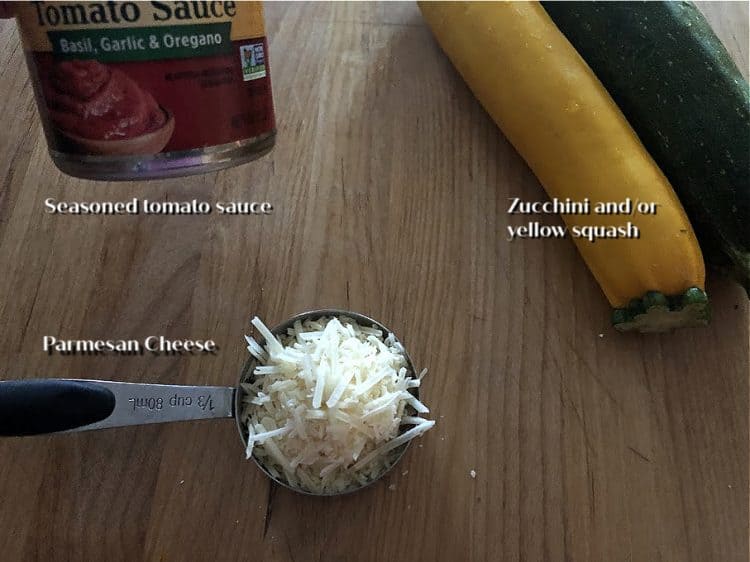 I use a combination of zucchini and yellow squash. I like the color contrast. But feel free to use all zucchini or all yellow squash, whichever variety is overtaking the garden is a good choice. 😄
Start by slicing the squash. If you have a food processor this is about a 30-second job and it works beautifully. But using a mandoline slicer or just a plain old knife works fine, too.
Place the squash slices in a microwave safe dish. Add a 6-ounce can of seasoned tomato sauce. By seasoned, I mean the basil, garlic and oregano version of tomato sauce. If you can only find plain tomato sauce, add a little Italian seasoning to the mix.
Then, add ⅓ cup of shredded Parmesan cheese. Mix together, cover and microwave for 5 minutes. Check for doneness and add a little time if needed. This is usually unnecessary unless the slices are a little thick or if you like your zucchini softer than I do. I typically prefer a little texture to my cooked zucchini.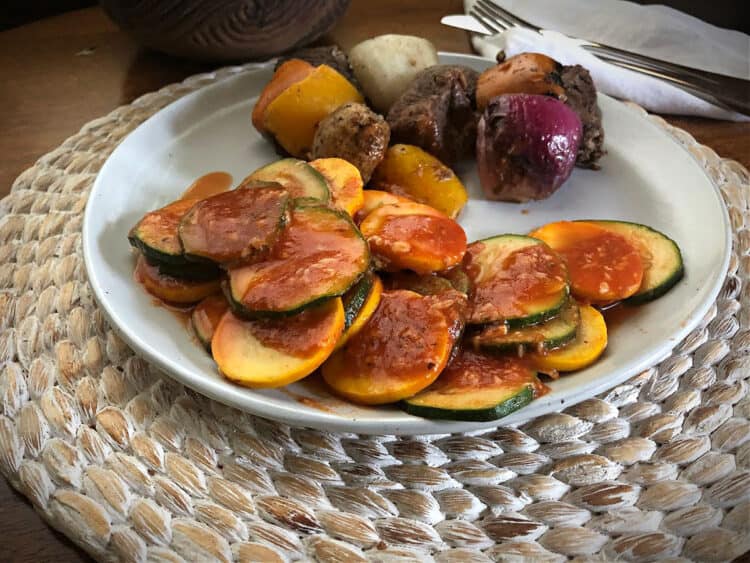 Because I am addicted to cheese, I, of course, sprinkle a little more Parmesan on when serving. In theory, this is optional. 😃
Zucchini and Yellow Squash in the Microwave
An easy side dish to make yummy summer squash!
Ingredients
2

summer squash

zucchini and/or yellow squash

6

oz

tomato sauce

basil garlic and oregano flavored

⅓

cup

Parmesan cheese

plus more for serving
Instructions
Remove ends from the squash and slice thinly. Place slices in a microwave-safe dish.

Add tomato sauce and Parmesan cheese and stir to mix.

Cover and microwave on high for 5 minutes.

Check for doneness by piercing with a fork or knife. If squash seems underdone, re-cover and microwave for 1-2 minutes more.
Notes
Sprinkle with additional cheese when serving, as desired.
Nutrition
Calories:
59
kcal
|
Carbohydrates:
6
g
|
Protein:
5
g
|
Fat:
2
g
|
Saturated Fat:
1
g
|
Cholesterol:
6
mg
|
Sodium:
358
mg
|
Potassium:
398
mg
|
Fiber:
2
g
|
Sugar:
4
g
|
Vitamin A:
445
IU
|
Vitamin C:
20
mg
|
Calcium:
119
mg
|
Iron:
1
mg
Nutrition values are estimates only, using online calculators. Please verify using your own data.
Recipe FAQs
Should I salt and drain the zucchini before cooking?
The first time I made this I did exactly that. I placed the slices in a colander, salted them well and let them drain for 30 minutes or so. It's an effective way to remove some of the excess liquid from zucchini. The next time, I skipped this step and noticed almost no difference. Maybe the tomato sauce gets a little more watery, but that stays in the dish when I'm spooning onto a plate. So now I skip the salting step altogether. I'd rather save the time and keep this super-fast and simple. If you feel strongly about it, feel free to pre-treat the squash.
How do I bake this zucchini and squash dish?

If you prefer to use your oven, that is easy as well. About 20-30 minutes, covered, in a 375F oven should be just about right.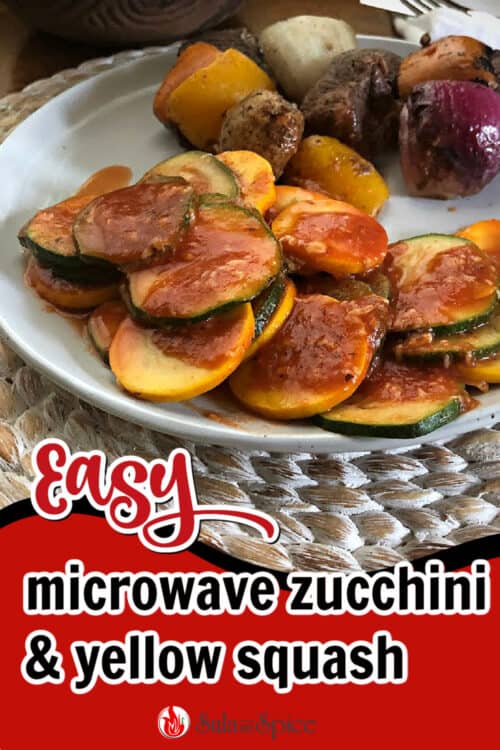 More zucchini recipes