It's time for a dessert. But in liquid form. Dessert drinks can be so fun! And this one is fun, for sure. An Orange Creamsicle Cocktail. Or a Creamsicle martini, if you prefer. It's delicious, no matter what you call it.
Creamsicle vs. Dreamsicle
Speaking of the name debate, does everyone remember the Creamsicle vs. Dreamsicle discussion? I researched the names when I made my Creamsicle Pie, and determined that since the Popsicle people use the term "Creamsicle" it must be the most accurate. Although, I do think that for an alcoholic drink, the term "Dreamsicle" might be a little more appropriate. At least, if you're doing it right.
Maybe the extra-large glasses with an extra shot of vodka could be considered a Dreamsicle Martini – what do you think? 😃
How to make this Creamsicle cocktail
There are a few key ingredients to make this delicious drink:
Whipped vodka
Orange liqueur (like triple sec or similar)
Orange juice
Milk
Of course, you need ice and a cocktail shaker. A fun martini glass also helps. And I like to add whipped cream and an orange slice to fancy it up, but this is optional.
Simply pour the ingredients into a cocktail shaker with ice. Then shake and strain into your glasses. Garnish as desired and sip away!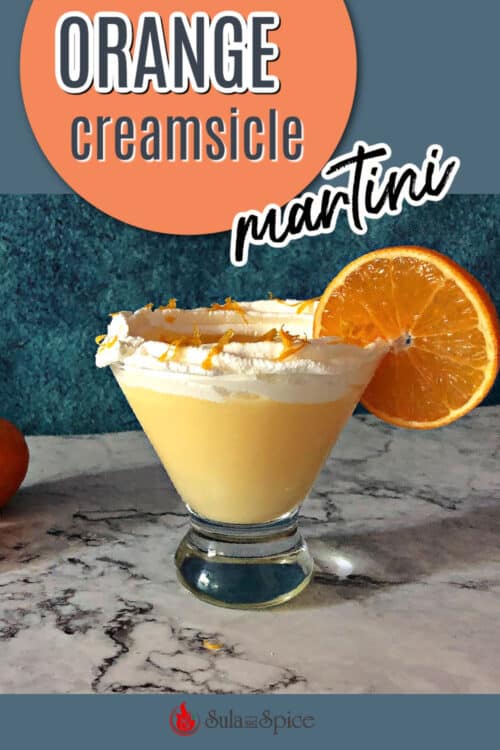 It's a very adult version of the popular ice cream treat we all love!
📖 Recipe
Orange Creamsicle Cocktail
Try this adult version of the ice cream treat we all love!
Ingredients
1

cup

orange juice

3

oz

whipped vodka

2

oz

milk

.75 oz orange liqueur
Instructions
Measure all ingredients into a cocktail shaker. Add ice and shake to combine. Strain into two martini glasses.

Garnish with whipped cream, orange zest and/or orange slices as desired.
Notes
Nutrition calculation does not include whipped cream or other garnish
Nutrition
Calories:
204
kcal
|
Carbohydrates:
18
g
|
Protein:
2
g
|
Fat:
1
g
|
Saturated Fat:
1
g
|
Cholesterol:
3
mg
|
Sodium:
15
mg
|
Potassium:
285
mg
|
Fiber:
1
g
|
Sugar:
15
g
|
Vitamin A:
294
IU
|
Vitamin C:
62
mg
|
Calcium:
46
mg
|
Iron:
1
mg
Nutrition values are estimates only, using online calculators. Please verify using your own data.
FAQ/Substitutions
What is Whipped Vodka?

Sometimes referred to as whipped cream vodka, this is flavored vodka with a taste inspired by whipped cream. It is a clear liquid, like every other vodka. But open the cap and take a sniff and the flavor is clear: the sugary vanilla flavor and creaminess of real whipped cream accompanies the alcohol scent.
Is there a substitute for whipped vodka?

Although I haven't tried it, I think vanilla flavored vodka would work. Or, if you're really desperate, just unflavored vodka and vanilla extract is worth trying. You might need to increase the dairy with these versions. Worth playing with a little bit.
What type of milk is needed for this Creamsicle drink?

I have used several types of dairy to make this cocktail. Skim, 2%, even whipping cream. If adding a whipped cream garnish, I think using the whipping cream in the drink itself becomes a little much. I tend to be happiest with skim or 2% milk. But really, the best choice is probably whatever you normally stock in your fridge.
This drink is sweet and cold, something to have while the kids are enjoying smoothie popsicles. Or for a different adult beverage choice, consider having a Mojito. Minty and refreshing - another summer favorite! And if you like using flavored vodka, this Apple Cider and Vodka cocktail is another delicious choice!