Don't you just love fall? The cool crisp air, the beautiful colors of leaves, and all the flavors unique to the season. One of my favorites is apple cider, a delicious fresh beverage that is always best in fall.
Apple cider vs apple juice – what's the difference?
Apple cider is the term used in the US and Canada for an unfiltered, unsweetened, non-alcoholic beverage made from apples. (Wikipedia) Liquid is extracted from the apples, and is typically cloudy appearing due to the presence of fine apple particles in suspension. It is traditionally considered a "fresh" beverage but all US commercial producers are now required to pasteurize or irradiate apple cider in order to reduce the risk of pathogens.
By contrast, apple juice is always filtered and pasteurized. However, there are now some producers who sell "unfiltered" apple juice. Clearly, this is increasingly becoming an area of blurred lines.
It is also worth noting that in other parts of the world, the term "cider" refers to an alcoholic drink. In the US, the drink is considered "hard cider" if it contains alcohol.
This cocktail specifically calls for apple cider, however I have used a good apple juice as a substitute and was just as delighted with the result. It's always good to have options. 😃
Ingredients needed for this caramel apple cider vodka cocktail
Only 2 ingredients needed:
Apple cider (or juice – see above)
Caramel flavored vodka
Optional ingredients: apple slices and/or cinnamon sticks for garnish. You could also dust the rim with cinnamon sugar if desired. Entirely optional but very fun. 😀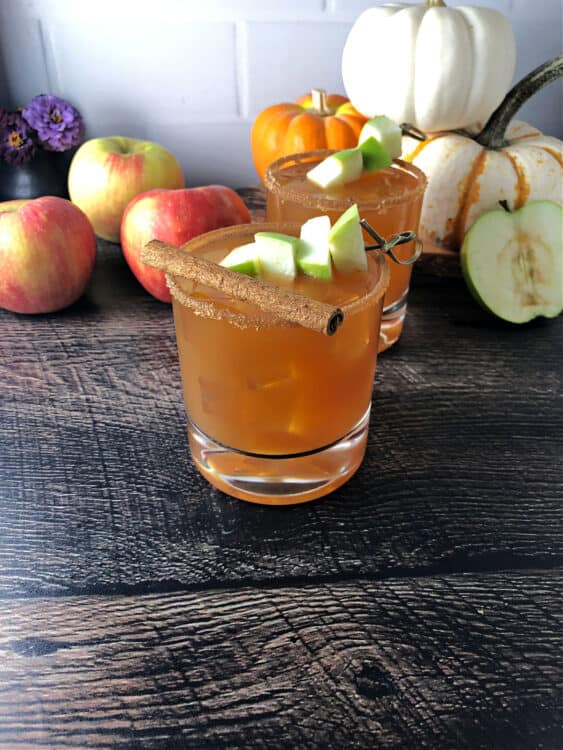 I dusted with a brown sugar-cinnamon mix. Very yummy!
How to make this cocktail
Start by filling a glass with ice. Pour in a shot of caramel flavored vodka. Fill with apple cider and stir.
Garnish with apples and/or a cinnamon stick.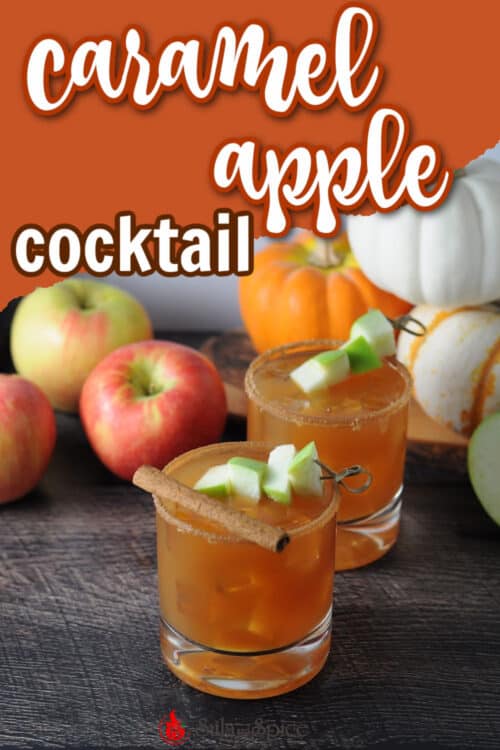 Tastes just like a caramel apple!
Caramel (Vodka) Apple Cider
This cocktail combines caramel flavored vodka with apple cider - tastes just like a a caramel apple!
Ingredients
1.5

oz

caramel flavored vodka

6

oz

apple cider

or juice

optional: apple slices/cinnamon stick for g
Instructions
Fill glass with ice.

Pour in a shot of flavored vodka.

Fill glass with apple cider.

Garnish as desired and serve.
Nutrition
Calories:
176
kcal
|
Carbohydrates:
19
g
|
Protein:
1
g
|
Fat:
1
g
|
Saturated Fat:
1
g
|
Sodium:
7
mg
|
Potassium:
172
mg
|
Fiber:
1
g
|
Sugar:
16
g
|
Vitamin C:
2
mg
|
Calcium:
14
mg
|
Iron:
1
mg
Nutrition values are estimates only, using online calculators. Please verify using your own data.
Other options
Can I make this drink with hot apple cider?
On cool day you sometimes just need a warm drink. I love hot apple cider, so of course had to try some with a little caramel vodka added in. Yes, it is just as delicious as the cold version.
Will any apple juice work to substitute?
I can't speak to all brands, obviously. As I mentioned above, I tried a good apple juice. To me, that's the kind that is in the refrigerated section and also looks like it has a little sediment in the container. Mostly because I was trying to find something as close as possible to real apple cider.
My best guess is, if you like the apple juice, then you will also like it in this drink. 😀

Love apples? Here are some more recipe ideas for apple season