I've been visiting my daughter which means I get to spend time with my favorite little kitchen helper. And it's October so I really felt something with a Halloween vibe was in order. But nothing too complicated, just everyone's favorite: Rice Krispie treats! So easy to make, and turned into ghost shapes for Halloween.
Ingredients needed for Halloween Rice Krispie treats
Butter
Rice Krispies cereal
Marshmallows
Check out my WEB STORY for these Krispie Treat Ghosts
How to make Rice Krispie treats
I use the original recipe for Rice Krispie treats, right from the box. Well, actually I think the ORIGINAL recipe had a little bit more butter. Or maybe that's just how we used to do it in my family. LOL
To start, get your pan ready. It's easier to cut out the shapes outside the pan, so we prep the pan to allow for easy removal of the uncut treats. Line a 9x13-inch pan with parchment paper, then spray the paper lightly with cooking spray.
Melt the butter and marshmallows together – I like the microwave for this, it's so fast and easy. Just put them in a large bowl and microwave in 30 second increments until the marshmallows are melted and stir-able. Once the melted marshmallows and butter are stirred to a smooth texture, add the Rice Krispies cereal. Stir to coat.
Transfer to the prepared pan and press the mixture firmly and evenly. If you have ever done this step, you are familiar with the usual pitfall: sticky stuff on your hands!! Trust me, bare hands will not work here. The usual advice is to spray your hands with cooking spray and then press the mixture in place. This does work, but I prefer an even cleaner solution: I use a plastic sandwich bag. I treat the outside of the bag with either cooking spray or a little butter, then place my hand inside the bag. While I am pressing with my hand, the sandwich bag is the barrier between the treats and my hand. The butter or spray prevents the marshmallow mixture from sticking. And once done, the bag is easily removed and discarded. Easy cleanup!
The next step is the hard part: waiting. The treats need to cool for 20 minutes before cutting into shapes. If you try to rush this, you will be sorry. The treats will be too soft and "bendy" to cut into clean shapes.
If you have a young helper with you as I did, just hand him/her a spoon and the bowl. 20 minutes is about how long it takes a 5-year-old to clean every spec of marshmallow and cereal left in the mixing bowl. 😀
How to make the treats into Halloween shapes
Once the treats have cooled for 20 minutes, remove from the pan by lifting the parchment paper and setting it on the countertop. Use a metal cookie cutter (I used the ghost shape from this set) and prep the cutting edges with a tiny bit of butter or spray to help prevent sticking to that surface. Press firmly to cut through the entire thickness of the cereal layer.
Lift the cutter, and the cut treat will usually come with it. Gently remove the cut out treat from the cutter onto a separate work surface – I used another piece of parchment paper for this. Repeat to cut out as many shapes as you can.
What to do with the leftover parts
Any time you use cookie cutters to make shapes, you end up with a certain amount of dough – or in this case, treats – from "in between" the shapes. You can still make a few more shapes from the remaining treats. Just warm the mixture up a little with a 30 second blast in the microwave, then press it into the pan. You'll only need part of the pan for this, usually less than half. Try to make the treat layer the same depth as the first time.
Again, let the mixture cool and then use the cookie cutter to cut out some more shapes.
The microwave trick only works once, so the "between" parts from your second round will just have to be eaten as snacks. Oh darn!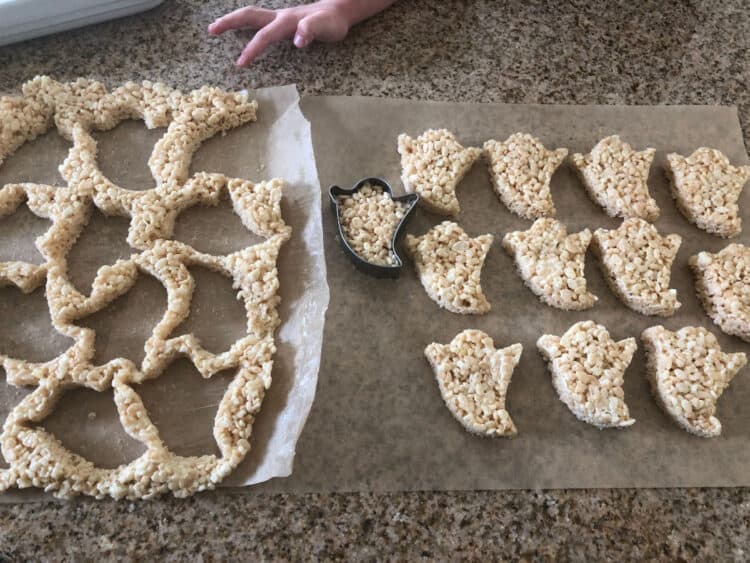 You can see how ready my helper was to deal with those extra pieces. . .
Decorating the ghosts
The beauty of ghosts is, they are white. So easy! You can frost with melted white chocolate, although that's a little hard to spread. Any simple white frosting will work too. I made white chocolate frosting to get the best of both worlds. 😀
Simply frost each ghost, then use mini chocolate chips for eyes.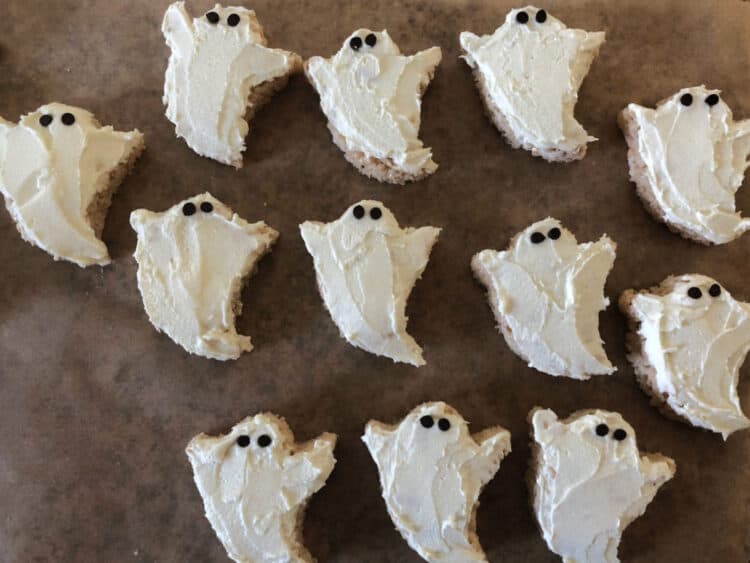 These easy Halloween Rice Krispie treats will be everyone's favorite!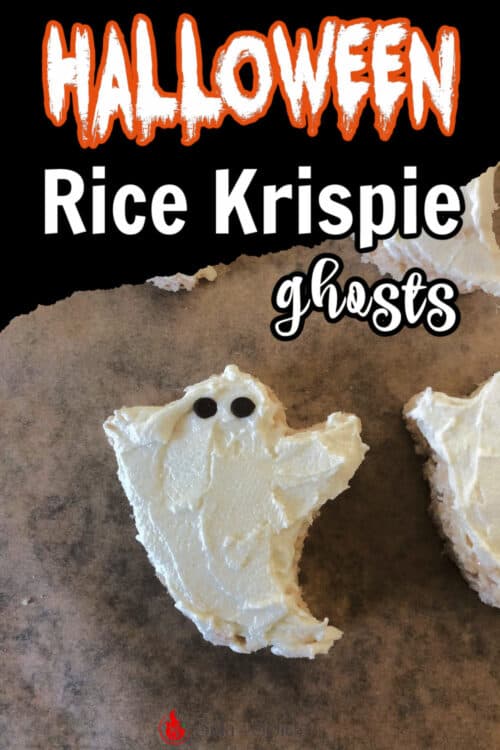 Looking for more Rice Krispies fun? How about some Disney copycat Mickey Mouse Rice Krispie treats? Just as magical and delicious as they are at a theme park!
📖 Recipe
Halloween Rice Krispie Treats
Rice Krispie treats in ghost form for Halloween!
Equipment
Metal ghost shaped cookie cutter
Ingredients
3

Tablespoons

butter

10

oz

marshmallows

about 40

6

cups

Rice Krispies cereal

extra butter or cooking spray for pan and hands
For (ghost) decorating
White frosting

Mini chocolate chips
Instructions
Melt together the butter and marshmallows by cooking in 30 second bursts in the microwave. Stir together until smooth, then add the cereal and stir to coat. Transfer to parchment lined 9x13 pan. Press firmly into an even layer in the pan. Allow to cool for 20 minutes before cutting.

Prepare the edges of a metal cookie cutter with a little butter or cooking spray. Remove the entire layer of Krispie treats from the pan by lifting the parchment paper. Use the cookie cutter to cut shapes; transfer the cut treats to a separate working surface.

Frost each ghost with white frosting and decorate with mini chocolate chips for eyes.
Video
Nutrition
Calories:
92
kcal
|
Carbohydrates:
19
g
|
Protein:
1
g
|
Fat:
2
g
|
Saturated Fat:
1
g
|
Cholesterol:
5
mg
|
Sodium:
71
mg
|
Potassium:
11
mg
|
Fiber:
1
g
|
Sugar:
9
g
|
Vitamin A:
611
IU
|
Vitamin C:
5
mg
|
Calcium:
1
mg
|
Iron:
3
mg
Nutrition values are estimates only, using online calculators. Please verify using your own data.
More fun food ideas for Halloween