Have you ever heard of a "Juicy Lucy"? No? In that case, I will consider this my public service message for the day.
What's a Juicy Lucy?
A Juicy Lucy is a stuffed burger with cheese inside the patty instead of on top resulting in a melted core of cheese. Cool, hey? Two bars in Minneapolis claim to be the inventor of the burger, though other bars and restaurants have their own interpretations. One, "Matt's Bar, where I had my first JL (and not my last) " uses a different spelling: "Jucy Lucy."
Cooking the cheese in the burger gives you two "wins." The first is a cheesy hot lava effect, which is awesome. The bonus is a juicier burger. And just like any hamburger, feel free to use different cheeses and toppings.
If you love cheeseburgers, this is a must.
How to make a Juicy Lucy Stuffed Burger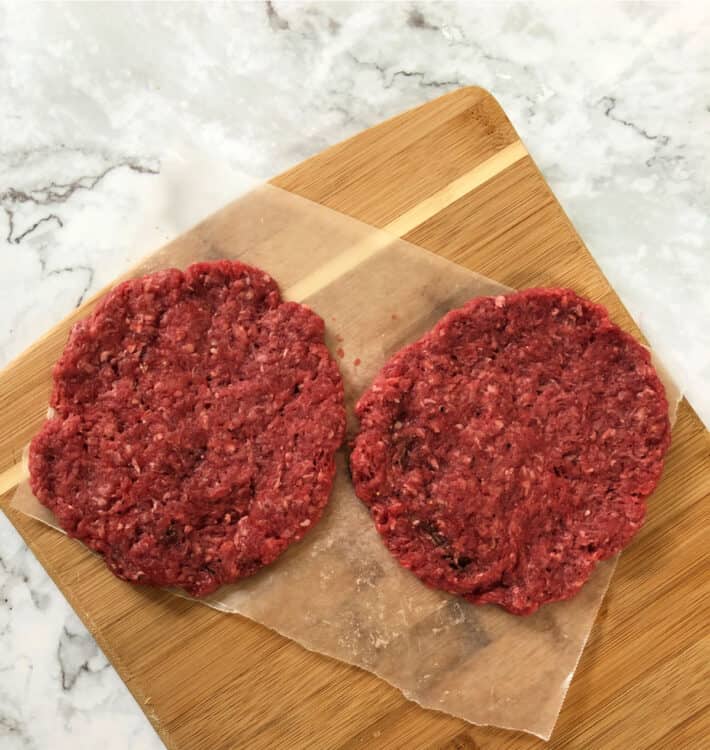 For each burger, start with slightly more than ¼ pound of ground beef. Split that into two equal amounts and then make an equal-sized thin patty from each.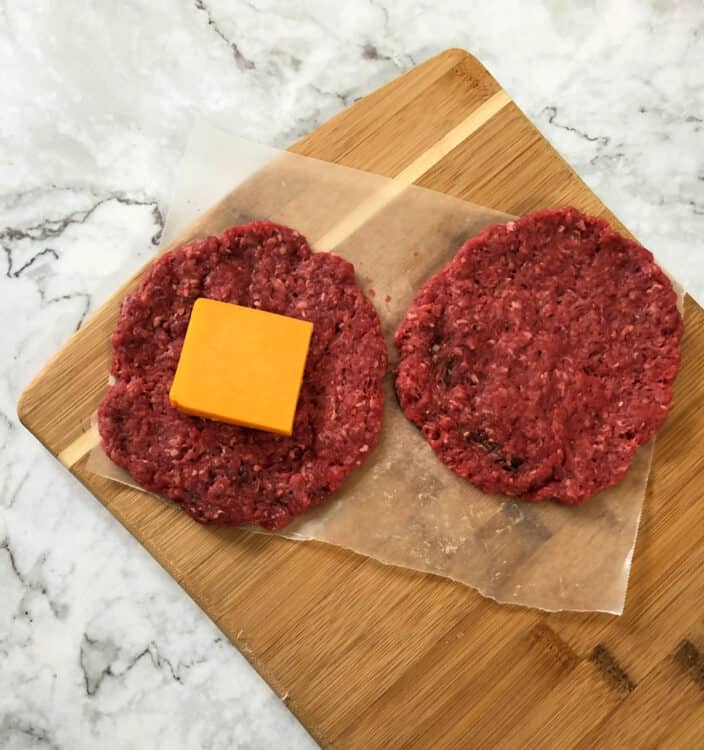 Place cheese in the center of a patty. Part of you will want to place the cheese all the way to the edge. Resist this urge and keep it in the middle.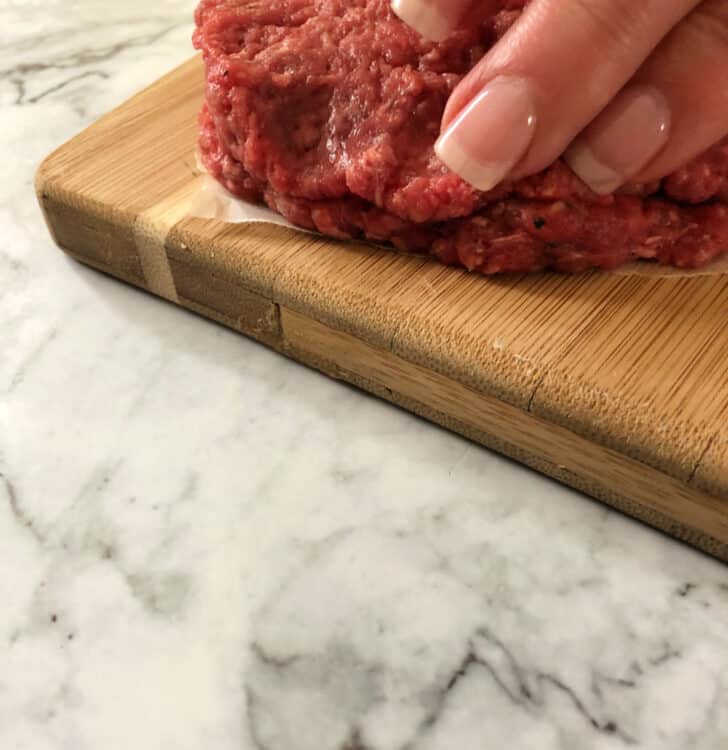 Then place the other thin patty on top of the first and seal the edges of the two patties all the way around.
How do I keep my stuffed burger from falling apart?
Do not underestimate the importance of the sealed edge. I have the best luck when I seal it all the way around, then turn the sealed patty over and work those edges some more. Melted cheese will seek the smallest of openings, and sealing helps to contain. I also consider this stuffed burger a little more fragile than a typical burger patty, so flip carefully, especially if cooking on a grill. You need to keep it all together!
What type of cheese can I stuff in my burger?
I tried this with two different cheeses: a chunk of sharp cheddar cut from a block, and a slice of Kraft singles "American" cheese cut in quarters and stacked inside the patty. Both worked well, but my carnivorous taste-tester felt the sharp cheddar was superior: It provided a more significant core of molten cheese vs. the American cheese. This actually delighted me, since I tend to dismiss those processed cheese slices as "not real cheese" anyway. That's right, we're cheese snobs in Wisconsin.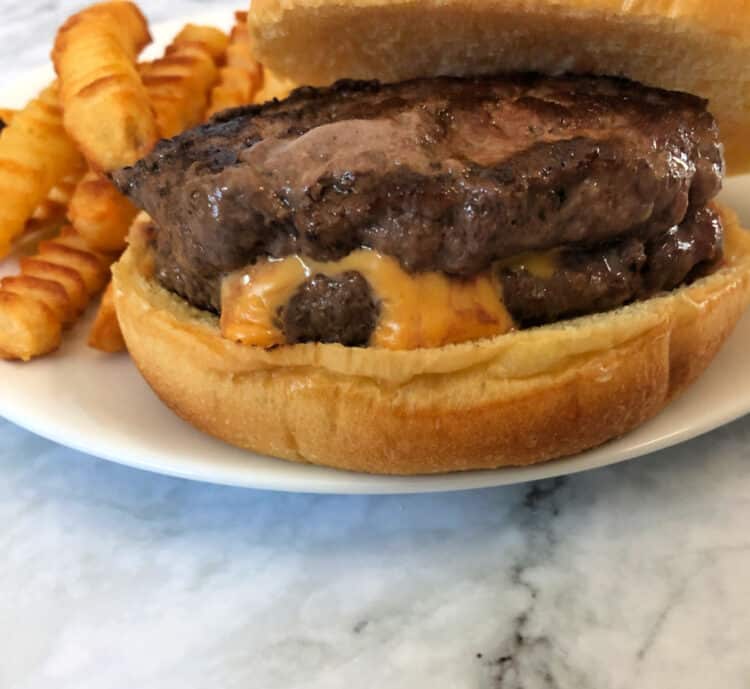 Imagine how fun it would be to experiment with other cheeses, like pepper jack, brick, Swiss, etc. The wide world of cheese is waiting for you!
Make it a double!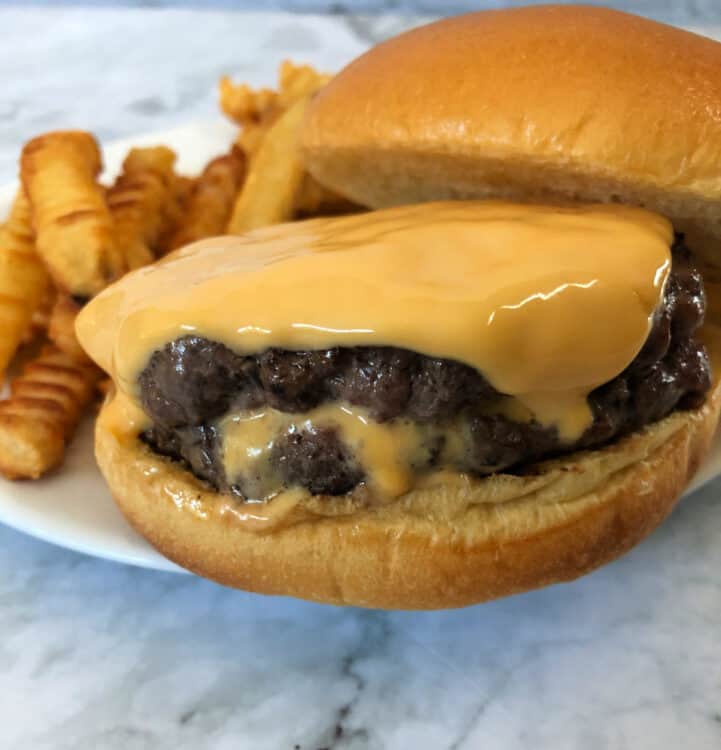 Supercharging Tip: If one piece of cheese makes a delicious burger, why not … two! That's right, a "Double" Juicy Lucy. I decided to add cheese to the top of the burger as well as inside. Double cheese: How can this go wrong, amIright? It was a big hit! 😍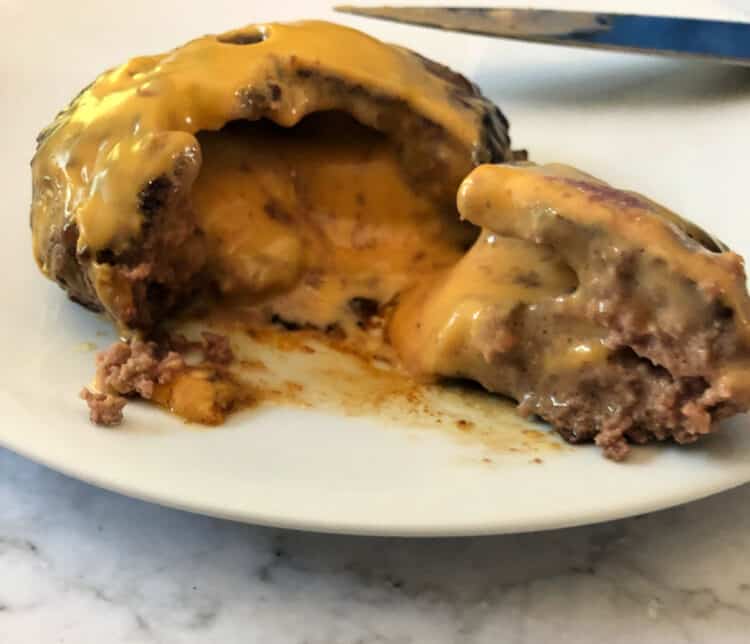 Yes, kind of like hot lava.
Safety warning: Please wait a few minutes before biting into this stuffed burger. The cheese is VERY hot.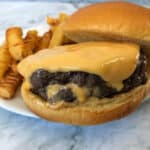 Print Recipe
Juicy Lucy
A cheeseburger, but so much more!
Ingredients
1

lb

ground beef

4

slices

cheese

8 to make it a double
Instructions
Divide beef into 4 piles. Split each pile into 2 and make a thin patty from each. You will have a total of 8 thin patties.

Cut 4 slices of cheese into quarters. On 4 of the thin patties, pile the cheese, the equivalent of one slice per patty. (If your slices are thick, ½ slice total might be enough)

Layer the remaining patties on top of the cheese-topped patties. Seal the meat edges very well.

Cook as you would any other burger, taking extra care when flipping.

If double cheese is desired, place a second slice of cheese over the top of the burger at the end of the cooking time and allow it to melt.

Serve on buns with condiments of choice.

And lots of napkins.
Nutrition
Calories:
401
kcal
|
Carbohydrates:
1
g
|
Protein:
26
g
|
Fat:
32
g
|
Saturated Fat:
15
g
|
Cholesterol:
110
mg
|
Sodium:
250
mg
|
Potassium:
334
mg
|
Sugar:
1
g
|
Vitamin A:
280
IU
|
Calcium:
222
mg
|
Iron:
2.4
mg
Nutrition values are estimates only, using online calculators. Please verify using your own data.
More grilling ideas
Love cooking on the grill? Try some Sweet and Sour Pork Kabobs or even Grilled Pizza!