When you make some tuna salad and use it to stuff into a fresh ripe tomato, you end up with something wonderful.
As the saying goes: the whole is greater than the sum of the parts.
It's possible that Aristotle had loftier things in mind when he first made that statement, but I think it applies to cooking too!
Tuna salad: good! Fresh tomato: good!
Tuna stuffed tomato: GREAT!
This is especially true during tomato season, when tomatoes are fresh and ripe, bursting with flavor. Find some at a farmer's market if you can, for the best tasting tomato possible.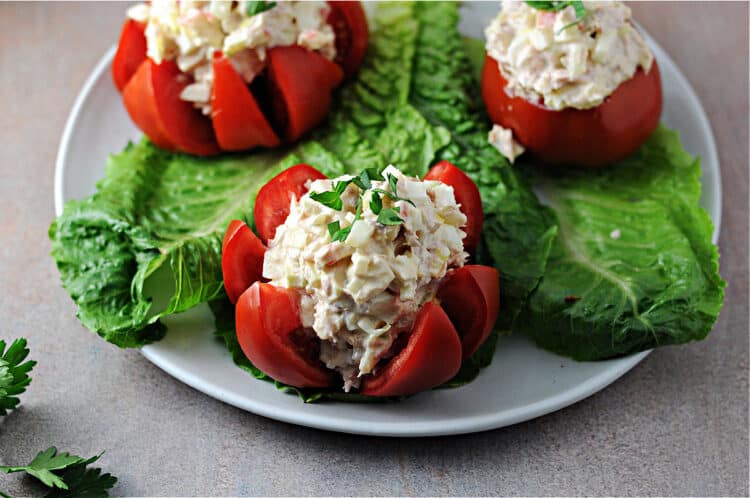 Jump to:
Why I Love this Recipe
First of all, you have to love tomatoes and tuna salad to even consider this recipe. If you dislike either, this combo is not going to change your mind! LOL!
I love a good, fresh, in-season tomato. Especially heirloom tomatoes, they have the best flavor! But they are definitely more spendy, so I like to use them in recipes that really allow that flavor to shine!
This recipe does just that. The tomato serves as a receptacle for the tuna salad. And while you're eating the salad, you can cut up the tomato and decide how much and when you'd like to have it. I personally like a piece of tomato included with every bite of tuna salad, others might prefer eating all the tuna salad and then having the tomato separately. (of course, in this scenario, there'll be at least a little of the tuna salad taste on the tomato)
There's just something about edible receptacles for food, don't you think?
Ingredients Needed
Essentially this recipe needs tuna salad and tomatoes. Pretty easy, right?
But I do put a little spin on tuna salad here. The most basic tuna salad is made of canned tuna and mayo. I also add celery and onions, which are very common. A little less common? Hard boiled eggs. I always put some in my tuna salad.
And one more addition, that I only use when making stuffed tomatoes: apple. Some diced apple in the tuna salad provides a burst of sweetness which is delicious, and also helps balance the innate acidity of the raw tomato. I learned this trick at a restaurant I worked at a looooong time ago. The chef was an unusual guy, but I really loved his tuna stuffed tomatoes. Diced apple was his secret ingredient. 😀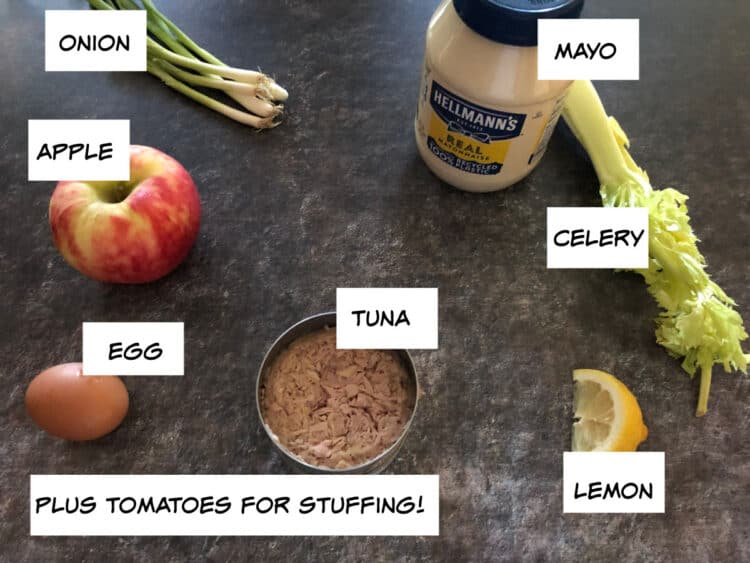 How to Make a Tuna Stuffed Tomato
The beauty of this recipe is the simplicity. First, simply mix up the tuna salad.
Then, cut the tomatoes. There are two different ways to cut the tomatoes, and how you choose is partially based on the shape of your tomatoes as well as how you feel about the final presentation.
One way is to just cut off the top (stem end) of the tomato, scoop out the insides to make a cavity, then drain the tomato upside down.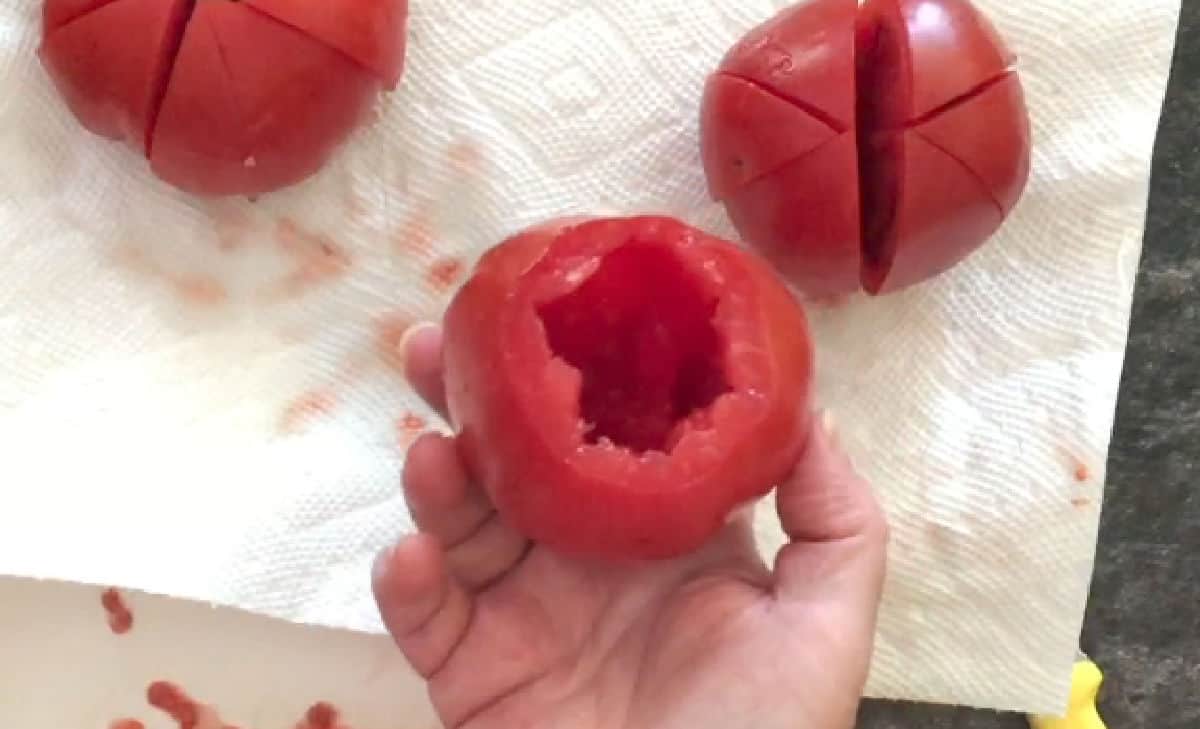 The other way is more decorative. Cut the tomato into a star shape. Use the stem side down for a more stable base, and make sure you are not cutting all the way through the tomato. When making a star shape, leave all the "insides" intact. There will be less liquid that will drain, but still place the cut tomatoes on paper towels to help absorb whatever liquid does drain out.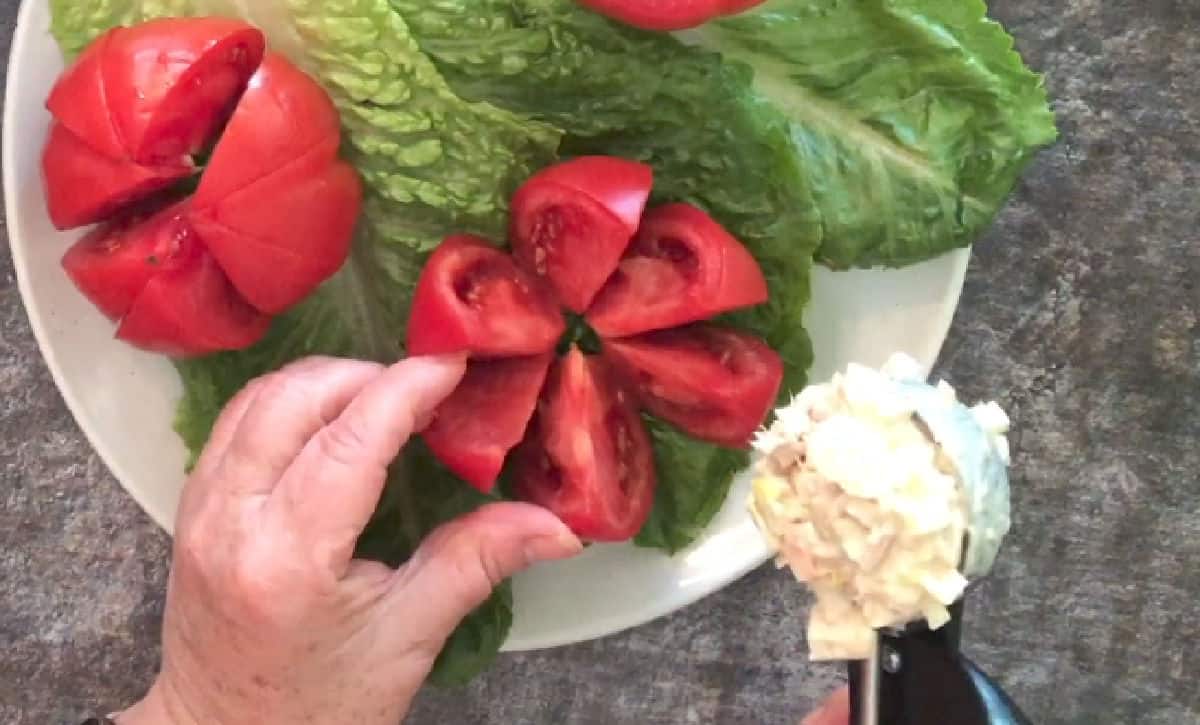 Then, to stuff the tomato, you can spoon the tuna salad into the cavity. Or gently separate the star shaped pieces and scoop a mound of tuna onto the middle. An ice cream scoop works well for this.
If you'd like a garnish on your tuna stuffed tomatoes, try sprinkling a little chopped fresh parsley. It helps give a little extra pop of color. 😀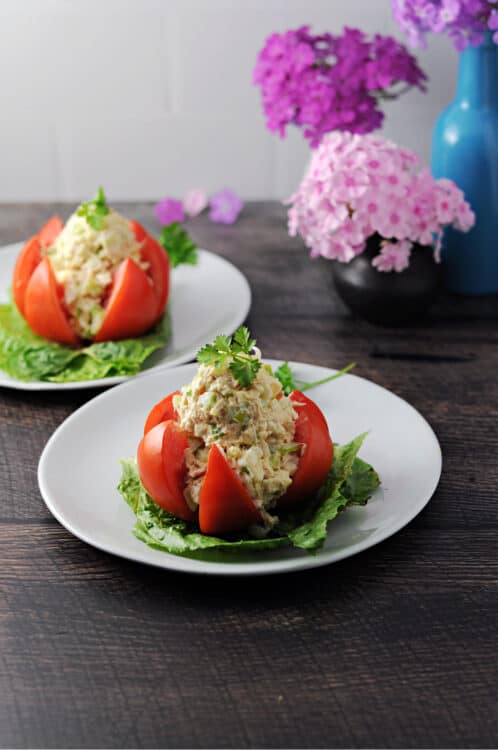 Recipe FAQ
Are recipe substitutions available?
You can certainly substitute as you prefer. If the apples seem too weird to you, don't use them. Same with the egg. If you have a favorite recipe for tuna salad, by all means use that instead of mine!
How many tomatoes will this recipe fill?
This will vary significantly according to the size of your tomatoes, and how much tuna salad you stuff in each. I used 3 small to medium tomatoes and was able to fill the hollowed out one with 1 ½ scoops from an ice cream scoop, and used about 2 scoops for each star-shaped tomato. (see video) I still had tuna salad left over.

If you want to make multiple stuffed tomatoes to feed a group of 4 or more, I advise making a double batch of tuna salad to ensure you have enough. Especially if you don't include the apples in the salad – they add a lot of bulk!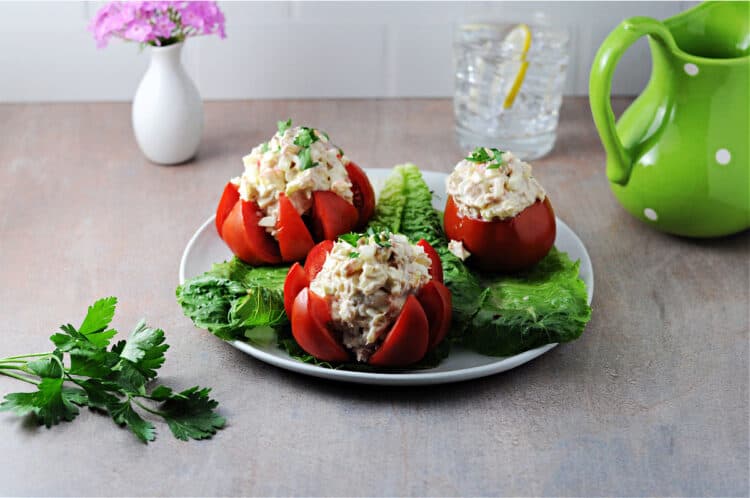 If you like "food inside food" like I do, here are some more ideas to try: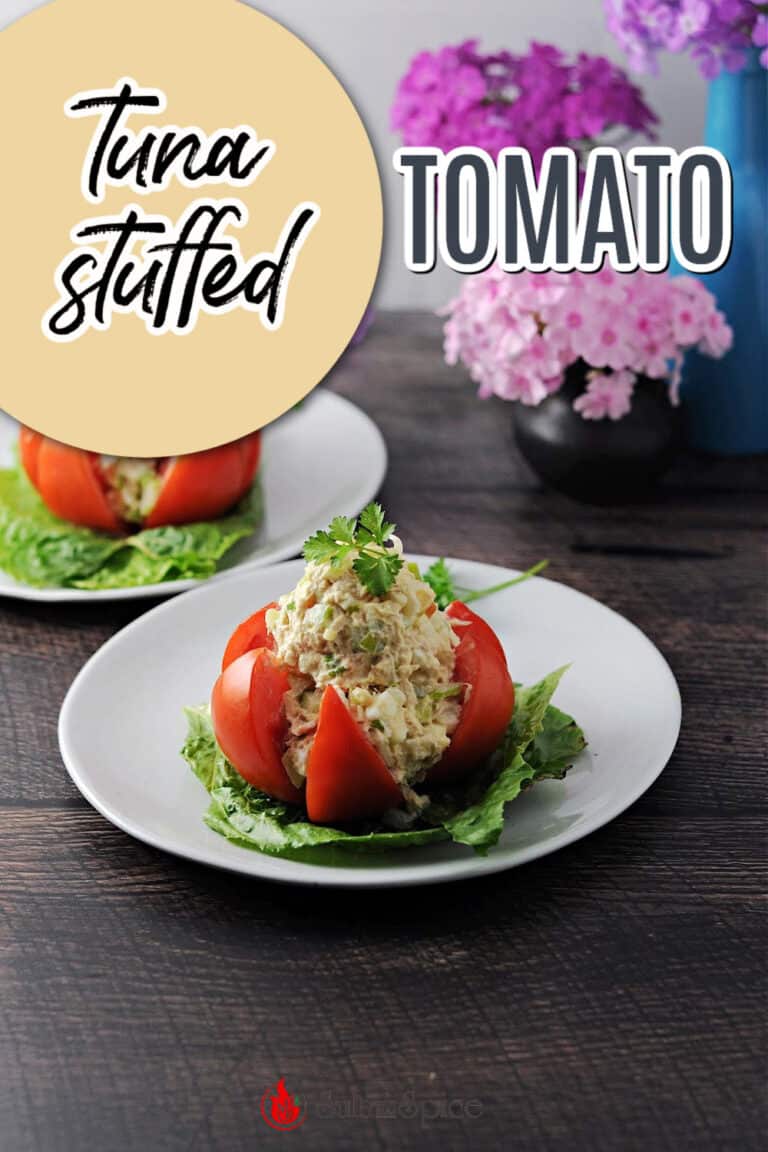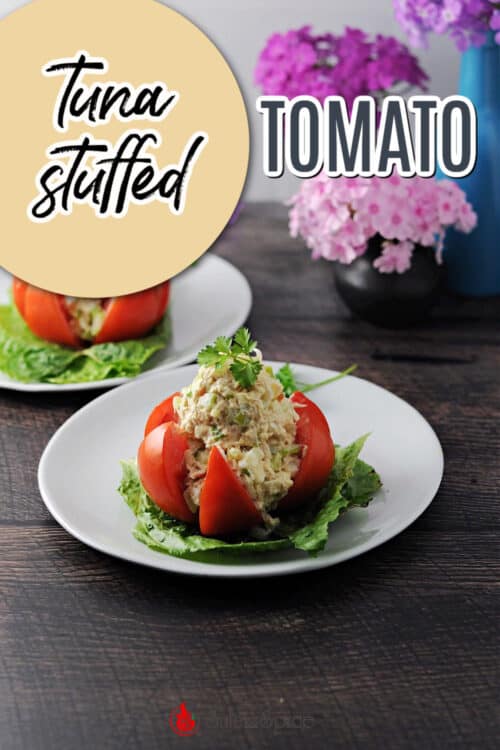 📖 Recipe
Tuna Stuffed Tomatoes
A delicious and easy way to serve tuna salad. The tomato becomes an edible bowl to deliver tuna salad in a low carb way!
Ingredients
5

ounce

can tuna

drained

1

stalk celery

chopped

2-3

tablespoons

onion

1

egg

hard boiled, chopped

2-3

tablespoons

mayo

½

apple

chopped fine

Squeeze of fresh lemon juice

3-4

medium tomatoes
Instructions
Make tuna salad by mixing all ingredients (except tomatoes) in a bowl.

Prepare tomatoes by cutting star shapes -or- slicing off the top and scooping out the interior. Place on paper towels to drain before filling.

Place tomatoes on serving plate and scoop tuna salad into each one. An ice cream scoop works very well for placing on star-shaped tomatoes, whereas a small spoon may work better for the hollow cavity.

Serve and enjoy!
Video
Nutrition
Calories:
122
kcal
|
Carbohydrates:
9
g
|
Protein:
9
g
|
Fat:
6
g
|
Saturated Fat:
1
g
|
Polyunsaturated Fat:
3
g
|
Monounsaturated Fat:
1
g
|
Trans Fat:
1
g
|
Cholesterol:
36
mg
|
Sodium:
147
mg
|
Potassium:
398
mg
|
Fiber:
2
g
|
Sugar:
6
g
|
Vitamin A:
1096
IU
|
Vitamin C:
18
mg
|
Calcium:
25
mg
|
Iron:
1
mg
Nutrition values are estimates only, using online calculators. Please verify using your own data.