Time for another salmon recipe. This, a wonderful discovery featuring an unusual taste accent and sauce for seafood.
In this house, we default to lemon as the typical accompaniment for our salmon. But, I was in a "mood," wanting to play outside the lines. So, my mind lighted on . . . pineapple? With salmon?
Yes! I was firmly entrenched in a "Damn the torpedoes!" moment. So, carpe diem! I seized the day.
HUGE surprise! This Baked Pineapple Salmon worked out amazingly well. It's so affirming to try something unusual and have it work. It's currently tied with our other salmon favorite: Salmon with Whole Lemon Sauce.
What ingredients are needed for this pineapple salmon?
The list looks long, but it's mostly spices – some, quite unusual for seafood. But it makes a delightful sauce:
Pineapple slices (canned or fresh pineapple will work)
Butter
Sweet chili sauce
Cilantro
Garlic
Ginger
Toasted sesame oil
Crushed red pepper flakes
Salt and pepper
Cooking spray
This recipe is designed for one large (3 pound) salmon fillet. I typically make a half-batch with 2 smaller fillets. About 1 to 1 ½ pound of fillets with half the sauce works out great. Note: Be sure that the fillets are approximately the same size/thickness to ensure even cooking.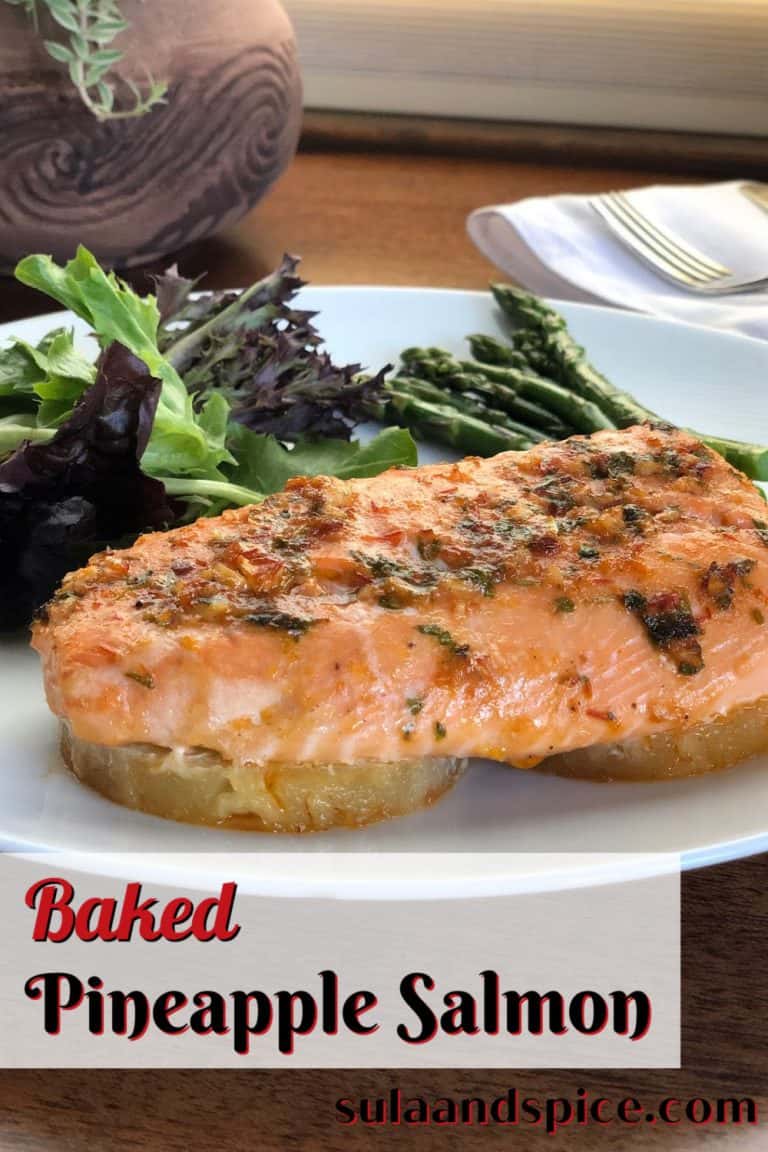 If you love salmon, you'll definitely want to try this recipe!
How to make Baked Pineapple Salmon
Its so easy! Simply line a large baking sheet or dish (I use a 9x13) with foil, coat lightly with cooking spray. Lay the pineapple slices on the foil.
With a towel, pat the salmon dry, then season both sides with salt and pepper. Then, place on top of pineapple (skin side down if using skin-on salmon.)
In a small bowl or cup, mix some melted butter, sweet chili sauce and spices.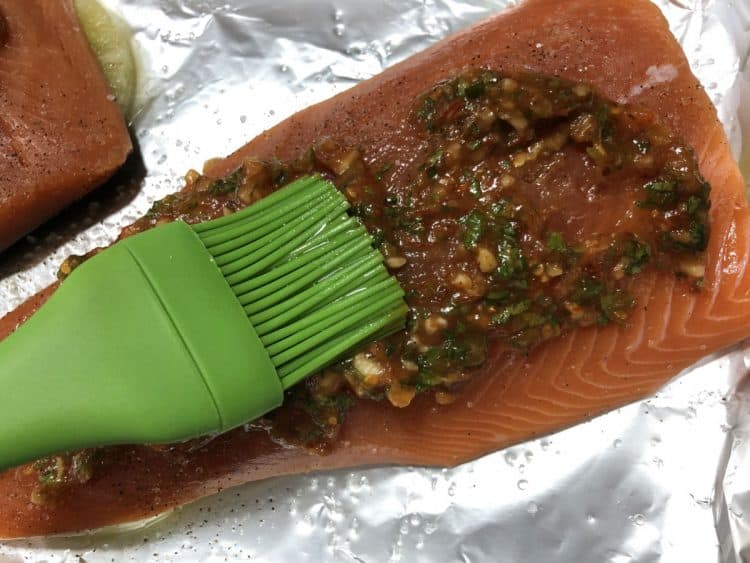 This will form a thick sauce. Spoon the sauce over the salmon fillets and spread or brush to evenly cover.
Bake until salmon is cooked through, about 25 minutes. If using a meat thermometer, cook to an internal temperature of 145F, the recommended temperature for fish. Switch the oven to broil, and broil fillets for 2 minutes, until the fish is slightly golden.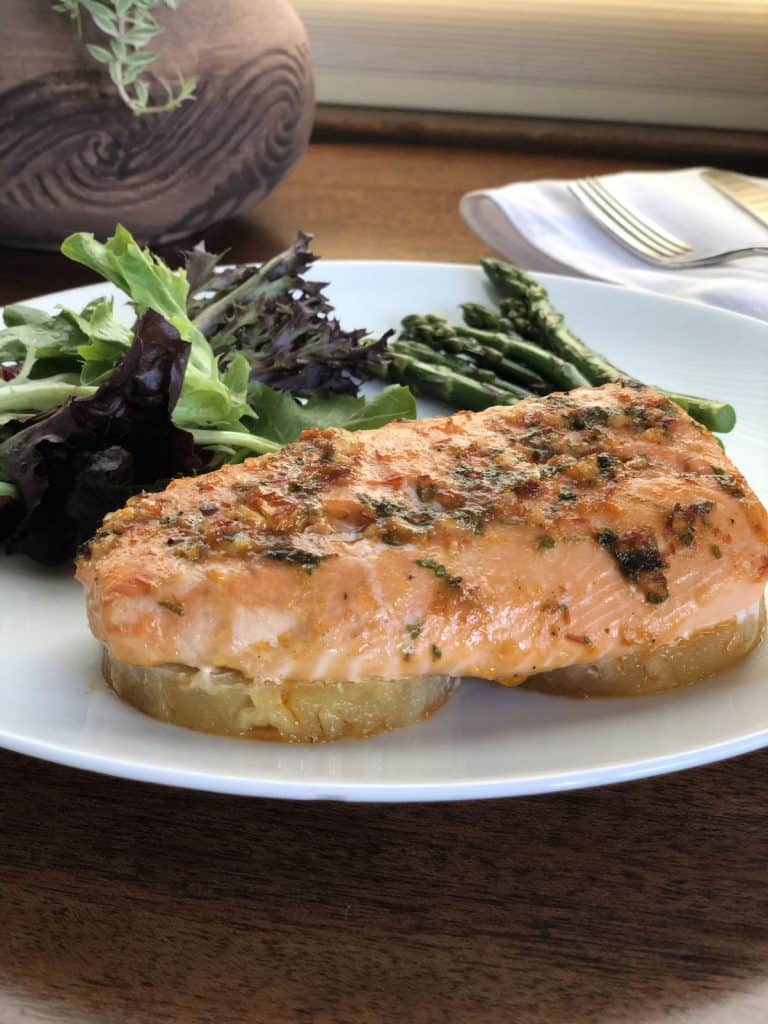 The broiling step helps the sauce to caramelize slightly which makes it amazing!
Garnish (if desired) with sliced green onions and serve with lime wedges.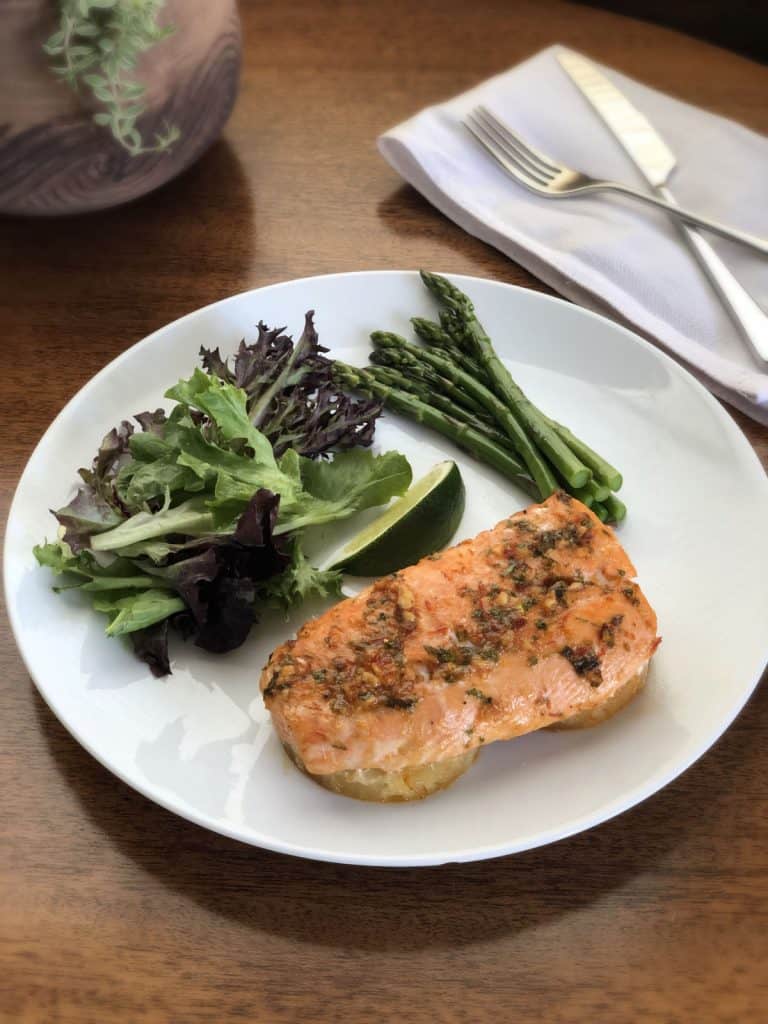 Don't miss the additional tips and tricks after the recipe card!
📖 Recipe
Baked Pineapple Salmon
Delicious sweet and savory taste
Ingredients
1

can pineapple slices

drained

1

large salmon fillet

3 lb

3

TB

butter

melted

2

TB

sweet chili sauce

2

TB

cilantro

freshly chopped

3

garlic cloves

minced

1

teaspoon

ginger

freshly grated

2

teaspoon

toasted sesame oil

½

teaspoon

crushed red pepper flakes

Salt and pepper

Cooking spray for pan

Optional: sliced green onions and lime wedges

for serving
Instructions
Preheat oven to 350F. Line a large rimmed baking pan with foil and grease with cooking spray. Lay pineapple slices in an even layer in the center of the pan.

Season the salmon on both sides with salt and pepper.

Place on top of pineapple slices.

In a small bowl or cup, whisk together butter, chili sauce, cilantro, garlic, ginger, toasted sesame oil, and red pepper flakes. Brush over salmon thoroughly, using all of the sauce.

Bake until salmon is cooked through, about 25 minutes or 145F on a meat thermometer.

Switch oven to broil.

Broil salmon for about 2 minutes until it is slightly golden.

Garnish with green onion slices and serve with lime wedges, as desired.
Nutrition
Calories:
402
kcal
|
Carbohydrates:
4
g
|
Protein:
45
g
|
Fat:
22
g
|
Saturated Fat:
6
g
|
Cholesterol:
140
mg
|
Sodium:
208
mg
|
Potassium:
1117
mg
|
Sugar:
3
g
|
Vitamin A:
277
IU
|
Vitamin C:
1
mg
|
Calcium:
32
mg
|
Iron:
2
mg
Nutrition values are estimates only, using online calculators. Please verify using your own data.
Tips & tricks for making baked pineapple salmon
Rinse your salmon filet(s) with cool water, then pat dry before adding seasoning. This helps the seasoning stick to the salmon and keeps the cooked fillet moist.
The red pepper flakes provide a little heat, but feel free to eliminate if less spicy is preferred.
This recipe is written as if you have one large fillet, but I typically make it with smaller pieces. I also halve the recipe which easily translates.
Salmon thickness can vary greatly, affecting cooking time. For this reason, I always use a cooking thermometer for my salmon. Times given are approximate but a probe in the thickest part of the salmon fillet will more accurately predict doneness.
This recipe works best with skinless salmon fillets. By placing them directly on top of the pineapple slices, they absorb a little of the sweet pineapple juice. However, it does work with skin-on salmon as well. Just place the salmon skin side down on the pineapple and proceed with the directions. Once cooked, the skin peels right off.
Is it okay to eat salmon skin?
According to Medical News Today salmon skin is generally considered safe to eat. The skin contains more of the same minerals and nutrients found in salmon, which may be an excellent addition to any diet. However, it is essential to know where the salmon comes from before eating the skin. Salmon from dirty, polluted or contaminated waters may absorb toxins from their food and the water they swim in.
When salmon is boiled or steamed the skin is usually rubbery and not pleasing to eat. Most people prefer crunchy salmon skin, the result of grilling, searing or frying.
When I make this recipe with skin-on salmon, the skin does not get crunchy. I just peel it off while eating 😀.
More delicious salmon recipes