When Meyer lemons are in season, they are these bright and beautiful gems in the produce section, just begging to be used for something yummy! That season begins around January, right when I'm trying to eat healthier.
As much as my heart wanted to make a super sweet baked good, I knew I needed to find a better choice!
Enter this lovely vinaigrette salad dressing, made with a Meyer lemon. It has a bright and lively taste, perfect to add a little taste of sunshine to your salad greens.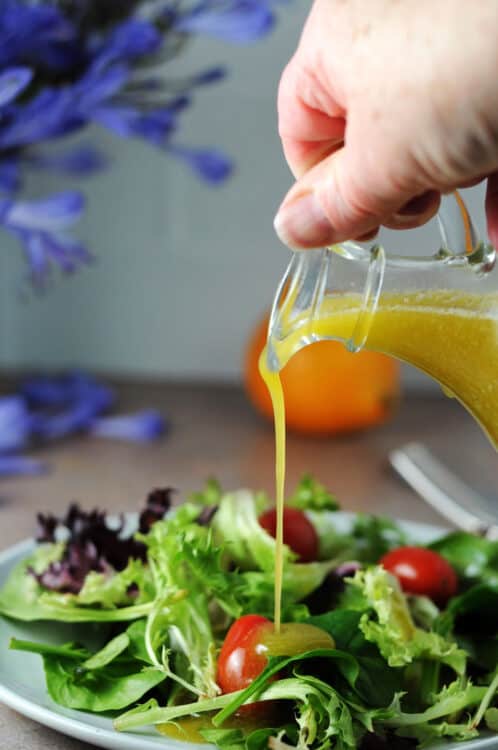 Why I love this recipe
I live in Wisconsin, and believe it or not, I have had a Meyer lemon tree for almost 7 years. It's about 5 feet tall, and in a pot so I can bring it inside when the weather turns chilly. Every spring, it looks very sad until I finally take it outdoors. It flourishes in the hot sun on my patio!
And each year, it rewards me with a single lemon. LOL
Happily, I can readily find Meyer lemons in the grocery stores, and I love to make this simple vinaigrette dressing for my salads. I tend to fall into an oil and vinegar rut during the winter, so this lemony vinaigrette helps to change things up!
And I do love to make my own salad dressings. When I read the ingredient lists on those bottles, I want to make my own. And the bright and fresh flavors of homemade really are so much better!
Ingredients
How to make this Meyer lemon vinaigrette
5 minutes – that's all it takes. Just add your ingredients to a small blender or food processor and blend it!
The lemon juice, balsamic vinegar and oil will emulsify to create a lovely silky texture, while incorporating all the other flavors. It'll make your taste buds sing!
You can serve this right away on your salad or refrigerate it for later. Once refrigerated, it is likely to separate (just like any other oil-based dressing).
If separated, simply remove the dressing from the fridge and let it sit at room temperature for a few minutes to warm slightly. Then give it a good shake to re-mix before adding to your salad.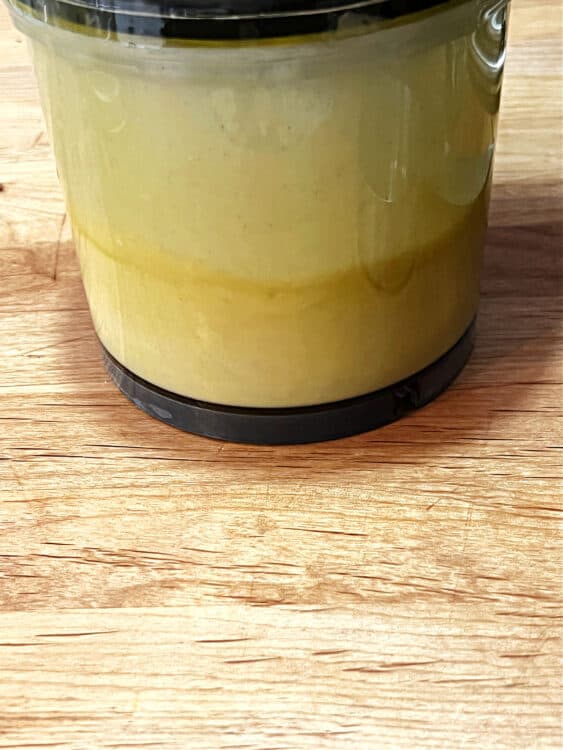 How to blend the salad dressing
You can mix this dressing a variety of ways.
Whisk in a bowl - use a good whisk and use it vigorously until the oil and acids (lemon juice and vinegar) emulsify. The resulting solution will be a uniform color, with no separation of layers.
Shake it – this is a great way to re-purpose an old jar, or maybe use a mason jar you have lying around. Just put everything in the jar, seal it tightly and shake, shake, shake. Again, you will see the mixture turn cloudy and lose its separate layers.
Small food processor or blender – I confess, this is my favorite. It's possible that I lack the patience to whisk and/or shake long enough to get the perfect texture. LOL.
My instrument of choice is actually a stick blender that has an optional chopping bowl. It works great for sauces and dressings, which tend to be made in smaller sized batches.
Good ingredients matter
I covered this topic in my balsamic vinaigrette post, but here is the synopsis: aged balsamic vinegar will provide better results. The taste of a well-aged balsamic vinegar is rich, smooth and much sweeter than the regular kind.
So if you don't have or can't find a good aged balsamic vinegar, you might need to add a little sweetener (sugar or honey) to balance the taste.
Similarly, use a good quality extra-virgin olive oil. It's the main ingredient for this dressing, so don't cheat your taste buds with something that doesn't taste good on its own.
How is a Meyer lemon different from a regular lemon?
This lovely citrus fruit is named after the agricultural explorer who introduced it to the United States in 1908, but it was cultivated in China for probably thousands of years before that.
The Meyer lemon is generally described as a cross between a lemon and a mandarin orange. Compared to a regular lemon, it is smaller, and the skin is darker (slightly orange) than a regular lemon.
To the home cook, the difference is in taste. A Meyer lemon is less acidic and therefore its juice tastes a little sweeter than the juice from a regular lemon.
I was drawn to using a Meyer lemon as I was hoping to create a recipe for lemon vinaigrette without added sugar. The sweet Meyer lemon delivered!
Variations for this salad dressing
If you like a slightly sweeter flavor in your salad dressing, add a little honey or sugar to the mix.
Can't find a Meyer lemon? Use some juice from a regular lemon. This substitution will be even more acidic, so some honey or other sweetener might be needed – just taste and adjust to your personal preference.
For even more lemon taste, add a little zest from the Meyer lemon. The zest will have a STRONG taste so add it sparingly! I find this option useful when my Meyer lemon has less than 2 tablespoons of juice, and I don't want to run to the store for another. Make the dressing first, then taste. If you feel like it needs more, just add a little zest and you are good to go!
Like more garlic taste? Add some minced shallot to the mix. About half a small shallot is plenty, I use a micro plane to mince it to guarantee very small pieces that will distribute well.
Want less garlic? Use a little shallot INSTEAD of the garlic clove. The shallot has a milder taste that you might find more appealing.
More homemade salad dressings to try
📖 Recipe
Meyer Lemon Vinaigrette Salad Dressing
This delicious lemony vinaigrette is like a splash of sunshine on your salad!
Ingredients
2

Tablespoons

Meyer lemon juice

from one lemon

½

cup

olive oil

extra-virgin

1

garlic clove

minced

½

teaspoon

balsamic vinegar

1

teaspoon

Parmesan cheese

grated

½

teaspoon

salt

¼

teaspoon

white pepper
Instructions
Add all ingredients to a small blender and blend at high speed, about 30 to 60 seconds, until well blended.

2 Tablespoons Meyer lemon juice,

½ cup olive oil,

1 garlic clove,

½ teaspoon balsamic vinegar,

1 teaspoon Parmesan cheese,

½ teaspoon salt,

¼ teaspoon white pepper

Serve immediately or store refrigerated in a covered container.
Video
Notes
Cold dressing will often separate. Simply remove from the fridge for 10-15 minutes to warm slightly and then give it a good shake before using.
For a sweeter dressing, add a little honey. For more lemon taste, add more lemon juice or a little lemon zest.
Nutrition
Calories:
162
kcal
|
Carbohydrates:
1
g
|
Protein:
1
g
|
Fat:
18
g
|
Saturated Fat:
3
g
|
Polyunsaturated Fat:
2
g
|
Monounsaturated Fat:
13
g
|
Cholesterol:
1
mg
|
Sodium:
197
mg
|
Potassium:
8
mg
|
Fiber:
1
g
|
Sugar:
1
g
|
Vitamin A:
2
IU
|
Vitamin C:
2
mg
|
Calcium:
4
mg
|
Iron:
1
mg
Nutrition values are estimates only, using online calculators. Please verify using your own data.