Looking for a fast and easy weeknight dinner? A new way to cook chicken and give it a different flavor? I've got you covered!
This baked feta chicken only takes 4 ingredients, about 10 minutes of prep time, and 30-35 minutes in the oven. You'll have enough time to take a breath, unwind a little, and still get dinner on the table in under an hour!
And if you want to change it up a little and try your own spin, I have some variation ideas to get you started.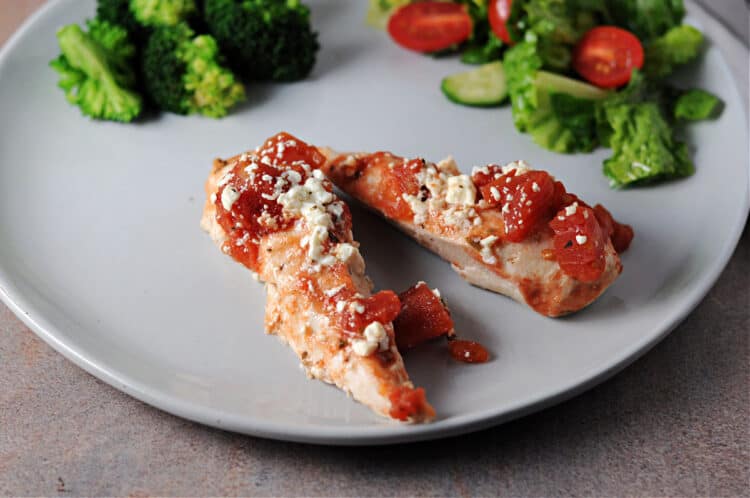 Why I love this baked feta chicken
Easy, fast and delicious. Need I say more?
In the time it takes to preheat the oven, you can easily prep the entire dish. Pop it in the oven, and you only have to wait 30-35 minutes before its done. Which is just enough time to get your side dishes together.
The Greek dressing and feta cheese provide such a punch of flavor that I like to keep the sides simple. Make a tossed salad and some steamed broccoli and I'm good to go.
And still time to pour myself a nice glass of wine. 😀
Ingredients
How to make this feta chicken bake
Start with the chicken. Make a single layer of the tenderloins on a plate and drizzle some Greek dressing over them. Take a basting brush and spread the dressing over all the pieces.
Spray an 11x7 baking pan with cooking spray, then transfer the tenderloins to the pan in a single layer.
Note: if you wish, you can marinate the tenderloins at this step for up to 30 minutes. Just in case you are also multi-tasking. (aren't we all?)
Take the can of diced tomatoes and partially drain it. I do this by cracking the top but not removing it, then holding it loosely over the can opening while inverting the can over the sink.
Let the excess liquid drain for about 10 seconds, then turn the can upright, remove the top completely and empty the tomatoes into a bowl. Add ¼ cup Greek dressing and stir to combine.
Pour this tomato mixture over the layer of chicken in the baking dish.
Sprinkle with feta cheese, cover with foil, and bake.
Expert Tips
Cooking time will vary by the amount and cut of meat. I deliberately use chicken tenderloins because they cook so quickly and are always so perfectly tender when done.
If you substitute chicken breasts, very large breasts will take longer to fully cook. Chicken thighs would work also, but I haven't tested them for a cooking time. Use a meat thermometer and cook to 165F.
Similarly, if your baking dish is very crowded, with the tenderloins overlapping, they will need more time, so add about 10 minutes to the cooking time. Or, if you really want to make more meat, you could use a 9x13 pan so the cuts of meat are spread out a little.
I have made this baked feta chicken with up to 2 pounds of tenderloins without changing any other ingredient quantities, and I love it every time. For this quantity, I definitely recommend using a 9x13 pan.
Variation ideas
Use chopped red pepper in place of or in addition to the tomatoes.
Try fresh tomatoes instead of canned: 3-4 Roma tomatoes, chopped, will be about right.
Can't find Greek dressing? Substitute Caesar. Just stick to the oil-based kind, not creamy.
Serving suggestions
As I mentioned above, I tend to keep it simple, with a green salad and a vegetable. Turns out, this makes it a really healthy, low-carb meal.
But I have also served this with a little pasta on the side. The liquid does not make a true "sauce" but you can drizzle it over some plain noodles if you want to give them a little flavor. You can do this on each plate, or to be even easier, place the hot drained noodles in a bowl and pour the hot liquid from the pan over the top. A quick stir, and they are ready to serve!
Here are some more easy meals to love
📖 Recipe
Baked Feta Chicken
This easy chicken dinner will quickly become a favorite! Bottled salad dressing is a shortcut way to punch up the flavor!
Ingredients
1- 1 ½

pounds

chicken tenderloins

½

cup

Greek salad dressing

divided

4

Roma tomatoes

diced (about 1 pound)

¾

cup

feta cheese

crumbled (Mediterranean herb flavor)
Instructions
Preheat oven to 350F.

Lay the chicken tenderloins in a single layer on a plate. Drizzle ¼ cup of the Greek dressing over the chicken. If needed, use a pastry brush to spread evenly over the pieces.

Spray an 11x7 baking dish with cooking spray and add the tenderloins in a single layer.

Partially drain the liquid from the can of tomatoes, then empty the contents into a bowl. Add ¼ cup Greek dressing and stir to combine. Pour over the chicken in the pan to evenly cover.

Sprinkle feta cheese over the top.

Cover the pan with foil and bake in preheated oven for 30 to 35 minutes, until chicken is done.

Let chicken rest for 5 minutes before serving.
Notes
Chicken breasts or thighs (boneless, skinless) may be substituted for the tenderloins. Cooking time may need to be adjusted to 40-45 minutes, depending upon the size of the pieces and how crowded the pan is. When in doubt, cook to an internal temperature of 165F.
Variation ideas: 1. add chopped red peppers to the tomato mixture. 2. substitute 4 chopped fresh Roma tomatoes for the canned tomatoes. 3. Chop 3-4 Kalamata olives and sprinkle over the feta cheese before baking.
Nutrition
Calories:
434
kcal
|
Carbohydrates:
4
g
|
Protein:
65
g
|
Fat:
16
g
|
Saturated Fat:
6
g
|
Polyunsaturated Fat:
1
g
|
Monounsaturated Fat:
3
g
|
Trans Fat:
1
g
|
Cholesterol:
206
mg
|
Sodium:
713
mg
|
Potassium:
1213
mg
|
Fiber:
1
g
|
Sugar:
3
g
|
Vitamin A:
720
IU
|
Vitamin C:
12
mg
|
Calcium:
159
mg
|
Iron:
1
mg
Nutrition values are estimates only, using online calculators. Please verify using your own data.