Fun food for holidays – it's a thing, right? It is for me! And with Valentine's Day fast approaching I knew something new was called for.
Breakfast is such a great meal for something fun. Start the day off right for all the special people in your life. Pancakes are easy and fast, and the simple addition of some dragon fruit puree gives them the most extraordinary pink color, without using unnatural food dyes.
I took it one step further and made my dragon fruit pancakes with a heart shaped mold, which of course is strictly optional but entirely fun. 💕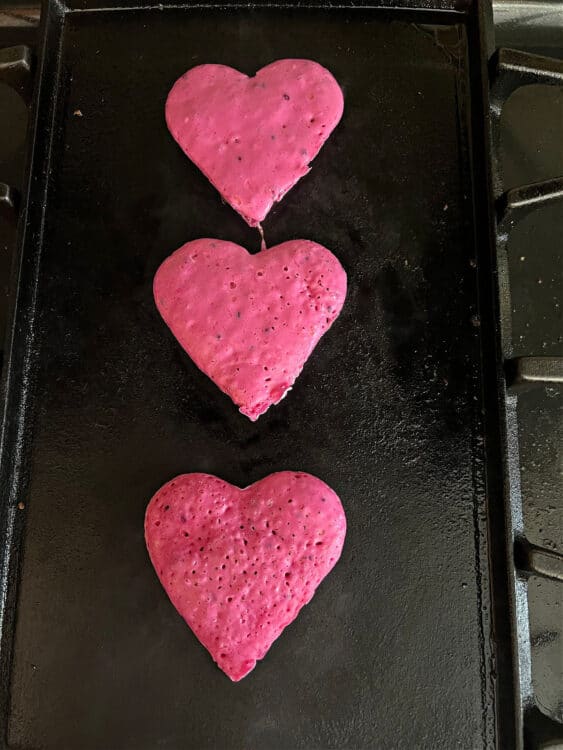 Why I love this recipe
I love to take simple meal ideas and give them a holiday twist. Jack O'Lantern stuffed peppers for Halloween, American Flag taco dip for Fourth of July, Snowman Dip for winter celebrations…the list goes on!
And now we add pancakes to the mix. Once I found frozen smoothie packs of dragon fruit, I fell in love with the bright pink color it adds to so many different foods. Dragon fruit smoothies and smoothie bowls, and a dragon fruit cocktail are some of my favorites.
Adding the puree to pancake batter was something I had to try and was delighted when it was an instant success! I was worried that it might throw off the liquids in the batter and was prepared to make adjustments for it. But this wasn't an issue!
My approach was to take my almond milk pancake recipe and make 2 small changes: eliminate the sugar and replace with a packet of dragon fruit puree.
The result? Beautiful bright pink batter, to make fun and delicious pancakes to start your day!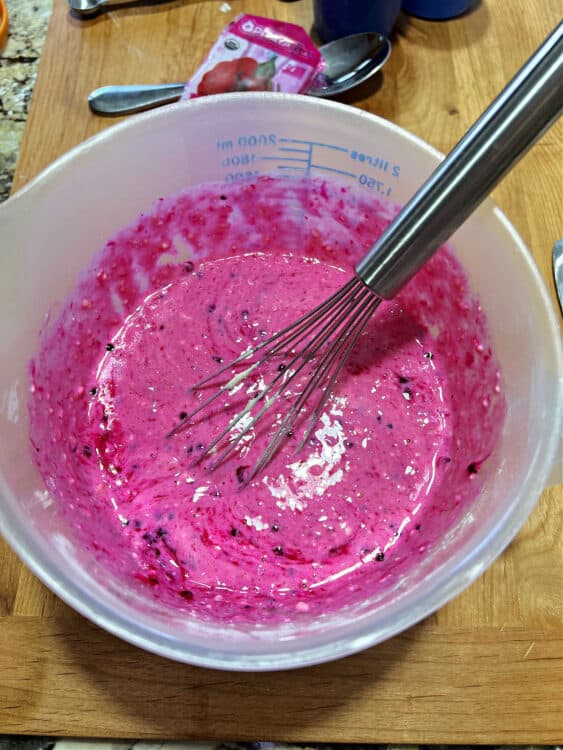 Ingredients needed
How to make dragon fruit pancakes
If you have the dragon fruit puree packets, this is very easy. Just mix up the pancake batter and add one packet of the puree.
My almond milk pancakes require the batter to sit for 5 minutes, which is when I preheat my griddle. And then cook away!
Like all pancakes, cook on medium heat for about 1 to 2 minutes each side. I use about ¼ cup of batter per pancake.
Serve with syrup, easy berry sauce, or toppings of your choice!
Variations
Don't have almond milk? Use oat milk or regular dairy milk for your pancake batter.
I make pancake batter from scratch, but if you prefer to use a box mix, I'm sure this will work with that batter as well. One packet of dragon fruit puree should be enough for a batch of batter that makes 10-12 pancakes.
How to make heart shaped pancakes
Making pancakes into shapes makes them extra fun!
I used an egg mold for this. They come in a set of 4 shapes, and of course the heart shape had to be used for Valentine's Day.
The amount of batter used for each pancake will be determined by the size of your mold as well as your preferred pancake thickness. For a typical pancake, which I allow to spread out on the griddle, I use up to 4 tablespoons (¼ cup) of batter.
With my molds, that amount makes a thicker pancake than I wanted. So now I use 2 tablespoons or less for each pancake and am happier with the result.
Some tips for using the molds:
Grease the edges well, especially the flat inner edge. This will ensure your molded pancake releases cleanly.
Place the mold on the hot griddle, then spoon the batter into the mold. You might need to "coax" the batter to the edges to get a perfect heart.
Let the batter cook with the mold in place for about 20-30 seconds before gently removing the mold.
Lift the mold by gently tilting it, lifting the rounded top first and the tip last.
You should have just enough time to form a second heart before you need to flip that first one. This will help the process go a little faster.
You could also use the molds to cut out hearts after the pancakes are cooked if you prefer.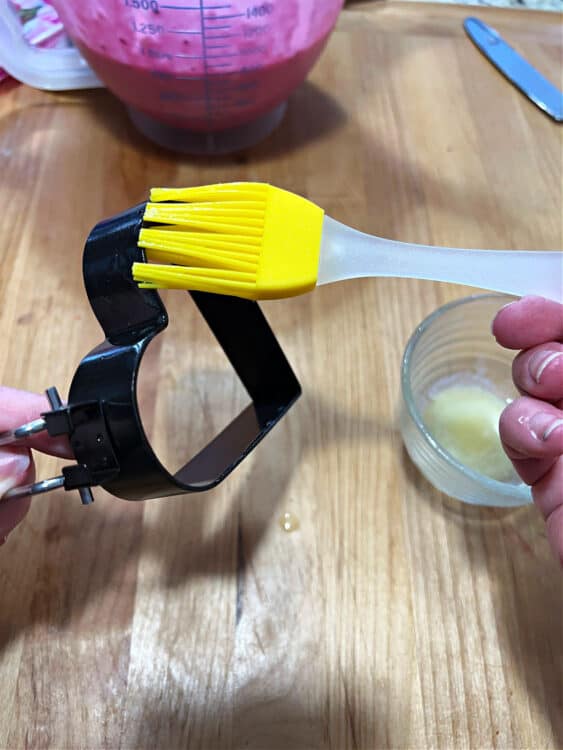 More breakfast recipes to love
📖 Recipe
Dragon Fruit Pancakes
Beautiful pancakes made with dragon fruit for a natural bright pink color. Make them heart shaped for all your favorite people!
Ingredients
1 ½

cups

flour

all-purpose

3 ½

teaspoons

baking powder

1

teaspoon

salt

3

Tablespoons

butter

melted (plant based for dairy-free)

3.5

ounces

dragon fruit puree

1 smoothie pack

1

egg

1 ¼

cup

almond milk

plain or vanilla flavored

Cooking spray
Instructions
In a large bowl mix together flour, baking powder and salt. Whisk in almond milk, dragon fruit puree, melted butter and egg. Stir until well combined. Let the batter rest for 5 minutes.

Preheat a large skillet or griddle over medium-high heat. Spray with cooking spray (or use butter/oil as preferred). Pour batter onto skillet, about ¼ cup batter for each pancake.

Cook 2 to 3 minutes, until bubbles appear on the sides and center of each pancake. Flip and cook until slightly brown, about 1 to 2 more minutes.
For molded (heart shaped) pancakes:
If using a griddle-safe egg mold, be sure to grease the mold all along the bottom as well as along the inner edge. Place the mold directly onto the preheated griddle, then spoon the batter inside. Since the batter cannot spread, you will likely want to use less batter in the molds. For my mold, about 1 ½ tablespoons was the right amount of batter.

The pancake was "set" enough to remove the mold after about 20-30 seconds. To do so, slowly lift the mold at the top first, so that when you remove it at the tip of the heart it is releasing at an angle from the batter. This will help ensure a sharper tip to the heart. 
Notes
If you don't have almond milk, substitute with any other non-flavored milk you have,
This works with regular dairy butter as well as plant-based butter for a dairy free option
Nutrition
Calories:
283
kcal
|
Carbohydrates:
40
g
|
Protein:
6
g
|
Fat:
11
g
|
Saturated Fat:
6
g
|
Polyunsaturated Fat:
1
g
|
Monounsaturated Fat:
3
g
|
Trans Fat:
1
g
|
Cholesterol:
43
mg
|
Sodium:
785
mg
|
Potassium:
414
mg
|
Fiber:
2
g
|
Sugar:
2
g
|
Vitamin A:
292
IU
|
Calcium:
258
mg
|
Iron:
3
mg
Nutrition values are estimates only, using online calculators. Please verify using your own data.