There's nothing like a healthy smoothie to start your day off right. We all have different ways we like to build our smoothies, which is what makes them so popular. So easy to customize as you please!
If you want to give your smoothie a little boost, try making a dragon fruit smoothie! Its amazing magenta color will brighten your morning and probably the rest of your day!
What is dragon fruit?
Dragon fruit is a tropical fruit native to Mexico and Central America. Its taste is like a combination of a kiwi and a pear. (Healthline)
Dragon fruit, also known as Pitaya, comes in several varieties. Although it can be quite difficult to find near me (US – Midwest) I was once fortunate to find 3 different varieties at a local grocery store.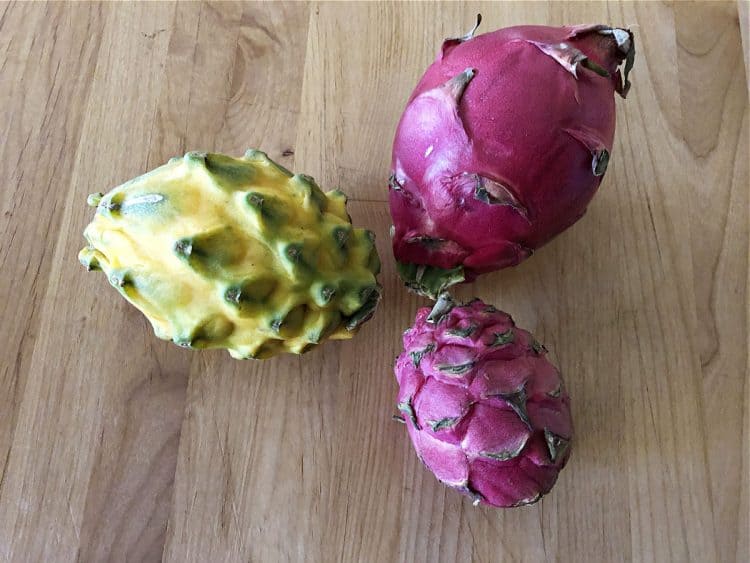 2 of the varieties appear very similar externally: the skin is bright pink with green scales. They appear to differ only in size, as one is noticeably larger than the other. The third variety has yellow skin with green bumps.
The internal pulp of these fruits shows even more variety.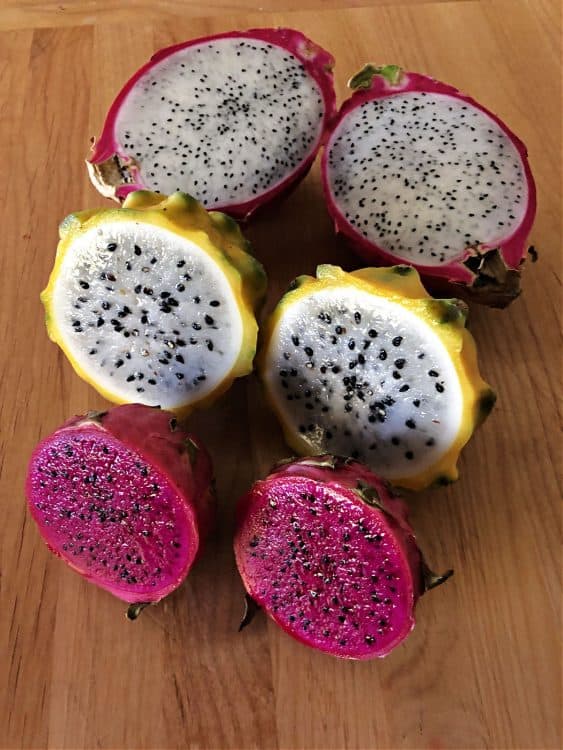 The yellow skinned variety contains white pulp with large black seeds.
The larger of the pink varieties has white pulp with much smaller black seeds.
The smallest fruit, which has exactly the same color skin, contains a bright magenta-colored pulp. It also contains small black seeds, but you honestly don't notice them in that amazingly colored pulp.
This magenta or red pulp variety is the rarest to find, at least for me. And it's the color we want to make these beautiful red dragon fruit smoothies!
Pitaya smoothie packs
Fortunately for us all, it is becoming more common to find dragon fruit smoothie packs in grocery stores. I found these once at the same store that had 3 varieties of dragon fruit. There was something special about that day because I have not seen the magenta variety since nor has that store had the frozen packs.
A more reliable source for the frozen packs is Whole Foods. It really is a great way to get the bright pink pulp without second guessing whether you picked the right variety at the store. Each pouch contains 3.5 ounces (100g) of bright pink fruit puree.
What does dragon fruit taste like?
As mentioned above, the taste is most commonly described as a combination of a kiwi and a pear. In addition to using in a smoothie, dragon fruit is a fun addition to a fruit platter or in a fruit and yogurt or smoothie bowl. I have also eaten it just scooped straight from the skin. To me, the yellow skinned variety tastes slightly sweeter than the others when eaten alone, but the larger seeds are definitely more noticeable.
Ingredients needed
The basic components of a smoothie are fruit and liquid, with possibly a protein source added in. For this version I use:
Fruit – frozen mango + dragon fruit smoothie pack
Liquid – almond milk
Protein – protein powder
See below for substitutions and ideas.
How to make the pitaya smoothie
We all have our smoothie preferences so please use these directions as a starting point, and then make adjustments to suit your mood. I firmly believe there is a smoothie for everyone!
Thaw the smoothie pack and place the frozen mango in the blender to partially thaw. When the pitaya is thawed, add it to the blender with the almond milk. By now the mango should be ready to blend.
Blend all ingredients together until smooth.
Substitutions/ideas
I love mixing things up for smoothies! Here are a few ideas to customize your flavors:
Coconut milk – use this instead of almond milk for a more "tropical" taste. Full fat coconut milk will also increase the feeling of satiety from your smoothie.
Coconut water – if you want a lighter option, using this for the liquid will work very well!
Frozen pineapple – use this instead of or in addition to the mango. I sometimes use half of each so I can enjoy both tastes in my smoothie.
Banana – add some in to increase the tropical taste! Slice the banana and freeze the slices before use if you can.
Yogurt – Greek yogurt (in place of or in addition to protein powder) can be a great protein source and will also add to the creaminess of the smoothie.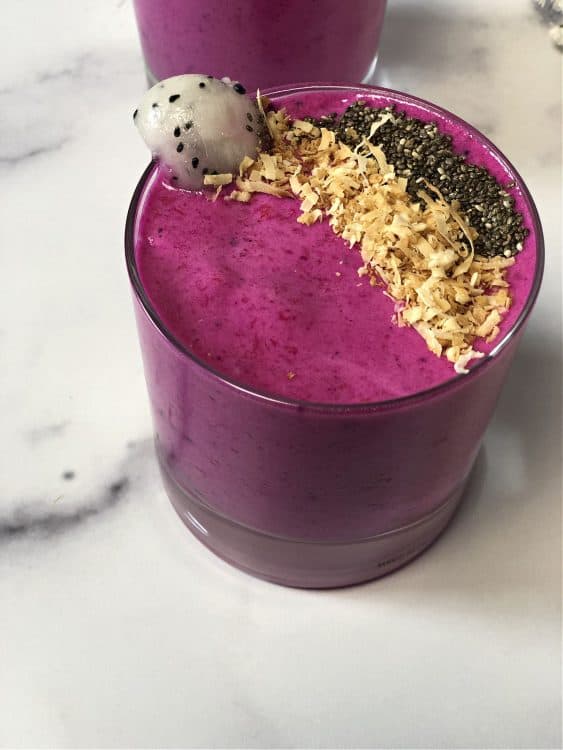 Make a bright and beautiful red dragon fruit smoothie and your spirits will be lifted all day!
Print Recipe
Dragon Fruit Smoothie
The most vibrant smoothie ever!
Ingredients
1

cup

mango

frozen chunks

3½

ounce

pitaya puree packet

thawed

½

cup

almond milk

1-2

scoops protein powder

vanilla
Instructions
Add all ingredients to blender.

Blend on high speed until well mixed.
Notes
Allow fruit to partially thaw for easier blending
Nutrition
Calories:
146
kcal
|
Carbohydrates:
20
g
|
Protein:
11
g
|
Fat:
3
g
|
Saturated Fat:
1
g
|
Cholesterol:
31
mg
|
Sodium:
150
mg
|
Potassium:
200
mg
|
Fiber:
2
g
|
Sugar:
16
g
|
Vitamin A:
893
IU
|
Vitamin C:
30
mg
|
Calcium:
161
mg
|
Iron:
1
mg
Nutrition values are estimates only, using online calculators. Please verify using your own data.
And if you want to have a smoothie in a thicker form, check out my Dragon Fruit Smoothie Bowl - same wonderful color and taste, in a lovely bowl!
Time for an adult beverage? Yes, a Dragon Fruit Cocktail is a great idea!