With Valentine's Day fast approaching, I think a new cocktail is needed. And I've been on a bit of a dragon fruit kick lately, having made both a dragon fruit smoothie and a smoothie bowl. I couldn't resist making a dragon fruit cocktail to try and capture that spectacular magenta color and pour it in a cocktail glass.
Ingredients needed
Dragon Fruit puree (magenta)
Elderflower Liqueur (St Germain)
Vodka
Lemon juice – fresh squeezed
Simple syrup
Simple syrup is equal parts sugar and water dissolved together. For one-time use, I make a few tablespoons at a time, just microwave them together in a small cup to dissolve and then allow to cool. If larger quantities are needed, heat 1-2 cups of water in a small saucepan, add the same quantity of sugar (to one cup water add one cup sugar, etc) and stir to dissolve. Pour in a jar with a cover and store in the refrigerator.
What is dragon fruit
To recap:  Dragon fruit is a tropical fruit native to Mexico and Central America. Its taste is like a combination of a kiwi and a pear.(Healthline)
Dragon fruit, also known as Pitaya, comes in several varieties. Although it can be quite difficult to find near me (US – Midwest) I was once fortunate to find 3 different varieties at a local grocery store. 2 of the varieties appear very similar externally: the skin is bright pink with green scales. They appear to differ only in size, as one is noticeably larger than the other. The third variety has yellow skin with green bumps.
The internal pulp of these fruits shows even more variety.
The yellow skinned variety contains white pulp with large black seeds.
The larger of the pink varieties has white pulp with much smaller black seeds.
The smallest fruit, which has exactly the same color skin, contains a bright magenta-colored pulp. It also contains small black seeds, but you honestly don't notice them in that amazingly colored pulp.
What does dragon fruit taste like?
As mentioned above, the taste is most commonly described as a combination of a kiwi and a pear. Its incredibly mild taste means it pairs very easily with other flavors and doesn't compete on taste. I used tropical flavors for my smoothie and smoothie bowl. For this cocktail, the flavors are citrus and elderflower.
Pitaya smoothie packs
Fortunately for us all, it is becoming more common to find dragon fruit smoothie packs in grocery stores. I have found these packs most recently at my local Kroger-owned store. If you are having trouble finding them, Whole Foods is another good source.
These packs are a great way to get the bright pink pulp without second guessing whether you picked the right variety at the store. Each pouch contains 3.5 ounces (100g) of bright pink fruit puree. We only need a little for this recipe, so plan to save the rest, it'll be enough for a morning smoothie.
How to make this Dragon Fruit Cocktail
Simply add all the ingredients to a cocktail shaker. Add ice and shake, then strain into your glasses. The recipe makes two, because, you know, Valentine's Day. Of course you can make a single serving just by halving all the ingredients. Or, go ahead and make the whole amount for yourself. No judging here!
I also recommend you double strain this drink. The dragon fruit puree will have pulp and seeds in it. If you strain your drink using only the large strainer on top of your cocktail shaker, all those seeds will end up in the glasses.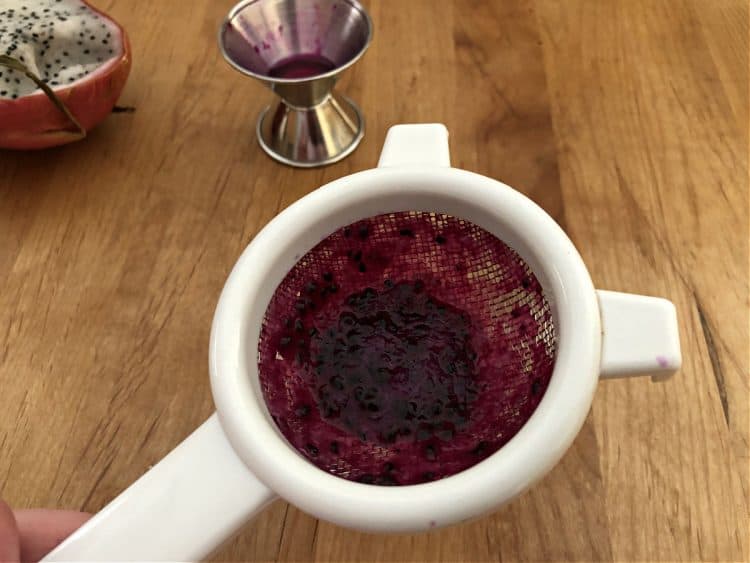 To avoid this, grab a small mesh strainer and pour the liquid through that and into the glasses.
Garnish ideas
I garnished my cocktails with fresh dragon fruit (I used a melon ball scoop to make balls) and a chunk of mango. Pineapple is another favorite. You could also wet the rim of the glass and dip it in toasted coconut for a completely different flavor. Have fun with it!
This cocktail is not just for Valentine's Day! It's too gorgeous to be limited like that!
Enjoy it any day of the year!
Print Recipe
Dragon Fruit Cocktail
This beautiful bright magenta drink is perfect for Valentine's Day or maybe just because you love it!
Ingredients
2

oz

vodka

1

oz

elderflower liqueur

.75 oz dragon fruit puree

1

oz

lemon juice

fresh squeezed

1

oz

simple syrup
Instructions
Add all ingredients to a cocktail shaker.

Add ice and shake.

Double strain into 2 martini or coupe-style glasses.
Video
Nutrition
Calories:
165
kcal
|
Carbohydrates:
18
g
|
Protein:
1
g
|
Fat:
1
g
|
Saturated Fat:
1
g
|
Sodium:
15
mg
|
Potassium:
24
mg
|
Fiber:
1
g
|
Sugar:
17
g
|
Vitamin A:
1
IU
|
Vitamin C:
5
mg
|
Calcium:
3
mg
|
Iron:
1
mg
Nutrition values are estimates only, using online calculators. Please verify using your own data.