I love roasted flavors!
Roasted Swiss Chard, roasted baby carrots, roasted chickpeas, roasted potatoes – even roasted salsa – you'd think I've roasted it all – but since this week marks St. Patrick's Day, another is called for: Roasted Cabbage!
Love it or hate it (I definitely love it) you haven't had the best of cabbage until it's been roasted.
Are you genetically geared to like or hate cabbage?
Because cabbage is so closely related to broccoli and cauliflower - all are considered cruciferous vegetables – it's a safe bet that if you dislike one, you'll dislike the others. And, according to prevention.com, if you dislike these tastes it's probably due to your genetics.
Just as there's a genetic explanation for people who dislike cilantro, scientists have found a genetic variant that makes people overly sensitive to bitter tastes. If you find the taste of leafy greens or cruciferous vegetables intolerably bitter, you almost certainly have this gene.
The way you cook cabbage can make a difference
However, all's not lost. Preparation makes a big difference. Adding salt to the vegetable blocks the "bitter" receptors on your tongue. So does fat. So adding some olive oil or butter helps mellow the taste.
Most effective? Roasting. The roasting process converts more carbohydrates to sugars, making the vegetable taste sweeter. So it's fortunate that this recipe requires olive oil, salt and roasting, right? I promise. This will make cabbage much more acceptable to all taste buds. For someone like myself, who has no problem with cabbage? It's nearly irresistible. True! I love it that much!
Things you always wanted to know about cabbage (from Wikipedia):
Raw cabbage is 92% water, 6% carbohydrates and 1% protein
The characteristic flavor (and smell) of cabbage is caused by glucosinolates, a class of, not surprisingly, sulfur-containing glucosides
Cabbage consumption varies around the world: In Russia, 44 pounds of cabbage are consumed annually per capita, vs 8.6 pounds in the USA
The Guinness Book of World records lists the heaviest cabbage grown as 138.25 pounds
Cabbage is a good source of Vitamin K, Vitamin C and dietary fiber
Cabbage made into sauerkraut was used by Dutch, Scandinavian and German sailors to prevent scurvy on long voyages
How to make roasted cabbage
Roasting cabbage is straightforward. Simply cut the cabbage into wedges and trim the stem. Try to leave some of the core attached to keep your wedges from falling apart.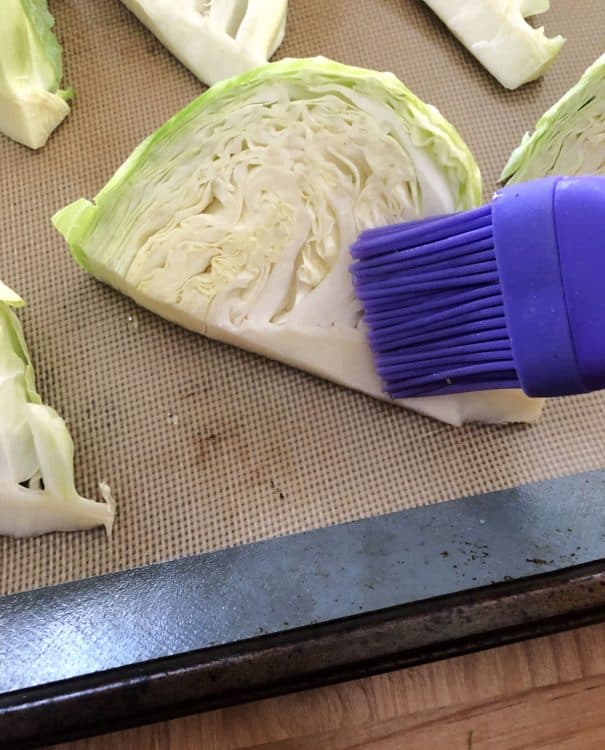 Place the wedges on a baking sheet. Brush the upright side with olive oil, then sprinkle with salt and pepper. Gently turn the wedge over and repeat on the other side.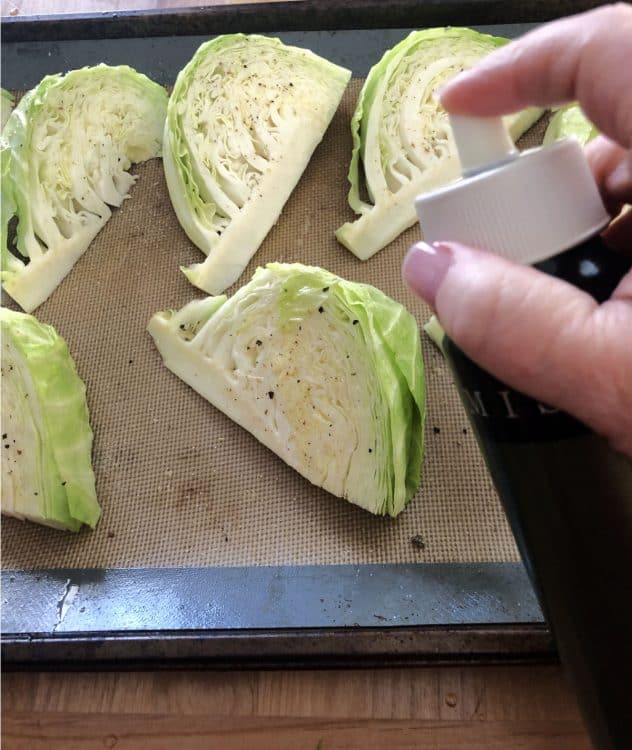 If you have a mister filled with olive oil, that works too - it's just not as photogenic as my cute purple brush. 😃
Place in a 450F oven and roast for 10 minutes, then gently turn the wedges and return them to the oven. Roast for an additional 15 minutes, or until the cabbage is softened and the edges are browned.
To soften even further, I like to remove the sheet from the oven and cover it with foil, letting the cabbage steam a little to completely cook through.
Add some Parmesan to that Roasted Cabbage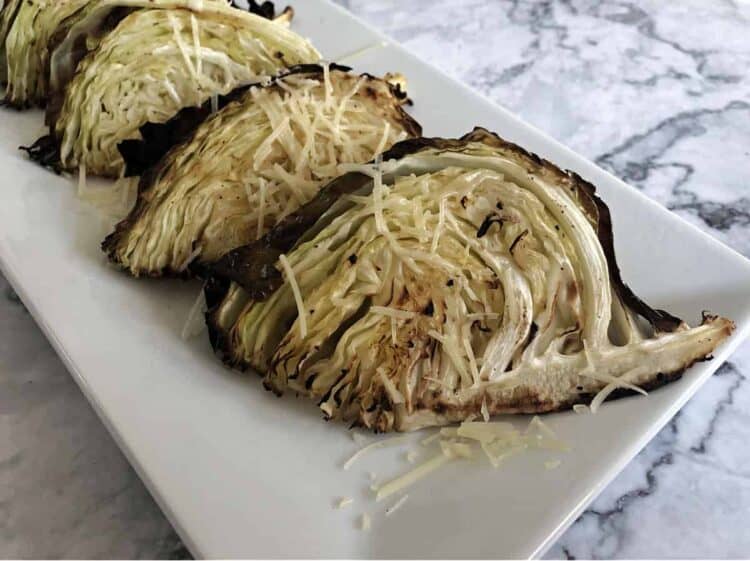 The wedges can be served as-is, but I do like to add a sprinkle of Parmesan cheese just to take it that extra step.
Roasted cabbage is an easy and delicious side dish!
Roasted Cabbage
A simple way to serve this veggie!
Ingredients
1

medium head cabbage

2

TB

olive oil

Salt and pepper to taste

Parmesan cheese to taste
Instructions
Preheat oven to 450F. Line a baking sheet with foil, or use a silicone mat.

Cut cabbage into 8 wedges, cutting through the core and stem. You may trim off some of the stem, but try to leave some of the core with each wedge to help hold it together.

Arrange wedges on the prepared baking sheet in a single layer. Brush the top layer of each wedge with the olive oil, then season with salt and pepper. Carefully turn the wedges over and repeat on the other side.

Roast for about 10 minutes, or until the edges begin to turn brown. Then, gently turn all of the wedges and roast an additional 10-15 minutes until all the edges are browned and the wedge is cooked through. Serve immediately or cover with foil and allow cabbage to steam briefly.

Sprinkle with Parmesan cheese and serve.
Notes
Nutrition calculations do not include cheese.
Nutrition
Calories:
59
kcal
|
Carbohydrates:
7
g
|
Protein:
1
g
|
Fat:
4
g
|
Saturated Fat:
1
g
|
Sodium:
21
mg
|
Potassium:
193
mg
|
Fiber:
3
g
|
Sugar:
4
g
|
Vitamin A:
111
IU
|
Vitamin C:
42
mg
|
Calcium:
45
mg
|
Iron:
1
mg
Nutrition values are estimates only, using online calculators. Please verify using your own data.